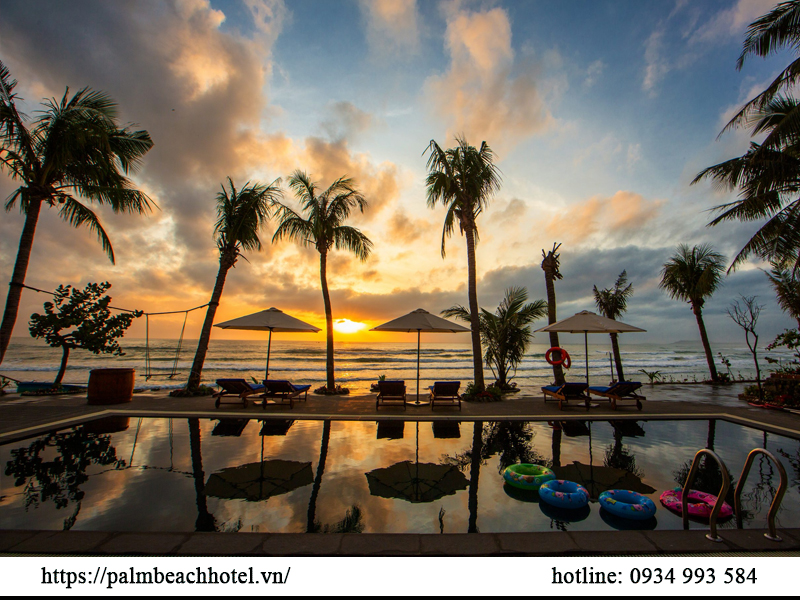 The most beautiful hotel and resort in Phu Yen
In recent years, Phu Yen has become a popular tourist destination for both domestic and international visitors because this land possesses a heartbreaking beauty, similar to that of a sincere and rustic village girl with pure beauty clean and clear. As a result, I'd like to introduce you to Palm Beach Hotel, a hotel in Phu Yen with a lovely swimming pool and This is the most beautiful hotel and resort in Phu Yen.
Palm Beach Hotel Overview
Palm Garden Beach Resort & Spa is rated as one of the hotels with the most beautiful swimming pool in the Phu Yen area, as well as provides visitors with quality services and facilities. Palm Beach Hotel is a hotel that many tourists prefer to visit because it has left a good impression by being one of the best service hotels in Phu Yen. With a convenient location and stunning views from the hotel's interior. You will be able to enjoy a wonderful and comfortable time with your family and loved ones while staying here, dispelling the fatigue and worries of daily life.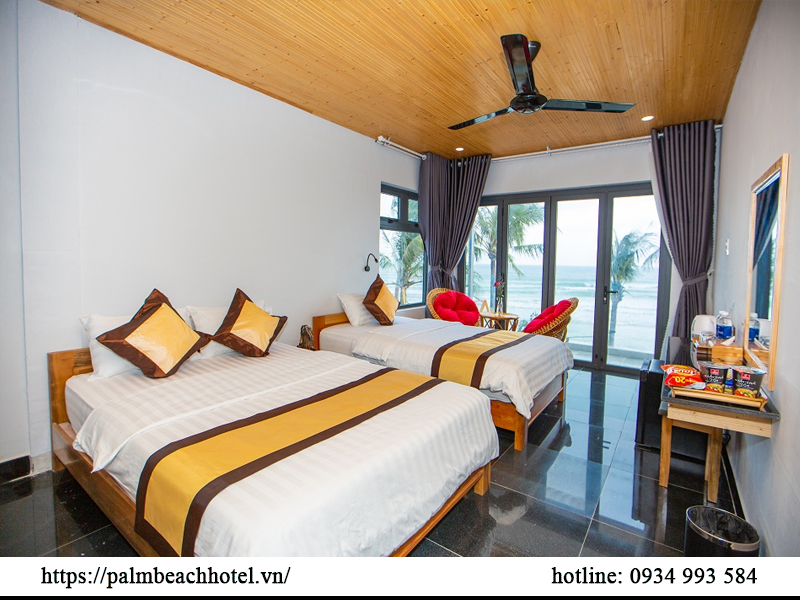 Palm Beach Hotel, among the hotels in this land, has a location right on Ganh Dua beach, so the hotel space is always very airy and cool. The hotel capitalizes on this advantage by designing and building the resort space in an open design style with a view of the sea so that visitors can enjoy the warm morning sunshine with the sun. cool breezes at any time. From a distance, the overall hotel appears stunning, which many visitors find surprising. The hotel is hidden behind soaring coconut palms and golden sands, creating a poetic and romantic scene. And, especially if you appreciate natural beauty, Palm Beach Hotel is an excellent choice.
Palm Beach Hotel's location
Location 
Giai Son village, An My commune, Tuy An district, Phu Yen province is home to the Palm Beach Hotel. The hotel is in a convenient and prime location right next to the most beautiful beach in the Central region, with blue sea scenery and long white sand beaches that will undoubtedly make visitors fall in love when admiring.
Furthermore, the Palm Garden Beach Resort & Spa's location allows you to enjoy and see the beautiful beach scene right in front of your eyes. Whether it's dawn or dusk, you can enjoy the view from your hotel room. Furthermore, because of its convenient geographical location for tourists, moving to visit famous and attractive places in Phu Yen is also very convenient and easy, and you will not lose too much time. time spent traveling
Phu Yen is famous for its untouched beauty, with many romantic and poetic natural scenes that you should not miss if you have the chance to visit. You can visit some famous places near Palm Beach Hotel, such as Ganh Da Dia, Bai Xep, Hon Yen, Phu Yen swallow tower, and so on.
Room types at the Palm Beach Hotel
Palm Beach Hotel has a system of 19 resort rooms that will meet the needs of visitors for rest and relaxation. Unlike other hotels in the area, guests can choose the room class that best suits their needs, as the hotel has designed a variety of rooms with varying spaces and layouts. Visitors can choose from single-to-family apartments of various sizes and easily arrange when traveling alone or in a large group with a variety of options. All of the hotel's rooms are outfitted with modern and complete amenities for guests' convenience. As a result of its high-quality services, this location has become a popular tourist destination for many visitors.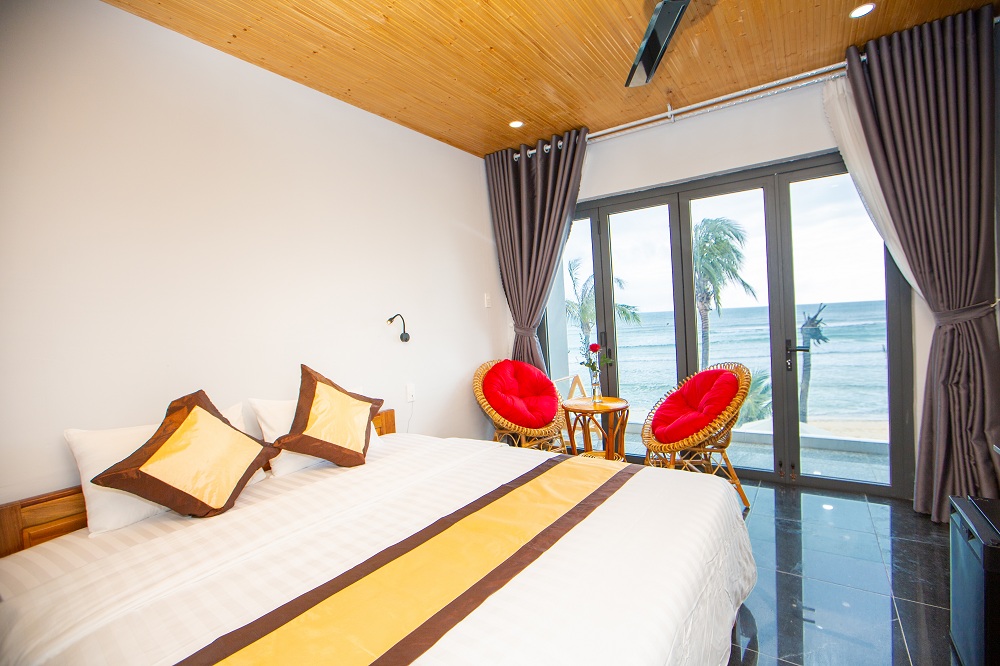 Furthermore, Palm Beach Hotel offers visitors incentives when they travel in a group or with a large group of people. When you choose Phu Yen as a stopover for you and your family, you can relax and enjoy a wonderful stay.
Recommendations for places to visit near Palm Beach Hotel 
Da Dia Reef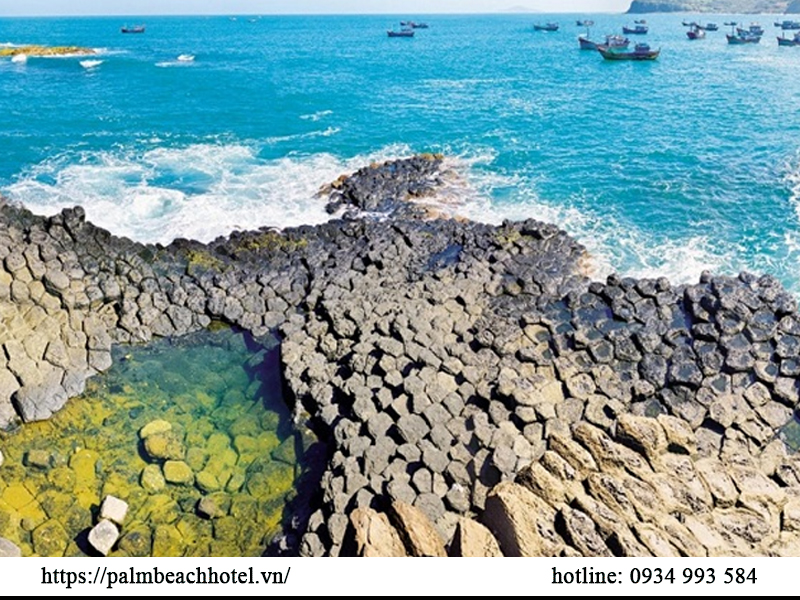 Da Dia Reef, located at the end of An Ninh Dong commune in Tuy An district, is a beautiful natural wonder of Phu Yen with black basalt rocks jutting out into the sea. It's only 21 miles from the city center, and the gentle sea breeze and romantic countryside scenery make for a relaxing drive.
Yen Island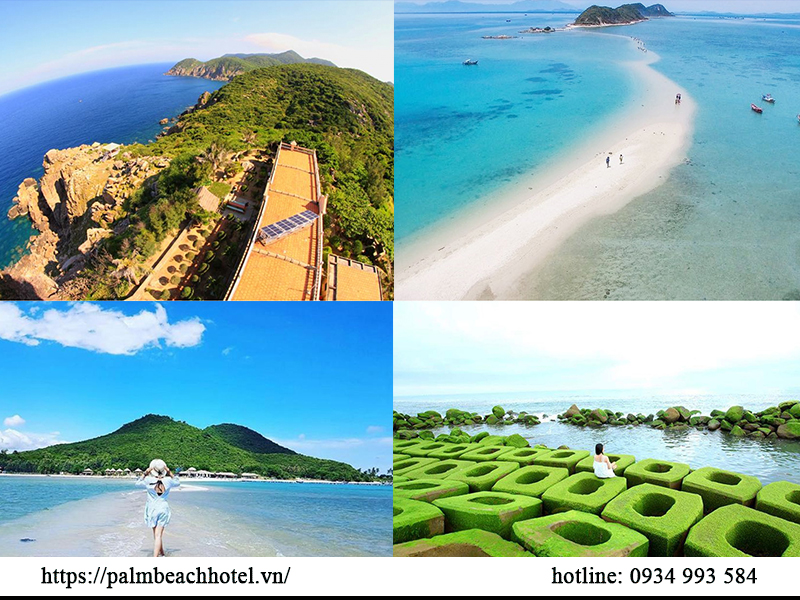 Yen Island's highlight is that when the tide goes out, you can see the beautiful scenery of the coral reefs surrounding the island. The Palm Beach Hotel has the best view in Phu Yen. According to the locals, interested visitors should keep in mind that tides recede only at specific times and days. After missing the deadline, you'll have to wait another 15 days to see the reefs again.
Phu Yen Nhan Tower
Nhan Tower is an ancient Cham worship site dating from the late 11th to early 12th centuries. The tower is 20m tall, with 11m on each side of the foot. The monsters at the top of the middle portal are sharp. This top is unique because it combines the pyramid symbol and the linga symbol, both of which are sacred to the Cham people. The tower was almost destroyed during the French colonial period. 
If you are tired of the pressures and rhythms of city life, come to Phu Yen and Palm Beach Hotel to find peace and relaxation in your soul. I hope with the most beautiful hotel and resort in Phu Yen you will have a pleasant time playing and relaxing in this land.