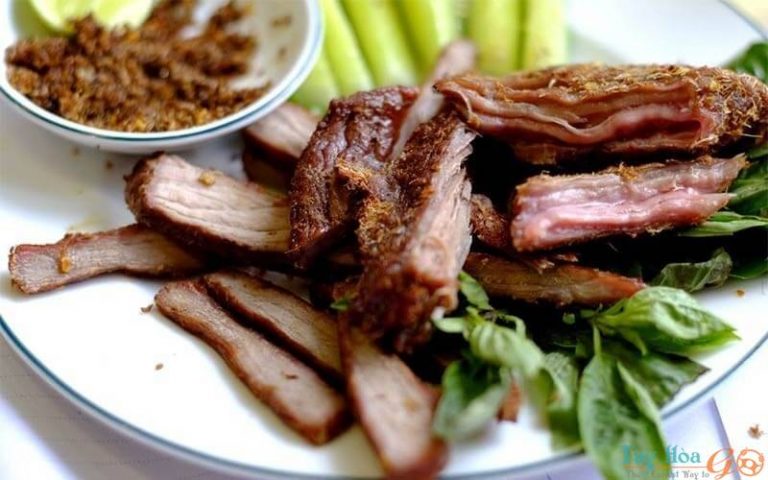 Half-dried beef in Phu Yen – Phu Yen's special cuisine
Have you had the opportunity to visit Phu Yen? Have you discovered and enjoyed the local cuisine? The central coastal land, with its harsh sun, wind blowing on the sand dunes, and salty taste of the sea, has produced a distinct local cuisine. The distinct flavor of the Phu Yen half-dried beef dish deserves special mention. Half-dried beef in Phu Yen is not only a visually appealing dish, but also an extremely expensive specialty that many tourists purchase as a gift when visiting Phu Yen. Follow the Palm Beach Hotel to find out how appealing Phu Yen is to tourists!
Half-dried beef in Phu Yen overview
When tourists visit Phu Yen, they are introduced to a dish with an unusual name: half-dried beef in Phu Yen.
It is not by chance that this dish is named after people, but because the stage and process of making a piece of beef one day is quite meticulous, complicated, and time-consuming. Many visitors express their curiosity when they first hear this name and express their desire to come and enjoy it. Half-dried beef is a specialty dish that has been around for a long time in Phu Yen and is now popular among tourists and locals alike, especially as gifts that are both luxurious and nutritious. Half-dried beef is a specialty dish that has been around for a long time in Phu Yen and is now popular among tourists and locals alike, especially as gifts that are both luxurious and nutritious.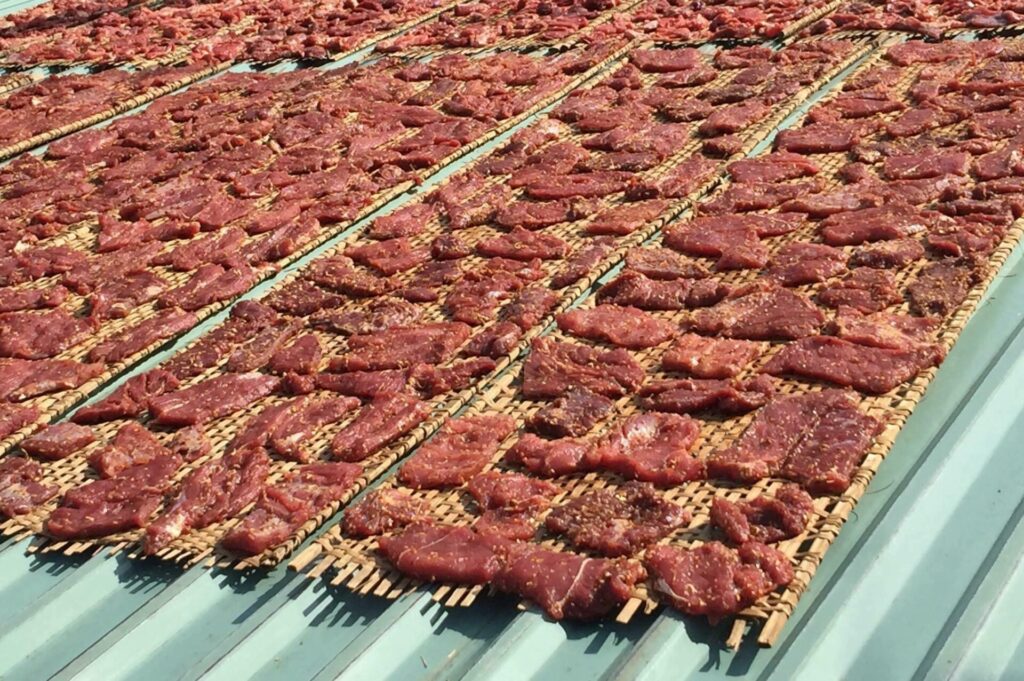 Whether the half-dried beef in Phu Yen is tasty or not, the processor must know how to select the right ingredients and ensure precision. Beef muscle (Phu Yen yellow cow in Son Hoa mountain area, this type of cow is naturally grazed for each fiber to be firm, firm, low in water, sweet in taste), corn is beef, parts with the highest meat quality are used to make this dish.
The cows chosen as raw materials for the Phu Yen half-dried beef dish are raised in the best conditions, grazed in pastures, and fed with natural foods, ensuring that the meat remains fresh until processing.
As a result, high-quality batches of beef are produced, ensuring nutrition, firmness, softness, and non-mushy meat. Fresh beef carefully selected above will be processed and seasoned to the taste of Phu Yen cuisine with spices such as green chili, pepper, garlic, fish sauce, rich salt, and so on.
Marinate the beef in this spice mixture for 4-6 hours to allow the spices to absorb evenly, then set aside to dry in the cool central weather. After drying, people place this meat in the oven to dry for another 30%, then continue to bring the meat to dry for 1 more mist for about 1 hour, and finally package the finished product for sale in the consumer market. The market price for 1kg of half-dried beef in Phu Yen today ranges from 300,000 VND to 600,000 VND/kg.
Where to buy quality half-dried beef in Phu Yen?
Specialty half-dried beef Phu Yen – Ha Trung
Address: 57B Nguyen Chi Thanh, Son Hoa, Phu Yen
The forerunner of Ha Trung specialty dried beef is Kim Hoa dried deer, which appeared on the market in 1955, is a family heirloom for 3 generations. In the past, the family only processed venison mainly, after the development of this place, it changed from deer meat to beef because there was not much deer meat left.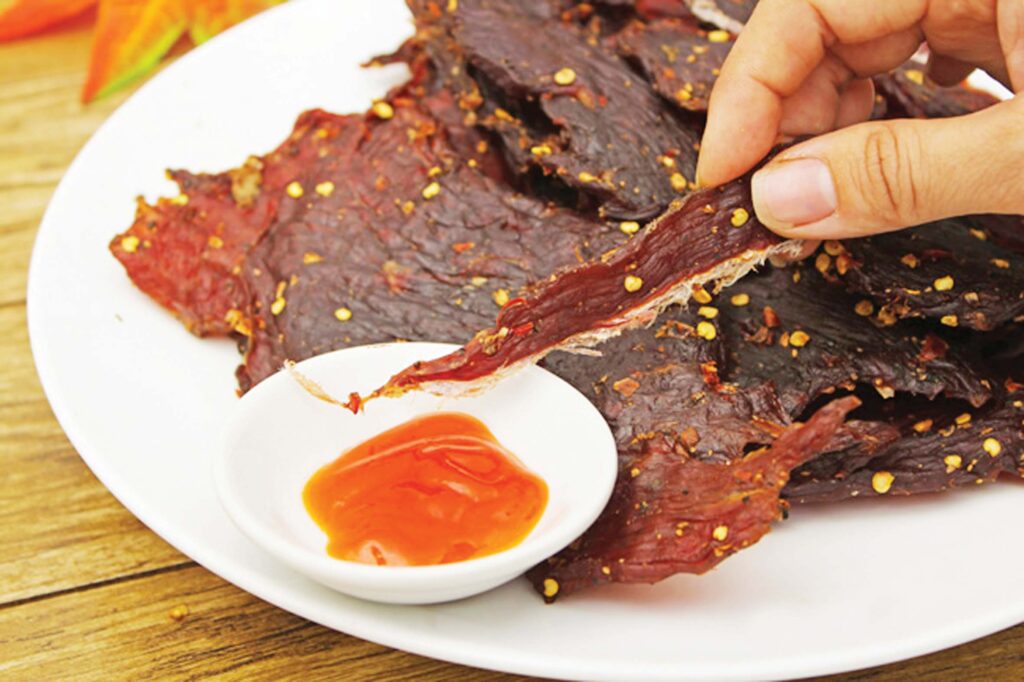 The family's heirloom product has been present for a long time, it has become a specialty of Son Hoa mountains, Phu Yen province. Specializing in processing beef products, in which the dish half-dried beef is widely known to consumers throughout the country. This is a long-standing famous one-sunny beef brand in Phu Yen.
Half-dried beef- Diep An
Address: 01 street 30/04, 247 Le Duan, Ward 7, Tuy Hoa, Phu Yen
With more than 8 years of experience in producing cows in Phu Yen, Diep An is a famous brand of Diep Bao An company that is gradually gaining the trust of customers.
Diep An sunny cows source quality beef from farms in the mountains of Son Hoa, where the cows are raised freely, with natural food, meeting strict testing requirements to produce batches of 1 sun with the rich flavor of Phu Yen land.
Mr. Ly Phu Yen's half-dried beef
Address: Tuy Hoa City, Phu Yen Province, Ninh Tinh 5, Ward 9
Mr. Ly wishes to bring to his diners dishes that are not only delicious but also retain the inherent nutrition, so he tinkered with the recipe for beef jerky a unique and bold Phu Yen sunshine while still remembering the traditional flavor of Phu Yen hometown. You should try it to ensure food hygiene and safety.
How to eat half-dried beef Phu Yen
In Phu Yen, the proper way to eat a sunny cow is to tear your hands away from the meat and dip them in weaver ant salt, a delicious salt made from the carcasses of ants that live on tall trees. If you don't want to tear them, you can cut them into bite-sized pieces with scissors.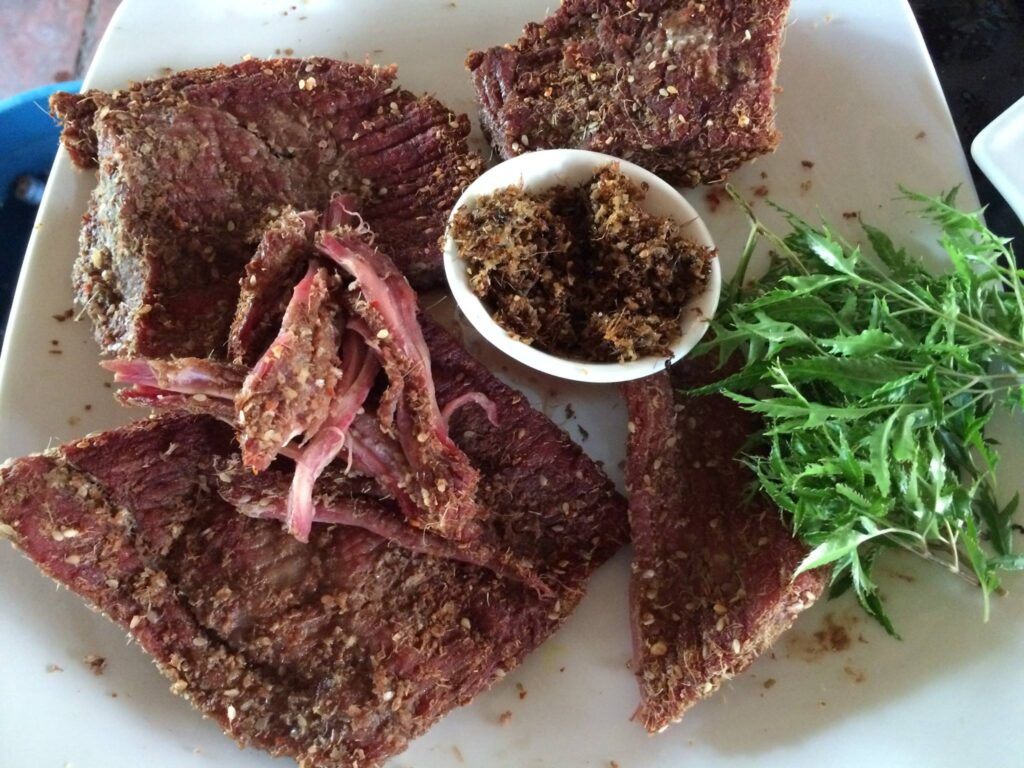 A sunny cow can also be used to roll mustard greens, rice paper with herbs and fish sauce, or users can use it according to their preferred taste. Sip a piece of beef with weaver ant salt and enjoy the aroma and sweetness of the beef combined with the characteristic sour taste of salt, which will make you want to eat forever. This Phu Yen specialty can also be purchased as a gift for friends and family!