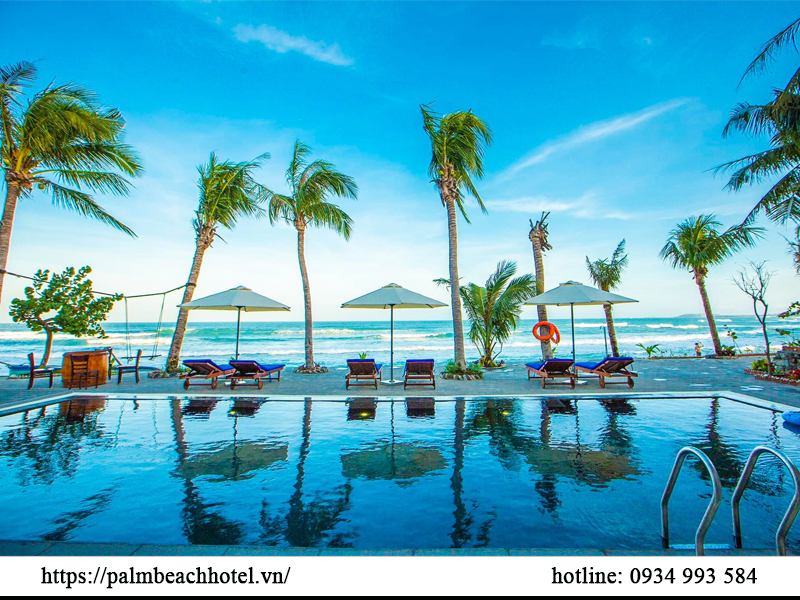 The best hotel 4 star near Phu Yen Beach
Phu Yen is known for having some of Vietnam's most beautiful, virgin white sand beaches. Hotels in Phu Yen always have "million-dollar vistas" thanks to the advantage of having several beautiful beaches. The hotel chains located near the shore always provide the greatest service to visitors. One of them, Palm Beach Phu Yen hotel is the best hotel 4 star Phu Yen close to the sea. 
The Palm Beach Hotel Phu Yen is situated on Ganh Dua beach in the Giai Son hamlet of An My commune, Tuy An district, Phu Yen province. To the north, around 20 kilometers from Tuy Hoa city. The Palm Beach Phu Yen Hotel is only approximately 20 minutes away by automobile via Highway 14. Palm Beach Phu Yen Hotel with 4-star standards, will satisfy any visitor who comes here.
Palm Beach Hotel Overview
Palm Beach Hotel is a hotel that many travelers adore and make a point of visiting since it has left a lasting effect on guests. With a handy location and stunning views from the hotel's interior space, this is a great place to stay. You will be able to spend quality time with your family and loved ones while living here, removing the fatigue and worries of everyday life.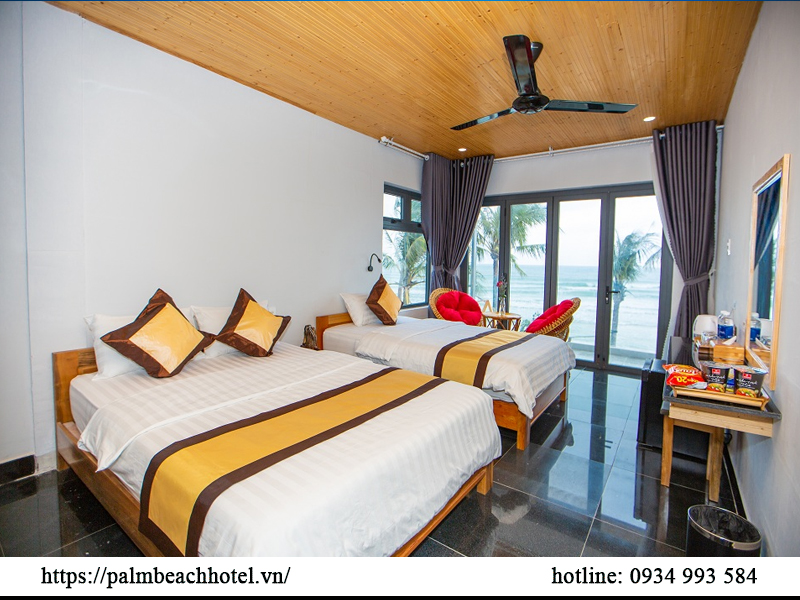 Palm Beach Hotel is unique among the hotels in this land because it is located directly on Ganh Dua beach, making the hotel room always seem airy and cool. The hotel capitalizes on this advantage by designing and constructing the resort area in an open design style with a view of the sea, allowing visitors to enjoy the warm morning light at any time with a cool breeze.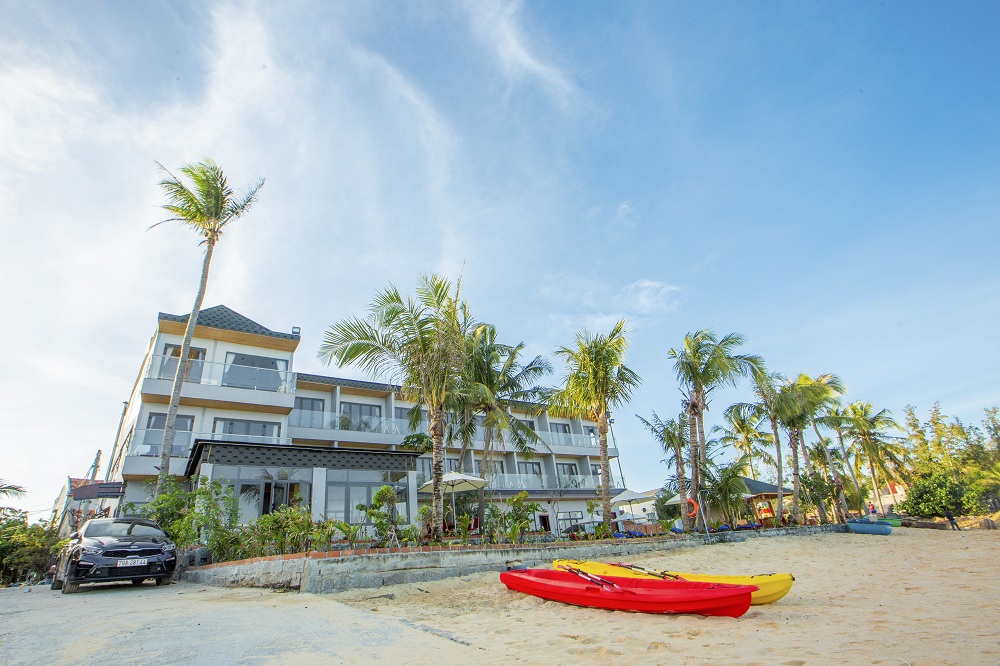 From afar, the entire hotel exudes a beauty that many tourists find surprising. The hotel is set against a backdrop of soaring coconut palms and golden dunes, creating a beautiful and romantic scene. Palm Beach Hotel is the right choice for you, especially if you are a nature lover who appreciates untouched beauty.
Room types at the Palm Beach Hotel
The Palm Beach Hotel has a system of 20 resort rooms that will cater to tourists' needs for rest and leisure. Unlike other hotels in the neighborhood, customers will be able to select the room class that best matches their needs, as the hotel has created a variety of rooms with various spaces and layouts. Visitors can pick from single to family flats of various sizes. Visitors will be able to plan their trips whether they are traveling alone or in a large group.
1. Deluxe Double Bed Room Balcony Seaview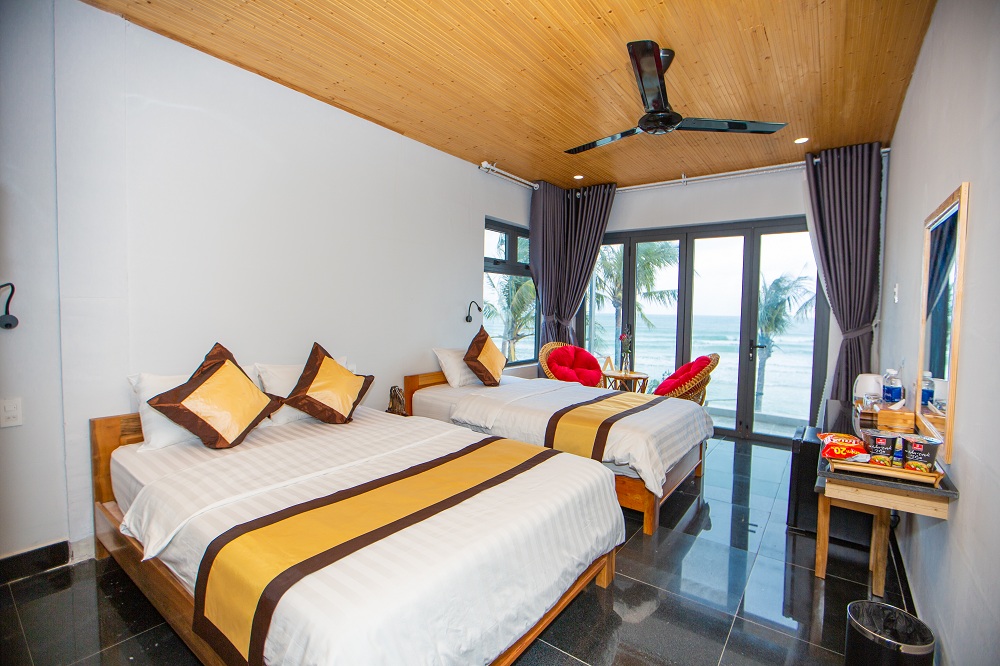 This room has a total area of 28m2 and can accommodate up to 4 pax. The accommodation has a 1m8 double bed as well as a spacious and airy balcony with the best beach view in the Central region.
2. Deluxe Double Bedroom, Sofa, Balcont Sea View
The room is 35m2 in size and features one huge bed and one sofa set for up to two adults. The accommodation has a spacious balcony with a panoramic view of the sea.
3. Deluxe 2 Bedrooms Family View
The room is divided into two bedrooms, each with a view of the sea. The room is 56m2 in size and is furnished with one giant bed, two 1m2 beds, and a sofa set.
4. Deluxe Single Room 2 Beds Balcony Seaview
The room is 32m2 in size and is furnished with two single beds with a view of the big ocean. Up to three adults can be accommodated in the room.
Excellent service of Palm Beach Hotel
Understanding the psychology of travelers that they frequently want to know about the quality of the hotel's service before booking a room. Palm Beach Hotel is regarded as one of the best-serving hotels in the area.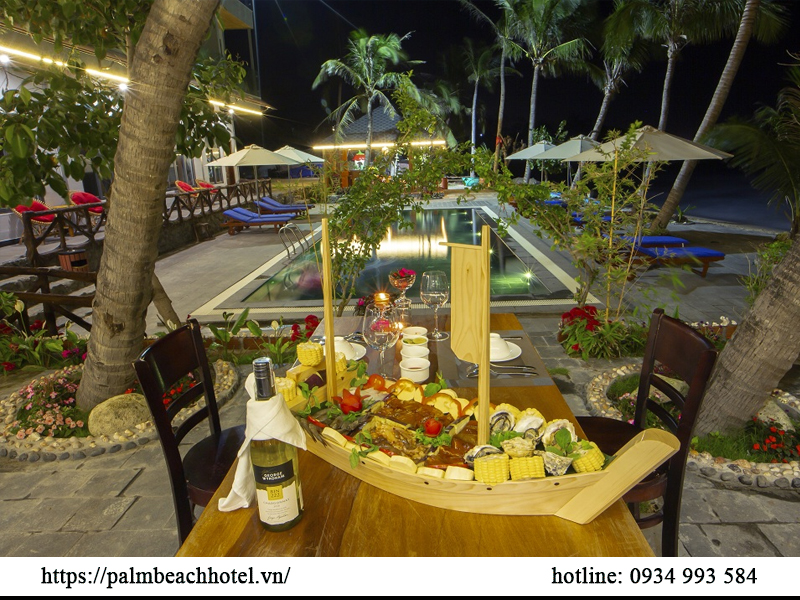 Exceptional meal service
On-site dining is available at the Palm Beach Hotel. You can have breakfast, lunch, or dinner if there is a need. The hotel's strong suit is its proximity to the sea, which ensures that fresh fish is always available. Guests who have stayed at the hotel have been left with an indelible impression as a result of this.
Customer service
Palm Beach Hotel has a high-quality workforce that meets 4-star hotel standards. All of the employees, from the front desk to the rooms, have received extensive training. Chefs on the team have a lot of experience. As a result, visitors are always satisfied and leave with a variety of sensations when they stay here.
Conclusion
The beach near Palm Beach Hotel Phu Yen is its most appealing feature. The peacefulness of Ganh Dua Beach, as well as its extensive lengths of pure white sand, are well-known. Along with that is a direct view of the coast with Yen island diagonally to the left, a popular tourist destination. In this post, we look at the best hotels in Phu Yen- Palm Beach Hotel. Hopefully, this remark will be immensely helpful to people who are planning a trip. For additional information or to book a room, go to the website below or call the hotline at 0934.993.584.