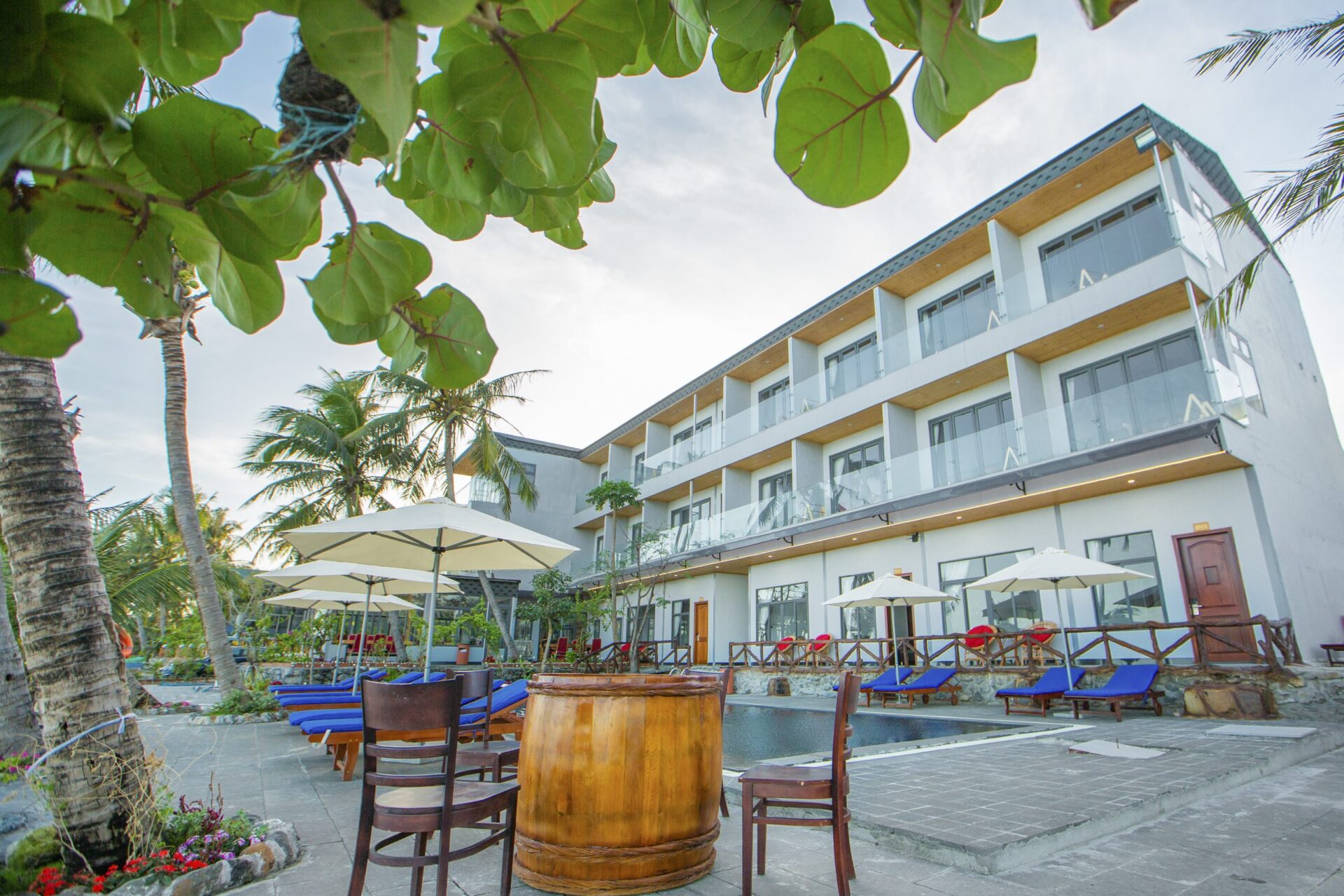 Where to stay when traveling in Phu Yen?
Hotels/resorts in Phu Yen are the keywords that many tourists search for when visiting Phu Yen on today's social networking sites. Tourist demand is growing by the day. Many different large and small hotels have sprouted in Phu Yen to meet the needs of domestic and foreign tourists. As a result, many tourists who travel to Phu Yen are unsure of which resort to stay in. So, do you know the answer about which resort should we stay at in Phu Yen? so, Palm Beach is an excellent choice; read on to find out the reasons why!
Palm Beach Hotel Overview
Hotel in Palm Beach The hotel is relatively quiet, situated in a fishing village on the most beautiful stretch of Ganh Dua beach. Beautiful outdoor swimming pool with a view of the sea, a children's play area, and a bar right by the pool.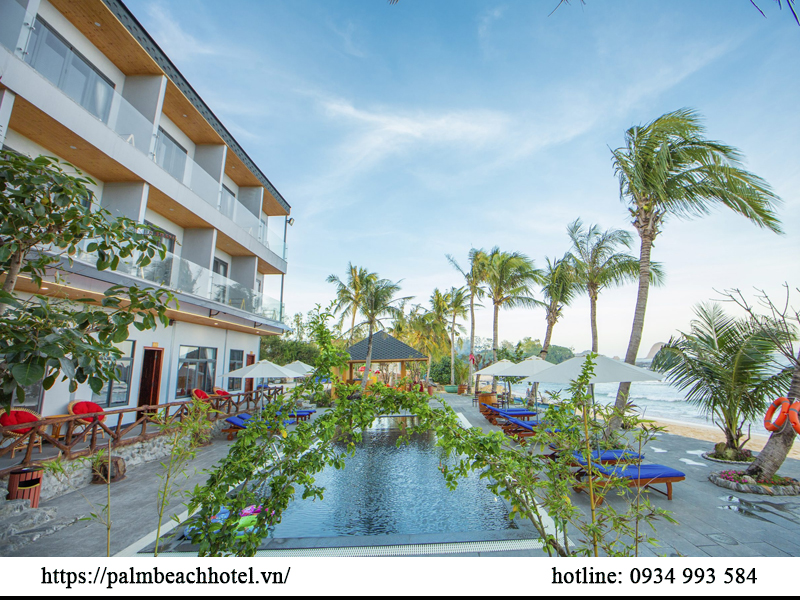 Every breakfast is served as a buffet with a varied daily menu; the food is very fresh, particularly the seafood. The room is fully equipped, including an air conditioner, a ceiling fan, a super-fast kettle, high-speed WiFi, and a wardrobe… The rooms have a view of the sea and a large, clean, modern bathroom. 
Palm Beach Hotel's prime location right next to the sea allows you to enjoy the poetic beauty of Phu Yen's blue coast, from radiant dawn to peaceful sunset. Spacious, poetic space with a green garden, outdoor swimming pool, sundeck, buffet breakfast services, free bicycles, airport shuttle, and travel,… will make your stay in Phu Yen unforgettable.
The design style of the Palm Beach Hotel
You can see the design of this spacious place as soon as you step into Palm Beach Hotel, with the freshness of nature, green lawns, and rows of coconut trees, in addition to the sea view and sandy beach. White is a beautiful color that creates a comfortable and relaxing environment for visitors. When you enter the hotel, you will find a comfortable, modern resort full of lights combined with ancient and traditional features not found anywhere else. This one-of-a-kind and novel combination is the hotel's main attraction.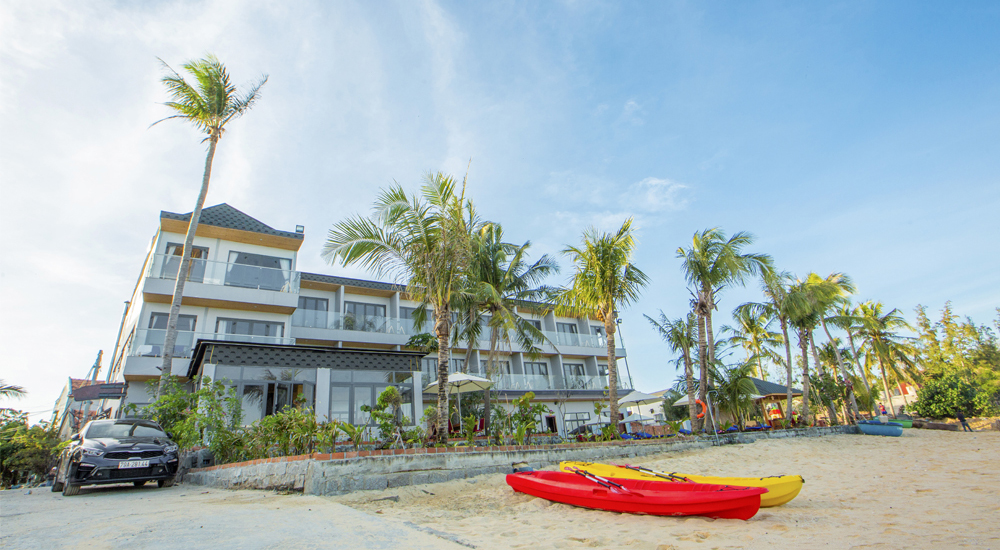 Palm Beach Hotel's main green design allows visitors to interact with trees and flowers. From the bedroom to the function room, everything is designed in a green color scheme to give visitors the impression that they are living in harmony with nature. Leaving the hustle and bustle of the city behind, this is the ideal location for tourists to visit.
High-class service quality of resorts in Phu Yen
The outside of Palm Beach Hotel is full of high-class service space, with a comfortable design in a large area. First and foremost, the lively bar area and food service with a diverse culinary background. This restaurant has talented chefs who prepare a variety of delicious and healthy dishes, particularly exotic Asian-European fare.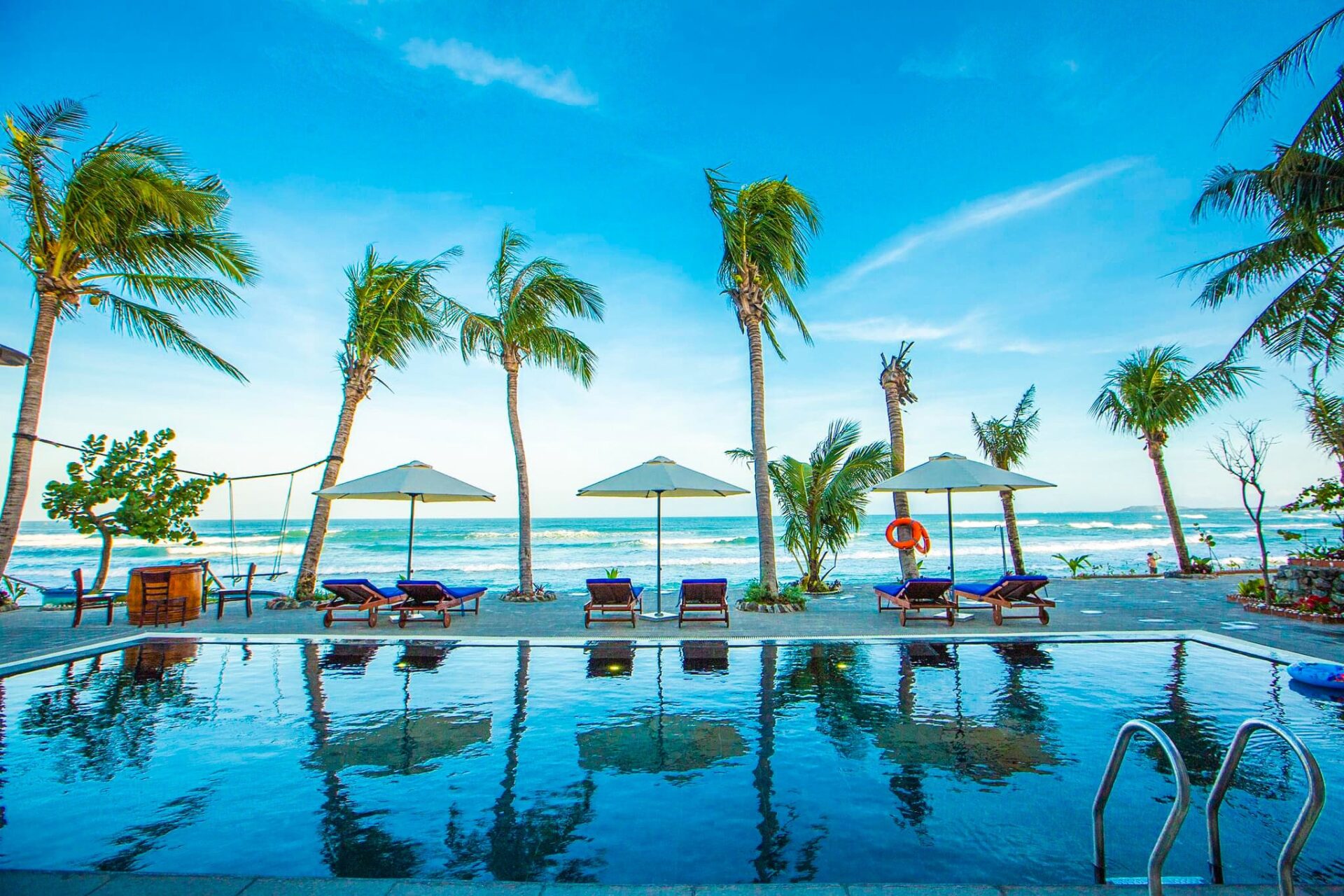 Following that is an outdoor swimming pool and a play area for children. Parents can rest assured that their children will have a good time on the campus of this 4-star resort. Security systems closely monitor all sizes, ensuring visitors' complete safety. Furthermore, the hotel is ideal for holding seminars.
The hotel will support the construction by providing a large area and all necessary auxiliary equipment to help you have the most comfortable conference. You can select a food and entertainment package to make the members of the group as comfortable as possible.
Hotel rooms rate
Not only does it have a favorable geographical location and an outstanding comfortable design, but it also has extremely favorable service rates. A fully-furnished resort room can be yours for as little as 1,350,000 VND per day. This is a very competitive price in the market for 4-star standard hotels. Suitable for many tourists' income. When you book more rooms, the price list will include additional incentives. To provide visitors with the best quality and class service in the Phu Yen beach area.
Room rates at Palm Beach Hotel
Many people frequently appear to be concerned about whether Palm Beach Hotel in Phu Yen offers good service and is priced reasonably. You can therefore use the details on the room rate table below to decide what to pack for the trip. Depending on the type of room, the rates at the Palm Beach Hotel vary.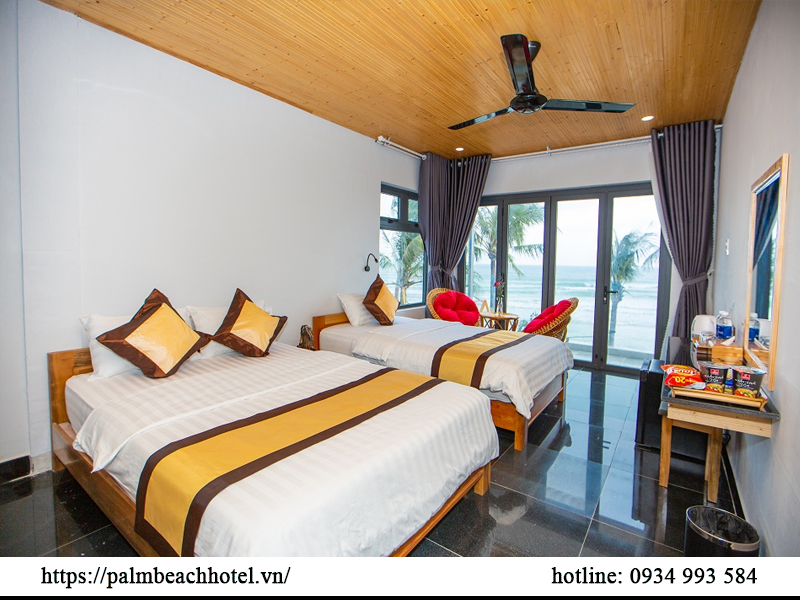 Priced at VND 1,350,000 per day, the Deluxe Double Bedroom Balcony Seaview Room has a balcony that looks out over the water.
Priced at VND 1,800,000, the deluxe double bedroom, sofa, and Seaview offers a double room with a balcony that looks out over the water.
An apartment with two bedrooms and a balcony with a view of the water costs 3,900,000 VND;
Costs 2,900,000 VND for a Deluxe Family 2 Bedroom Seaview (family room with 2 bedrooms sea view);
The price of a deluxe single room with two beds and a sea view balcony is 1,800,000 VND.
So the article has answered which resort in Phu Yen you should stay at – Palm Beach Hotel. Please save this information right away for future reference. If you need to book a room at the Palm Beach Hotel, please use the following contact information:
Hotline: 0934 993 584

Email: service@palmbeachhotel.vn