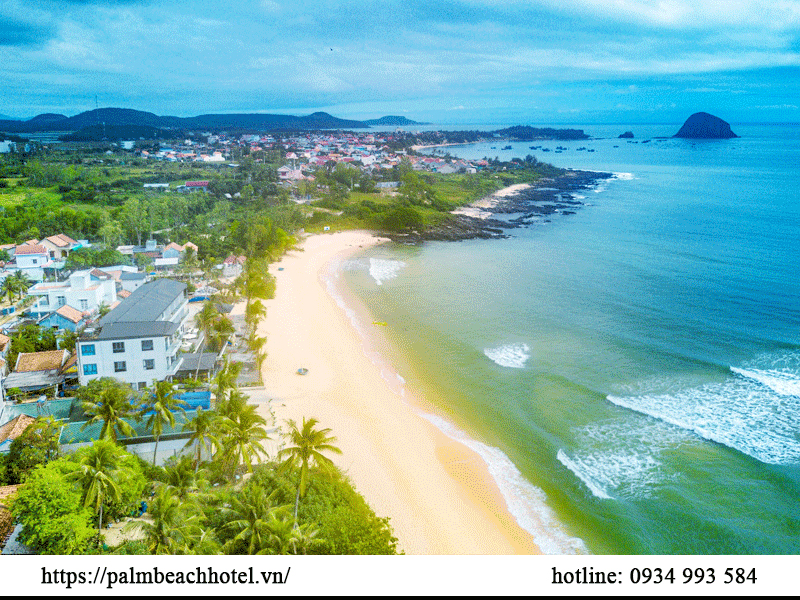 Ganh Dua Beach, The best beach in Phu Yen, Vietnam
Phu Yen is one of the tourist destinations that leave an impression on them. This is a stunning beach that has retained its natural beauty. Ganh Dua Beach in Phu Yen is always at the top of the list of extremely appealing and intriguing destinations. Let's look at the island's tourist attractions to get ready for an exciting adventure! Ganh Dua Phu Yen is not a well-known tourist destination, but it retains the beauty of nature and the simple way of life of the Phu Yen fishing villages.
Phu Yen check-in locations
Visitors to Phu Yen not only admire the majestic and poetic beauty of the natural scenery, but they also visit many unique architectural sites. Ganh Dua, Ganh Da Dia, Ganh Ong – Bai Xep, Mui Dien, Bai Mon, Mang Lang church, Ong Cop wooden bridge, Vung Ro bay, Hon Nua, Cu Lao Rooftop, O Loan lagoon… are some popular check-in points in Phu Yen. Most of the popular tourist attractions in Phu Yen can be explored in 3-4 days. You can schedule a schedule in both the south and north directions from the Tuy Hoa city center. However, in this post, I will only discuss Ganh Dua beach!
Location of Ganh Dua beach Phu Yen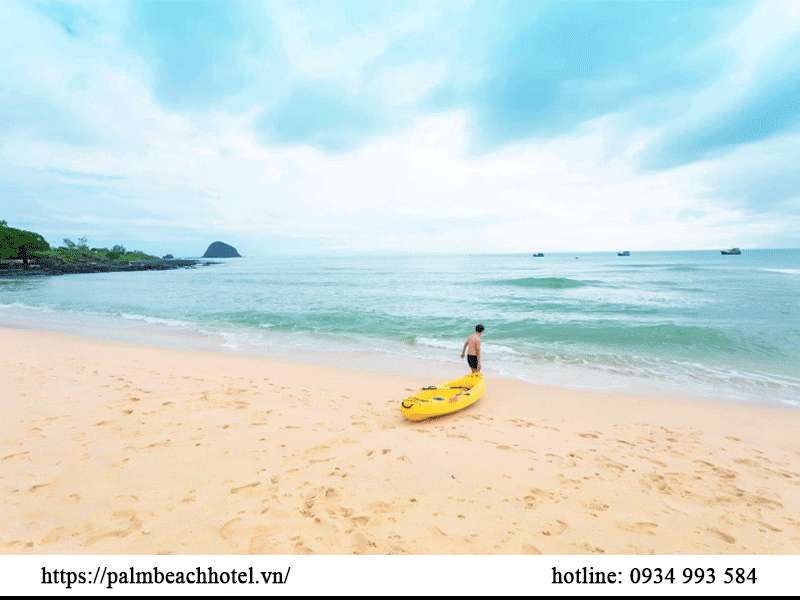 Ganh Dua is one of Phu Yen's most well-known and beautiful beaches. This beach is located approximately 10 kilometers from Tuy Hoa city in Giai Son village, An My commune, Tuy An district, Phu Yen province. Ganh Dua is easily accessible from the city center by heading north. This location has a beauty that "conquers" people at first sight. As a result, travelers who enjoy exploration and adventure should not overlook this location.
What are the tourist attractions of Ganh Dua beach?
It is impossible not to visit the beautiful Ganh Dua beach if you have ever visited our land of Phu Yen in Vietnam. Unlike other beaches in Vietnam's north or south, this one is still quite wild and retains its original mysterious beauty. The entire Ganh Dua beach is covered in green coconut trees that sway in the sea breeze. A wonderful and rare natural scene is created by small rocky beaches and gentle golden sand. Visitors who come here will enjoy the cool sea breeze and gentle natural sunlight while having seafood barbecue parties with friends and family.
The rocky beaches, combined with the gentle golden sand, have created a wonderful natural scene, which is uncommon in places of such beauty as this. Visitors to Ganh Dua beach in Phu Yen will appreciate the cool breeze and gentle natural sunlight.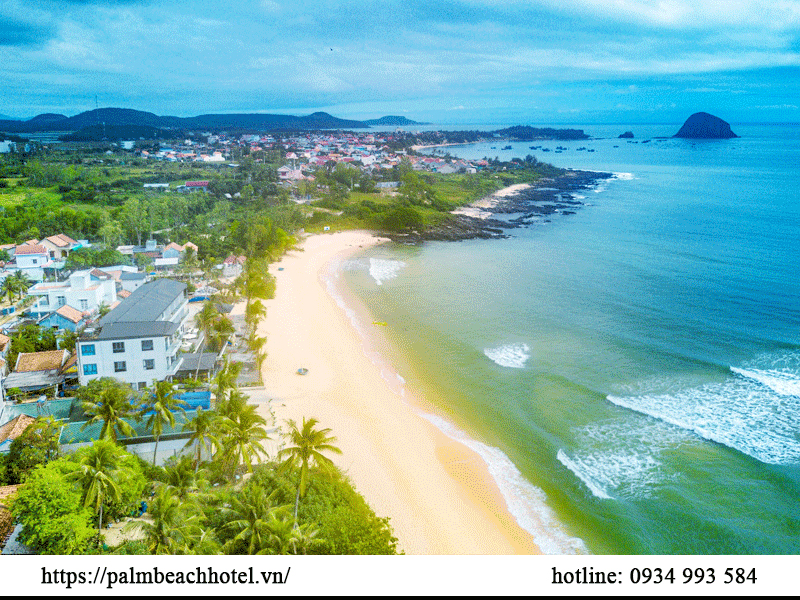 If you've been to this tourist destination, you can't help but notice how each cliff has been shaped by the sea over the years, creating an unusual and eye-catching shape. Perhaps this is the most striking feature that contributes to the beauty of this beach. When you arrive in Ganh Dua, you appear to throw away all of the city's chaos and worries, returning to a relaxed and comfortable life where there are only waves and endless stretches of sand. You will go out on your own to explore and travel, and if you are a true "photographer," this is the place for you to indulge your hobby.
There are many resorts and restaurants around Ganh Dua beach in Phu Yen that serve delicious seafood dishes. You can rent your own chairs and ovens to host an outdoor party with friends and family. After a long day of enjoyable play, you can return to the hotel in the evening.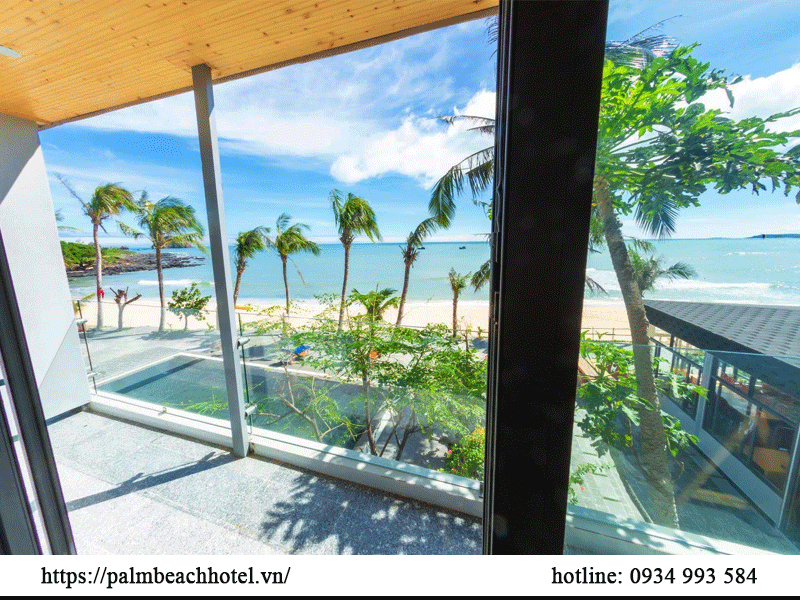 Palm Beach Hotel is located right next to the sea in Ganh Dua beach, so you won't have to travel far to find lodging. It only takes a few minutes of walking to get back to sleep before the next day's journey. This hotel has a 4-star rating, so you will be pleased with everything from the room to the other services. There are many different types of rooms to choose from, all at very reasonable prices. Furthermore, Palm Beach Hotel offers a variety of European and Asian dishes to accommodate each customer's preferences. As a result, when you visit Phu Yen, this will be one of the "paradise."
When is the best time to arrive at Phu Yen?
The weather in Phu Yen is cool and pleasant all year. However, the best time to visit Phu Yen is from January to August. Because this is a dry period, it will be easier to move around and explore this coastal land. Don't forget to bring plenty of cream, sunscreen, and a hat. Many roads here are very slippery during the rainy season, so you should limit your photography on these days. You can check the weather forecast ahead of time or ask the locals to accurately predict the weather change in each season.
Conclusion
The information shared in this article about Ganh Dua beach should help you have more interesting experiences during your trip. Spending a day at Ganh Dua Phu Yen is an experience worthy of the peace that this place provides. Everything is simple, gentle, idyllic,… assisting visitors in dispelling all of life's troubles. Come here at least once to experience the wonderful atmosphere.