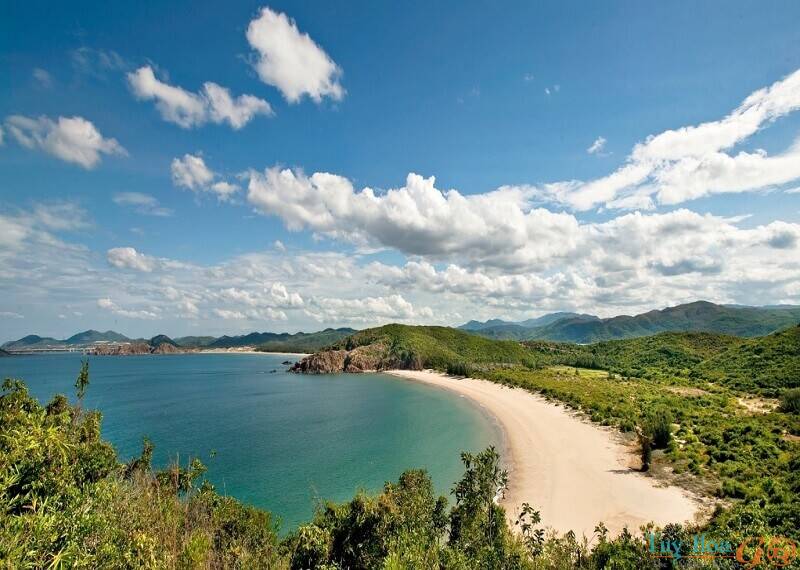 Bai Tram Beach Is A Unique Destination In Phu Yen
If you're looking for a deserted, unspoiled space with something dreamy to enjoy great vacations, look no further than the Bai Tram Phu Yen tourist area. The fresh sea nature combined with quality services will undoubtedly provide you with the best vacation. The following article will introduce you to the peaceful beach in Song Cau district – Phu Yen: Bai Tram, as well as share some travel experiences to Tram beach that you should know. Continue reading the article below!
Where is Bai Tram located?
For tourists, Bai Tram Phu Yen must be a strange name. Phu Yen has many beautiful beaches, each with its own distinct personality that tourists remember.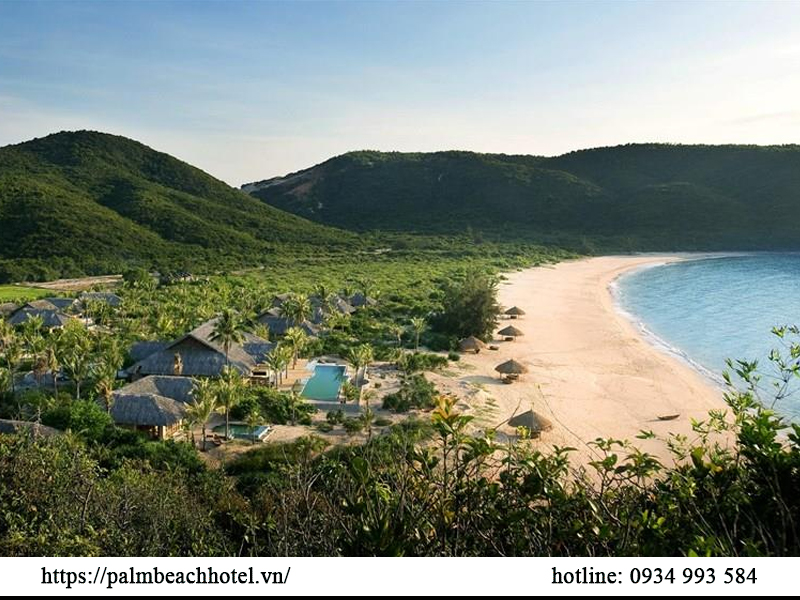 Tram Phu Yen beach is located in Xuan Loi commune, Xuan Canh village, Song Cau district, and is 60 minutes by car from Tuy Hoa airport. Tram Phu Yen promises to be an appealing destination for many travel enthusiasts due to its central location and proximity to tourist sites along the Cau River. Bai Tram Phu Yen is a hidden gem just waiting to be discovered by tourists. This location has not been greatly altered by human hands, so it retains its natural beauty. Each journey has a unique meaning and memorable journey.
Some people enjoy the noise and heat, while others are drawn to the ancient and quiet features. If you want to find a peaceful and quiet sea, Tram Phu Yen beach is the best option. Bai Tram has everything you need for a paradise vacation. Although it is little known and retains its pristine beauty, Tram Phu Yen beach also has luxurious and comfortable resorts to welcome you.
Explore the beautiful sights and great moments in Bai Tram
Tram Phu Yen beach's geographical location also makes it easy to visit Phu Yen's famous landmarks. Among them is the Ong Cop wooden bridge, Vietnam's longest wooden bridge. Ong Cop wooden bridge, which was built to connect two villages, has now become a popular tourist destination when visiting Phu Yen. The rustic, peaceful wooden bridge stands out in the middle of the vast river at sunset, like a famous artist's ink painting. Along with that, there is a scene of people living along the river, and a shadow of someone riding a bicycle slowly passing by on the bridge, creating a beautiful frame like a movie.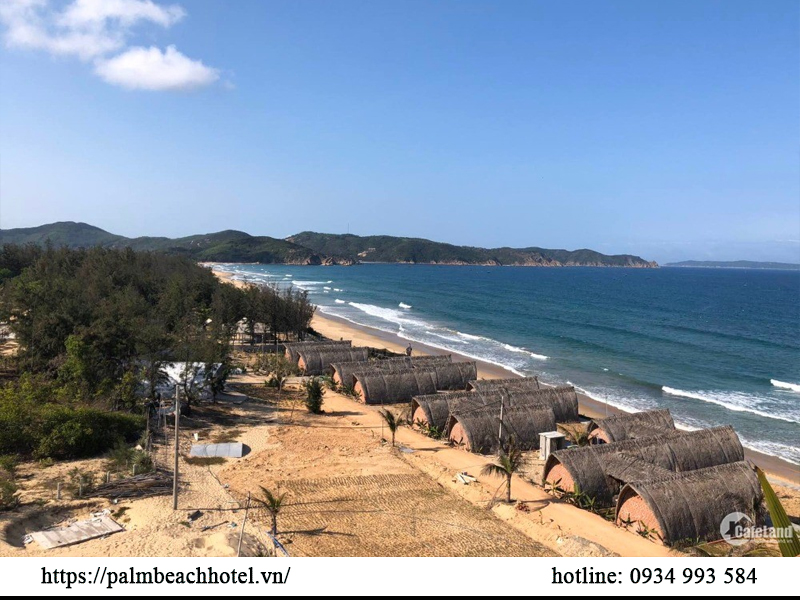 Sunset is probably one of the most beautiful times to visit Tram beach, Phu Yen. At the end of the day, the sunlight is no longer clear and gentle, but brilliant orange, creating a shimmering and surprisingly beautiful sky.
The peaceful water surface reflects the bright orange sunlight, transforming this naturally peaceful natural scene into a new, more glorious, and memorable coat. If the sunrise makes people happy and excited, the sunset leaves a lasting and emotional impression on those who witness it.
What to eat at Bai Tram Phu Yen?
Nature favors abundant and fresh seafood in the Bai Tram – Phu Yen tourist area. A must-try when visiting here is lobster, high-quality seafood that is high in nutrients. Many dishes have been developed in order to bring out the full flavor of shrimp. Typical dishes include lobster hot pot, lobster blood soup, grilled lobster with cheese, and so on.
Notes for visitors to the Bai Tram Phu Yen tourist area
Summer is the best time to visit the Bai Tram tourist area, according to Phu Yen travel experience. Phu Yen, which is located in a tropical monsoon climate region, has two distinct rainy and sunny seasons each year. However, the rainy season will be brief, lasting only from September to December. Furthermore, if you decide to stay here, you should be aware of the policies regarding children and extra beds. You should book rooms early, especially during peak tourist season.
High-quality services in Bai Tram
Bai Tram Beach is like something out of a watercolor painting. This location features rolling mountains, a romantic blue sea, and long sandy beaches along the coast. The service quality here is rated 5 stars. Visitors will undoubtedly be extremely satisfied when staying at resorts, resorts, and hotels such as Palm Beach Hotel. Coming here will only bring you peace, relaxation, and comfort. Guests will be taken care of with modern Spa services right on the hotel grounds, eliminating the need to travel far. Health and spiritual care services are typically concealed behind a thin curtain that does not interfere with nature's harmony. Furthermore, Palm Beach Hotel is close to the beach, so you can come here to relax, organize parties, and build campfires at night. Or simply go to the romantic beach to watch the sunrise and sunset together.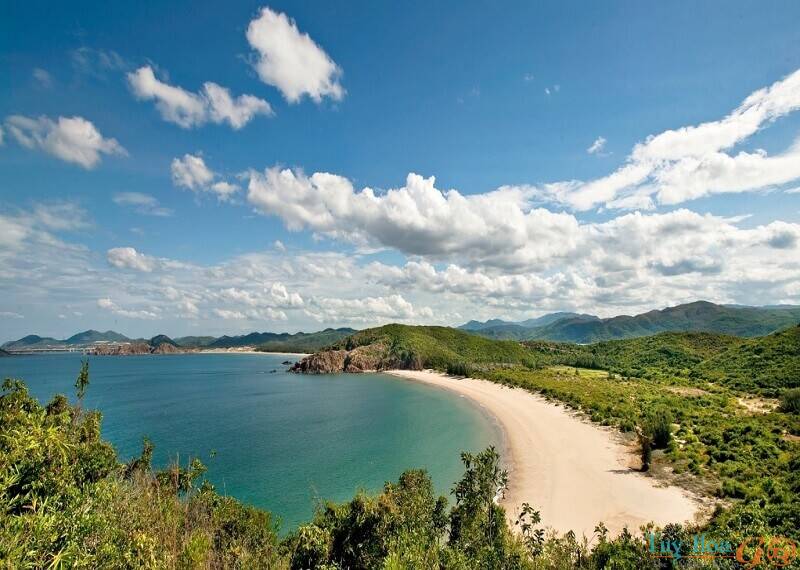 Maybe the prices are high here, but it's worth a shot! Youth has to be crazy once in a while, and experience so many wonderful things that when you look back, you feel you have no regrets. To write more emotional stories in the youth travel handbook, each trip will be a long and memorable journey.
The land of Phu Yen, with its many interesting surprises, always manages to please even the most discerning visitors. Bai Tram Phu Yen is a great place to get away from the hustle and bustle of the city. When you come here, it appears that all worries are temporarily set aside in order to enjoy the peaceful and peaceful nature. Tram beach in Phu Yen awaits you to discover and experience the beauty of the sea with blue sea, white sand, and golden sunshine.