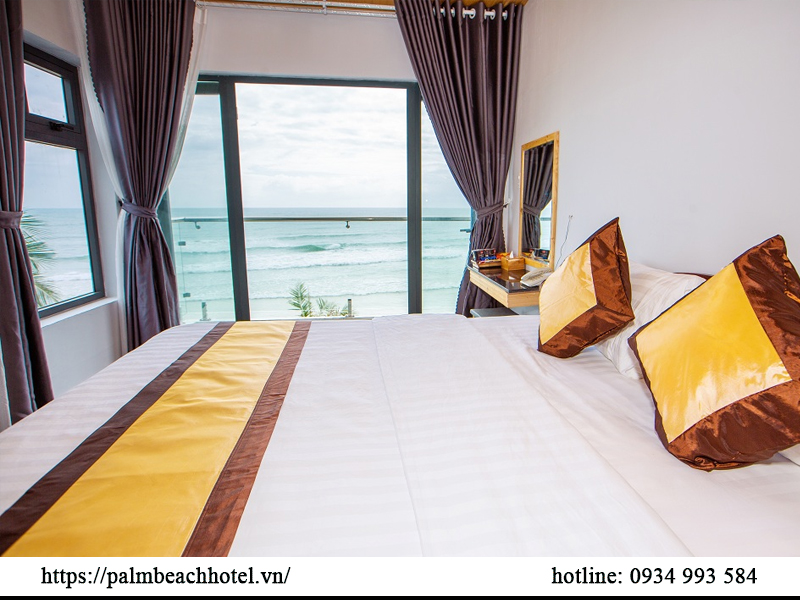 The best 3-star hotel in Phu Yen
Because visitor demand in Phu Yen is expanding on a daily basis. As a result, finding gorgeous hotels such as Palm Beach Hotel near the sea with a swimming pool is usually a top priority. Many tourists consider Palm Beach Hotel as the greatest location to stay. So, what makes the 3-star hotel in Phu Yen near the beach Palm Beach Hotel so appealing to tourists?
Overview of 3-star hotel – Palm Beach Hotel Phu Yen
Palm Beach Hotel is a peaceful 3-star hotel described as a "new resort in Phu Yen" with high quality by international visitors, located in a fishing town in the most picturesque area of Ganh Dua beach. With a lovely outdoor swimming pool overlooking the sea, a children's play area, and an eye-catching pool bar. Palm Beach Hotel impresses guests with a diverse breakfast buffet; the cuisine is quite fresh, particularly seafood.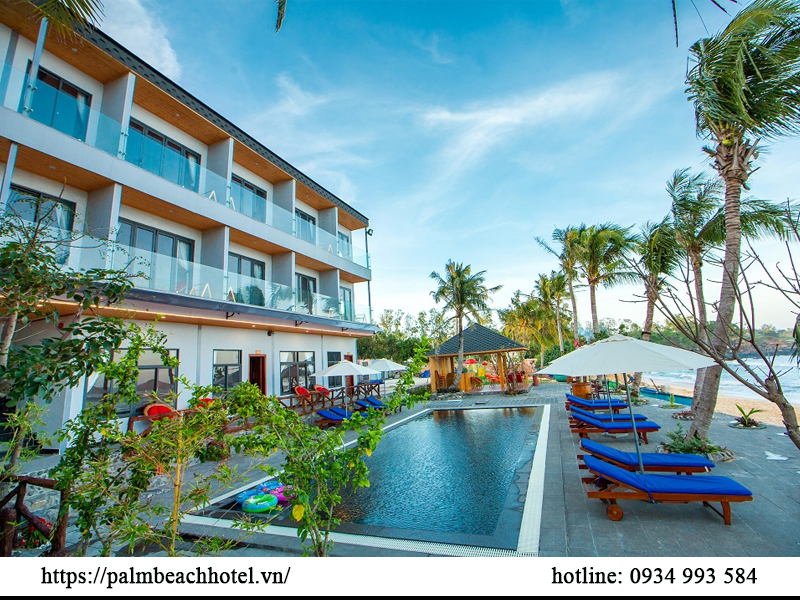 The Palm Beach room system is completely equipped with the required equipment such as an air conditioner, ceiling fan, super speed kettle, wardrobe, high-speed internet, and so on. More specifically, all rooms at this customer have a sea view, bringing natural light and making the place feel open and expansive.
Visitors to Palm Beach Phu Yen will enjoy the beautiful landscape of the blue coast and fine white sand thanks to its great placement directly next to the sea. It's an exceedingly expensive gift from nature, whether it's dawn or sunset. You will undoubtedly enjoy a quiet and unforgettable stay in Phu Yen.
The design of the Palm Beach Hotel near the sea with a swimming pool
Although the hotel has a limited number of rooms, it can completely fulfill the demands of each client that visits this resort. Each room at Palm Beach Hotel is meticulously created to let visitors feel at ease and at home. The rooms are properly furnished to ensure that clients enjoy a comfortable and convenient stay.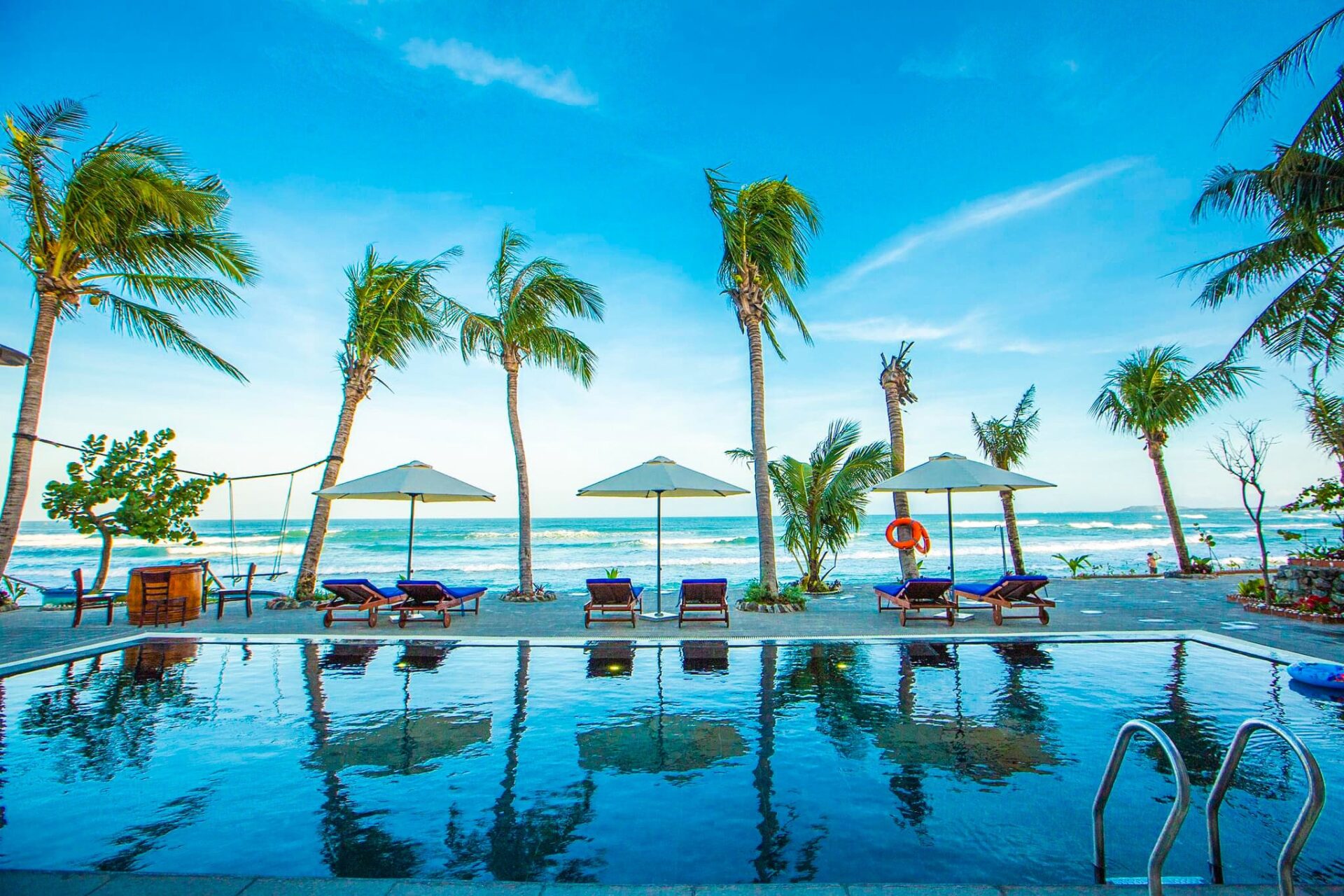 Palm Beach Hotel boasts an amazing and eye-catching design with a spacious swimming pool, in addition to its good geographical location near the sea. Designed with a contemporary, elegant, and luxury design that adheres to stringent European aesthetic and functional requirements. The hotel's scale contains all 19 rooms with complete facilities and diverse styles to provide tourists with a novel experience:
Deluxe double room with balcony overlooking the sea: This 28m2 room is intended to accommodate up to 4 persons. The accommodation has a 1m8 double bed and a big balcony with the best sea view in the Central Region.

Deluxe double bedroom, sofa, balcony with sea views: The room is 35m2 in size and features a huge bed and a sofa set for two persons. The accommodation features a wide balcony with a wonderful sea view.

2-bedroom apartment with a balcony overlooking the sea: This room has a space of 2 bedrooms with a spacious balcony, guests can have a panoramic view of the sea in this room. With an area of ​​​​up to 80m2, the same design with a bed of 1m2 and a sofa set. Besides, the apartment also has a kitchen area with a bathtub and washing machine for customers to relax more comfortably.

Deluxe 2-bedroom family room: This is a room with a space of 2 bedrooms, both overlooking the sea area. The room has an area of ​​56m2 and is arranged with 1 large bed and 2 small beds of 1m2 and a sofa set.

The deluxe single room has 2 beds and a balcony overlooking the sea: The room has an area of ​​​​32m2 with 2 single beds with a full view of the beautiful beach. The room has a maximum space for 3 adults to rest and use.
Service quality of 3-star hotel Phu Yen – Palm Beach Hotel
Palm Beach Hotel near the sea is designed in a modern manner and features a swimming pool with complete equipment in a big area as well as a high-class and comfortable service space. First and foremost, there is the intriguing bar area with extensive gastronomic options. Palm Beach Hotel is a 3-star hotel with a great staff of chefs that provide various tasty, appealing, and healthful cuisine, particularly Asian-European style dishes.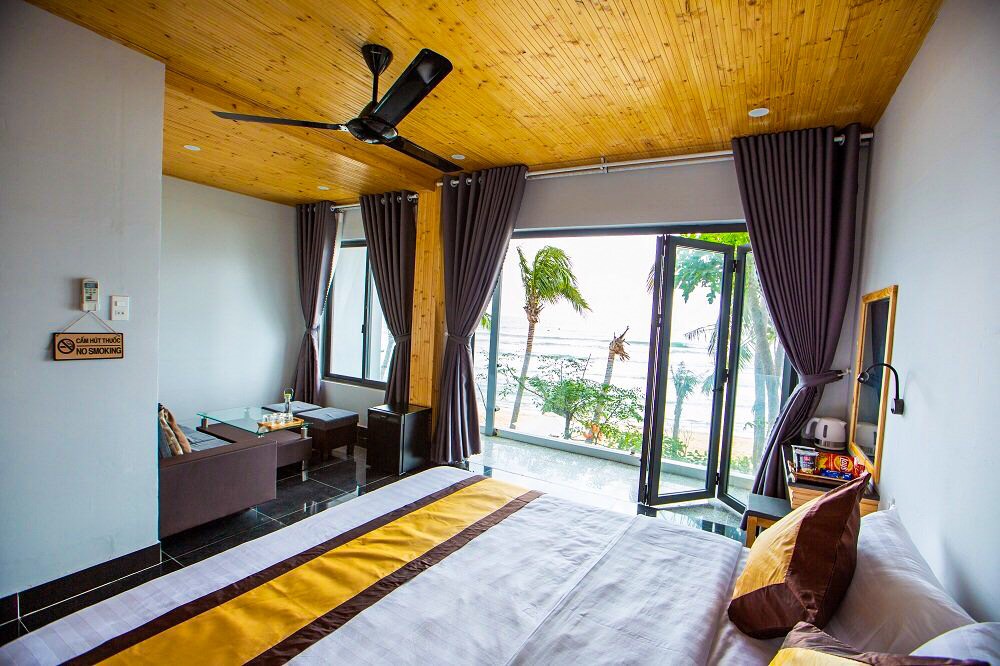 Following that is a very magnificent outdoor swimming pool and a children's play area. Parents may feel entirely at ease leaving their children to have fun on the Palm Beach Phu Yen campus. Visitors' safety is assured since all locations are continuously monitored by security systems.
Furthermore, the hotel includes a good place for holding conferences. Palm Beach Hotel will assist clients in organizing a complete and methodical meeting due to its vast space and abundance of required ancillary equipment. You may make use of the hotel's all-inclusive meals and entertainment offerings to ensure that the participants are as comfortable as possible.
So, in the post, we reviewed the Palm Beach Hotel – Phu Yen hotel, which is popular with travelers. Please visit https://palmbeachhotel.vn/ for a no-obligation consultation and to reserve a stay at the best possible price. Hope you and your family have a pleasant trip.