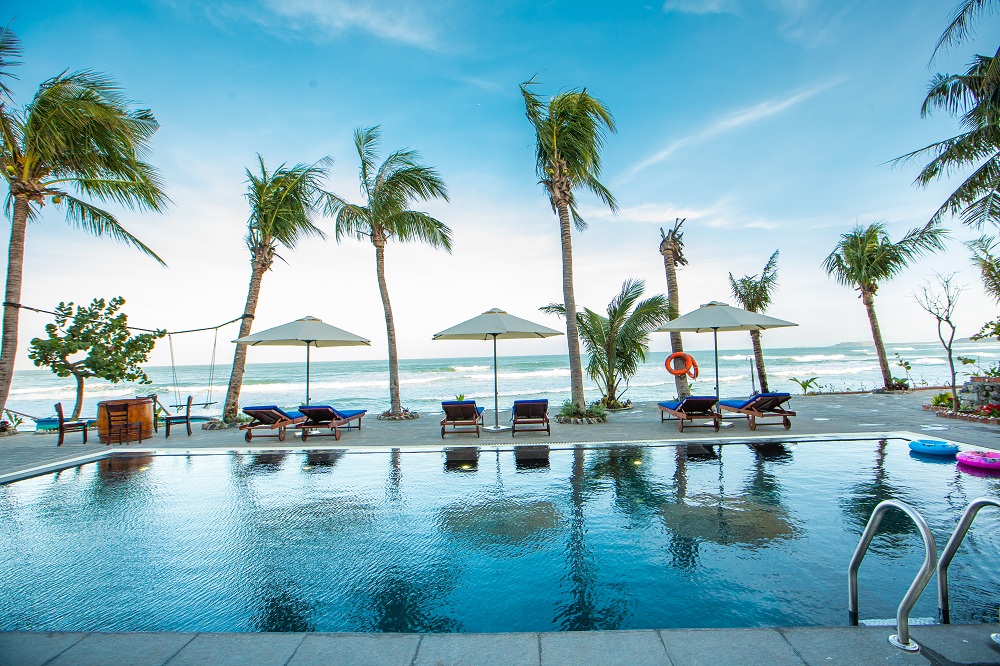 Palm Beach Hotel- A hotel in Phu Yen with a swimming pool near the sea
Currently, tourism services in Phu Yen are expanding, and new hotels are springing up. Palm Beach Hotel is one of the four-star hotels with the best service in Phu Yen. Everything from the room amenities to the customer service attitude is greatly appreciated. So, to learn more about Palm Beach Hotel- A hotel in Phu Yen with a swimming pool near the sea, let's find out through the article below.
Palm Beach Hotel Overview
Palm Beach Hotel is one of the hotels founded with enthusiasm and passion. The hotel wishes to provide guests with wonderful and impressive experiences by providing a resort space that exceeds all standards and levels.
Palm Beach Hotel has been meticulously invested in and cared for in every detail to merit the standard of a 4-star hotel with a new and sophisticated design style, and simple and luxurious standards of Europe. To provide guests with the best possible experience while staying at Palm Beach Hotel, the hotel is open 24 hours a day and has a full service and facility system for visitors, including a restaurant, cafe, and swimming pool near the sea in Phu Yen, and a team of professional and dedicated service staff. 
When you come here, you will notice meticulous care and attention to detail. The hotel hopes to provide the most comprehensive experience for guests, from relaxation to a sense of soul relaxation. You can enjoy the impressive natural scenery in a beautifully designed resting space in addition to the facilities provided by Palm Beach Hotel. Choosing a hotel to stay in will undoubtedly provide you with a memorable experience. 
Palm Beach Hotel's location
Giai Son village, An My commune, Phu Yen province is home to the Palm Beach Hotel. The hotel is built in a convenient location, so visitors can relax about transportation issues while staying here, and the travel time to the attractions from the hotel will not be too long, allowing you to spend your time exploring more interesting places. Palm Beach Hotel is only 25 minutes from the city center. Phu Yen is a land that is always attractive due to its wild and rustic beauty, which draws tourists to visit and explore. You can visit some famous places near Palm Beach Hotel, such as Da Dia reef, Nhan tower, Ganh Dua beach, Yen island, and so on.
Room types at the Palm Beach Hotel
Palm Beach Hotel has a system of 20 resort rooms that are designed to 4-star hotel standards, with high-class resort space combined with modern design while still creating a delicate beauty.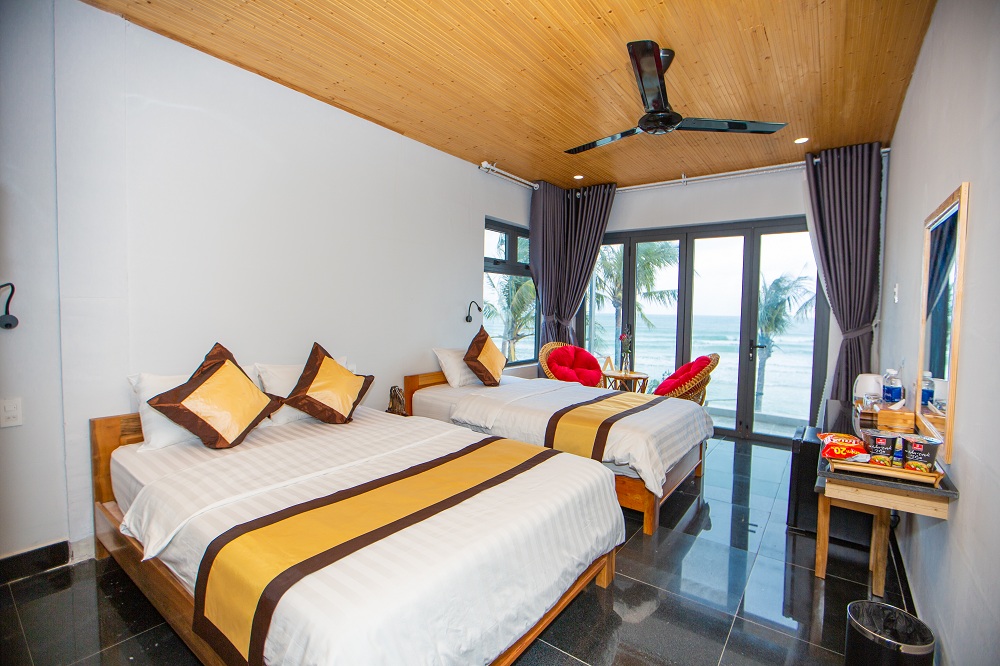 The hotel's resort rooms are fully equipped with all of the amenities that guests require, such as tea, towels, slippers, free instant coffee, and other services and utilities so that visitors who choose the hotel as a stopover can have a great vacation. The space inside the hotel's rooms is designed with elegant tones and natural wood furniture to create a sense of luxury and nobility. Each room has a glass door with a partial or full view of the area surrounding the romantic blue sea, providing guests with a sense of peace and relaxation.
Palm Beach Hotel – Phu Yen's most comfortable swimming pool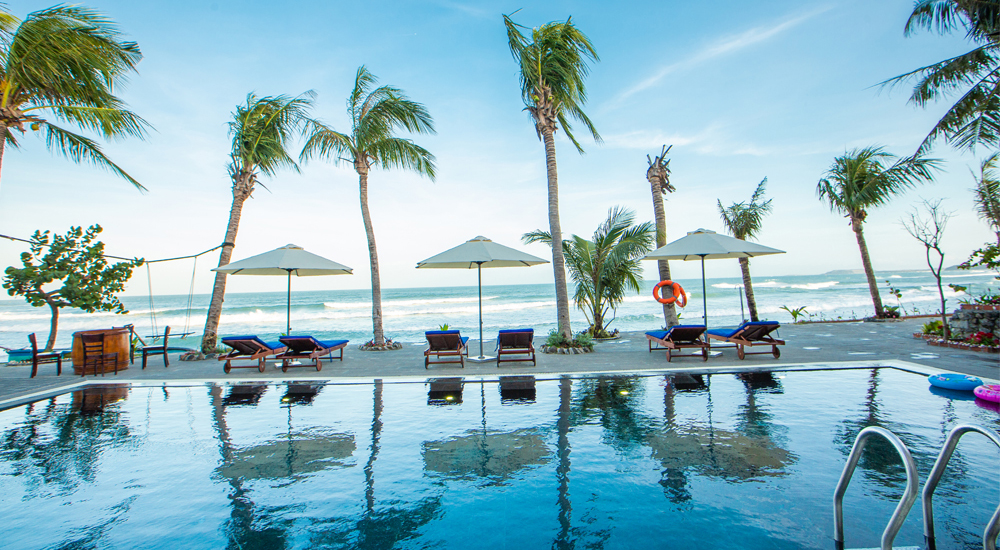 The 4-star Palm Beach Hotel Phu Yen features a large infinity pool close to the sea. This Phu Yen hotel has the most beautiful and comfortable swimming pool in the area. The pool depth is appropriate for people of all ages, from children to adults. The lake's water is always carefully filtered and circulated, ensuring that visitors have access to high-quality bathing water. The pool's bottom is anti-slip tile, which helps to keep you safe while standing and playing in the lake. When you need them, security and rescue systems are always ready to help. 
Outstanding utility services of Palm Beach Hotel
Front desk service
Palm Beach Hotel offers a 24-hour front desk service that is always available to assist you whenever you have a problem to solve. Visitors can be assured of the service of the staff from check-in to check-out with a team of enthusiastic staff and a quality management team that has a professional way to handle arising situations.
Restaurant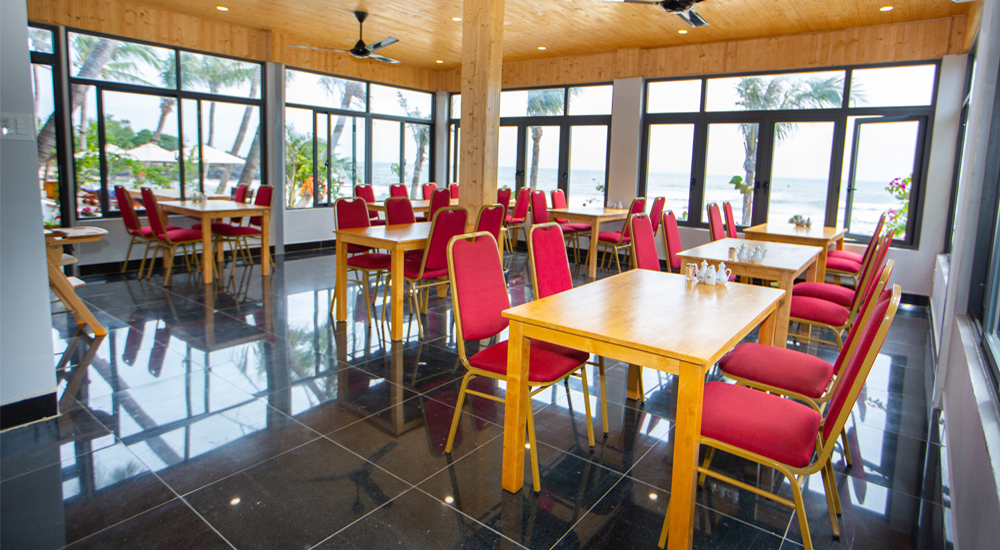 If you enjoy food, the Palm Beach Hotel's restaurant is the ideal and wonderful place for you. The restaurant at the hotel is a spacious, airy space that is tastefully decorated.
Bar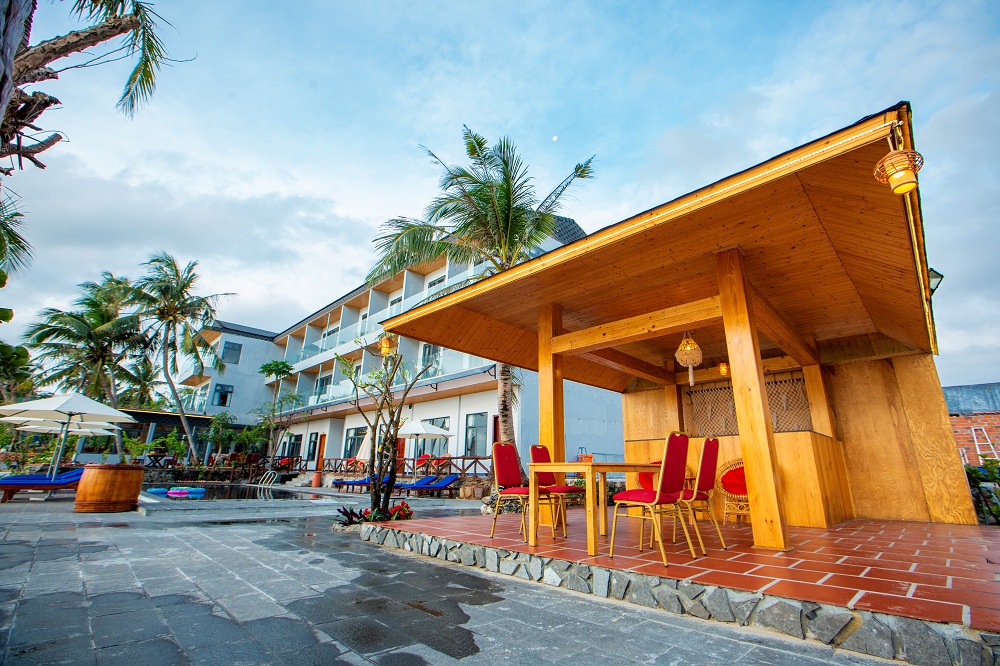 Here, we will unwind with creative, signature cocktails, and enjoy a variety of entertainment programs, daily attractions, and breathtaking beach views that will leave you speechless.
Conference room
Palm Beach Hotel has a large conference room that is equipped with a modern, synchronous, and clear sound and light system that will aid in large meetings and seminars events location successfully and well.
Relaxing at Palm Beach Hotel- A hotel in Phu Yen with a swimming pool near the sea is the choice that many tourists love because of its spacious and wonderful space and quality services for visitors. Hope that you will have a wonderful holiday with your loved ones in Phu Yen.