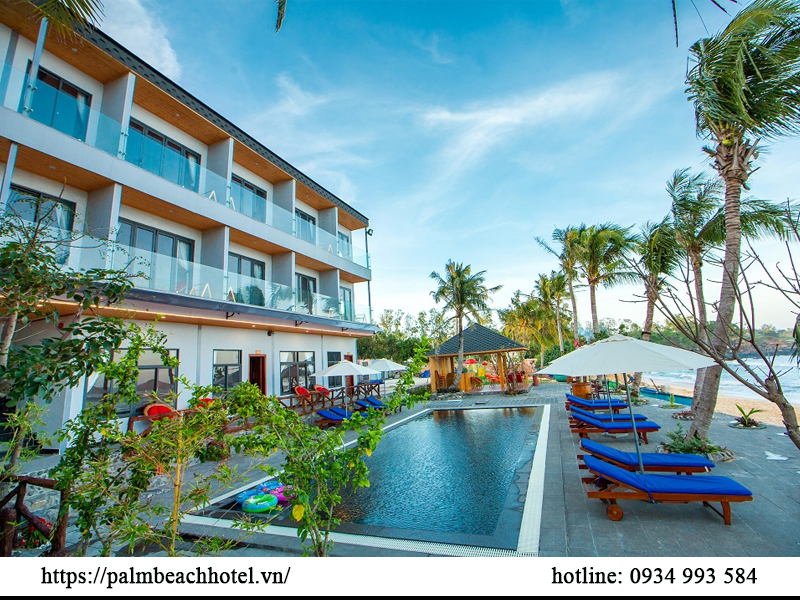 Where to stay in Phu Yen?
As a new destination, Phu Yen has not been slow to win travel enthusiasts. Choose Phu Yen hotel now to "recharge" for a fantastic vacation this year. With its blue sea, white sand, majestic mountains, and pristine bays and islands, Phu Yen has become one of the dream destinations. The first and most important step in beginning an exciting journey in Phu Yen is selecting a hotel. To answer the question Where to stay in Phu Yen?, I will immediately recommend Palm Beach Hotel, one of the "quality" Phu Yen hotels deserving of the title of best place to stay for a trip to Vietnam. If you're planning a trip to Phu Yen. Check it out right now to start planning.
Palm Beach Hotel Overview
Visitors rate Palm Beach Hotel as one of the hotels with the most beautiful infinity pool overlooking the sea in the Phu Yen area, as well as quality services and facilities for visitors, so Palm Beach Hotel is a hotel that many tourists love and prioritize to visit because it has left many good impressions in the hearts of visitors. With a convenient location and stunning views from the hotel's interior. You will be able to enjoy a wonderful and comfortable time with your family and loved ones while staying here, dispelling the tired worries of work and daily life.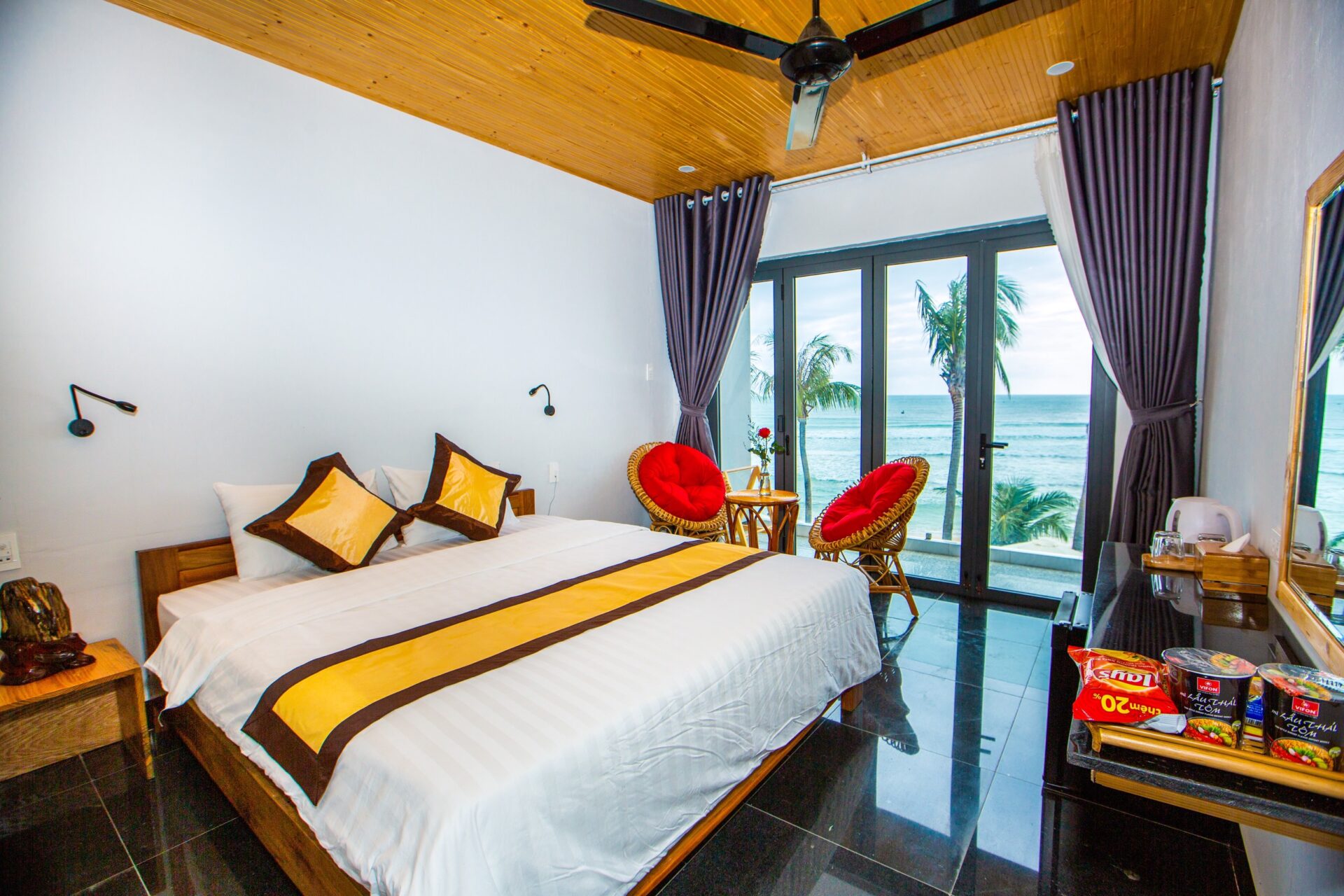 In comparison to other hotels in the area, Palm Beach Hotel is located directly on Ganh Dua beach, so the hotel space is always light and airy. The hotel relies on this advantage, so it has designed and built the resort space in an open design style with a view of the sea so that at any time, visitors can enjoy the warm morning sun in the morning. in the morning and watch the sunset in the afternoon with cool breezes. From a distance, the overall hotel appears stunning, surprising many visitors. The hotel is hidden behind soaring coconut palms and golden sands, creating a poetic and romantic scene. You can ride a bicycle with your lover or family down the romantic cobbled road, watch the sunrise or sunset over the sea, swim in the private pool, or sunbathe together in the garden. So, if you are a nature lover who appreciates natural beauty, Palm Beach Hotel is the ideal place to stay when visiting Phu Yen.
Palm Beach Hotel's location
Palm Beach Hotel is located in Giai Son village, An My commune, Tuy An district, Phu Yen province. The hotel is conveniently located right next to the most beautiful beach in the Central region, with blue sea scenery and long white sand beaches. Furthermore, because of the Palm Beach Hotel's location, you will be able to enjoy and see the beautiful beach scene right in front of your eyes. Whether it's dawn or dusk, you can enjoy the view from your hotel room. Furthermore, due to its convenient geographical location for tourists, it is also very convenient and easy to move to visit famous and attractive places in Phu Yen, while not losing too much time. time spent traveling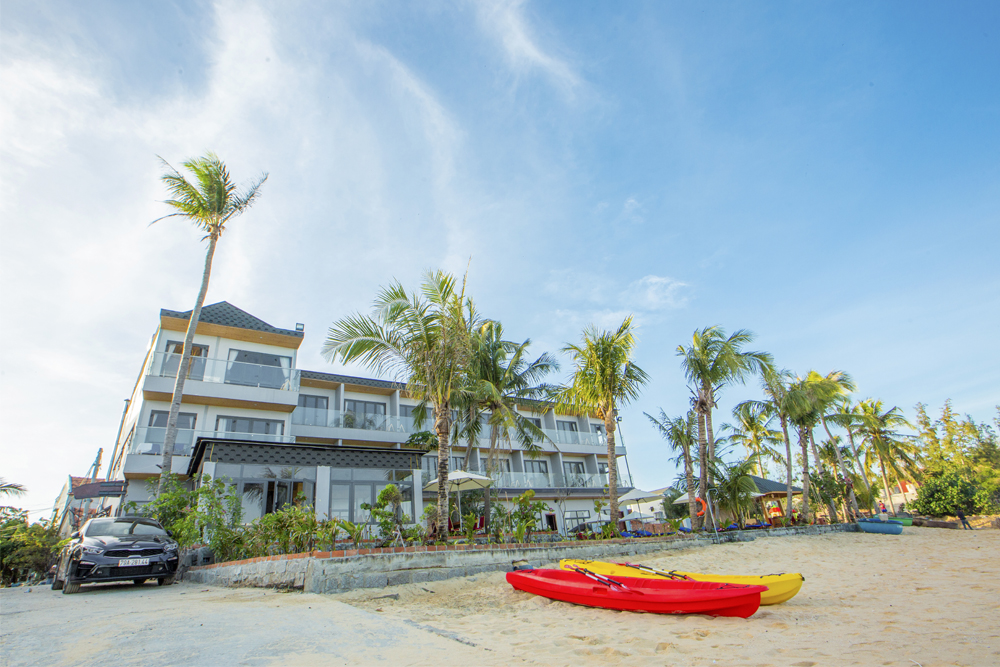 Phu Yen is famous for its untouched beauty, with many romantic and poetic natural scenes that you should not miss if you have the chance to visit. You can visit some famous places near Palm Beach Hotel, such as Ganh Da Dia, Bai Xep, Hon Yen, Phu Yen swallow tower, and so on.
Room types at the Palm Beach Hotel
Palm Beach Hotel has a system of 20 resort rooms that will meet visitors' needs for rest and relaxation (whether traveling as a couple, family or in groups). Unlike other hotels in the area, guests can choose the room class that best suits their needs, as the hotel has designed a variety of room types with varying space and layout. Visitors can choose from single to family apartments of various sizes. All of the hotel's rooms are outfitted with modern and complete amenities for guests' convenience. Furthermore, Palm Beach Hotel offers visitors incentives when traveling in a group. When you choose Phu Yen as your destination, you can relax and enjoy a wonderful stay. The Palm Beach Hotel's room type are as follows: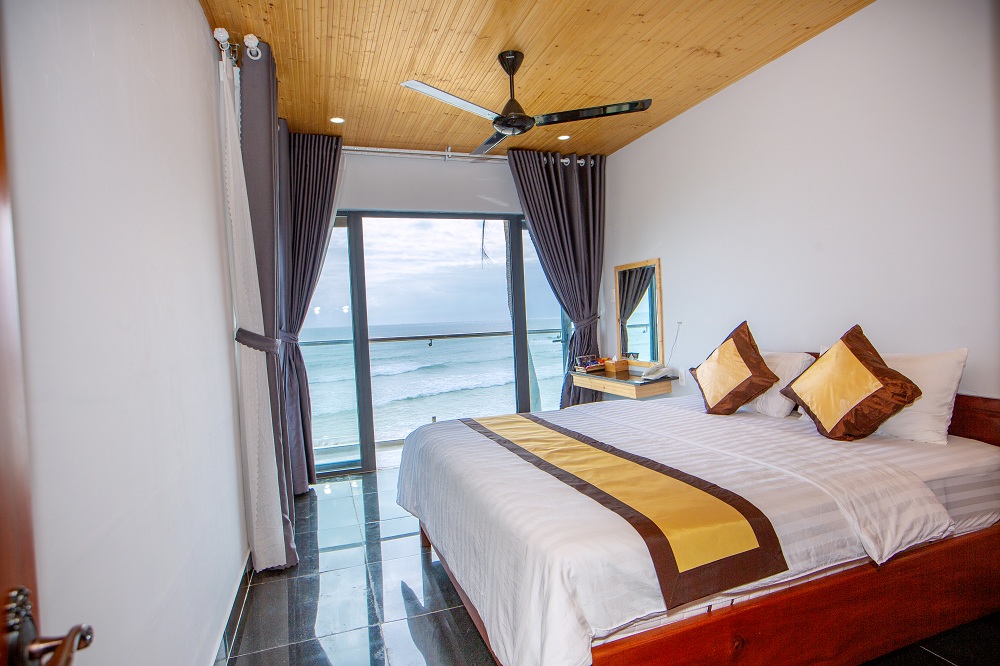 Deluxe Double Bed Room Balcony Seaview

Deluxe Double Bedroom, Sofa, Balcont Sea View

Apartment 2 Bedrooms Balcony Seaview

Deluxe 2 Bedrooms Family View

Deluxe Single Room 2 Beds Balcony Seaview
Final words
Palm Beach Hotel has a delicate white color and is unquestionably one of the 4-star Phu Yen hotels that you should select. You will have a spacious and clean room with a lovely and gentle design style for you and your loved ones for a relatively low price!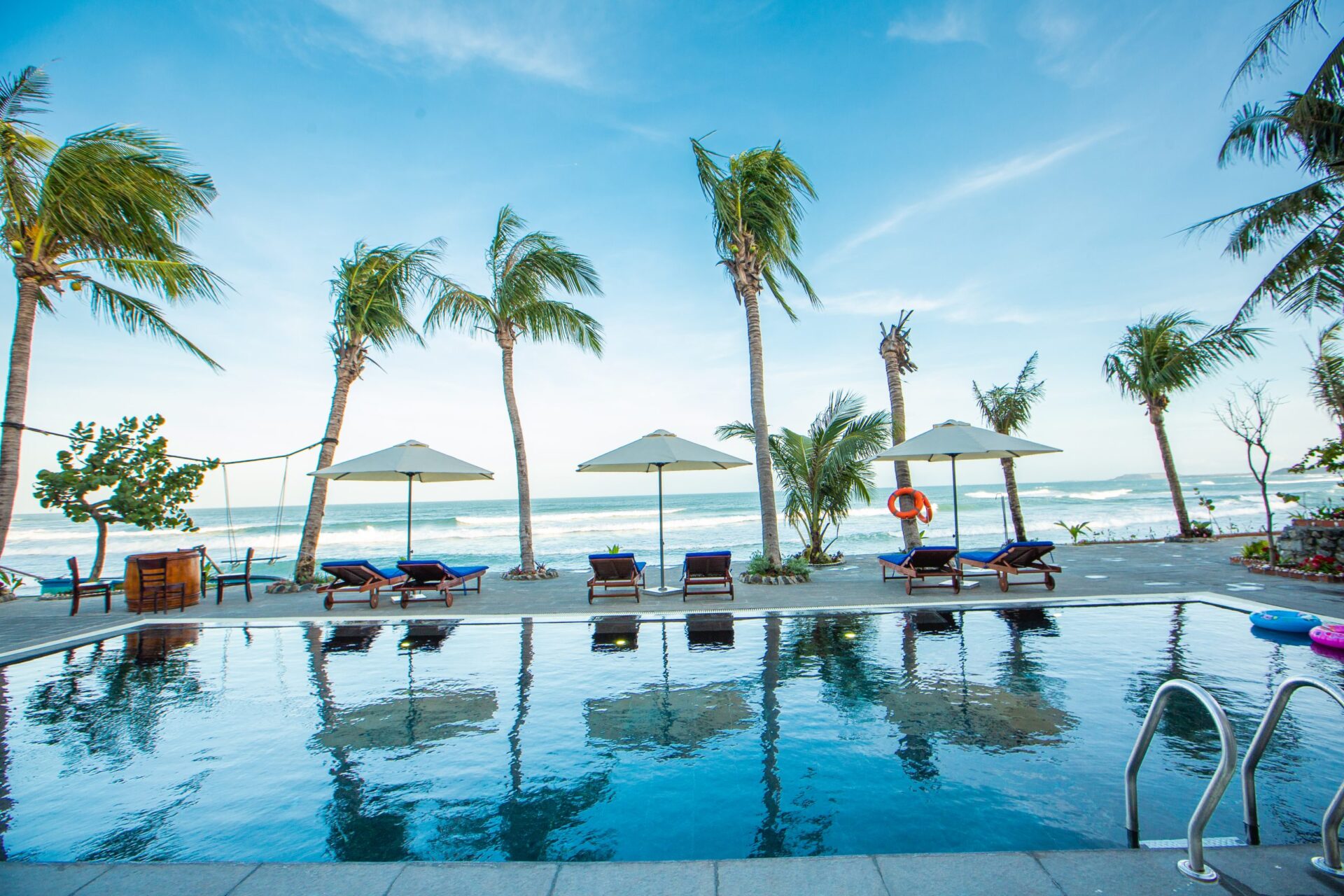 Oh, and don't forget that with favorable weather and climate conditions, you can visit Phu Yen at any time of year. However, Phu Yen is especially lovely during the dry season, which lasts from January to August. This is the season for dry weather, bright yellow sunshine, beautiful natural scenery, and tourism activities in Phu Yen. Investigate bays and islands. To avoid running out of rooms or paying exorbitant prices while still having a comfortable place to stay, book a hotel room 2-3 weeks before departure.
Furthermore, when visiting Phu Yen, you must try the famous local specialties, which include Phu Yen chicken rice, shallot soup, blood cockles in O Loan lagoon, fresh apricot fish salad, and tuna eyes. Aside from these named dishes, you should try fish noodles, jellyfish vermicelli, squid vermicelli, spring rolls, and other equally appealing dishes.