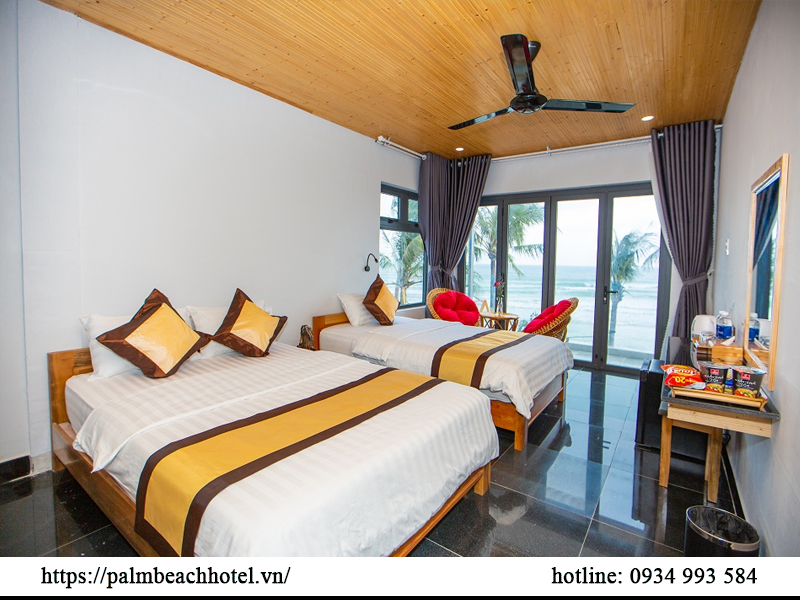 Seaside resort in Phu Yen Budget Stay & Review
If you enjoy sea travel and want to see new and unspoiled places, Phu Yen is an intriguing tourist destination. Phu Yen's long coastline, which still retains its wild beauty, creates an ideal environment for resorts to spring up to serve tourists. But where is the best place for you to stop? In the following article, we will look at the best and most beautiful Phu Yen seaside resort – Palm Beach hotel. The detailed reviews and reference room rates provided below will assist visitors in obtaining the most important information about the resort.
About Phu Yen 
Tuy Hoa, the capital of Phu Yen, is located 1,160 kilometers south of Hanoi and 560 kilometers north of Ho Chi Minh City along National Highway 1A. Phu Yen has three mountain sides: the Cu Mong Pass in the north, the Ca Pass in the south, the east side of the Truong Son range in the west, and the East Sea in the east. 
In terms of the natural landscape, Phu Yen also has many large beaches with clear blue water and fine sand that stretch nearly 200 kilometers along the coast, as well as many lagoons and bays with beautiful natural landscapes and outstanding geological tectonics such as Da Dia Reef, Hon Yen, Xuan Dai Bay, O Loan lagoon, Bai Xep, Bai Mon – Mui Dien, Vung Ro, Da Bia mountain, and Hon Nua. Furthermore, due to its favorable natural environment, Phu Yen has many culinary and cultural specialties, such as O Loan blood cockles, jumping snails, Cu Mong lagoon crabs, tuna, Hoa Da pork belly rice paper, one-day beef, and others. Shrimp, squid, and marine and freshwater fish all play an important role in attracting tourists…
Palm Beach Hotel overview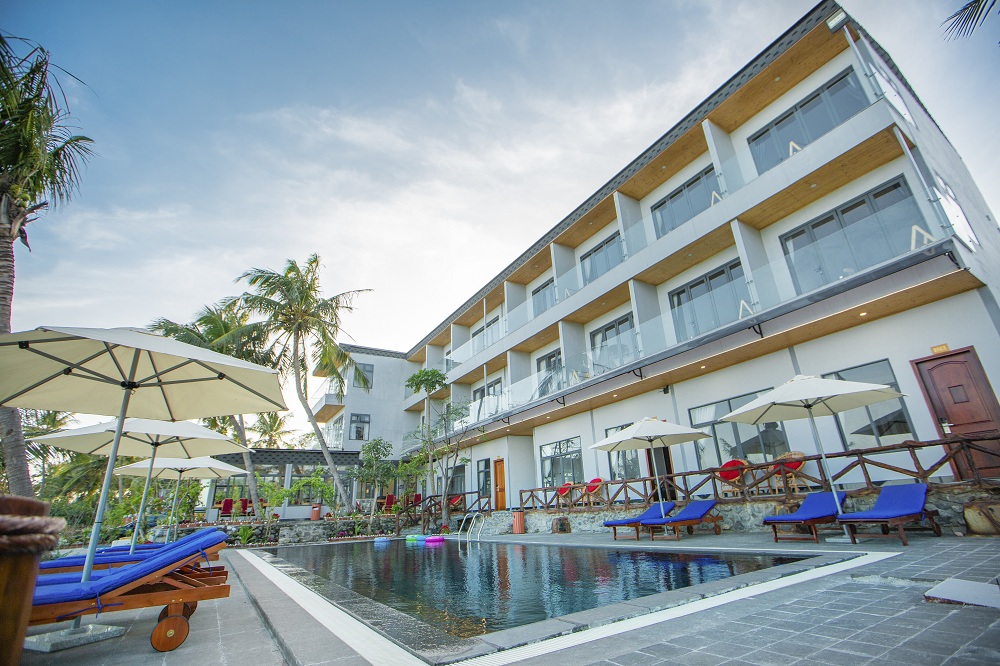 Palm Beach Hotel is the most popular Phu Yen resort among visitors. Because this is a newly built 4-star luxury resort in Phu Yen, the facilities are new and modern, and there are numerous incentive programs available. Palm Beach Hotel is also in a great location. The resort is right next to the beach, and you can easily move from the homestay location to explore many other destinations such as: Tuy Hoa beach, green moss Xom Ro Phu Yen, Ganh Da Dia, Phu Yen swallow tower, Chop Chai mountain, Phu Yen Ganh Den lighthouse, Yen island, Xep beach,… Visitors can enjoy the view of the sea and easily travel to nearby attractions. The most notable distinction of Palm Beach Hotel Phu Yen is its luxurious European-style interior, which is meticulous in every detail.
Highlights of Palm Beach Hotel
What are the highlights and notes of Palm Beach Hotel that visitors should know?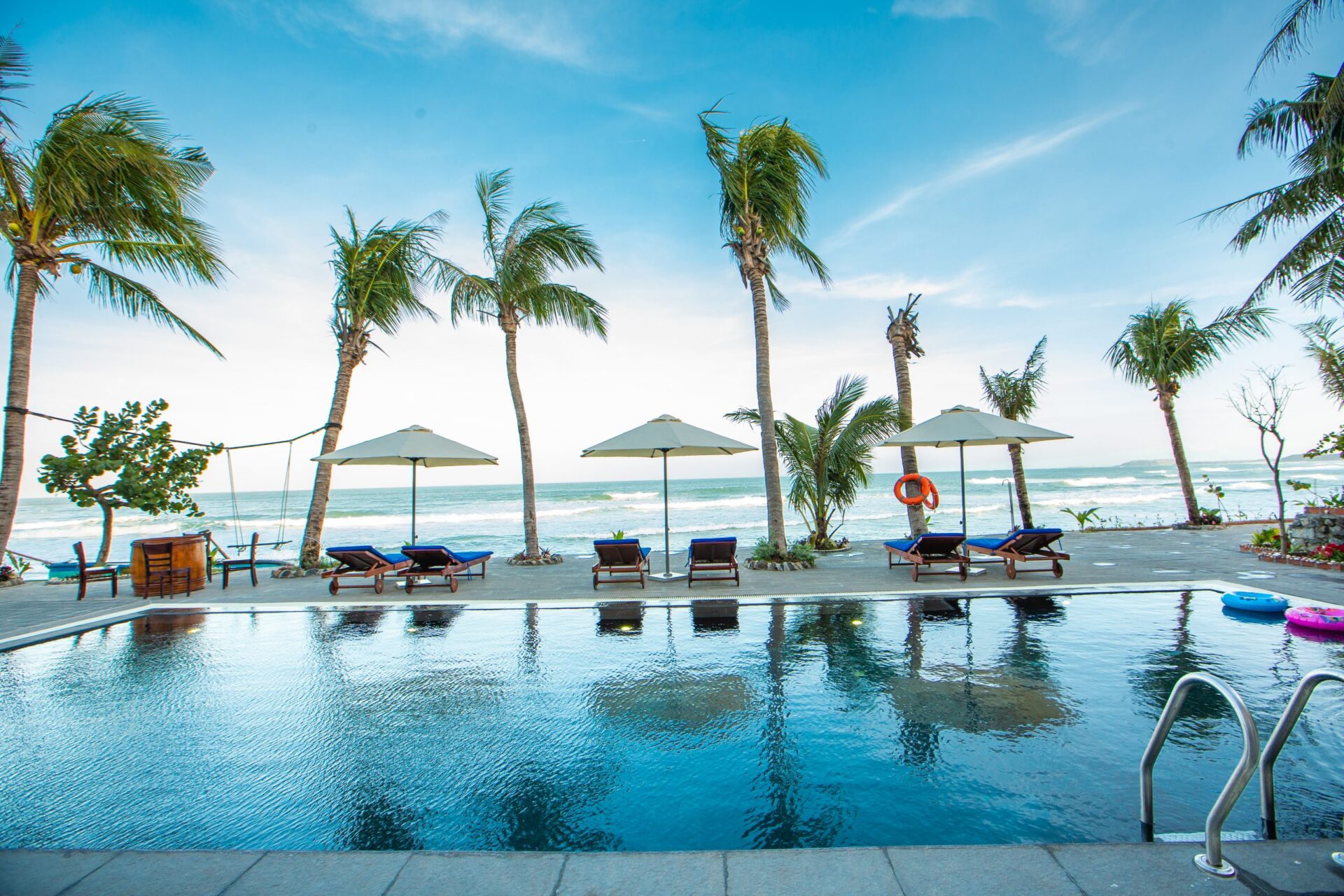 Resort incorporates a number of recreational activities.

There is an infinity pool outside.

The prime location is close to nearby attractions, making transportation very convenient.

The resort has a diverse restaurant system that serves a variety of delicious dishes at reasonable prices.

Every bedroom has a balcony with a view of the sea or the garden.

Many visitors rate this location as the address with the best prices.

Staff who are enthusiastic and welcoming

The area is densely forested and ideal for holding events.
More accommodation options in Phu Yen
Hotel
Despite its high tourism potential, Phu Yen has a limited number of high-end hotels. The province as a whole has only a few 4-5 star accommodation establishments; the rest are mostly small hotels with a limited number of rooms. These are some of the benefits of Phu Yen tourism because the beautiful landscape locations are still relatively unspoiled, not encroached upon by resort construction projects.
Homestay 
In addition to the strong development of tourism, the land of "yellow flowers and green grass" attracts a large number of young tourists from both within and outside the country; these groups of tourists frequently combine tourism and discovery activities. In Phu Yen, local culture should have been promoted and homestay services established.
Hostel
Hostels are the most common type of accommodation available in most towns and tourist attractions throughout the province. With the advantages of low cost and accessibility, this can be a tasty and inexpensive option for those who do not have stringent lodging requirements.
Recommend tourist attractions in Phu Yen near Palm Beach Hotel
Da Dia Reef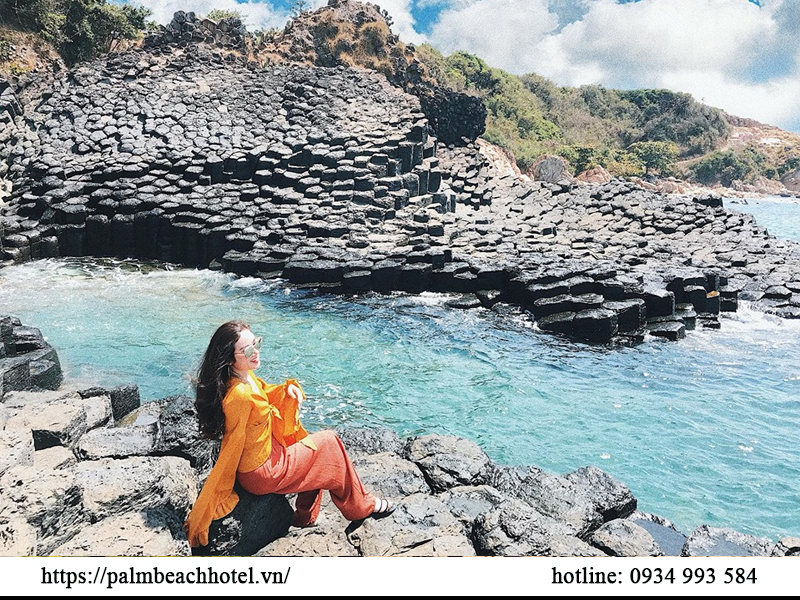 Because of its unique and unparalleled beauty, Da Dia Reef is regarded as the most appealing destination in Phu Yen. It is only a few minutes by car from the Palm Beach Hotel. Da Dia Reef was formed hundreds of millions of years ago by volcanic activity; when the lava met cold water, it froze, combining with the phenomenon of stress, causing the lava blocks to crack. Together, the high and low points form hexagonal, round, and square cylindrical stone slabs that are closely aligned with each other.
Mang Lang Church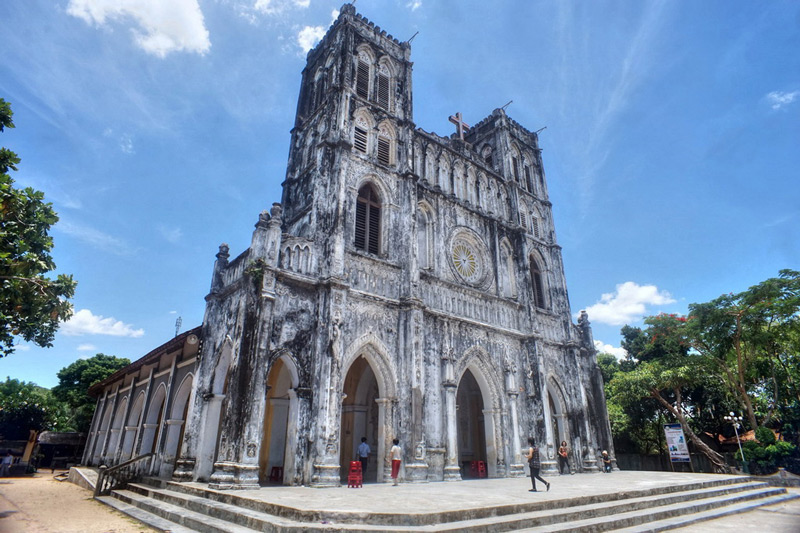 Mang Lang Church is a Catholic church in Phu Yen's Tuy An district. This is the oldest church in Phu Yen, with unique Gothic architecture spread across 5000m2 and many familiar decorative motifs from Catholic churches. The church has two bell towers on each side, with a cross in the center. Everything is painted in a simple gray-blue to match the ancient architecture and simple campus here. This is also the location of Vietnam's first national language book, which many tourists enjoy visiting.
Vung Ro Bay – Dien Cape
Mui Dien is the Truong Son range's headland jutting into the sea, where the most beautiful sunrise in Vietnam can be found. Mui Dien encapsulates the spectacular and harmonious beauty of the gentle mountain range facing the sea, as well as the winding road that embraces the vast blue coast. The lighthouse built by the French in 1890 is the most appealing feature of Mui Dien.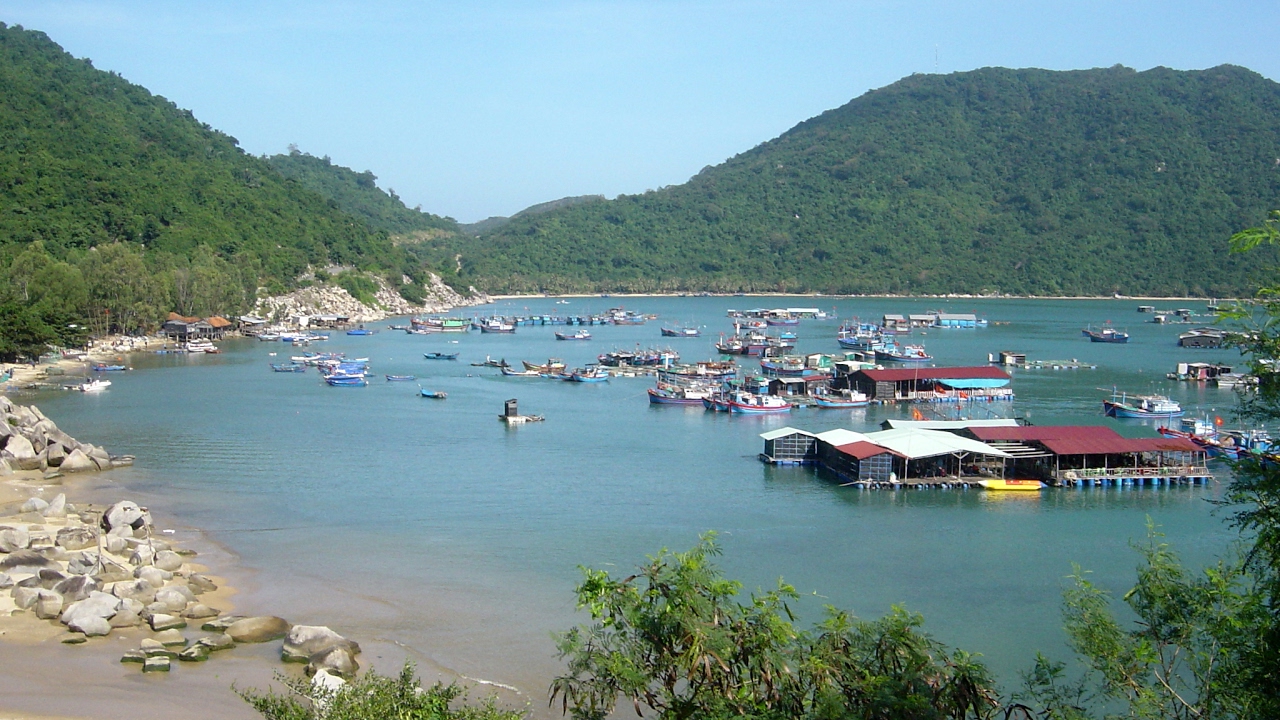 The article has provided you with detailed information about the most popular resort near the beach today, Palm Beach Hotel. Please save the above-mentioned stop immediately for future use. See you in our upcoming articles!