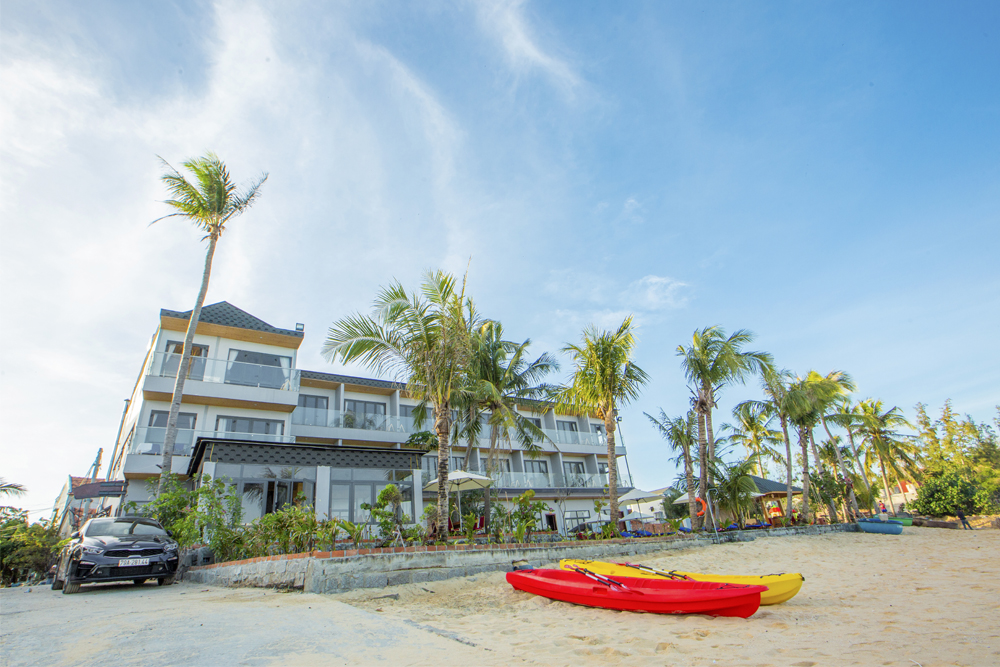 Resort near the beach in Phu Yen
The Palm Beach Phu Yen Hotel is on Ganh Dua beach, Giai Son hamlet, An My commune, Tuy An district, Phu Yen province. The distance from Tuy Hoa city is around 20 kilometers to the north. The Palm Beach Phu Yen Hotel can be reached in around 20 minutes by automobile via National Highway 14.
The 4-star Palm Beach Hotel Phu Yen will delight any visitor that comes here. The hotel's rooms all offer a direct view of the beach at Ganh Dua. Located near Phu Yen resorts near the sea, but not inferior because the hotel has beautiful and comfy wooden furniture, the hotel is created in a youthful and modern manner. It is accompanied by a restaurant serving delectable European dishes, as well as the flavor of freshly caught seafood, and is a hotel with good service in Phu Yen that you should stay in.
Palm Beach Hotel – hotel with modern design
Palm Beach Hotel makes an immediate impression on tourists with its modern European-style decor. Pure white tones dominate the entire three-story block. Tempered glass is also used in the windows and on the staff, giving the hotel a rich, modern, and sophisticated appearance. Isn't the hotel's outside really stunning? But the farther you come inside, the more surprises you'll find. You may view the vast sea with waves as long as you stand in the room. It will undoubtedly aid in relaxation.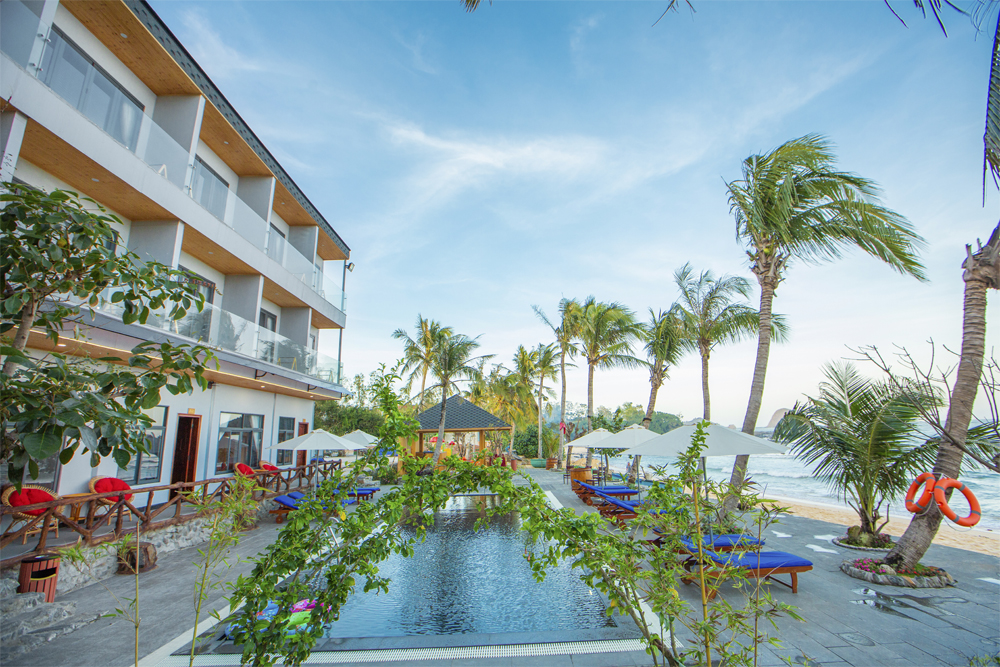 The interior is created simply and tastefully in accordance with European standards, and electronic gadgets are restricted in the room – bad for your health. With 19 premium rooms, all with sea views, a bar, an outdoor swimming pool, and a children's play area, the hotel strive to provide you with the most pleasant holiday possible while blending in with nature.
Palm Beach Hotel with beautiful beachfront swimming pool
Palm Beach Hotel in Phu Yen is a hotel with a wonderful swimming pool that is not only positioned right close to the beach. The infinity pool is set in a big and inviting location outside. Domestic and international tourists rank the Phu Yen hotel, which features a beachside swimming pool, as the most beautiful hotel in Vietnam. This is an excellent option for families traveling with young children. Because the depth of the pool is built to accommodate people of various ages. The lake's water system is modern and efficient in terms of waste filtration. As a result, the pool's water is always clean.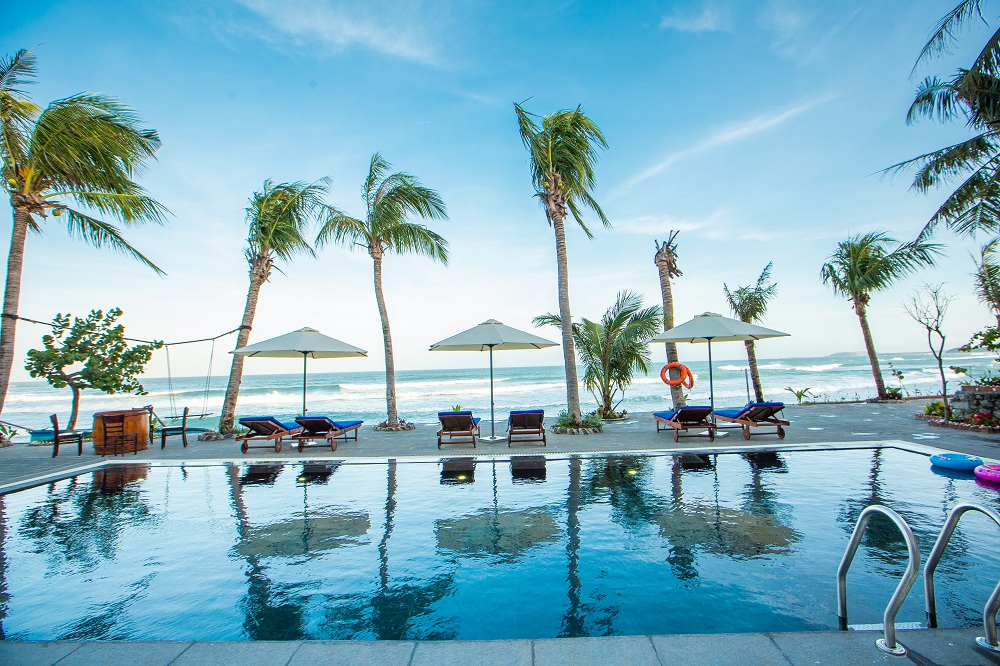 In particular, the hotel's swimming pool is lined with anti-slip tiles, ensuring complete safety for children. In addition, the hotel has a security system in place so that it can respond quickly in the event of an emergency. As a result, guests can relax and enjoy themselves while bathing in the Palm Beach Hotel's infinity pool. 
Location of Palm Beach Hotel
The picturesque location of the Phu Yen hotel, with its beachside swimming pool, is one of its features. Palm Beach Hotel's location on the picturesque Ganh Dua beach, surrounded by an enchanting sea, has helped it become a "paradise" location in a fairy-tale picture. This hotel is located in Giai Son hamlet, An My commune, Tuy An district, Phu Yen province, about 20 kilometers from the city center. It will take you less than 30 minutes to return to the hotel from the airport, bus station, or train station. 
Another advantage is that you may visit other notable Phu Yen locations from Palm Beach Hotel. As a result, your trip will take you to many different areas and provide you with innumerable beautiful experiences. The huge sea, with its waves on the white sand froth, can be seen just in front of you from the hotel. Going a step further, there are locations like Tam Giang dam, Xom Ro breakwater, Yen island, and Da Dia reef that still maintain the wild and wonderful aspects of nature. You do not need to be concerned or afraid to go there since they are all marked with signs, making traveling easier.
Some reviews of guests when staying at the hotel
"Stayed for two nights, the staff is wonderful; they are nice and welcoming. The hotel is very new, everything is spotless, and the towels are large and fluffy. Breakfast is delicious and plenty. The rooms and service are worthy of a five-star hotel. We went on a snorkeling and kayaking tour to see the corals. The swimming pool and the rest of the property are clean and green. All rooms have a sea view and balconies, as well as sustainable bamboo furnishings. The lagoon and mild sea are only 10 meters away from the hotel. I was overjoyed to be able to stay there. Highly recommended!"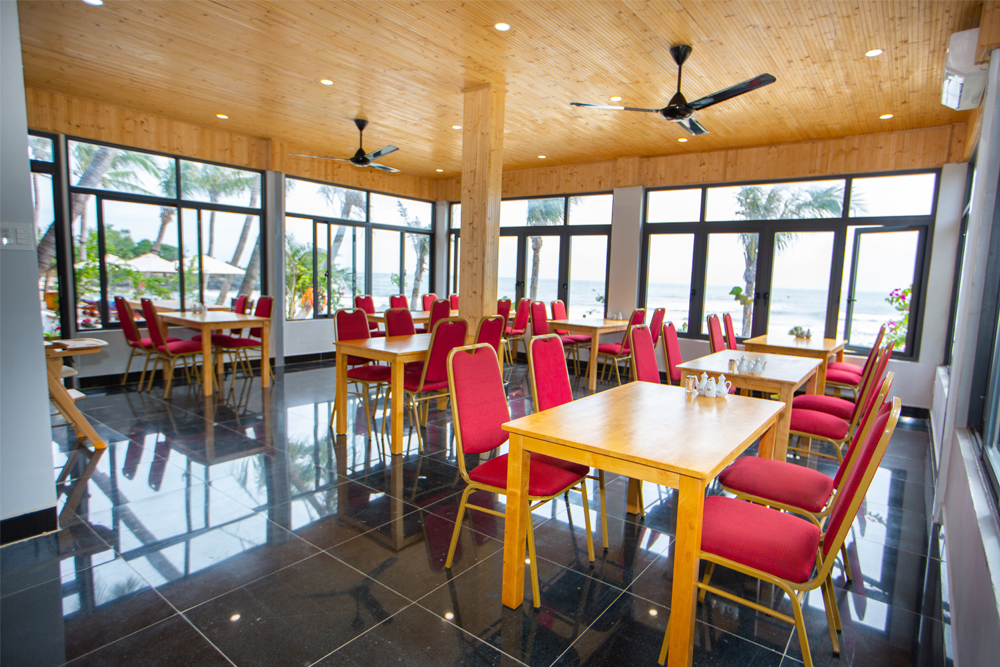 Another guest's review: 
"The whole family is satisfied Palm Beach:
– Large room, sea view
– Beautiful, pristine and clean beach
– Delicious, fresh food
– Attentive employee
– Comfortable parking space
It is an ideal place to relax and visit nearby tourist attractions."
Conclusion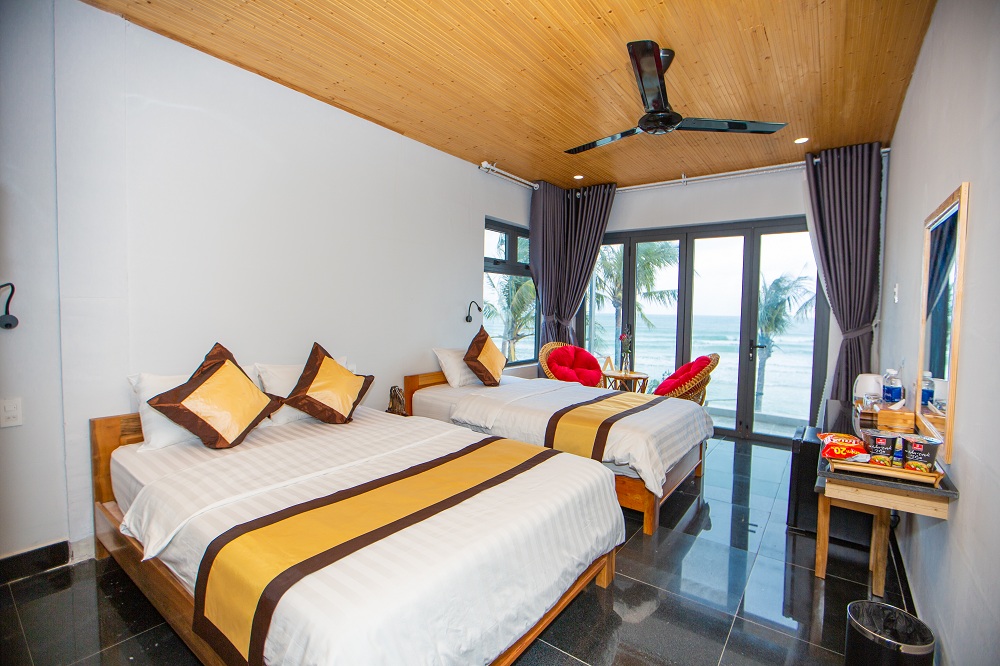 Palm Beach Hotel is an excellent alternative for individuals seeking rest and leisure in Phu Yen. Palm Beach Hotel is well-known for its service, making it simple to enjoy the best of Phu Yen. The Palm Beach Hotel's rooms include a flat-screen TV, refrigerator, and air conditioning, as well as complimentary WiFi access. This hotel provides room service and concierge service, among other amenities. Your journey will be enhanced by the use of the swimming pool and breakfast. The Palm Beach Hotel is conveniently located near popular places, allowing tourists to easily visit some of Phu Yen's most well-known sites. Whether you're visiting Phu Yen for business, vacation, or both, the Palm Beach Hotel will ensure that your stay is memorable.