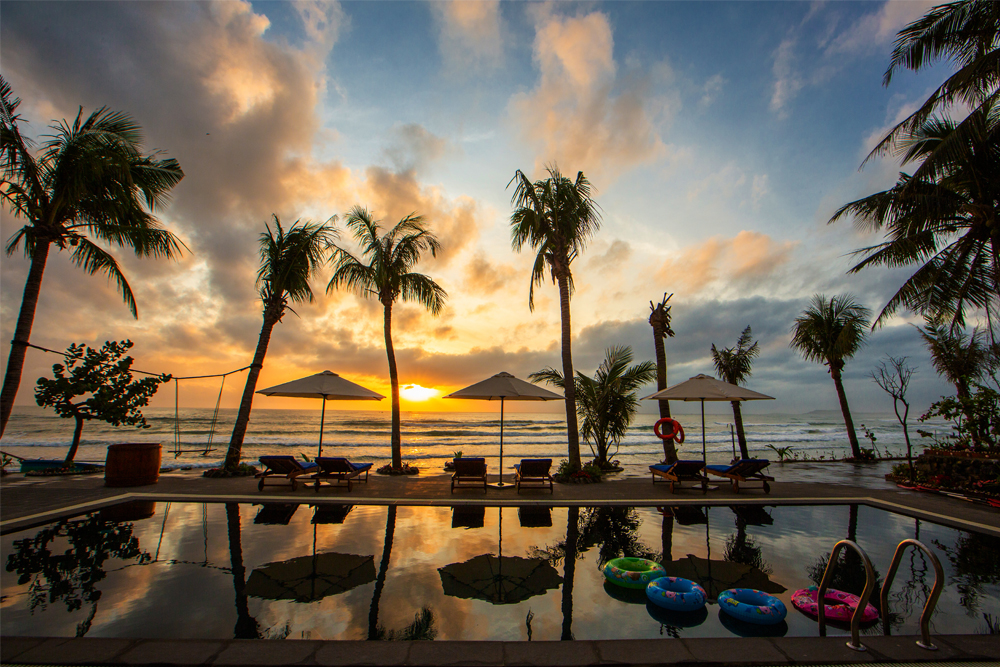 Top 10 best Phu Yen hotel with a private swimming pool
In recent years, Phu Yen has been a popular tourist attraction for both domestic and international visitors, owing to its devastating beauty, which resembles that of a real and rustic rural girl with pure beauty pure and unadulterated. If you're seeking a Phu Yen hotel with a private swimming pool, here are a few options that will meet your expectations.
1. Palm Beach Phu Yen Hotel
The 4-star Palm Beach Phu Yen Hotel will delight any visitor that visits here. The hotel's rooms all have a direct view of the beach at Ganh Dua. With beautiful and comfy wooden furniture, the hotel is created in a youthful and modern manner. The hotel includes an outdoor infinity pool adjacent to the beach, which will undoubtedly be a stress-relieving environment for you. It promises to be an intriguing site for tourists to visit.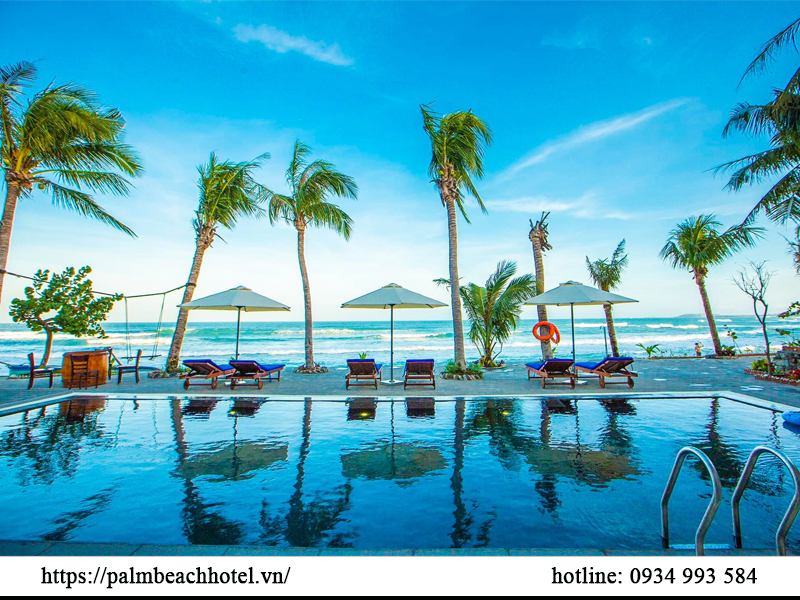 The architectural design of Palm Beach Hotel Phu Yen, which is based on simple and luxurious European standards, is one of the hotel's most outstanding features. A lovely white paint has been applied to the entire property. Combine modern decorative features with glass windows. Create a four-star hotel that will appeal to all tourists.
2. Saigon Phu Yen Hotel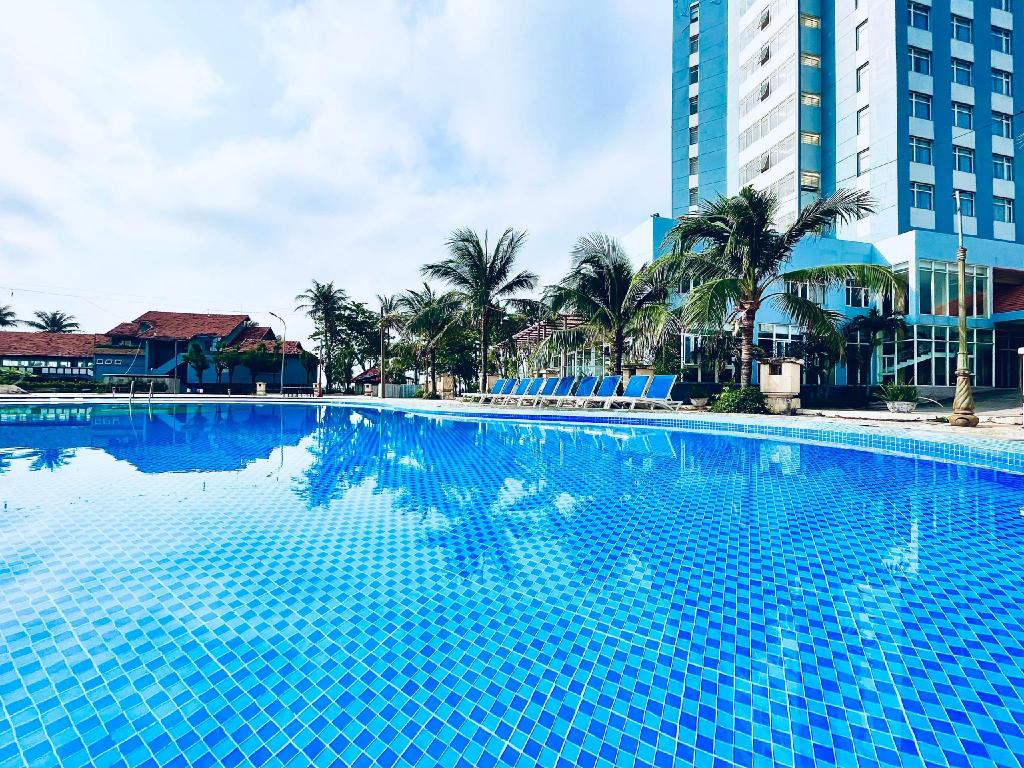 Saigon Phu Yen is one of the hotels featuring an outdoor swimming pool in Tuy Hoa and is located on Tran Hung Dao Street, about a 10-minute walk from Tuy Hoa Beach. The centerpiece of the Saigon Phu Yen Hotel is the vast space, which includes a separate children's pool. The accommodations here have a 4-star level and are completely furnished for your Tuy Hoa trip.
3. Central Tuy Hoa Hotel – CenDeluxe
If you're looking for a hotel with a pool in Tuy Hoa, CenDeluxe is an excellent option. Tuy Hoa CenDeluxe hotel is located in the city center and has a 4-star rating. It offers rooms with full amenities and is very spacious, which is, in my opinion, a plus point of the hotel. The swimming pool at the CenDeluxe hotel is indoors, making it ideal for those who are scared of the sun. It also has a huge area, which you will appreciate when you are swimming here.
4. Sala Tuy Hoa Beach
Sala Tuy Hoa Beach is located directly on Tuy Hoa Beach's most beautiful beach, so you can easily go to the beach every day. Simply open the window in a room facing the sea to breathe in the fresh sea breeze with the distinct Phu Yen flavor.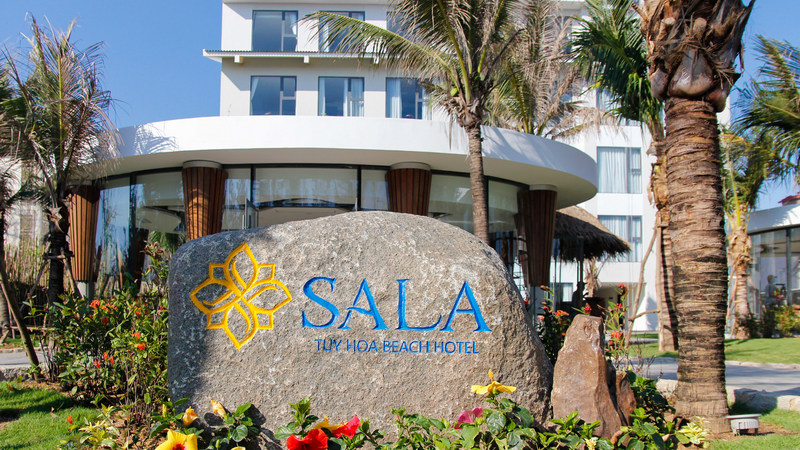 A magnificent swimming pool is a must-have for resort tourism, so you can cool yourself in the cold blue water while snapping wonderful check-in shots. Sala Tuy Hoa Beach is, in my opinion, the hotel in Tuy Hoa with the most magnificent swimming pool. The outdoor swimming pool is set in the heart of a lush green garden that will immediately entice you. The outdoor bar, which serves delectable cocktails, is a must-have for those looking to unwind in Tuy Hoa.
5. Vietstar Resort 
If you're looking for a hotel in Tuy Hoa with a gorgeous and distinctive swimming pool, Vietstar Resort is the place to go. Vietstar Resort offers green garden scenery and an 800m2 swimming pool with a waterfall and jacuzzi, which is the most amazing feature of Vietstar Resort's swimming pool in my opinion. You will undoubtedly enjoy the lovely natural settings while staying at Vietstar Resort.
6. Hung Vuong Hotel
The Hung Vuong Hotel is located on Tuy Hoa's most picturesque street. With such an accessible position, getting to the lovely beach takes only a few minutes. Travelers will find this to be an excellent area to halt on their journey. The Hung Vuong Hotel has a contemporary design. All of the rooms have the most up-to-date amenities, such as cable TV, air conditioning, and so on. The bustling city can be seen from the rooms' balconies.
To relieve exhaustion, Hung Vuong Hotel offers a sauna, massage, and hydro-soap treatments in addition to the bedroom. The techniques presented here will assist the client's body in relaxing and recharging with new energy. The restaurant can seat up to 500 people and serves delectable Vietnamese cuisine and fresh fish. Not only do we cater to resort guests, but we also cater to business travelers. The conference space can accommodate small and medium-sized events.
7. Ivory Hotel
Ivory Phu Yen hotel, located in Tuy Hoa city, is regarded as the best 3-star hotel for tourists. Guests at Ivory Hotel are free to visit nearby sites like Tran Phu Beach, Tuy Hoa Beach Volleyball Court, Phu Yen Museum, and others.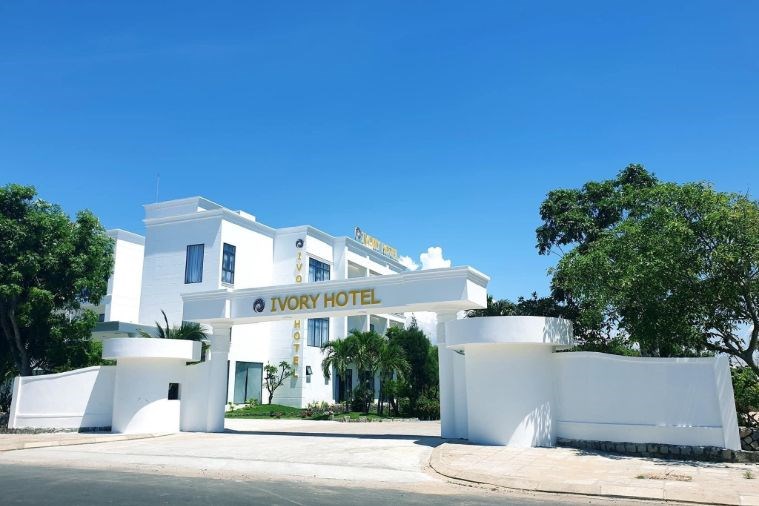 Ivory Hotel Phu Yen, a 3-star hotel with a stylish design and 32 big and airy rooms, consistently provides the best facilities and services to its guests. Each room has all of the necessary conveniences, such as air conditioning, a kettle, a flat-screen TV, and so on. Visitors will undoubtedly not be disappointed. Not only that, but the Ivory Phu Yen hotel also offers a wide range of services to keep visitors entertained. Everything is thoughtfully constructed with outstanding service quality, from restaurants and bars to recreational spaces such as swimming pools and football fields.
8. Que Toi Village 
Que Toi Village is located in Phu Yen province, on the scenic Xuan Dai Bay, about 50.1 kilometers from Tuy Hoa city, 52 kilometers from Tuy Hoa railway station, and 58.5 kilometers from Tuy Hoa airport. Astop Co., Ltd. invested in and manages the resort, which has been open since 2018. The outdoor adult swimming pool is created in a step-by-step style, with a sloping depth of roughly 0.9 – 1.2 – 1.5 m, and is located adjacent to a children's pool with a depth of about 0.5 m.
Hours of operation: 7:00 a.m. to 21:00 p.m.
9. Zannier Hotels Phu Yen Coral Beach 
Hotels by Zannier The Phu Yen Coral Beach (also known as Zannier Bai San Ho) is located in Song Cau District, Phu Yen Province, in Hoa Thanh Commune, Xuan Canh Village. The resort is around 65.2 kilometers from Tuy Hoa city, 33.5 kilometers from Quy Nhon city, 73.6 kilometers from Tuy Hoa airport, and 65 kilometers from Phu Cat airport.
The resort contains an outdoor swimming pool that is 20 meters long and has a depth of roughly 1 meter, in addition to the private swimming pools in the villas.
Hours of operation: 6:00 a.m. to 20:00 p.m.
10.Stelia Beach Resort 
Stelia Beach Resort (Stelia Resort Phu Yen) is located in Tuy Hoa city, Phu Yen province, approximately 10.6 kilometers from Tuy Hoa airport and 4.9 kilometers from Tuy Hoa railway station. The resort, which is owned and managed by Viet Beach House Business and Investment Joint Stock Company, has been open since February 2019 and has been remodeling its facilities on a regular basis since its inception. The earliest date is 2021.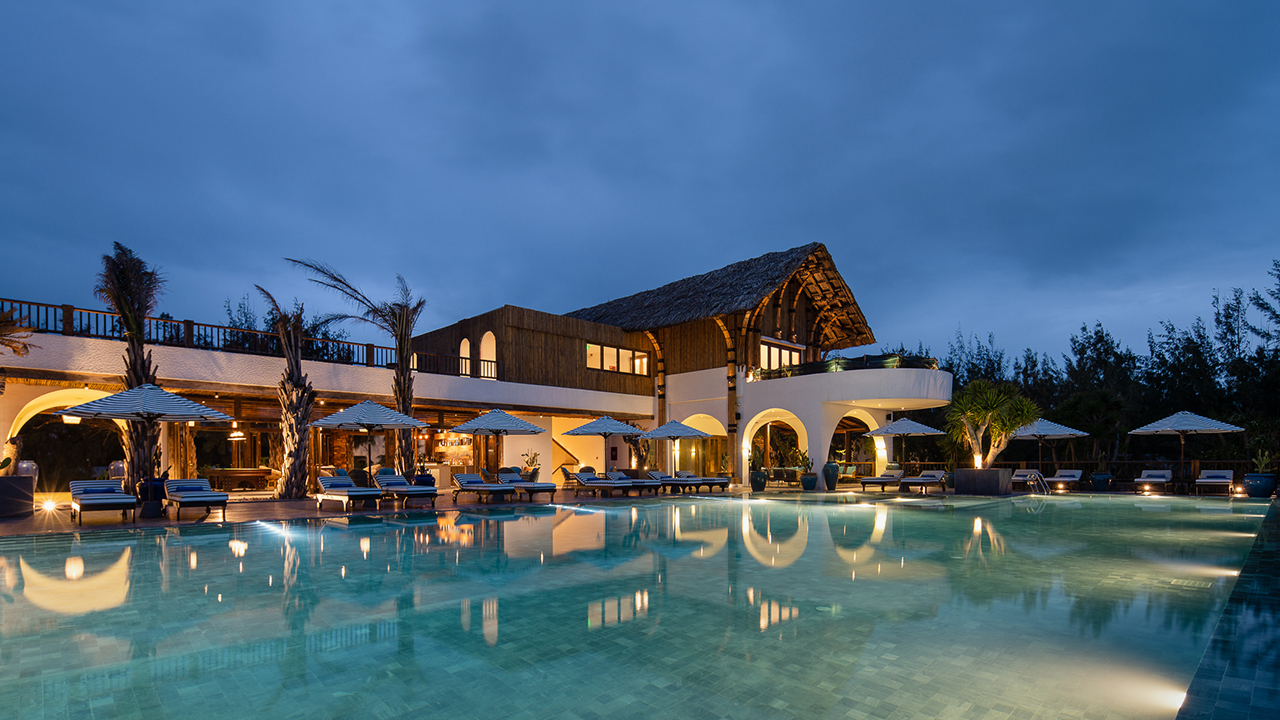 There are two outdoor pool sections at the resort. Including:
– The first area (major pool) is located across the street from the Gozo Brew House restaurant, and features an adult pool with a depth of about 0.9 – 1.55 meters, as well as a children's pool with a depth of about 70 cm.
– The second pool area is an infinity pool, including an adult pool and a children's pool. 
Come to the hotels I've listed above to enjoy your vacation and make lasting memories!