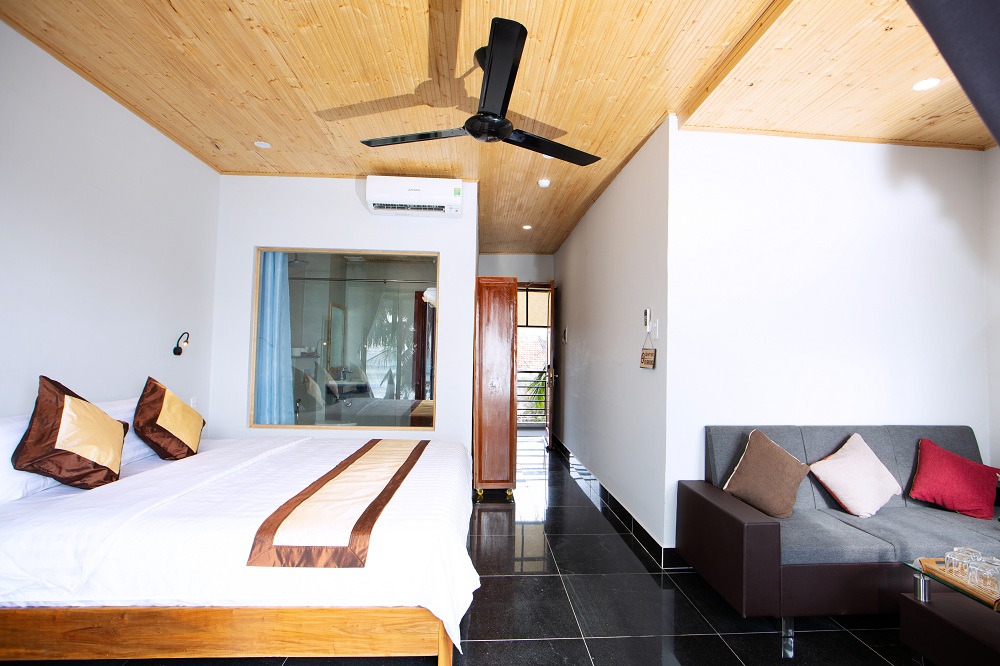 Best Cheap homestay in Phu Yen All You Need To Know
Phu Yen is gradually becoming known as one of the most popular tourist destinations, attracting a large number of visitors due to its wild and idyllic beauty. Phu Yen is a land with a long coastline and stunning scenery. As a result, tourism in the South Central region is growing. There are also cheap hotels in Phu Yen and homestays in Phu Yen. In this article, I'd like to introduce you to Palm Beach Hotel, a well-known as cheap homestay in Phu Yen and a highly regarded Phu Yen hotel.
Palm Beach Hotel overview
Palm Beach Hotel, located in Giai Son village, Tuy An, is one of the Phu Yen hotels with a beautiful location near Ganh Dua beach. Modern design with light colors to create a comfortable and airy resort space.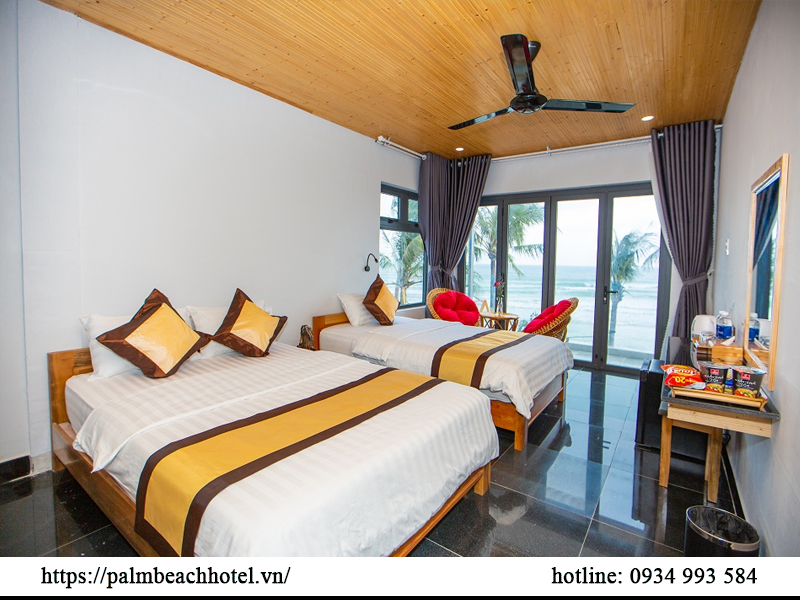 All of the rooms at Palm Beach Hotel have sea views, which bring cool sea breezes. You can watch the sunrise and sunset over the sea from your room. Bright colors are used in each room to create a comfortable and pleasant resort environment. The room is fully equipped with furniture and comfortable equipment, ensuring that customers have a comfortable and pleasant stay.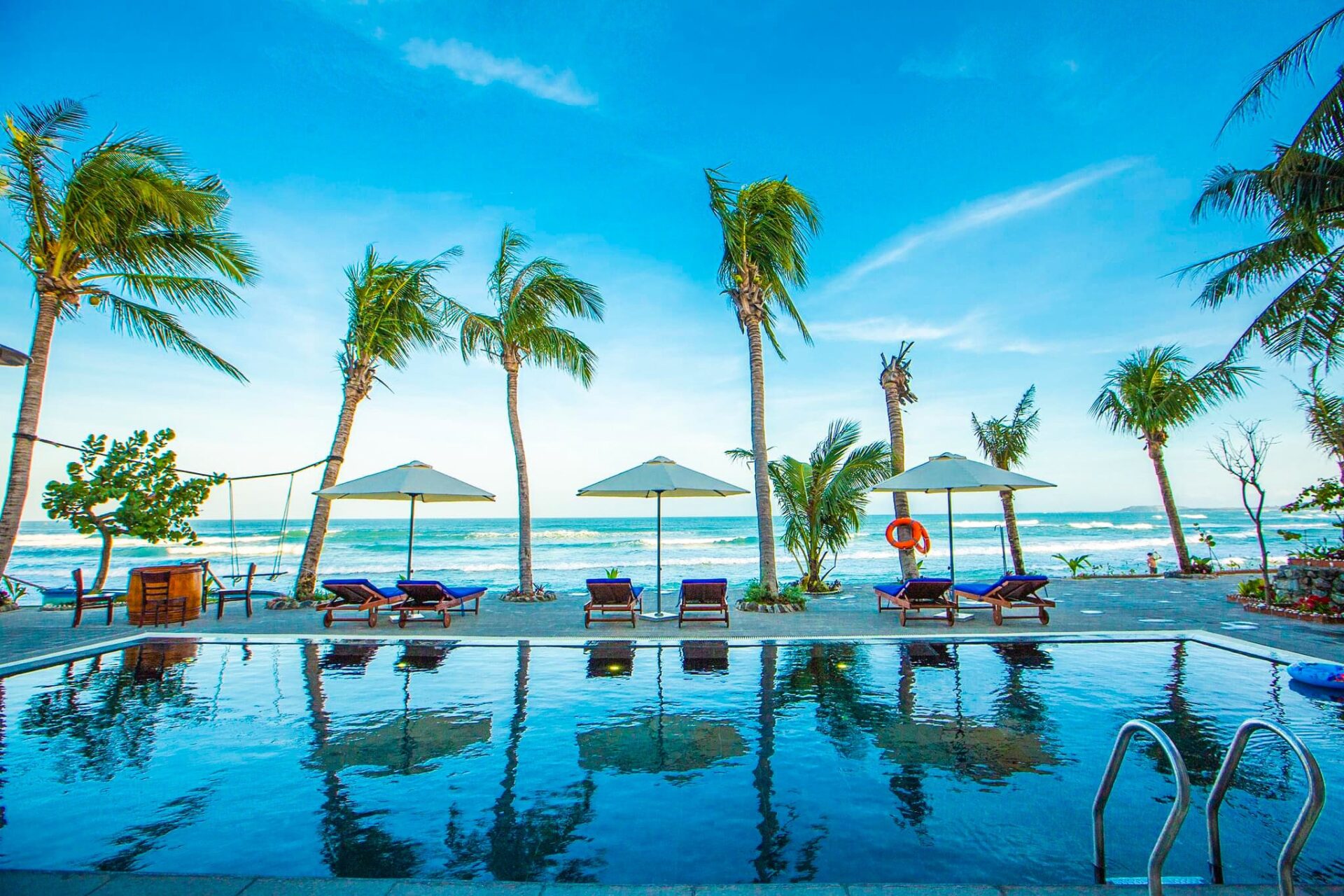 Furthermore, the staff at Phu Quoc Palm Beach Hotel is highly trained and always friendly and attentive to all customers. It is also extremely easy and convenient to visit popular tourist attractions in Phu Yen such as Mui Yen, Bai Xep, Thanh Luong Pagoda, and so on.
Elegant amenities of Palm Beach Hotel
Palm Beach Hotel has won the hearts of visitors with its first-rate facilities such as: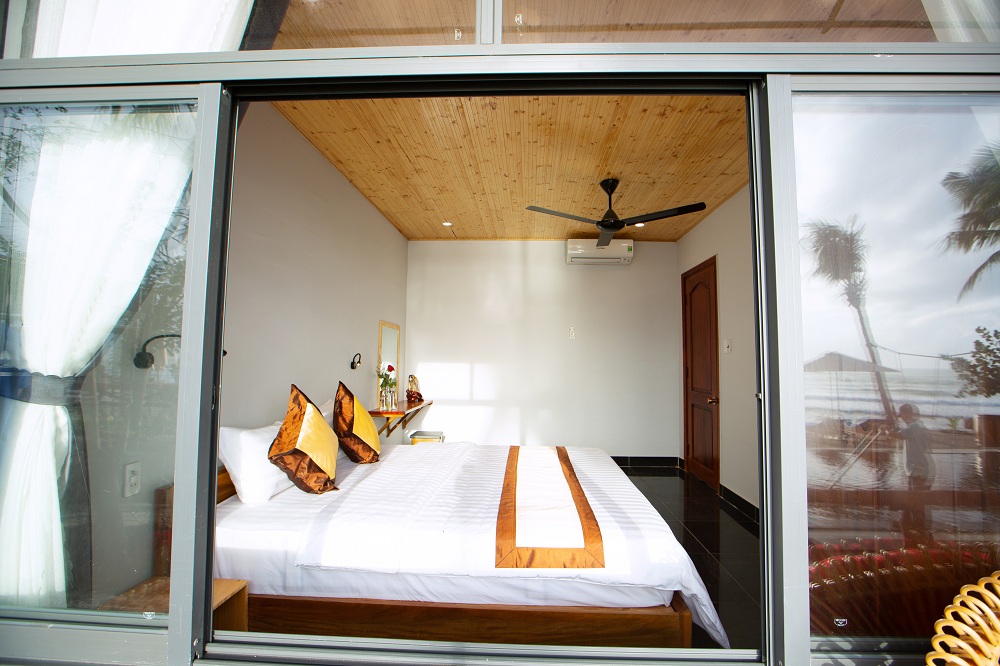 – The hotel has a food court with a variety of delicious, unusual, and unusual dishes. Because it is right next to the sea, the majority of the seafood served here is very fresh, ensuring complete safety and hygiene.
– A luxurious coffee area with a variety of delectable dishes.
– The hotel's on-site bar is an excellent choice for couples looking to try something new.
In addition, the hotel has a play area for children. Parents are at ease providing their children with extremely beneficial practical experience.
A detailed review of design and amenities of the Palm Beach hotel
There are numerous hotels and motels in Phu Yen to accommodate tourists. However, Palm Beach Hotel is many travelers' first choice. Because this hotel is beautifully designed and fully equipped.
Design
Palm Beach Hotel is built in the style of modern European architecture. A building embracing the sea can be seen from afar, hidden behind green coconut trees. The white color scheme combined with tempered glass doors and balconies is the hotel's standout feature. As a result, each room will have a view of the sea, making the space appear larger.
As a result, guests will no longer feel "secret" while staying in a hotel room. Furthermore, after waking up every morning, all you have to do is go to the balcony to breathe in the fresh air and watch the sunrise to help your spirit be more refreshed.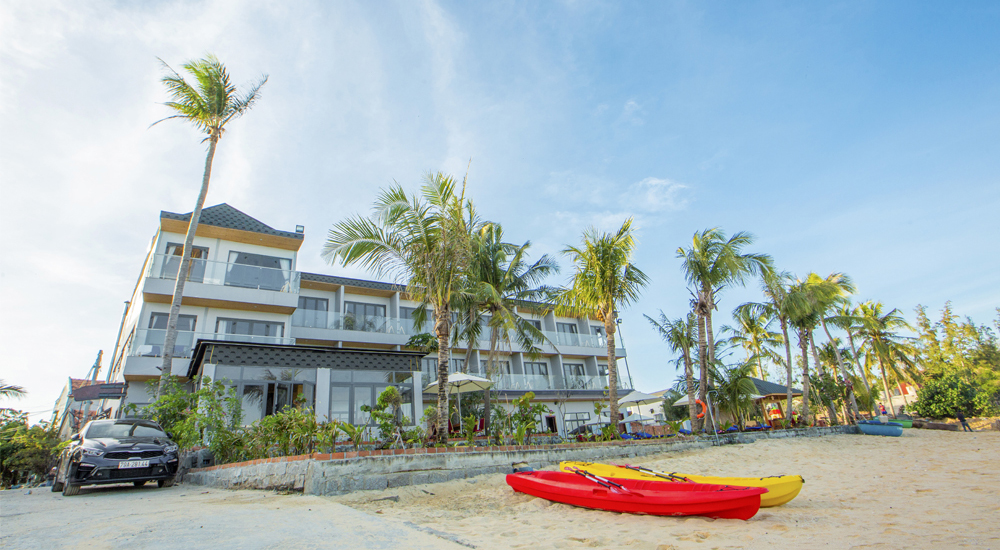 Furthermore, the Palm Beach Hotel – Phu Yen hotel near the sea has an outdoor swimming pool, bar, and children's play area on the premises. You will be able to take beautiful photos for your friends and family to cherish.
Warm colors are combined with many different colors to create a comfortable and cozy resort space. Each room has modern furniture and equipment to ensure that visitors have a comfortable and enjoyable stay.
Conveniences
Palm Beach Hotel is a cheap homestay in Phu Yen and a 4-star hotel, so guests can be confident in the amenities in each room. The staff arranges amenities according to the size of each room. Each room has a bed, a refrigerator, a bathtub… Larger rooms include a sofa, a washing machine, and two or more beds. The wifi system in the room is free of charge and has a super-fast speed; you can freely access it to live to stream your trip. 
Furthermore, you will enjoy buffet dishes ranging from European to Asian to fresh seafood. Because the hotel's unique feature is its proximity to the sea, when people sleep from the sea, the chef will prepare it directly for visitors to enjoy. This has resulted in many people returning to the Palm Beach Hotel after each vacation.
Other services provided by the Palm Beach Phu Yen hotel
Palm Beach Hotel Phu Yen not only has the most impressive swimming pool in Phu Yen, but it also has many other interesting facilities. Including a restaurant food court with a variety of dishes from various cultures. Following that is the massage service area, cafe, and lively bar. The hotel campus is spacious and open, with a separate play area for children. Families with young children do not need to be concerned about the playground. All areas of the hotel are strictly secured. Make certain that all travelers are safe.
What is the cost of service at Palm Beach Hotel Phu Yen?
The 4-star Palm Beach Hotel Phu Yen offers the same level of comfort and quality at a reasonable price. A hotel room can be purchased in one day for approximately 1,400.000 VND. In addition, the food is very reasonably priced. According to market prices, it should be suitable for the majority of tourists.
So the article has assisted you in thoroughly reviewing the Palm Beach Hotel in Phu Yen. Call today at 0934 993 584 to reserve a room at Palm Beach Hotel Phu Yen!