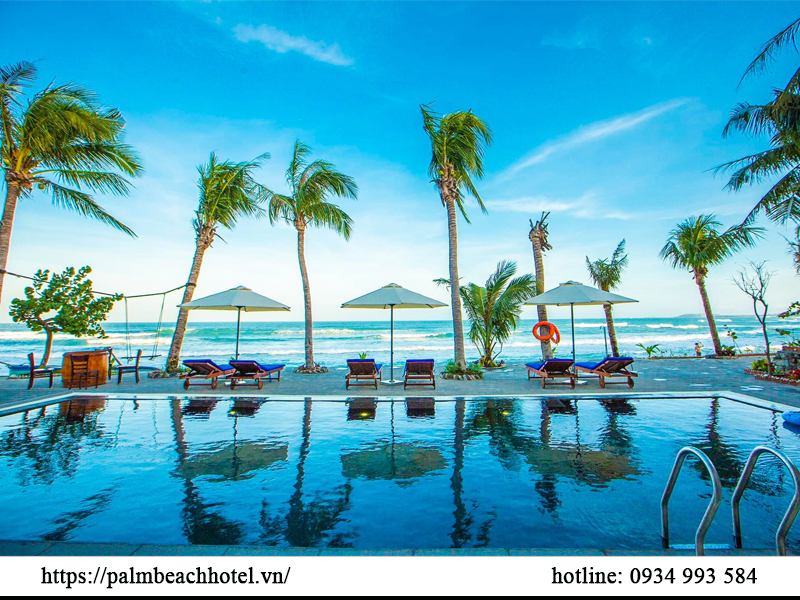 The best 5-star hotel in Phu Yen
The best 5-star hotel in Phu Yen was created, catering to the resort requirements of visitors from all over the country and overseas. Please review the Palm Beach Phu Yen hotel/resort and select interesting tourist locations to stop and discover that are appropriate for your Phu Yen vacation!
Palm Beach Hotel is in an excellent location
Palm Beach Hotel is positioned directly on Ganh Dua beach, making it exceptionally airy and cool in comparison to other hotels in Phu Yen. As a result, to capitalize on that strength, the hotel features an open architecture that faces the sea to catch the early light and cool wind.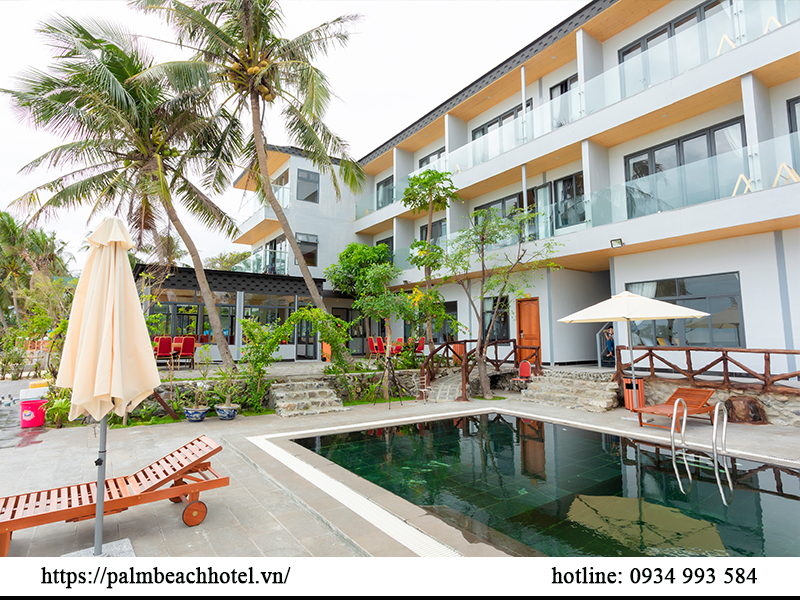 Looking back from a distance, you can't help but be "surprised" by the hotel's splendor. The hotel stands behind the green coconut groves, blending with the golden sand, creating a picture of poetic charm. In particular, for those who love the sea and want to explore the unspoiled beauty of this place, Palm Beach Hotel is an ideal destination.
The hotel with the highest level of service quality
The hotel's strong suit is its excellent service quality. Palm Beach Hotel offers a vast space and, besides the resting area, also has places for entertainment, dining, events, and so on.
The first item to highlight is the Palm Beach Hotel's restaurant. This location is really fresh and cool, making tourists feel wonderful. Furthermore, the hotel has a highly skilled chef who can prepare a wide range of European and Asian delicacies. 
Because the hotel is near the sea, the ingredients in seafood meals are always fresh and healthy. When you choose Palm Beach Hotel as your destination, you can be confident in the quality of the food.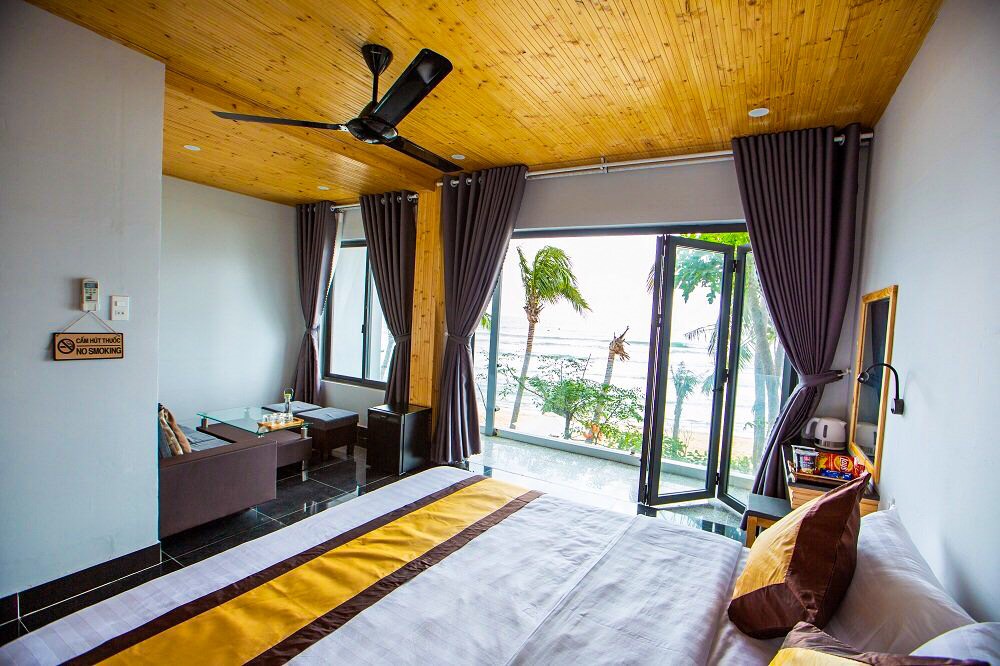 Following that is the children's play area. This is the location for parents and children to discover nature if they wish to provide their children with a true experience. You also don't have to be concerned because the hotel's premises are always monitored by a surveillance camera system, assuring the children's safety while they play. There is also an infinity pool with a view of the sea. 
You may soak in the water at the Palm Beach Hotel's swimming pool. The automated waste filtration system ensures that the water in the pool is constantly clean. This is an excellent location for taking amazing photographs throughout your tour. Finally, the hotel's responsive and competent service personnel is a bonus. The personnel is adequately trained to serve you, from reception to the room. The hotel's staff is really focused, pleasant, and attentive when working.
The hotel's bedroom boasts a "true" sea view. In addition, living necessities such as towels, slippers, hair dryers, toiletries, and so on are provided. This is certainly an inexpensive Phu Yen hotel worth considering. Aside from the resort space, the hotel also has a restaurant area and a conference/party room available to accommodate tourists as needed.
Excellent tourism attractions in Phu Yen
Phu Yen is a South Central Coast coastline province, located around 560 kilometers north of Saigon and 1,160 kilometers south of Hanoi, is a popular location for travelers. This territory has a 189-kilometer-long coastline with white sand beaches and undulating islands near the sea, providing a picturesque environment. Furthermore, Phu Yen is a town having 21 national historical, cultural, and architectural relics, as well as several other noteworthy tourist sites.
Da Dia reef
Da Dia reef is located in An Ninh Dong commune, Tuy An district, Phu Yen province. The reason it is called Da Dia reef is that the rocks here are shaped like stacks of discs jutting out into the sea, from a distance it looks like a giant stone honeycomb.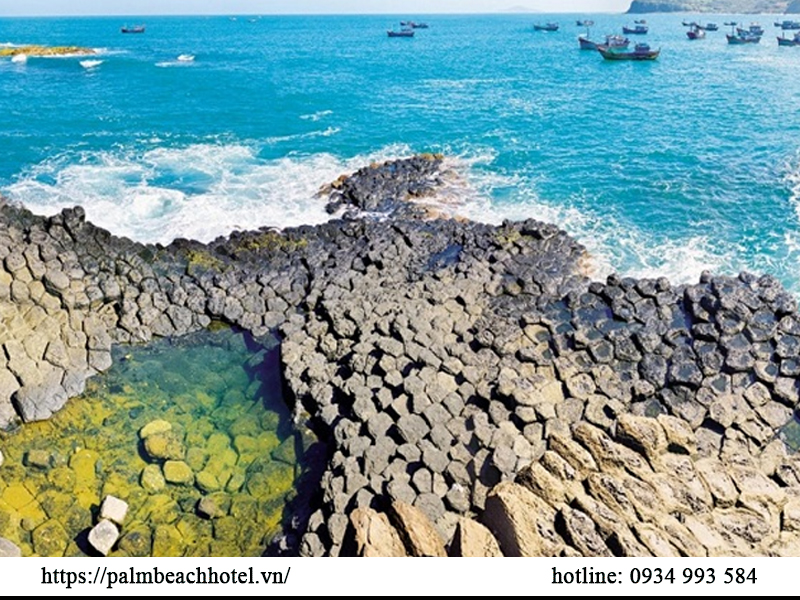 Tuy Hoa Beach
Phu Yen is a well-known beach tourist resort, with Tuy Hoa beach being the most popular among visitors. This is a broad beach with soft waves that creates a picture of a calm, clean landscape that is indicative of Tuy Hoa's unique attractiveness.
Lighthouse of Dai Lanh
The Dai Lanh lighthouse is positioned at the country's easternmost point, making it the country's first welcome point. Dai Lanh lighthouse is always a check-in site that visitors never miss, with the deep green splendor of the woods, the blue of the sea, and this particular symbolism.
Best room prices at Palm Beach Hotel
Tourists select the 5-star hotel Phu Yen – Palm Beach Hotel not only for the high level of service but also for the low cost. With a range of room designs to meet your and your family's demands. Palm Beach Hotel offers a variety of accommodation types at various special prices, making it simple for you to select. A fully equipped room for your trip costs only 1,350,000 VND.
Furthermore, the hotel provides various advantageous regimes for travelers traveling in groups. Palm Beach Hotel is consistently one of the most affordable hotels in the Phu Yen resort complex. As a result, you may feel entirely confident in picking this location as a stopover for your vacation.
Hopefully, this will be one of your top summer vacation options. If you need to make a reservation, please go to palmbeachhotel.vn straight immediately. I wish you a wonderful trip with your family and friends.