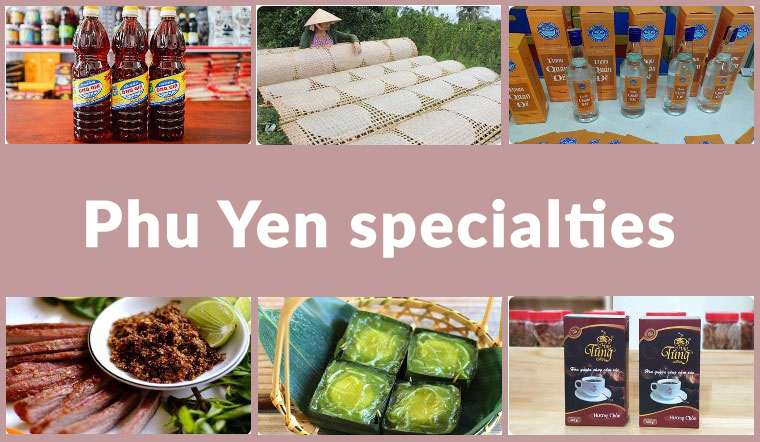 Where to buy Phu Yen specialties?
Phu Yen is a place endowed by nature with tremendous beauty as well as an abundant and rich supply of products. If you are planning a trip to Phu Yen, you may be wondering what to get as a present for your parents, relatives, and friends, as well as where to buy Phu Yen specialties. In the following article, Palm Beach Hotel will provide you with recommendations about Phu Yen specialties and where to buy them.
Phu Yen cuisine gifts- Phu Yen specialties as gifts
Hoa Da rice paper
Hoa Da rice paper is now one of the most popular Phu Yen delicacies, available across the country. This Phu Yen specialty is a well-known cake with numerous baking villages having family secrets to obtain a distinct and new flavor that is exclusive to this location. For people here, a wonderful rice paper must be fragrant, soft, medium in thickness, and sunny; it must be aromatic while baking and not sticky when dipped in water. There are several ways to eat Hoa Da rice paper, including serving it with fresh vegetables, pork, seafood, or any other item that may be wrapped.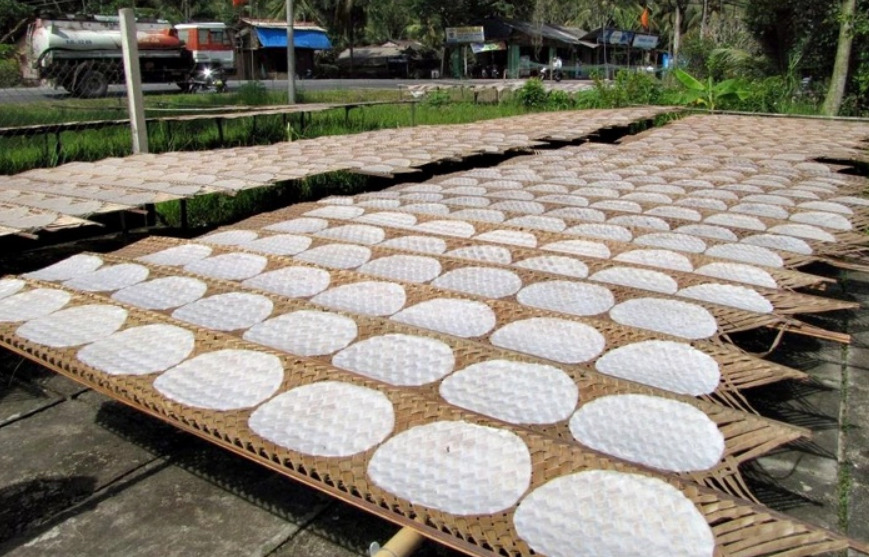 Suggested address for purchasing Hoa Da rice paper:
Tu Duong specialties: No. 1 Phu Dong, ward 7, Tuy Hoa city, Phu Yen.
Phu Yen dried seafood
As a present, Phu Yen will undoubtedly deliver you a paradise of dried seafood. If you are a long-distance traveler, dried fish is the most cost-effective option for a long voyage without fear of damage. Suggestions for dried seafood include dried goby, dried squid, dried stingray, dried yellowtail, ripped squid, specially impregnated squid, and so on.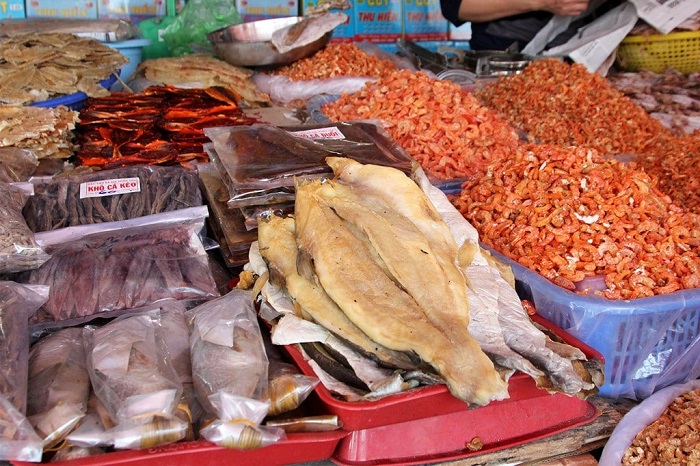 Suggested location to get quality Phu Yen dried seafood:
Phu Yen specialties: 4 Pham Hong Thai, City. Tuy Hoa, Phu Yen.

Phu Yen Specialty Store (Hoa Yen Supermarket): 307 Le Duan, Ward 7, Tuy Hoa, Phu Yen.
Phu Yen pink cake
The pink cake is another renowned Phu Yen delicacy among visitors. The cake is produced using ground glutinous rice flour, a variety of glutinous rice chosen for its taste and flexibility. The pink cake is not difficult to create, but the baker must be very attentive and pay close attention from the time the cake is prepared until it is fully baked. Pink cake costs around 70,000 VND – 80,000 VND/kg and is excellent for guests to pick as a gift.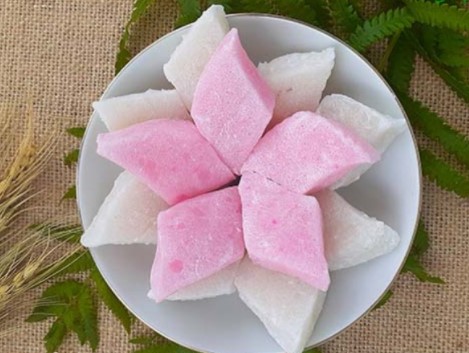 Suggested address for purchasing Phu Yen pink cake:
Phu Yen specialties: 4 Pham Hong Thai, City. Tuy Hoa, Phu Yen.
Phu Yen Coffee
Few people are aware that Phu Yen, albeit recognized as a beach city, is also well-known for its wonderful coffee brands. One of the specialties that most travelers purchase as gifts is coffee. Visitors will be impressed with Phu Yen coffee after only one sip due to its robust flavor. Reference price: About 200,000 VND/kg.
Reference location:
Huy Tung Coffee: 123 Nguyen Trai, Ward 5, City. Tuy Hoa, Phu Yen province.

Huong Huong Coffee: Lien Tri-Village 1, Binh Kien Commune, City. Tuy Hoa, Phu Yen province.
Quan De Wine
One of the famous Phu Yen delicacies is the wine known as Quan De. Because the wine is prepared and fermented by hand, its distinct flavor is preserved. Wine from Quan De was once regarded as one of the tribute wines for kings. Quan De wine improves energy, relieves asthma, and has positive impacts on health. Reference price: About 100,000 – 300,000 VND/liter.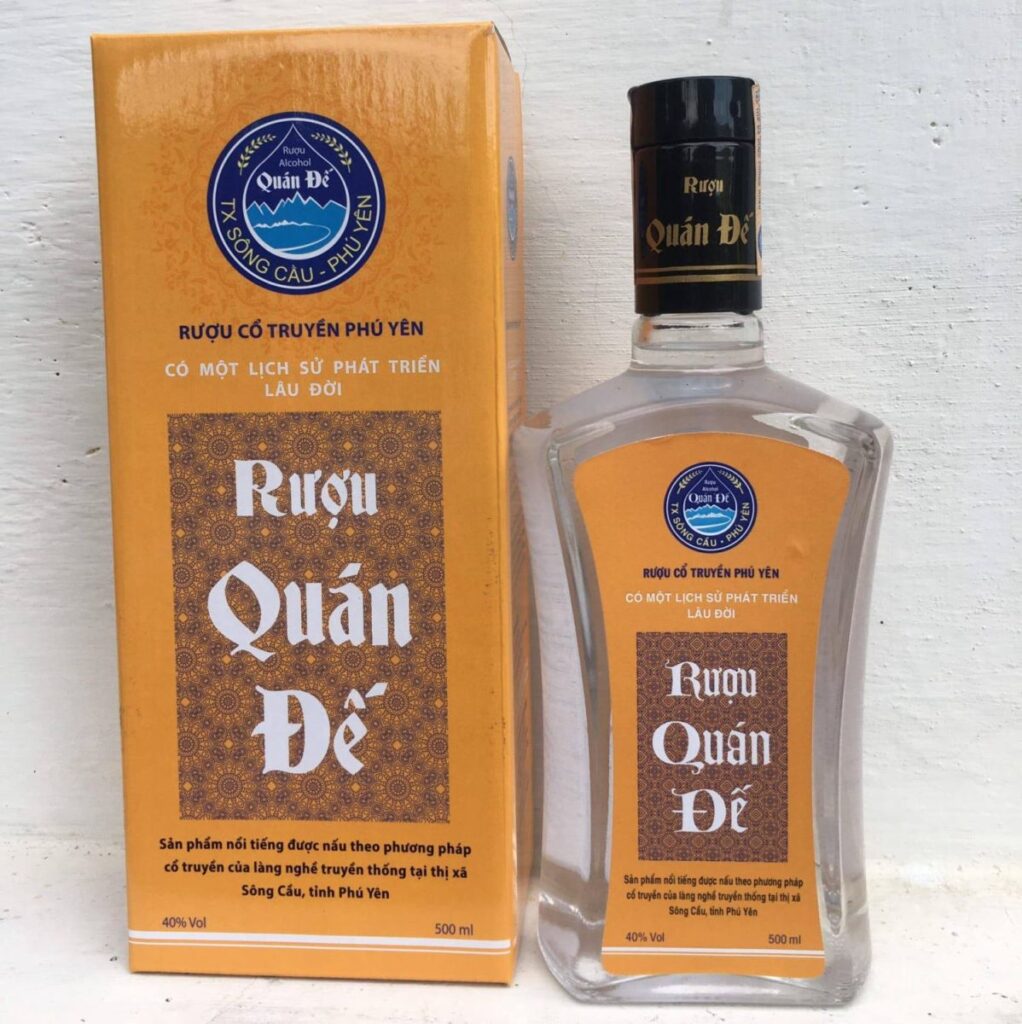 Reference location:
Le Hang Gifts: 128 Nguyen Thi Minh Khai, Ward 7, City. Tuy Hoa, Phu Yen.

Wine shop 205: 205 Tran Hung Dao, City. Tuy Hoa, Phu Yen.
Decorative gifts- Phu Yen specialties as gifts
Bamboo and rattan products
Tourists are often drawn to little purses, handbags, and baskets. In addition to being built of plain bamboo and rattan, the baskets are also embellished with pearls, stitched threads, and bamboo and rattan that have been dyed in a variety of colors to create the right delicate designs. Not to mention that, although Phu Yen tourism souvenirs have a great capacity to keep up with trends, a new fashion has a modern style that is different from the old fashioned. Therefore, don't be reluctant to get a purse to pair with a vintage dress to make a wonderful ensemble.
Crafts made of coir, stone, and wood
It's difficult for skilled artisans to produce one-of-a-kind, exquisitely crafted works of art using little logs, bits of roots, or coir. There are lovely ornamental objects like trays, plates, bowls, and amusing images of kids, among others. You might get your parents a beautiful vase to put flowers in to liven up the place.
For photographs of women, orchids, and notably the topography of this region, including Ganh Da Dia, Da Bia mountain, Mui Dien, and Nhan mountain, Phu Yen tourism is essential. A shirt printed with the logo Phu Yen can also be a help in some cases such as wet or dirty clothes because they are quite cheap.
Along with its stunning views, Phu Yen also draws visitors with its wide variety of mouthwatering specialties. The Phu Yen delicacies in the aforementioned article are something that Palm Beach Hotel would like to offer to you as presents. Hope your journey is fruitful and meaningful.