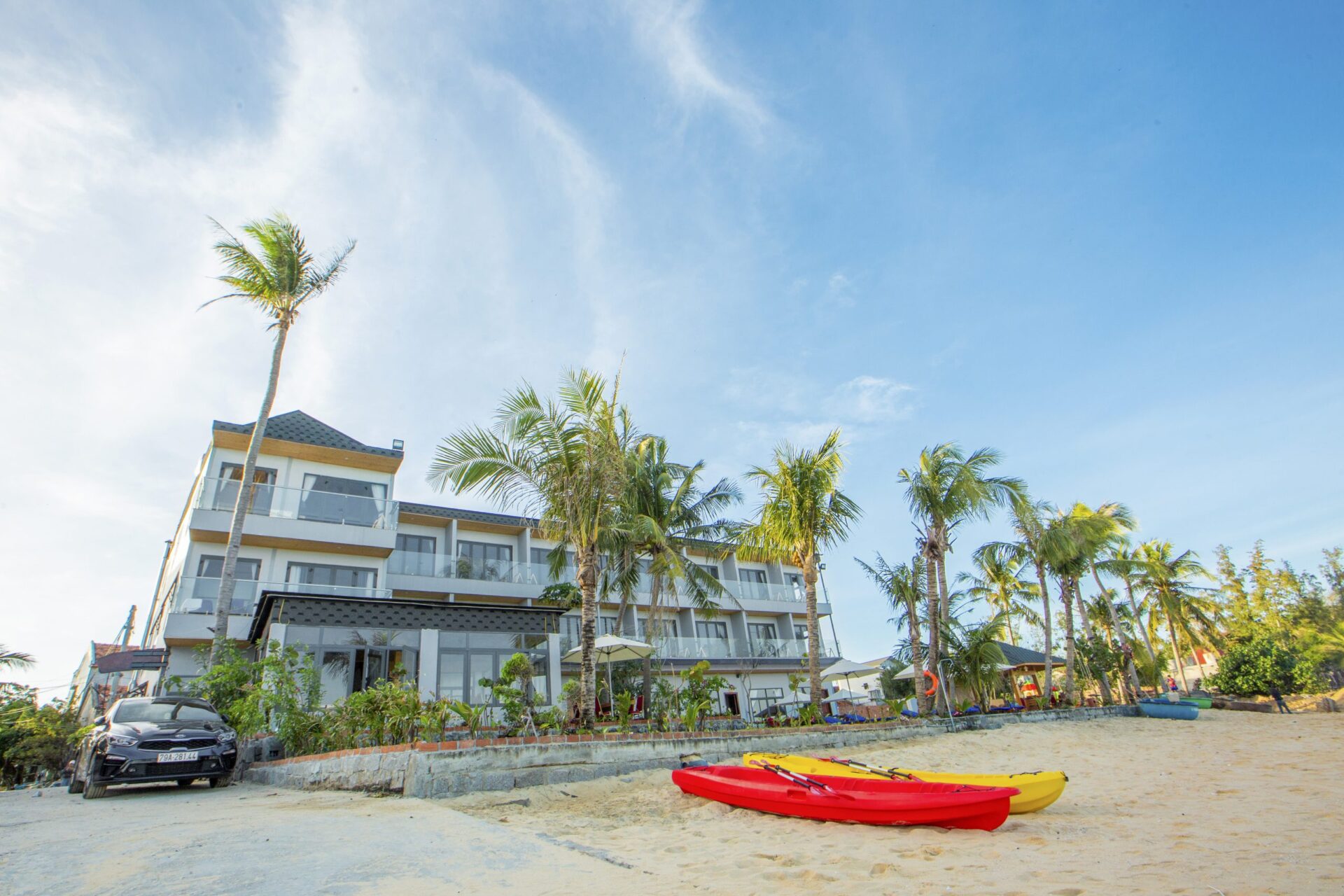 The most beautiful hotel in Phu Yen
When visiting Phu Yen, tourists are undoubtedly interested in not only the hottest tourist attractions or delectable cuisine, but also the greatest location to stay. Phu Yen is a tranquil place with "hidden charms" that make people's hearts falling in love with it. Because of these wonderful things, this location has become a popular travel destination for many people. Of course, when visiting this country, you are not only interested in tourist attractions, amusement parks, distinctive architecture, etc., but you must also select the most appropriate lodging. Which is the most beautiful hotel in Phu Yen? When visiting Phu Yen, whose hotel should you book? Please refer to this page and save it for your forthcoming trip!
1. Palm Beach Hotel 
The Palm Beach Hotel was constructed with environmental friendliness and protection in mind, therefore the materials used to construct the hotel are eco-friendly. The hotel area is created in a modern and luxury style, with a predominant white tone to offer visitors a sense of airiness and cleanliness, and the hotel space is lit mostly by natural light. As a result, visitors will feel relaxed and at ease while staying here.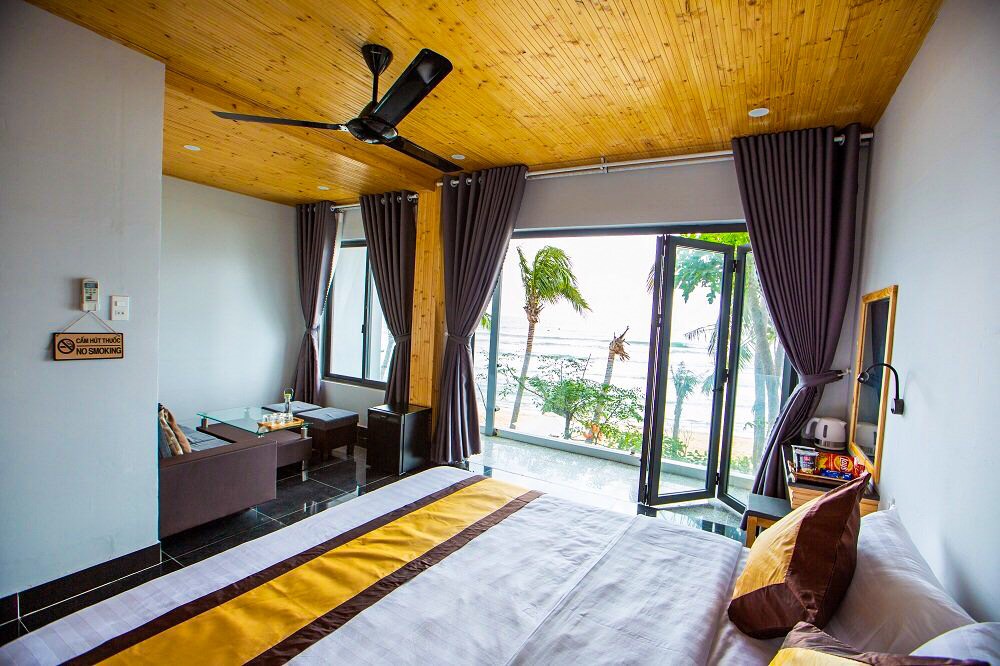 Because Palm Garden Beach Resort & Spa is developed on a big scale, the hotel is always filled with fresh sea breezes. As a result, the area inside the rooms is equally light and airy, making it a good choice for travelers. Aside from the communal areas, the hotel's interior is likewise intended to meet European standards while maintaining a luxurious appearance. Technological equipment are also available in the rooms to provide the greatest possible experience for visitors.
2. Anh Viet Linh Hotel
Address: 193 Le Duan, Tuy Hoa City, Phu Yen, Tuy Hoa, Vietnam
Anh Viet Linh Hotel is one of the greatest locations to stay in Phu Yen. This is a low-cost 2-star motel that provides good service. The Anh Viet Linh Hotel is about 21 kilometers from Tuy Hoa International Airport and offers a complimentary airport shuttle service. This is an excellent place to stay in Phu Yen that you should not overlook.
The quality of the room system is highly praised here. Because of the fully equipped TV, refrigerator, desk, hair dryer, and other amenities, the Anh Viet Linh Hotel offers a breakfast buffet with a variety of light meals. There is plenty of room for you to host intimate gatherings with your family. There is also an amusement park, a leisure area, a sports room, and other amenities to let you relax to your full potential. The system of magnificent and comfortable rooms with stunning views.
3. Minh Long Hotel
Address: 88 Le Duan Street (HT33), Ward 9, Tuy Hoa, Vietnam
Minh Long Hotel is a hotel in the heart of Tuy Hoa city that many travelers choose when visiting Phu Yen. The room system is extremely modern and comfortable, with complete TVs, free wifi, desks, and private bathrooms, among other amenities. The balcony area of the Minh Long Hotel, in particular, is fairly spacious and offers a colorful city view. The hotel also serves cuisine and provides a complimentary airport transfer. At Minh Long Hotel, you will sleep in the most modern and comfortable accommodations.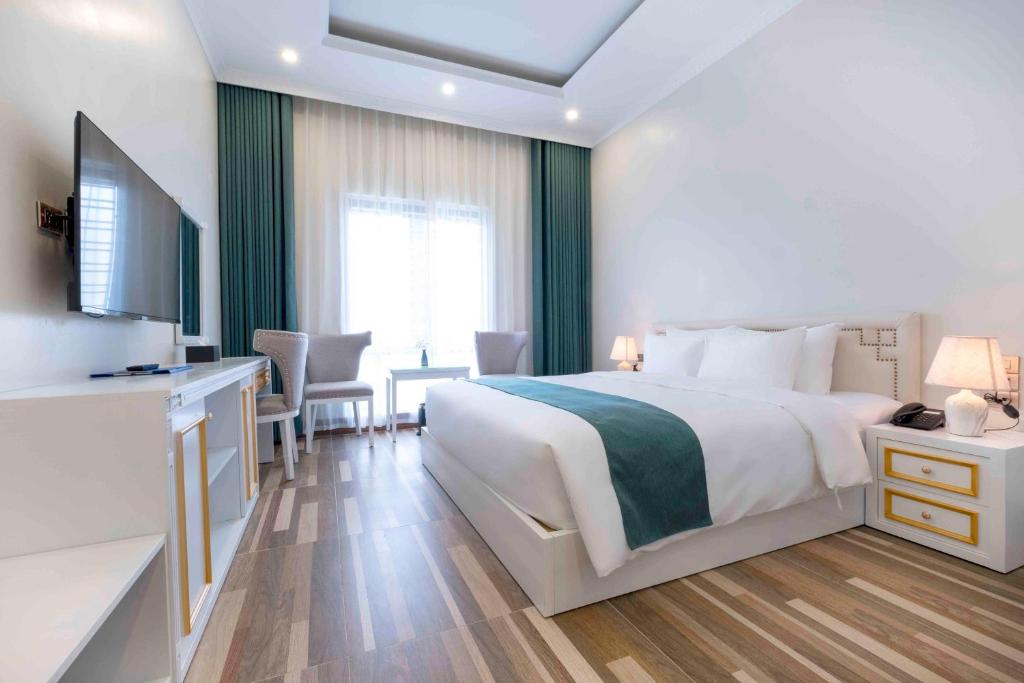 Visitors will also be advised of tourist destinations and a sensible itinerary will be arranged. Visitors may easily travel to several tourist spots from Minh Long Hotel. This hotel is constantly packed, and it is quite simple to run out of rooms. As a result, you should contact and book your accommodation as soon as possible to ensure that you have the ideal resting area.
4. MiLava Hotel
Address: Song Hanh Street, Vincom Shophouse, Tuy Hoa, Vietnam
MiLava Hotel is an excellent choice for a relaxing stay in Phu Yen. The quality and service attitude of this hotel are well regarded. That is demonstrated first and foremost by the comfortable and elegant room system, which includes a flat-screen TV, refrigerator, air conditioner, working desk, and other amenities.
In addition, MiLava Hotel includes a culinary restaurant that serves a wide range of foods. The sports and entertainment area is also a great place to unwind. MiLava Hotel also offers automobile services and highly qualified guides. This is one of the nicest hotel to stay in the area and one that you should not overlook.
5. Rosa Alba Resort
Address: 88 Le Duan, Tuy Hoa, Phu Yen, Tuy Hoa, Vietnam
Many travelers choose to stay at Rosa Alba Resort, a high-class seaside hotel. This hotel's room system is of 5-star quality, with a stunning view. The seasonal outdoor swimming pool system at Rosa Alba Resort is the main attraction. An amusement park for both children and adults is also available.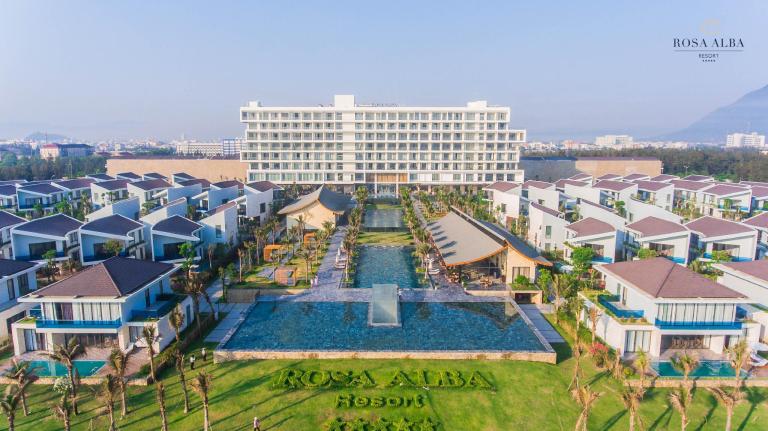 The food court has a wide variety of European and Asian dishes, and the restaurant space is rather large. You can choose to have a few glasses of wine, eat some appetizers, and gaze out the window at the gorgeous cityscape. All of the rooms have comfortable chairs, televisions, air conditioning, refrigerators, nightwear, and restrooms. Rosa Alba Resort's personnel is very professional, speaks several languages, and can guide and answer all of your queries. This is an excellent resort in Phu Yen where you should stay.