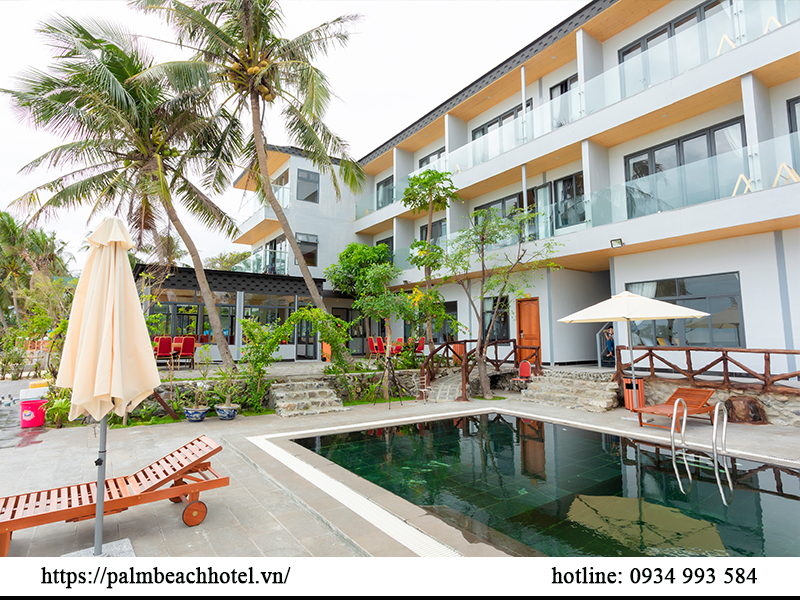 Resort in Song Cau Phu Yen
Do you want to stay at a resort in Song Cau Phu Yen but don't know where to begin? Refer to the following article to take advantage of the expertise in selecting a resort in this region. Song Cau is one of the most appealing tourist sites in Phu Yen that travelers should not miss. However, not everyone has the knowledge to select an appropriate resort in Cau river Phu Yen. Let's discover the information in the following article.
Something about traveling to Phu Yen Song Cau
Song Cau has a coastline of almost 80 kilometers and a lovely landscape with Xuan Dai bay and Cu Mong pass. With many local and foreign visitors interested, this location offers numerous benefits for tourism growth.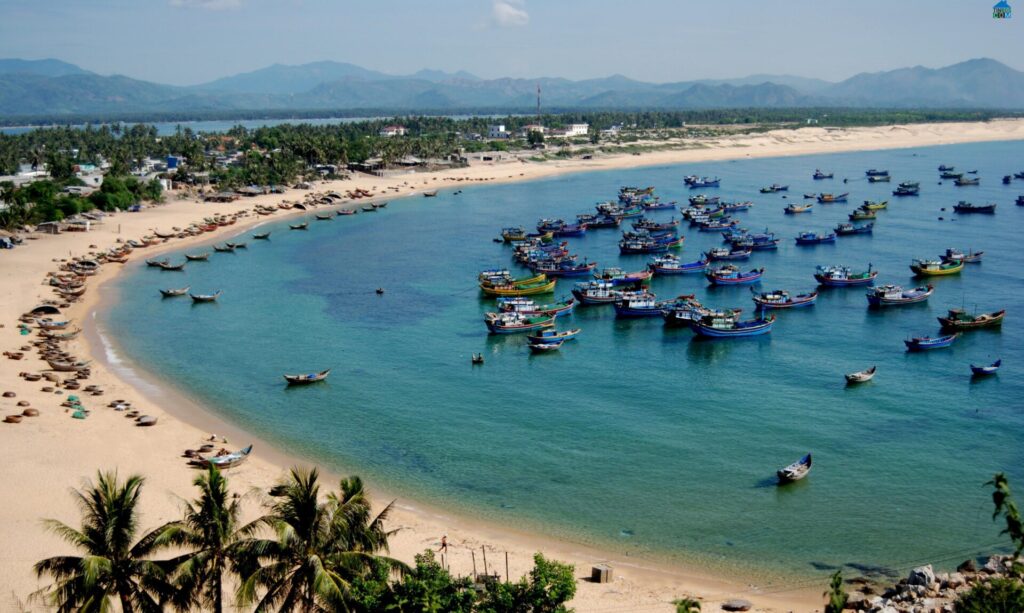 Visitors to Song Cau, in particular, will be amazed by the long white sand beach and stunning blue sky reminiscent of the Maldives in the heart of the central strip of land. Xuan Dai Bay will be an amazing feature for the Song Cau river tourism region in Phu Yen in the future, drawing tourists who enjoy poetry and outdoor sports such as fishing, squid, coral diving…
Song Cau Phu Yen tourism is garnering the attention of foreign investors because to the good circumstances provided. Tourism development has the potential. Song Cau offers a wide range of tourism amenities, including entertainment, leisure, swimming, fishing, and sports. Furthermore, the mountains and woods contain many magnificent streams, caves, and waterfalls, making it ideal for eco-tourism development. 
Furthermore, the road is in a highly convenient location, with two national highways 1A and 1D passing through, and route 644 linking Song Cau and Dong Xuan. Song Cau also features extensive peninsulas on the seaside: Xuan Thinh (Xuan Thinh commune and Xuan Phuong commune), Xuan Hai (Xuan Hai commune, Xuan Hoa commune and the eastern plate of Xuan Canh commune). It is also well-known for its numerous lovely beaches. Song Cau will continue to grow fishing in the future to benefit the people here. 
Song Cau Phu Yen resort selection experience
There are several resorts in the Song Cau river area of Phu Yen, but it is difficult to find one that is both attractive, pleasant, and affordable. Then it's time for you to pocket the following experience of choosing the Song Cau Phu Yen resort:
Choose a resort with a convenient location
Everyone believes that when visiting the Song Cau river, they should stay at the Song Cau. However, this is not totally correct. You may easily visit and explore this location if you stay at the Song Cau resorts in Phu Yen. To see other notable attractions in Phu Yen, however, you must go a long distance and spend a lot of money.
Hotels and resorts that are not near the Song Cau but are in a convenient position to move here, on the other hand, are the best option. Because you can simply get from your hotel to the Song Cau or any other tourist attraction in Phu Yen.
Always pay attention to the price
The rental price of resorts and hotels in tourist areas like the Song Cau is always expensive. Particularly during the tourism season, when the number of visitors grows. It is currently difficult to find a room in a Song Cau hotel or resort. And, if leased, the cost of a room is sometimes exorbitant.
On the contrary, resorts and hotels are farther away because they are not under high competitive pressure, so the room rental rate is often much more comfortable. These lodgings are often appropriate for everyone, including students, newbies, and groups of friends looking to optimize travel expenditures.
Which resort should Phu Yen select along the Song Cau?
There are numerous resorts in Song Cau Phu Yen, but Palm Beach Hotel is usually the top choice for a quality and affordable resort for all guests. Palm Beach Hotel is one of the most hotels in Phu Yen; the hotel is located on Central Vietnam's most beautiful beach, in An My commune, Tuy An district, Phu Yen province. If you do not want to pick pricey resorts in Song Cau Phu Yen, this is the best option.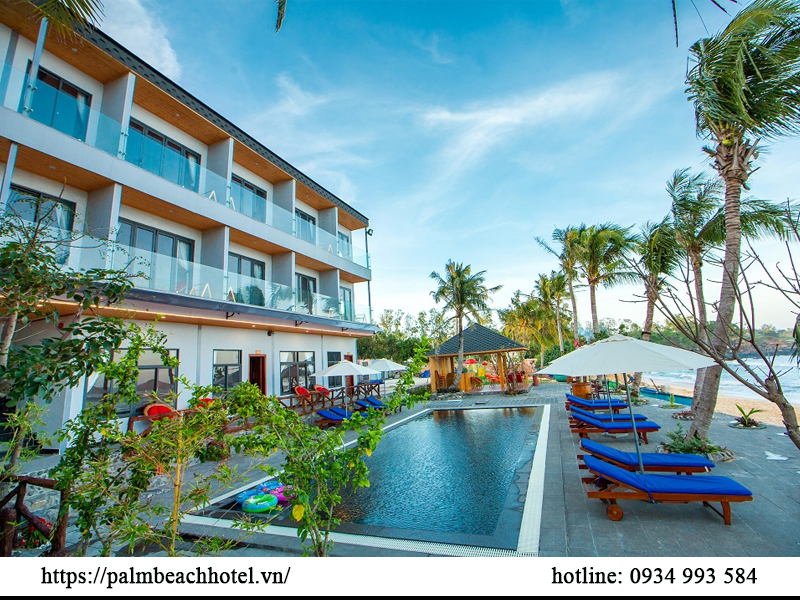 Favorable location
Not located in the city center, nor in any famous tourist area of ​​Phu Yen, but Palm Beach Hotel is still among the top places to stay. The reason is that from the location of the hotel, you can easily move to the famous tourist attractions of Phu Yen. If you do not have a car, you can rent a motorbike at rental points near the hotel, very convenient to move.
Not only that, but with its location on the most beautiful beach in the Central region, Palm Beach Hotel gives you a truly classy resort space. It is in harmony with nature, completely away from the troubles and bustle of daily life.
Unique design
Palm Beach Hotel boasts a modern European-style design that is both minimalist and luxurious. The unique feature of this hotel is that all of the rooms are built to be ecologically friendly and to conserve nature. When you visit our hotel, you will experience actual green space.
Diversity of utilities
Palm Beach Hotel creates a great impact on tourists from the minute they enter, with 19 rooms totally viewing the sea. Not only that, but the hotel incorporates several facilities such as a bar, an outdoor swimming pool, and a children's play area, providing visitors with the most pleasant stay and harmony with nature.
Reasonable room rates
Unlike resorts in Song Cau Phu Yen, which are fairly costly because of their geographical location in the tourist hub, Palm Beach Hotel draws tourists with its 5-star room quality, yet the room price is unexpectedly reasonable. You may enjoy the high-class resort area here for 350,000 VND per person.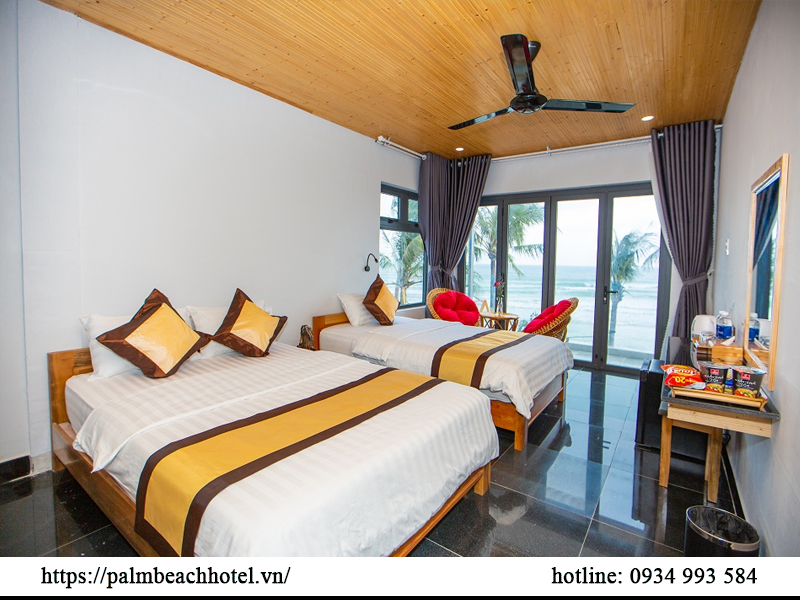 It is not difficult to select a resort in Song Cau Phu Yen, but it is more difficult to locate an appropriate location such as Palm Beach Hotel. So, if you're thinking about visiting Phu Yen, get in touch with Palm Beach Hotel right now to start arranging your exciting vacation.