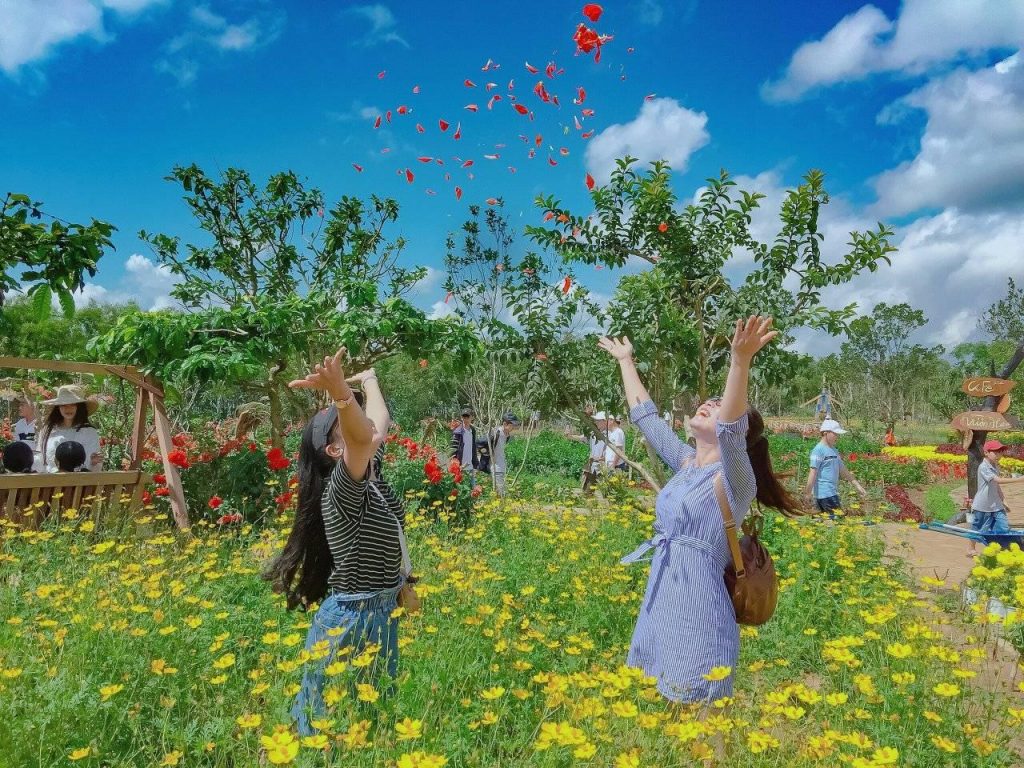 Phu Yen – The land of yellow flowers on green grass
For those who enjoy traveling, each trip results in not only a collection of beautiful memories and memorable experiences but also hundreds of virtual photos from countless locations. Some people travel simply to remember the beautiful places they've visited, while others choose to rewrite that journey with photos and videos to look back on after they've been there. Phu Yen – The Land Of Yellow Flowers On Green Grass because it appears full of emotions in director Victor Vu's film. Coming here means stepping onto the clear green land of heaven, earth, and sea, as well as the green lawn. Today's article will introduce you to Phu Yen tourism "yellow flowers on green grass".
Da Dia Reef
Da Dia Reef, which is about 50m wide and stretches over 200m, and is located on the territory of Tuy An district, 40km from Tuy Hoa city, is one of the beautiful landscapes of Phu Yen land. Da Dia Reef appears to be a giant honeycomb from above, with hexagonal and pentagonal rock blocks arranged evenly. Da Dia Reef, designated as a national natural landscape in 1998, is a popular tourist destination for both domestic and international visitors.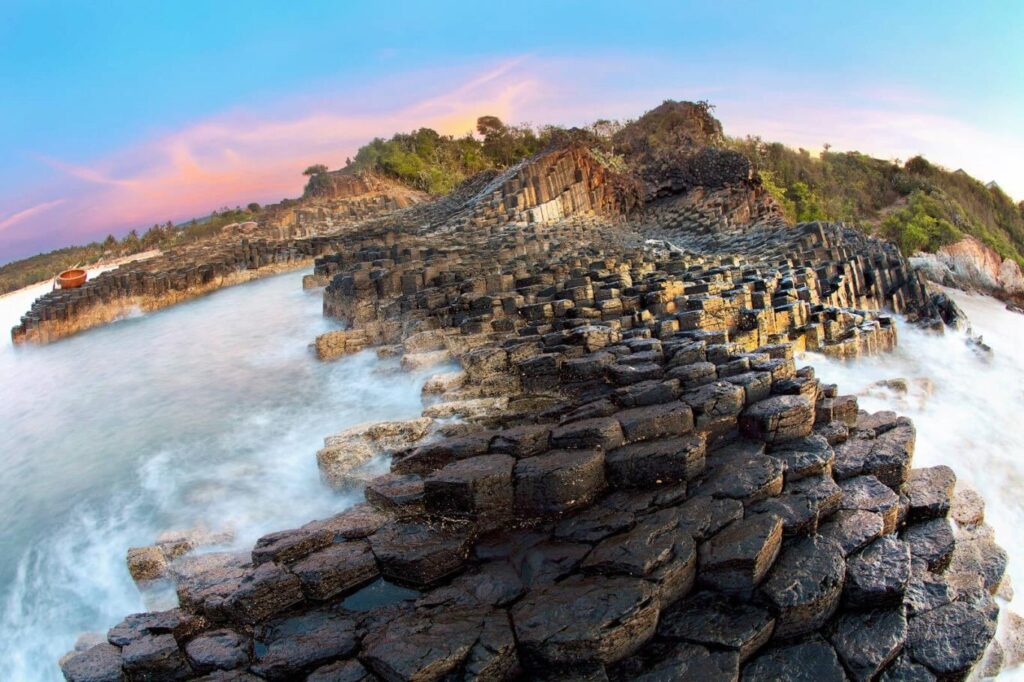 Xep Beach
If Mon beach is known as Phu Yen beach's beauty queen, Xep beach is known as a sleeping fairy. This is an ideal location for tourists to unwind, entertain themselves, camp, swim, scuba dive, and enjoy seafood specialties…
Yen Island
Yen Island, An Hoa commune, Tuy An district is 15 kilometers from Tuy Hoa city, Phu Yen province, along a concrete coastal road that passes through peaceful villages. Yen Island got its name because this small island used to be a popular nesting spot for swiftlets. If you come here on the first or middle of the month, the tide recedes in the afternoon, revealing a rocky beach and golden sand connecting to the foot of Yen Island, from which you can walk to the sea, climb the cliffs, and zoom in on the surrounding landscape with fisherman's roofs under green coconut trees. Coming to Yen Island, for example, you can freely use fresh seafood caught by local fishermen, such as anchovies, fresh squid, snails, sea crabs, and so on, at relatively low prices, or you can fish them yourself. Then sit under the ancient oak trees, light a fire, and cook porridge to enjoy.
Vung Ro Bay
Vung Ro Bay is one of the most well-known and beautiful bays on the central coast. Located near Van Phong Bay at the foot of Ca Pass (Khanh Hoa). This is where the legendary numberless trains of the Ho Chi Minh road are at sea dock. Vung Ro Bay now promises to become an appealing resort destination for tourists from all over the world, thanks to investment projects in both domestic and foreign tourism.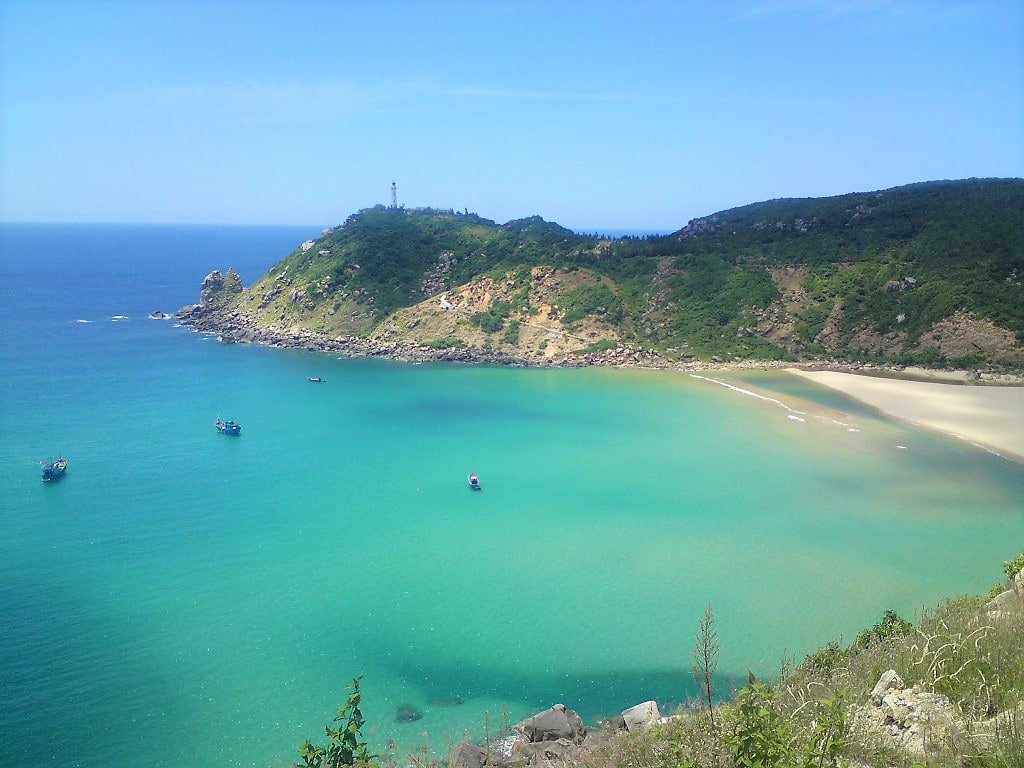 Mang Lang church 
Mang Lang is one of Vietnam's oldest churches, located 35 kilometers north of Tuy Hoa. The church's campus is 5,000m2 wide and painted white, but it has changed over time and is now painted black to appear extremely ancient. The church's main facade is impressive, with two bell floors on both sides. If you are fortunate enough to witness the scene of the bell rope being pulled, you will notice that the entire church space is busier than most.
O Loan Lagoon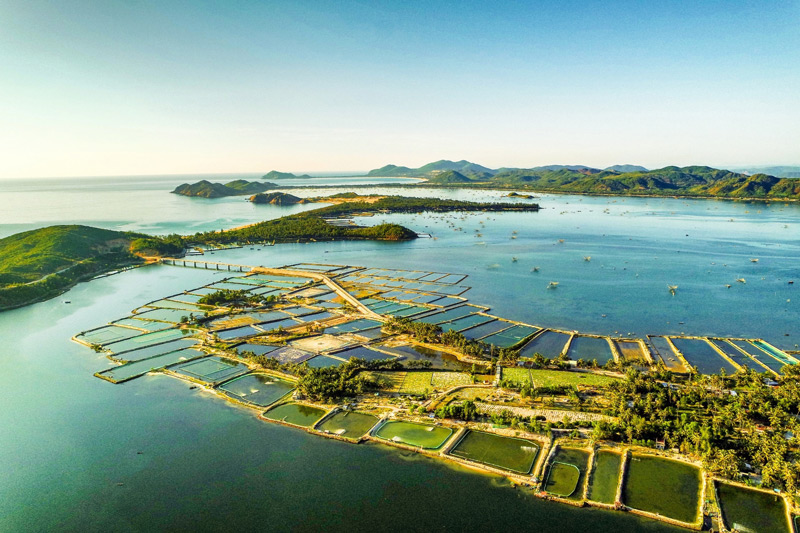 O Loan Lagoon, located at the foot of Quan Cau Pass on National Highway 1A, is reminiscent of a phoenix spreading its wings. This is a lovely spot for visitors to watch the sunrise. Climbing to the top of Quan Cau pass with a view of the wide lake with ripples in the wind, and low hills with green sugar cane fields allow you to see the entire lagoon. Visitors to O Loan lagoon will enjoy the famous blood cockle specialties found throughout the country.
Mui Dien (Dien cape) 
If you are a backpacker who enjoys exploring and conquering new lands, then the Dien cape – Dai Lanh lighthouse is a must-see when visiting the land of yellow flowers and green grass in Phu Yen. This is the place to see the first sunrise in Vietnam. After a long journey up the bumpy stairs at 5 a.m., standing on high and looking down at the quiet space of heaven and earth to await the moment the sun rises will undoubtedly be a memorable experience for the exciting youth of the young. Without a clean atmosphere, the landscape of heaven and earth harmonizes, and the morning light gradually begins to appear on the distant horizon in this land of yellow flowers on green grass.
The sun was a pure, sparkling shirt that covered everything. People didn't seem to be thinking about anything at the time, just enjoying that majestic but poetic moment. Arriving in Phu Yen, admiring the sunrise, a red flag with a yellow star fluttering in the wind, only to see people's hearts rise to an indescribable feeling. There are things that exist apart from beautiful memories and photographs. So that when we look back, we can remember how memorable our youth was.
Every journey is memorable. Visitors to the land of yellow flowers and green grass in Phu Yen will experience and discover places ranging from the unspoiled wilderness that many people are unaware of to the places that have given this land its name. Phu Yen always seems to know how to please and entice visitors to return again and again. Come to Palm Beach Hotel if you need a place to stay!