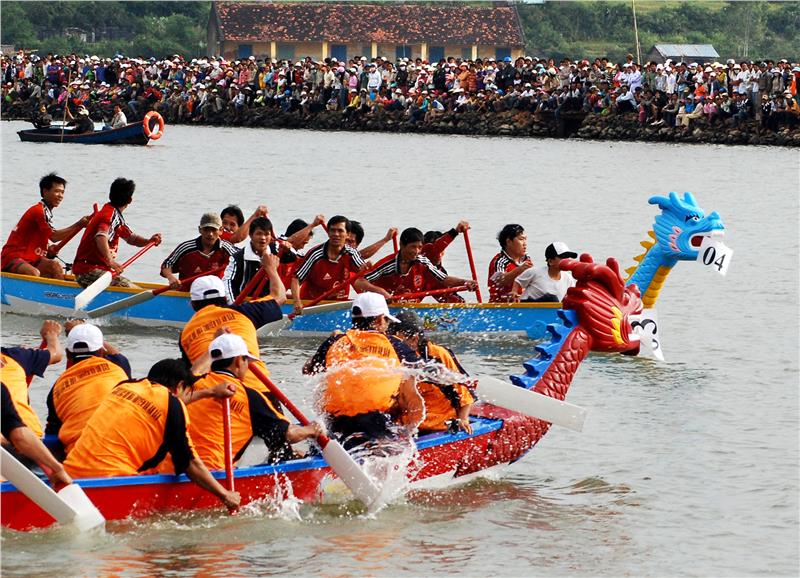 O Loan lagoon festival in Phu Yen
Phu Yen has long been Vietnam's most popular tourist destination. This allure is explained not only by the scenic spots that have given this land its name. But it is also famous for traditional cultural values, the most visible of which are festivals. And one such festival is the O Loan lagoon festival in Phu Yen. O Loan lagoon is unavoidable when discussing popular Phu Yen tourist destinations. This is a destination that provides visitors with a variety of unique and interesting experiences. Visitors who come here on January 7, especially on the 7th of each year, will be able to participate in one of the largest Phu Yen festivals today, the O Loan lagoon festival. The fishermen of An Cu commune in Tuy An district organize this festival. This festival is rich in traditional culture, which the people of this region are working hard to keep alive.
The legend of O Loan lagoon boat racing festival
Every year, on the 7th day of the first lunar month, residents of the lagoon organize a traditional boat racing festival, which draws many racing teams from other areas. Prior to that, fishermen managed god worship, praying for fish,… There are many legends about the name of O Loan lagoon in folklore, but the closest one is the story about Loan and O bird, passed down from generation to generation. According to Mr. Cao Phi Yen, a folklore scholar, and researcher in Viet Nam, there was a lovely fairy in the sky named Loan, but she had a mischievous disposition. Loan borrowed the bird O Thuoc one day to fly down to the earth to walk around without realizing the bird was tired, hungry, and thirsty, so when she passed Tuy An, the bird no longer had the strength to fly, so she landed down the Tu Bi mountain range, later borrowing the name of the bird named O Thuoc of Loan and combining it with her name, shortened to O Loan, to name the lagoon.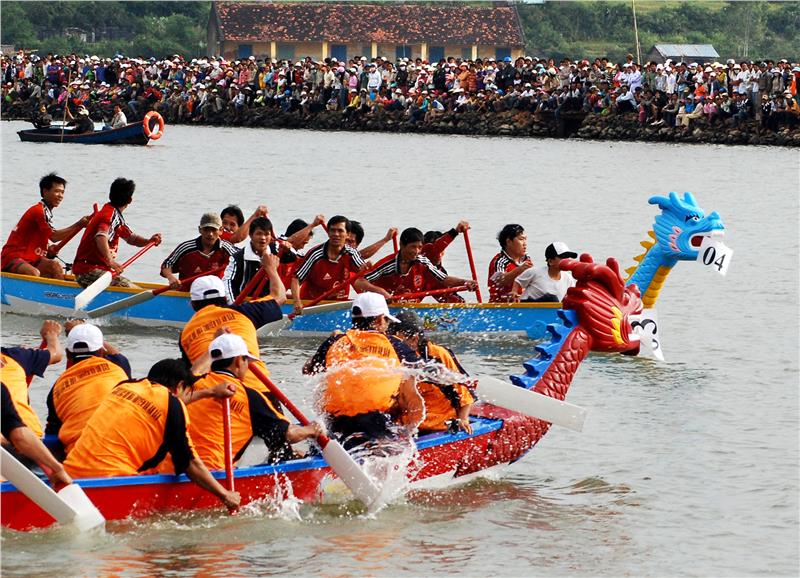 The O Loan Tuy An lagoon boat racing festival is usually held on Lunar New Year's Day, January 7. This is the cultural beauty of the people in the river region of Tuy An district who want to pray for a year of silence, calm waves, and plenty of shrimp, fish, and seafood. 
How is the O Loan Lagoon Festival organized?
If you are planning a trip at the beginning of the year, you should not miss O Loan lagoon, Phu Yen, and the festival here. The festival attracts a large number of people living around the lagoon, as well as thousands of people. Attendees at the festival The O Loan Lagoon Festival in Phu Yen has a long history. The O Loan lagoon festival is divided into two parts.
Part 1:
Conducted in Lang Ong and communal houses (Whaling Worship). Whale, according to ancient beliefs, is a friendly fish who frequently assists people in getting out of trouble. Coastal fishermen have long revered this fish as Ca Ong. Every year, the Ca Ong procession is held to pray for a peaceful and prosperous year.
Part 2:
The festival part of the O Loan Lagoon Festival includes many exciting and interesting activities as the performance that attracts the most participants: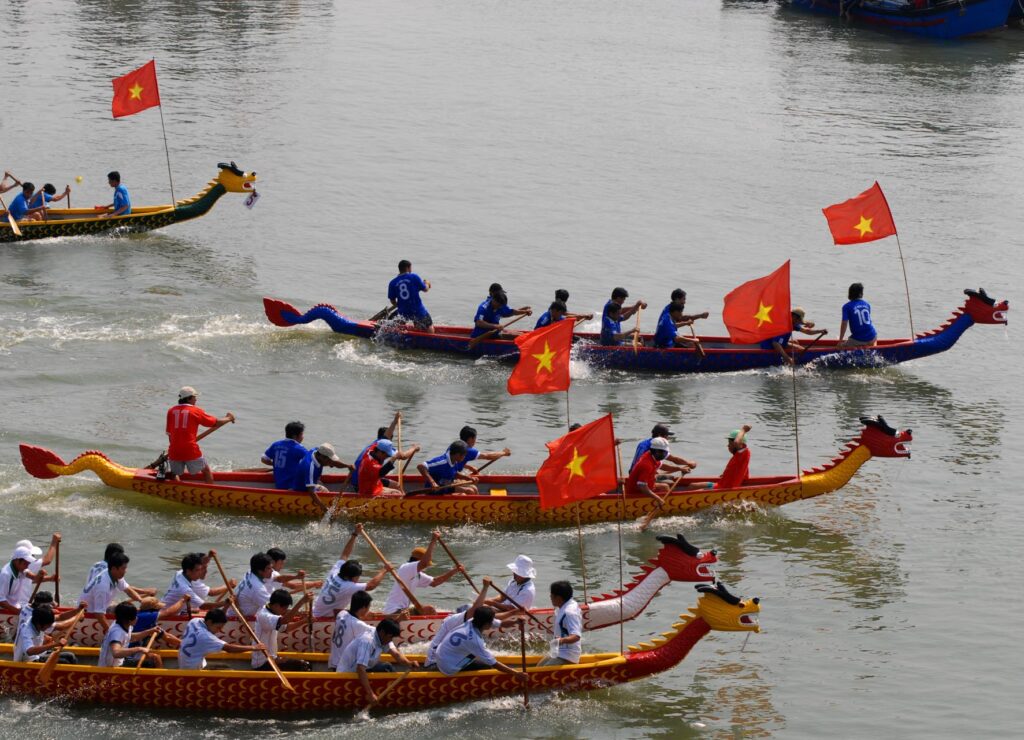 Competitions include dragon boat racing, fishing boats, nets, poles, basket shaking, and so on.

Special performances include lion dance, singing… and a variety of other folk games.
The highlight is what makes the O Loan lagoon festival unique
It is not an exaggeration to say that the O Loan Dam boat racing festival is an important piece of the puzzle that contributes to the festival's unique features, Phu Yen. The boat racing festival is the activity that attracts the most people and tourists to participate, with the wish of a year of silence, calm waves, and plenty of shrimp, fish, and seafood.
Every year, a boat racing festival attracts more than 200 male and female athletes from 11 communes and towns. The festival includes four sports content: male dragon boat racing, four-person fishing boats, two people's nets (male and female), and poles. The boat racing festival not only attracts a large number of participants but also creates an exciting atmosphere and is an expression of young people's solidarity and health for the benefit of families and society.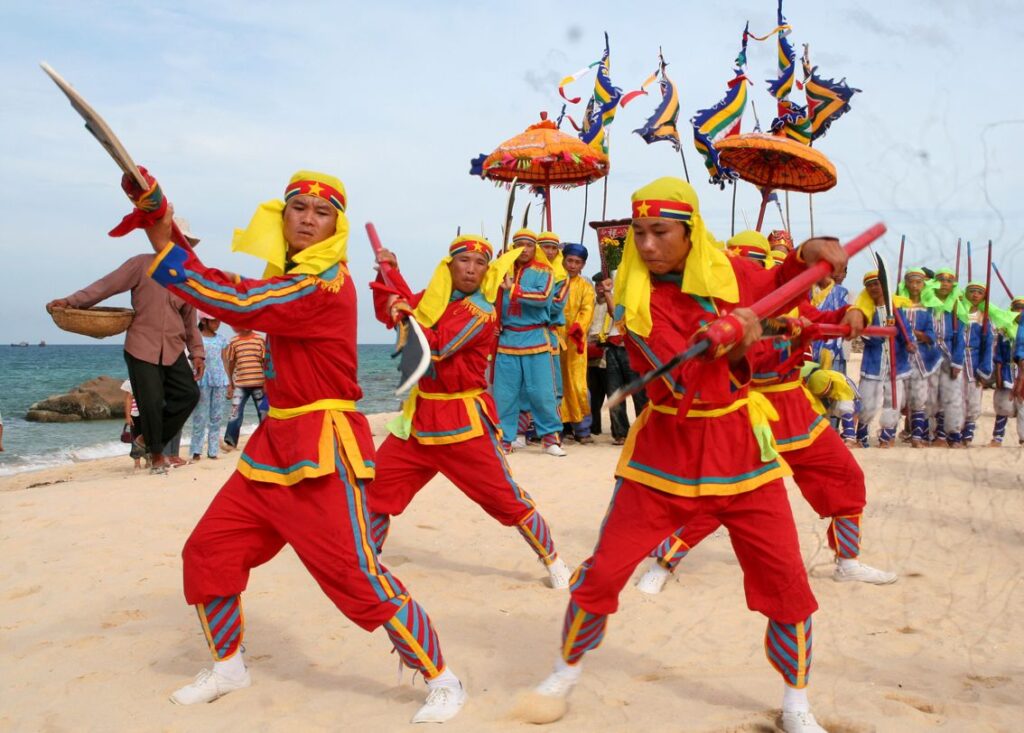 Visitors are often drawn to the festival by the games that take place. These include casting a fishing net, blindfolded duck catching, swimming (male and female), dancing, and singing. These are activities imbued with Phu Yen folklore identity that no visitor to this land should miss.
O Loan Lagoon Festival in Phu Yen has long been regarded as a traditional cultural treasure of Tuy An – Phu Yen. Furthermore, the festival incorporates elements of Vietnamese folklore. If you enjoy learning about culture and people, you should not pass up the opportunity to visit Phu Yen. If you need to rest before heading to the O Loan Dam festival, the Palm Beach Hotel https://palmbeachhotel.vn/ always welcomes you with warm hospitality.
 Hopefully, the information about traditional festivals in Phu Yen shared above will help you better understand the Nau people's cultural beauty. This land is a treasure trove of unique culture and arts, so if you get the chance to visit, don't miss out on participating in this unique festival!