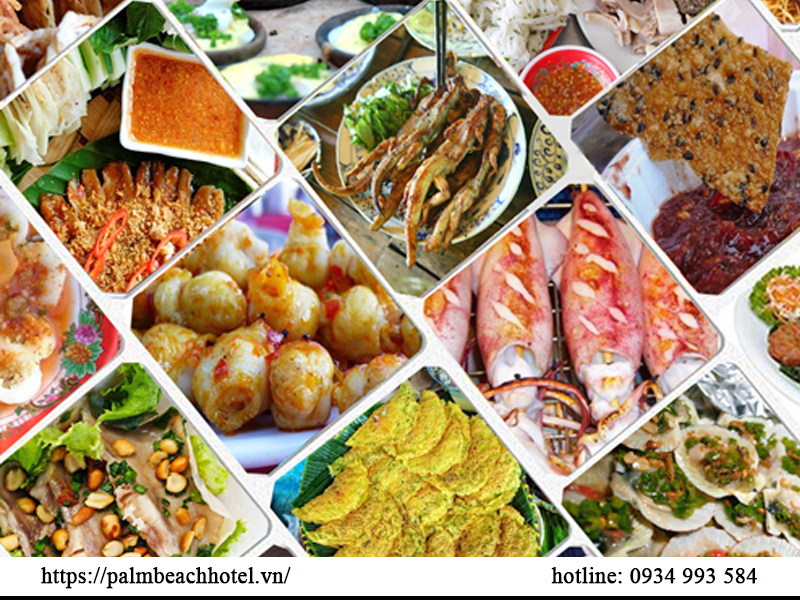 Delicious food in Phu Yen that you should try
Not only does the wild and magical beauty of Phu Yen draw visitors from far and wide. However, the Phu Yen cuisine also makes visitors nostalgic. For foodies, Phu Yen cuisine is a rainbow of delectable dishes that you can't stop eating and craving. Take note of these delicious – nutritious – cheap dishes that I will share about delicious food in Phu Yen that you should try.
1. Chicken rice
This is a rustic dish, familiar to the locals, and a specialty that leaves many visitors speechless. Typically, Phu Yen chicken rice is served with a variety of vegetables, including thinly sliced cucumber. Beautifully presented cilantro and laksa leaves. The pickled purple onion served with this rustic and simple dish is one of its highlights.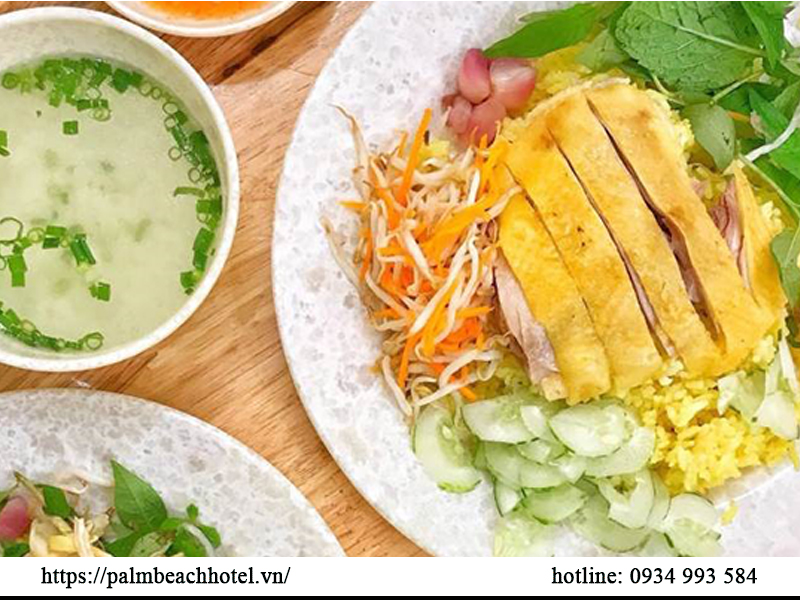 The sticky yellow rice is fragrant with turmeric, the chicken is chewy but soft and greasy, and it is served with a cup of rich in flavor sweet and sour fish sauce, with a little spicy of laksa leaves, a little freshness of cucumber and pickled shallot to create the unique attraction of Phu Yen chicken rice dish.
2. Squid noodle soup
Phu Yen owns an appealing version of squid vermicelli that takes advantage of fresh seafood from the sea. Instead of using leaf squid, Phu Yen's squid vermicelli uses small, sweet rice squid that is not overly tough. When eaten with vegetables and raw bean sprouts, squid noodle soup cooked with pineapple and tomato is too good for a hot summer afternoon.
3. Half-dried beef with yellow salted ant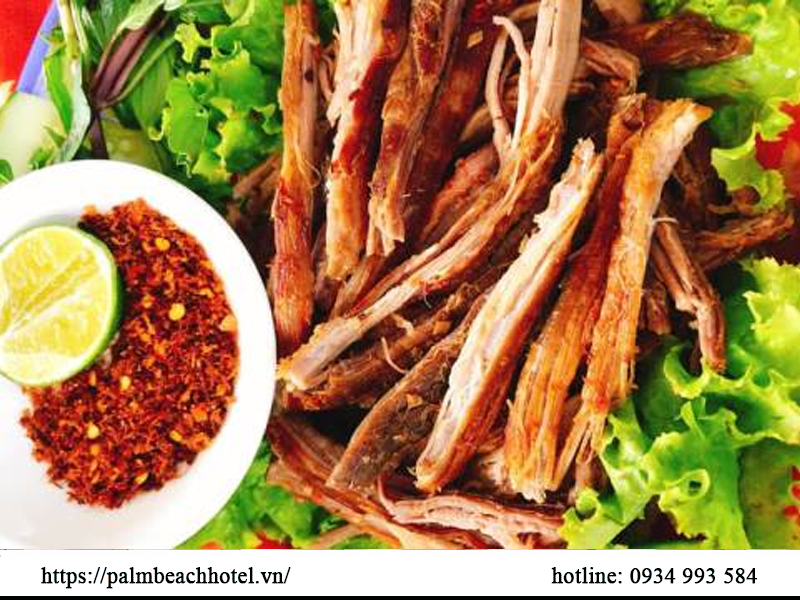 If the Northwest of Vietnam is known for "Trau Gac Bep" (buffalo meat) and Da Nang City for its fried beef, Phu Yen province is known for its half-fried beef served with yellow salted ant. People not only eat this food on the spot, but they also buy it to take home. The beef in this region comes from cows that eat mountain grass, so the meat is sweet and soft. Seasonings, chili, garlic, and fried onions will be added to the high-quality beef. They will then dry it in the sun for one day or for two hours. The half-dried beef will then be combined with the yellow salted ant, another Phu Yen specialty. Because the dried food is portable, it can be given as a gift to family and friends after your Phu Yen Tour Packages.
4. Shallot soup cake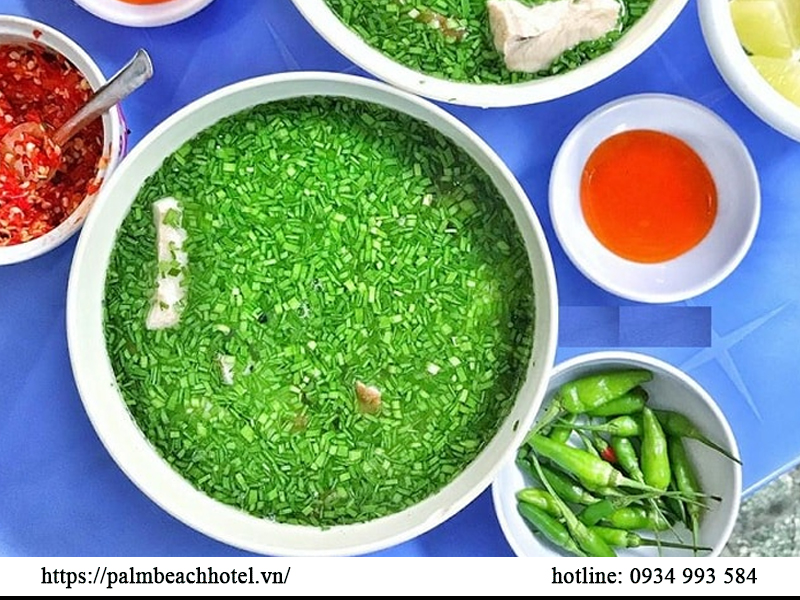 Shallot soup cake is one of the many delectable Phu Yen dishes you should try when you visit. Shallot leaf soup is made with simple ingredients like fish cake, meat, quail eggs, and banh chung. Banh Canh is made from rice flour and is similar to vermicelli in size, flexibility, and softness. The broth, in particular, is made from small fish, so it is sweet but not boring to eat. The green color of chopped chives will be applied to the shallot leaf soup.
5. Jellyfish noodles
One of the special dishes that visitors to Phu Yen must try is jellyfish vermicelli. This jellyfish noodle dish is popular not only in Phu Yen but throughout the Southern provinces, though the flavor varies depending on the region. Fresh jellyfish, pork shank, mackerel puree, and steamed balls served with raw vegetables are among the ingredients. The broth, in particular, is made from seafood such as fish, shrimp, squid,… and has a sweet flavor mixed with a little chopped shrimp and tomatoes.
6. Blood Cockle of O Loan Swamp
This is a spectacular natural attraction for viewing the best sunrises, its specialty of blood cockles (So Huyet) is an excellent ingredient for delectable food. The swamp, with its calm water, low hills, and green sugarcane fields, is ideal for sightseeing, especially in the early morning when you can admire the sunrise and enjoy the green, expansive serenity. The blood cockles caught in this beautiful swamp are larger than those found elsewhere. Locals frequently process the cockle by grilling and topping it with chopped green onions, just grilling, stir-frying, roasting with salt and chili, with tamarind sauce, and so on. This seafood is frequently served with gruel or rice.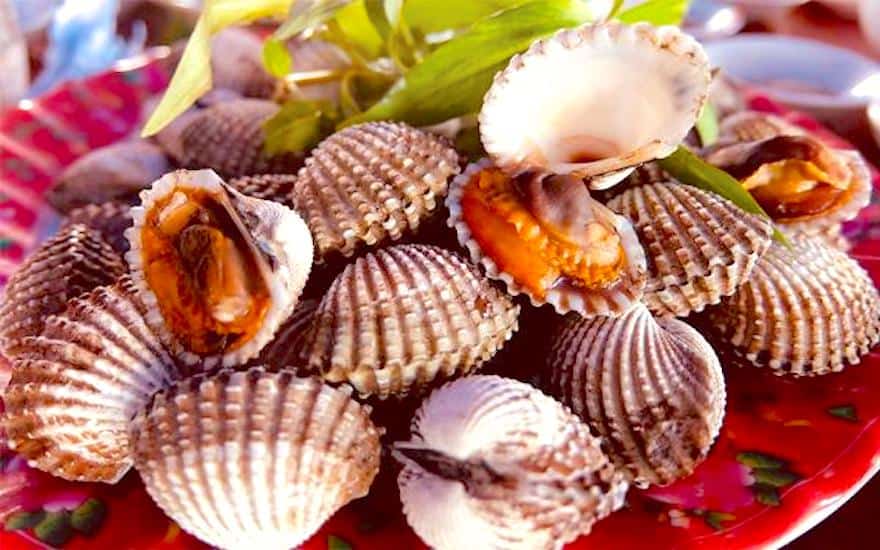 People can have small talk, enjoy the scenery, and make memories while eating this food. Plates of grilled blood cockles with scallions and peanuts are so appealing and delectable that you remember the taste. Other popular methods of cooking cockles include roasting them with shrimp salt or steaming them with chili and lemongrass. It's chewy and juicy, and the flavor is still the best in Phu Yen Vietnam.
7. Seafood pancakes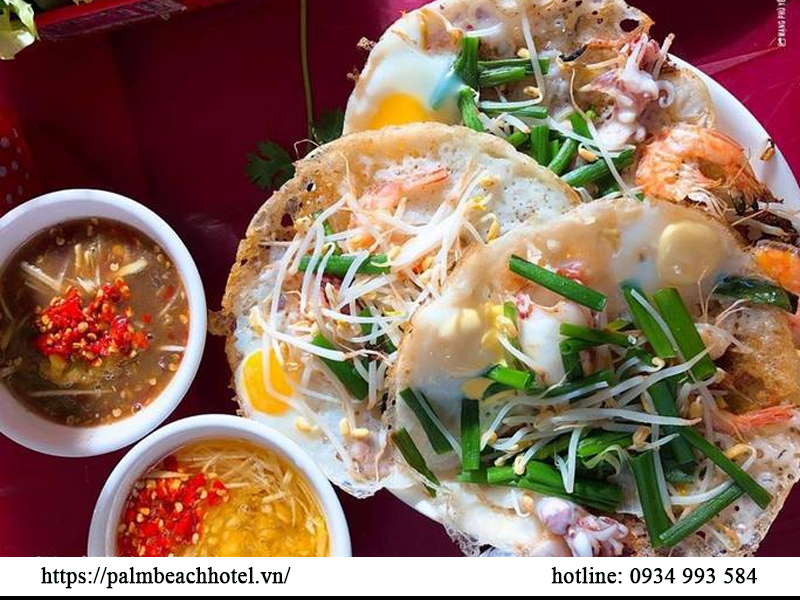 Crispy, hot, thin-skinned pancakes seasoned with mango and fragrant with shrimp, squid, and fish sauce. When the Phu Yen eat banh xeo, they combine vegetables with a piece of banh xeo wrapped in soft rice paper. The dipping sauce served with the pancakes is also unique. Banh xeo from the sea must be eaten with seasoning sauce, not the sweet and sour dipping sauce that another area are used to.
8. Sausage of salamander (Cha Dong)
The "Cha Dong," a specialty of Phu Lam commune in Tuy Hoa City, is a type of sausage made from salamander meat. To make the soft mixture, the meat must be cleaned, pounded, and mixed with chili flour, onion, pepper, garlic, and pork oil. After combining the salamander meat with some minced mushroom and herbs, roll the mixture into small rolls using the thin rice paper. The rolls will then be fried in deep oil for a crunchy finish. This type of sausage roll is frequently served with fresh vegetables from Ngoc Lang – a farm that grows organic vegetables that are delicious and well-known in the province. Nguyen Cong Tru Street in Tuy Hoa City is a good place to enjoy "Cha Dong."
So you already know what to eat in Phu Yen Vietnam. In addition to receiving compliments for its beautiful natural surroundings, Phu Yen attracts visitors with signature dishes that appear to be unavailable elsewhere. Make sure to eat these whenever you visit this coastal destination. Have a nice trip!