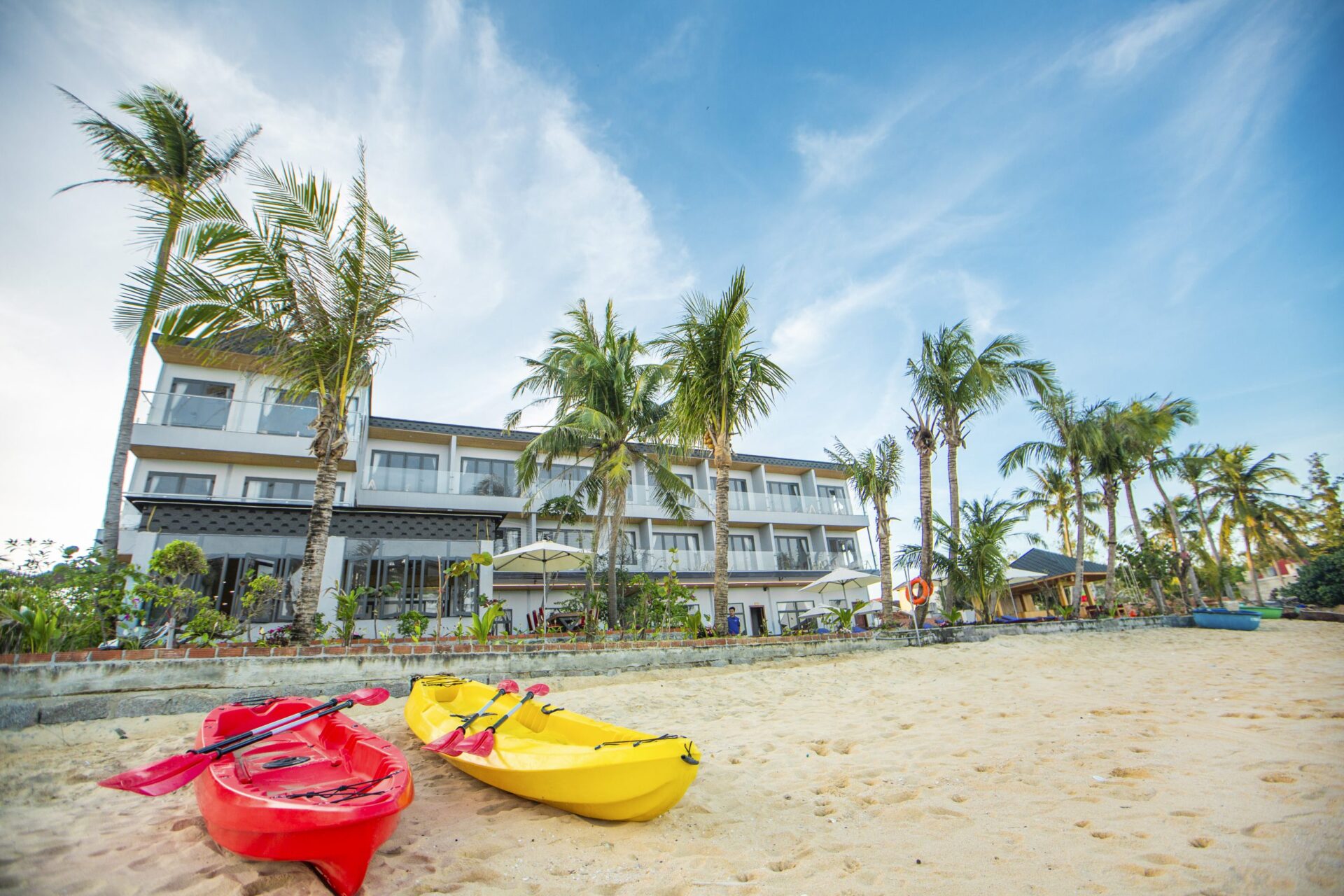 The best 4-star hotel in Phu Yen
The best 4-star hotel in Phu Yen! Phu Yen is lovely and tranquil, its beaches have transformed into a healthy land for individuals who enjoy traveling. Upon discussing Phu Yen, it is difficult not to highlight the lovely beach here with the cold blue sea; you will be delighted when there. Phu Yen is becoming a popular tourist site for many people. As a result, the demand for affordable and high-quality accommodations in this area is growing by the day. Palm Beach Hotel- the elegant Palm Beach Hotel in Phu Yen, located directly on Ganh Dua beach and offers superior service, will provide you peace of mind whether you're on business or on vacation.
Phu Yen hotel distribution
One thing to keep in mind is that there are now very few hotels near the shore, and if there are, most of them are ancient hotels the property here is currently largely state agency. As a result, finding a hotel near the beach in Tuy Hoa is extremely tough, and finding one of high quality is much more challenging. Tuy Hoa's hotels are currently mostly situated along Hung Vuong Street, roughly 1km from the shore. There are also a number of hotels on Tran Hung Dao street, however, if they are near the water, they are not particularly attractive and cannot be bathed in.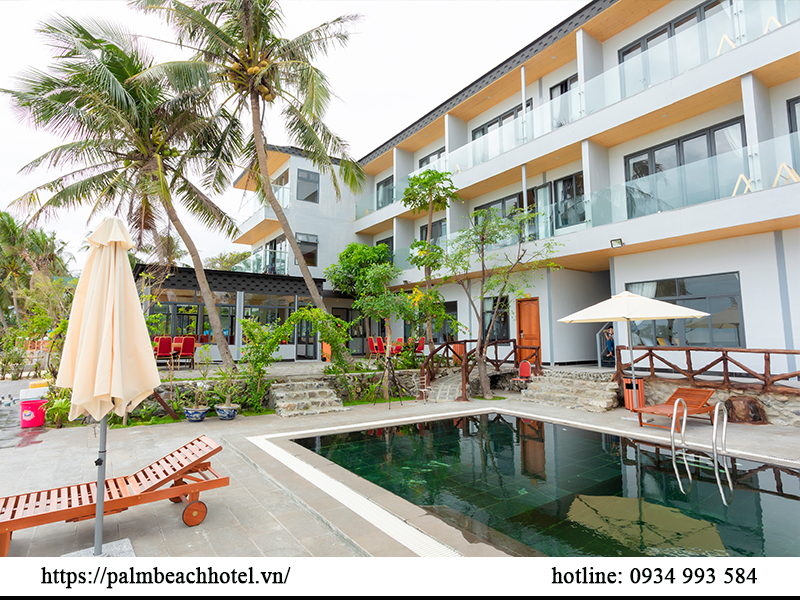 In the region along the sea, on several roads Doc Lap (coastal road), Le Duan street, Dien Bien Phu… a little farther, Truong Trinh street also has some hotels, although most of them are old hotels, at most approximately one star, some are two stars, and three or four stars are rare. 
Although lately, they have started to purchase back property and start building hotels, not many, the number of newly built hotels along the shore is only counted on the fingers. And, of course, the article will share with you Palm Beach Hotel- a 3-star hotel that is both new and lovely, and well worth considering if you want to stay near the sea for your upcoming vacation to Phu Yen.
Palm Beach Hotel Overview
The Palm Beach Hotel Phu Yen opened in November 2020. Located at the most beautiful beach in the central area is located at Ganh Dua beach, Tuy An of Phu Yen. Built to 3 * European standards, with a total of 19 rooms (14 double rooms, 3 family rooms, 2 luxury apartments) with 100% sea view, outdoor swimming pool, beach bar, restaurant, kids' amusement area…
This 3-star Phu Yen hotel has a choice of accommodation types for visitors to choose from. The inside is furnished with modern furnishings, including tables and chairs, cupboards, air conditioners, televisions, and baths. You may experience a tranquil sensation throughout your delightful stay in addition to a sea view from each accommodation.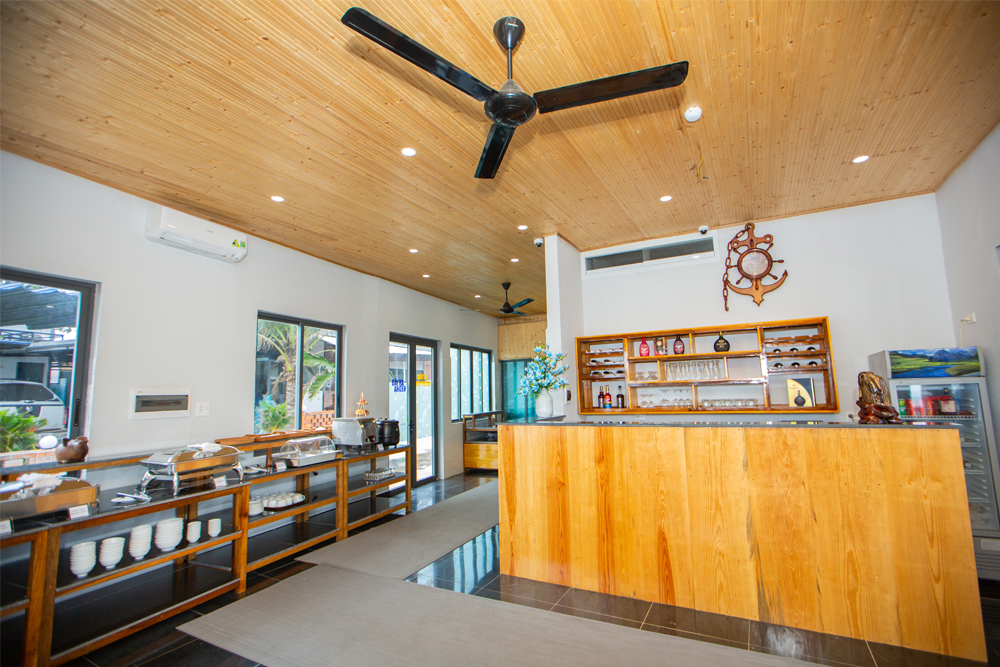 In addition, the hotel also boasts a swimming pool and spa area. So, when guests come here, they may expect to feel complete relaxation and contentment. Nonetheless, the 3-star restaurant area offers complimentary buffet food.
Sit on the sofa with a cup of hot tea and take in the panoramic splendor of the beach, either at dawn or dark. It will undoubtedly be a great memory of your Tuy Hoa vacation. So renting a stay at this hotel is the ideal solution!
Design of Palm Beach Hotel
Palm Beach Hotel has a young and modern design with stylish and comfy timber furnishings and rooms that overlook Ganh Dua beach. You may interact, have fun, fish with fishermen, paddle a basket boat and drop nets, and experience life as a fisherman with the locals while staying here. In addition, the hotel created its own play area for youngsters, complete with activities like a little amusement park. It promises to be a fascinating destination for the family's youngsters to visit.
The hotel with the most beautiful swimming pool
Perhaps this is the Palm Beach Hotel's strong suit that draws so many visitors. Despite its proximity to the sea, the hotel includes a swimming pool on the premises. This provides an intriguing check-in point. The Palm Beach Hotel's swimming pool is regarded as a "heaven on earth," allowing you to snap stunning photographs. You only need to select the most attractive seat at the pool for yourself, and you'll get the nicest image straight immediately.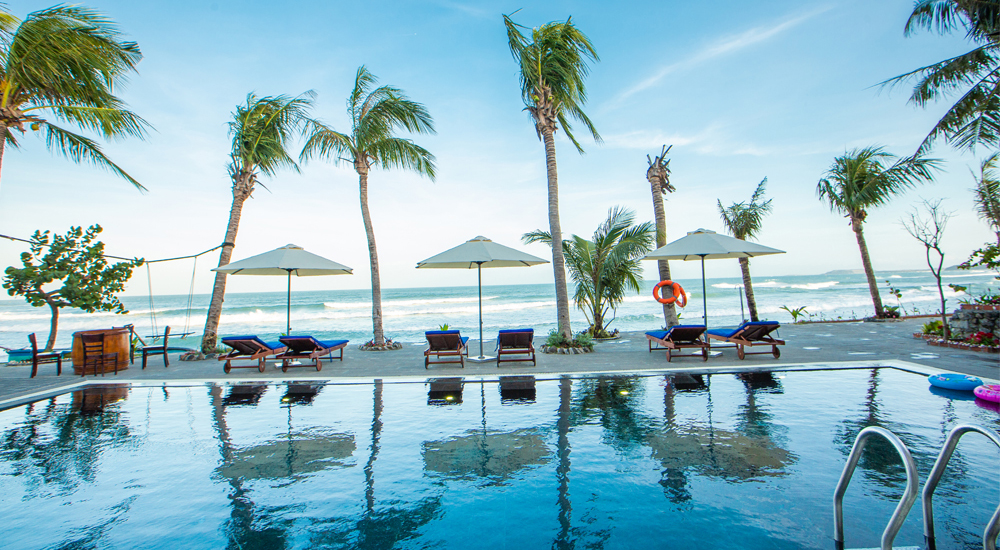 The pool area is relatively spacious, making it an excellent alternative for families with little children. The depth of the pool is suitable for people of all ages, ensuring absolute safety. Furthermore, the water in the lake is always well filtered and cleansed. The pool's bottom, in particular, is constructed with an anti-slip mechanism, and a lifebuoy is included. As a result, tourists are entirely secure in terms of safety concerns.
The term Phu Yen refers to an exquisite location with magnificent yellow flowers and green grass. There are many intriguing things concealed in this lovely Phu Yen, including water and island, forest, and historical and cultural stories. Do not hesitate to book a flight to Phu Yen and pack your bag to begin your vacation to experience this lovely region. Hopefully, Palm Beach Hotel is the best option for your trip.