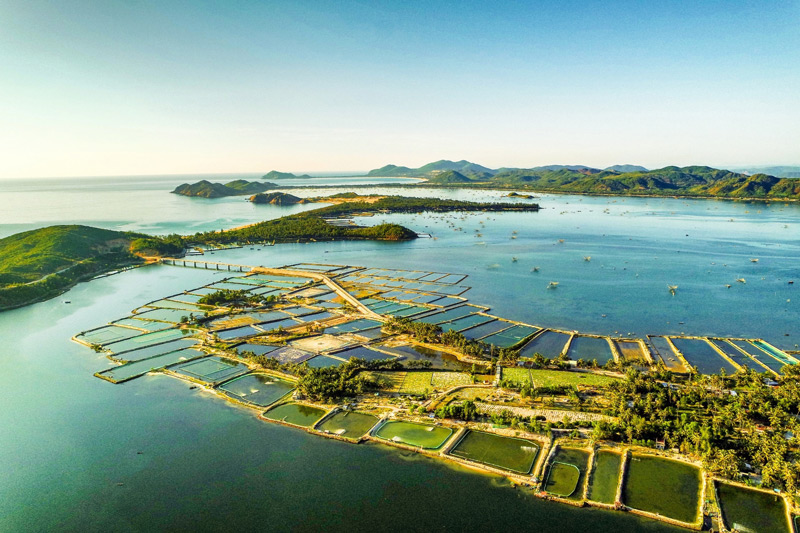 6 Top Tourist Attractions in Phu Yen
Phu Yen is another Central Vietnam destination with pristine beaches, bustling fishing villages, sparkling little desserts, delectable seafood, and breathtaking natural landscapes. If you are looking for a peaceful vacation, you will not be disappointed if you visit Phu Yen. While the attractions in Phu Yen are similar to those in Quy Nhon, Phu Yen is a lesser-known destination that only recently gained popularity as a result of the Vietnamese film "I see yellow flowers on green grass." Many people still refer to this land as a sleeping beauty, waiting for "Prince Charming" to awaken her.
Bai Mon Beach
Address: Dong Be village, Hoa Tam commune, Dong Hoa, Tuy Hoa, Phu Yen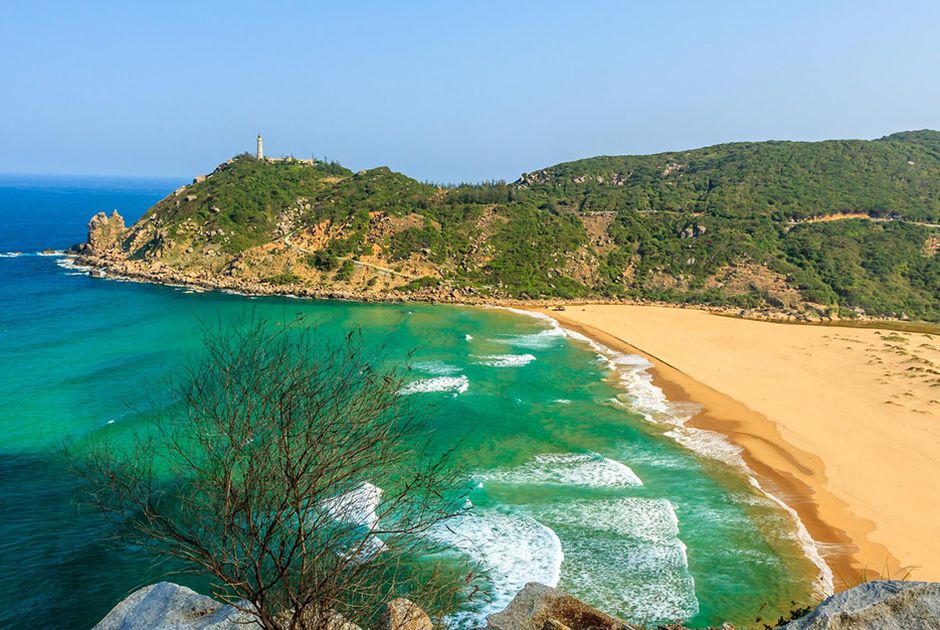 To mention Phu Yen is to mention the sea. And today, Bai Mon is one of the most popular Phu Yen tourist destinations. This beach is located between two long mountain edges, forming a mysterious "pool" about 500m long that is protected from strong winds and very poetic.
Unlike other beaches, Bai Mon has no services because it is uninhabited and still very wild and clean. This is another advantage that draws tourists from all over the world to experience the beautiful and natural central sea in its entirety.
Bay of Vung Ro
Vung Ro Bay has a total area of 16.4 km and serves as a natural sea boundary between the provinces of Khanh Hoa and Phu Yen. This Phu Yen tourist attraction is protected by Deo Ca, Da Bia, and Hon Ba, giving it the appearance of a giant mirror nestled among vast mountains and forests.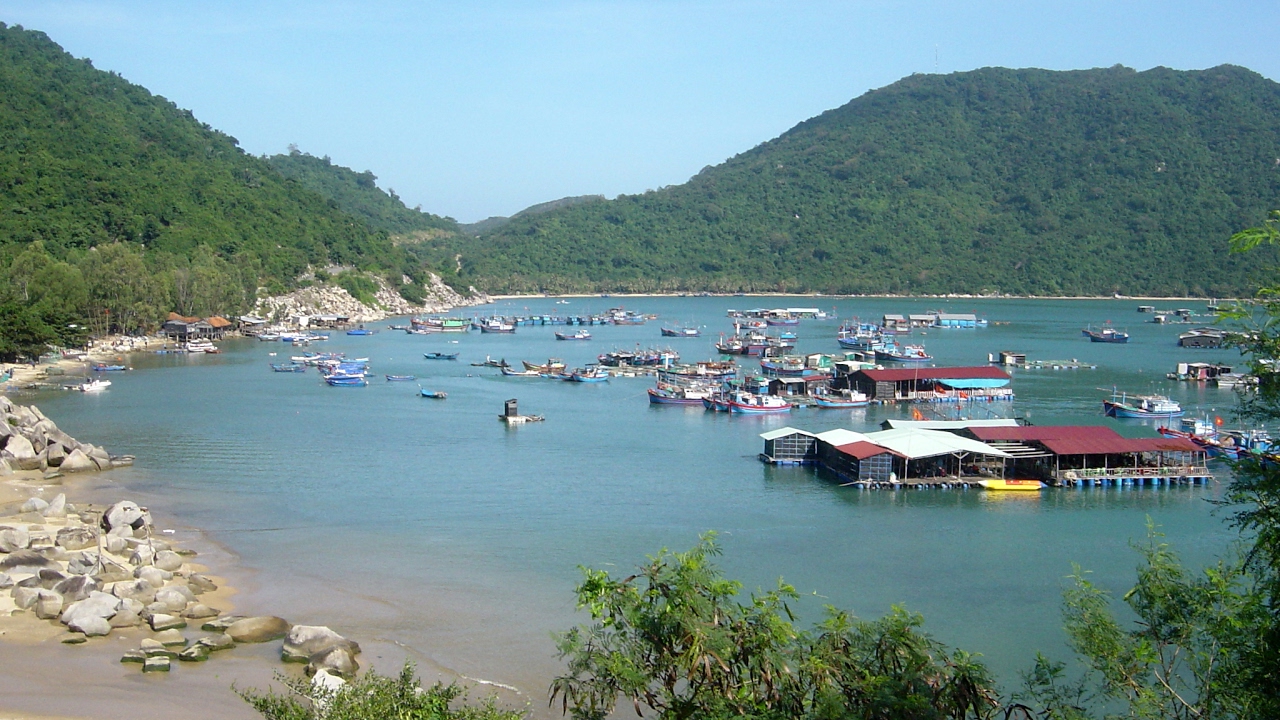 The view from Vung Ro is gentle, the water is as clear as turquoise, and many boats moor there. There are many fine and beautiful sand beaches along the coast, and the bay is also home to many types of shrimp, fish, and coral reefs on the seafloor, creating an enchanting Vung Ro.
Lang Lang Church
The Lang Lang, located 35 kilometers north of Tuy Hoa city, is one of Vietnam's oldest churches. The church campus is 5,000m2 in size and was originally painted white, but due to numerous changes over time, it has turned black and appears extremely ancient.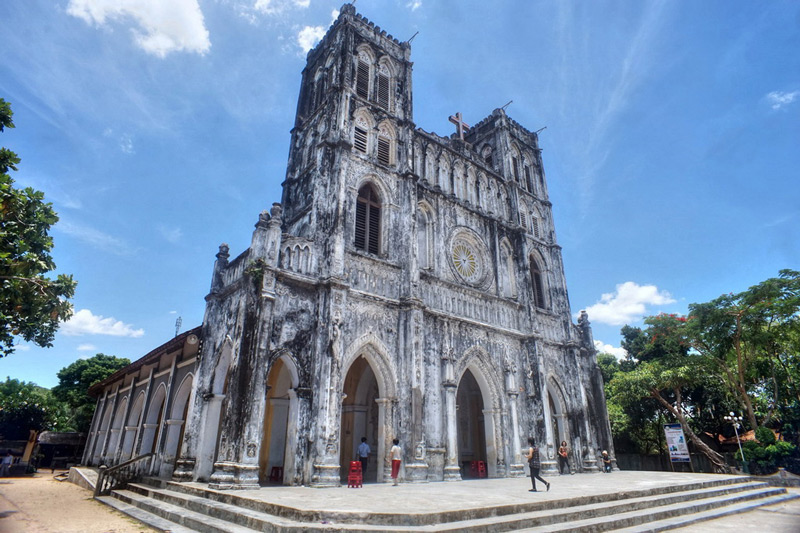 The church's main facade is in the gothic style, with two bell towers on either side. 
If you are fortunate enough to witness the scene of pulling the bell rope, you will notice that the entire church space becomes much busier. The overview of the ancient architecture as well as the rich history of the Ancestral Church is reason enough to include this Phu Yen tourist destination in your Phu Yen travel itinerary.
Disc rock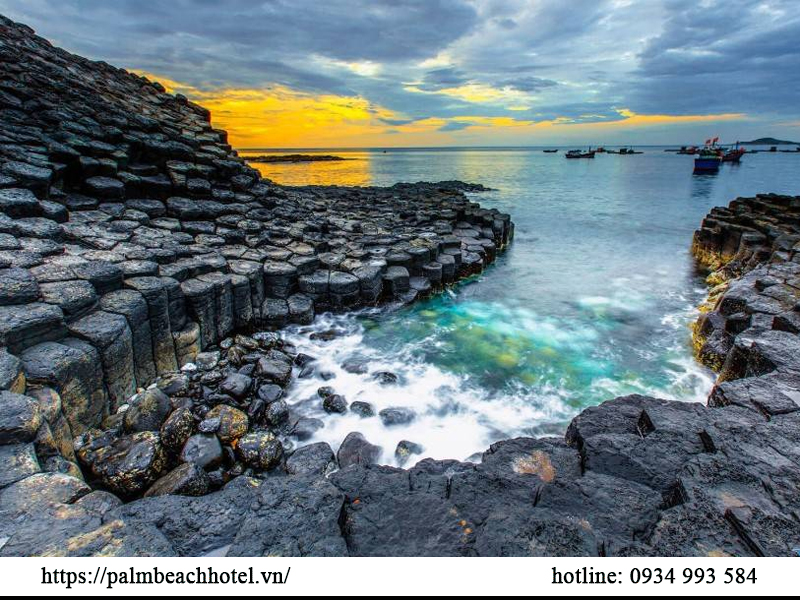 Ghenh Da Dia is a popular scenic spot in Phu Yen, located in An Ninh Dong commune, Tuy An district, Phu Yen Province. The name Discus Rock comes from the shape of the rocks; from a distance, it looks like a giant honeycomb with stone pillars lined up neatly and facing the sea. The mysterious black color of the rock emerges from the clear blue of the seawater, creating an irresistible scene.
To get here, take Highway 1A north for about 30 kilometers until you reach Chi Thanh town, then turn right 12 kilometers east to reach Da Dia rapids. Another unique feature is that you will pass through beautiful scenery with attractive coastal roads, stages with green or yellow rice fields, and some parts with forests. The majestic mountains are shuttered. Everything catches your eye and stays with you for the rest of your life.
Van Hoa Plateau
Address: Son Dinh, Son Long, Son Xuan, Son Hoa district and Tuy An district, Phu Yen
Van Hoa plateau quickly opened a new check-in "paradise" for tourists visiting Phu Yen, with cool air, beautiful sunshine, and a beautiful view. After arriving in Tuy An, on your way to Van Hoa Plateau, you will pass through roads close to the mountain's foot, flanked by beautiful tall sugarcane and reed grass fields; quickly stop by the roadside to "live virtual" right away!
O Loan Lagoon
O Loan Lagoon is located near National Highway No. 1, under Quan Cau pass, about 25 kilometers north of Tuy Hoa city. This is a brackish water lagoon with a natural area of approximately 1,570 ha that borders the Tuy An district communes of An Cu, An Hoa, An Hai, An Hiep, and An Ninh Dong. Dong Chay Mountain, Cam Mountain, and An Hai Sandbank surround the lagoon, with a channel through the sea to the north. Hon Chong refers to two large stone blocks that overlap in the middle of the lagoon.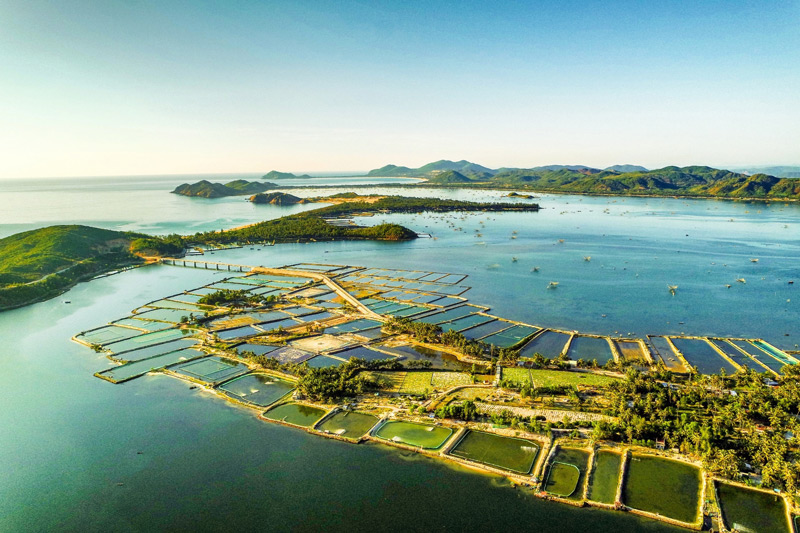 Looking down from Quan Cau pass, O Loan lagoon resembles a phoenix spreading its wings. The wonderful combination of mountains and water is what makes O Loan Lagoon so beautiful. Visitors to this location will have the opportunity to visit, admire the fanciful beauty of nature, and enjoy many special foods such as arca, crabs, shrimps, jellyfish, oysters, seaweed, and so on, particularly the arca in O Loan Lagoon, which is very delicious.
Every year on the 7th of Lunar January, the traditional boat-race festival in O Loan Lagoon showcases Phu Yen's traditional cultural beauty. On the occasion of spring, the festival has drawn thousands of people from all over the world.
Is there another point to check in at the plateau? Long Van Garden's flower fields, as well as the "authentic" homestay decor, will quickly leave you "touched." There's also a green pepper garden, a brilliant strawberry garden, and a stunning Ba Ha river hydroelectric power station!