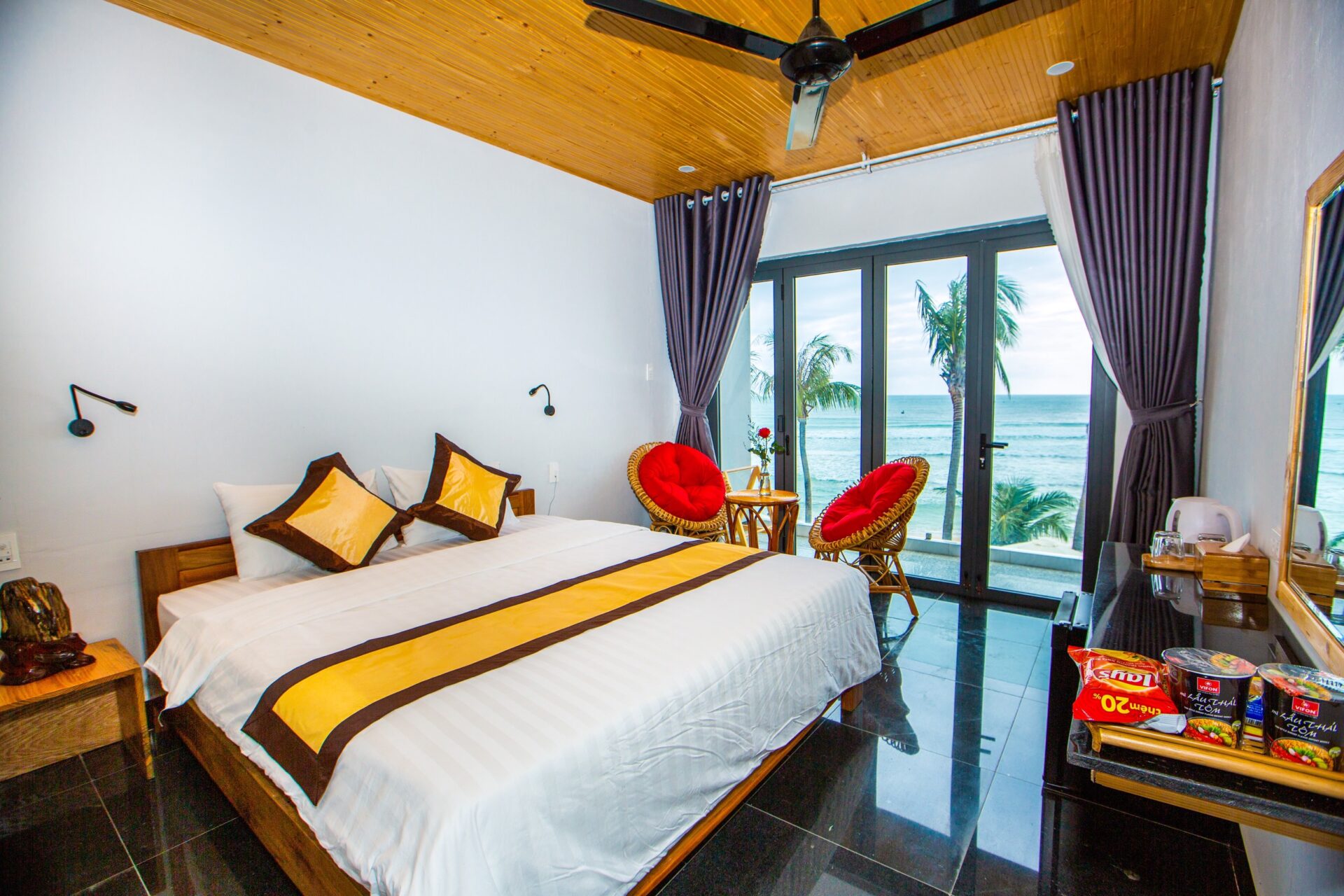 The best resort in Tuy Hoa, Phu Yen
Phu Yen is a place not only with blue sea and white sand but also countless famous attractions with charming natural scenery. If you are planning to travel to this land of "yellow flowers on green grass", don't forget to pocket the list of the most beautiful resorts in Tuy Hoa, especially, Phu Yen Palm Beach Hotel that I want to share with you below, which will definitely help you find a place to stay. The most ideal and wonderful stopover!
Palm Beach hotel overview
Palm Beach Hotel Phu Yen is in Ganh Dua beach – Giai Son hamlet, An My commune, Tuy An district, Phu Yen province. About 20 kilometers north of Tuy Hoa. Palm Beach Hotel Phu Yen can be reached in about 20 minutes by car via National Highway 14. Palm Beach Hotel has two dining options, an outdoor pool, and a service center with free Wi-Fi.
The air-conditioned rooms include a flat-screen cable TV, a wardrobe, and a minibar. The private bathroom includes a shower and a hairdryer. Palm Restaurant specializes in Vietnamese, Asian, and Western cuisine. Cocktails and refreshing drinks are available at the snack bar.
Design of Palm Beach hotel
Palm Beach Hotel has a system of 19 resort rooms that will meet the needs of visitors for rest and relaxation. Unlike other hotels in the area, guests can choose the room class that best suits their needs, as the hotel has designed a variety of rooms with varying spaces and layouts. Visitors can choose from single-to-family apartments of various sizes. Visitors will be able to easily arrange when traveling alone or in a large group with a variety of options.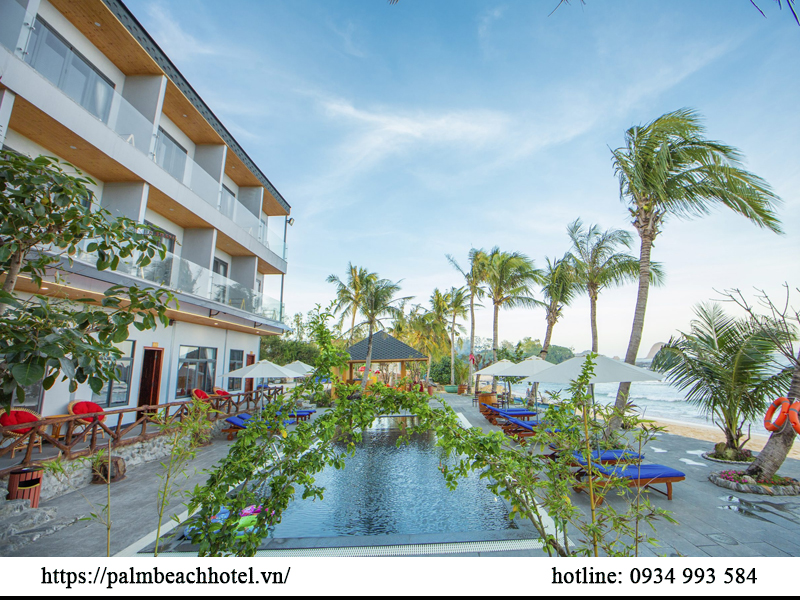 All of the hotel's rooms are outfitted with modern and complete amenities for guests' convenience. As a result of its high-quality services, this location has become a popular tourist destination for many visitors. Furthermore, Palm Beach Hotel offers visitors incentives when traveling in a group. When you choose Phu Yen as your destination, you can relax and enjoy a wonderful stay.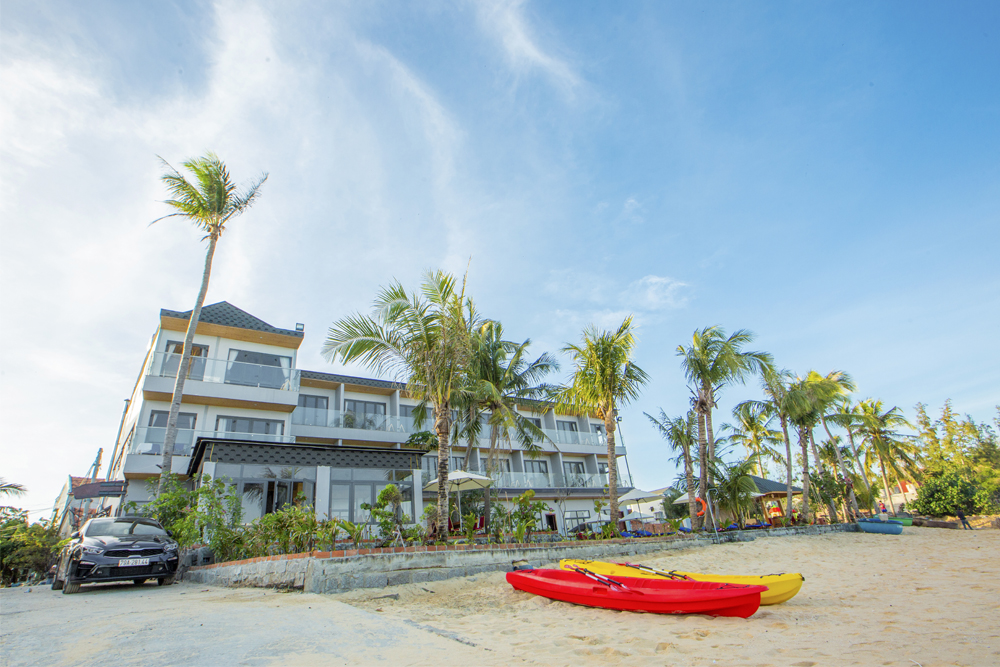 Palm Beach Hotel not only has a stunning geographical location, but it also has an impressive and beautiful design. The hotel has a modern and luxurious design that adheres to strict European standards in terms of both functionality and aesthetics.
The hotel scale includes all 19 fully furnished and uniquely designed rooms:
The largest room has up to 80m2 of space and is ideal for large groups or multiple families traveling together.

For large families, room 56m2 has two bedrooms; single room 35m2 with double bed; 32m2 large room with two separate beds, airy view directly overlooking the large Phu Yen beach;

Finally, there is a 28m2 double room with a 1m8 bed for two people. The hotel's exterior is painted a striking white against a golden sand background and green trees. All of these elements combine to form a romantic scene. Anyone who visits here is hesitant to leave.
Experience renting a low-cost resort in Tuy Hoa, Phu Yen
What is the best time of year to visit Phu Yen?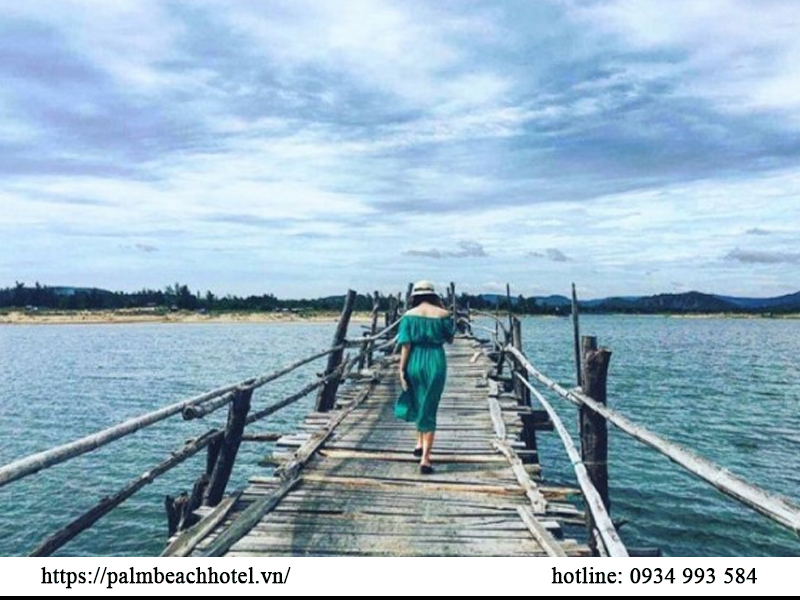 With the typical climate of the South Central Coast, the climate of Phu Yen is cool all year, so you can vacation here at any time. However, from April to September (summer) is the most beautiful and perfect time in Phu Yen; the weather is beautiful, the sea is bluer, and there are many interesting activities and events.
When should you make a reservation?
As previously stated, the summer ( from May to September) is the peak season here (especially June-August), so book 1-2 months in advance or book in person. From November to March, the room rate will be lower, and there will be no shortage of rooms. Another thing to keep in mind is that booking early in the week will save you money over the weekend.
Looking for promotional coupons/deals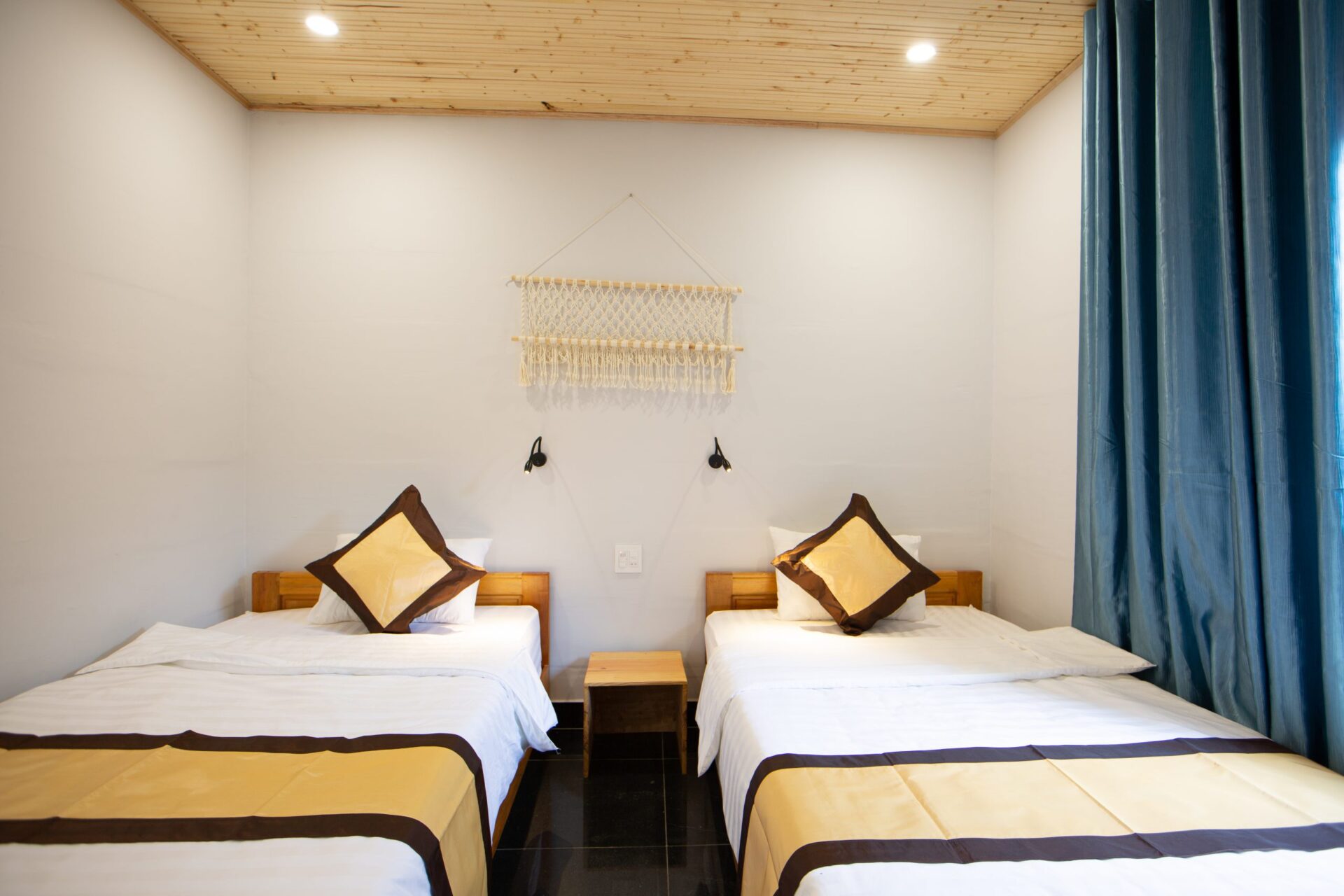 You should check the resort's website or intermediary booking websites on a regular basis for discount codes/promotional deals. On occasions with a small number of guests or a special anniversary, resorts will issue a large number of discount codes. And, in most cases, booking through an intermediary website will result in a price that is 10-20% lower than the resort's price.
Find out more about Phu Yen resorts
Before making a reservation, thoroughly research the services and facilities at the resorts to ensure that the resort has all of the amenities you require. Facilities and services at 5-6 star resorts will differ from those at 2-3-4-star resorts. Also, to avoid errors or mistakes when checking in, you should carefully inquire about the resort's policies and services at the time of booking.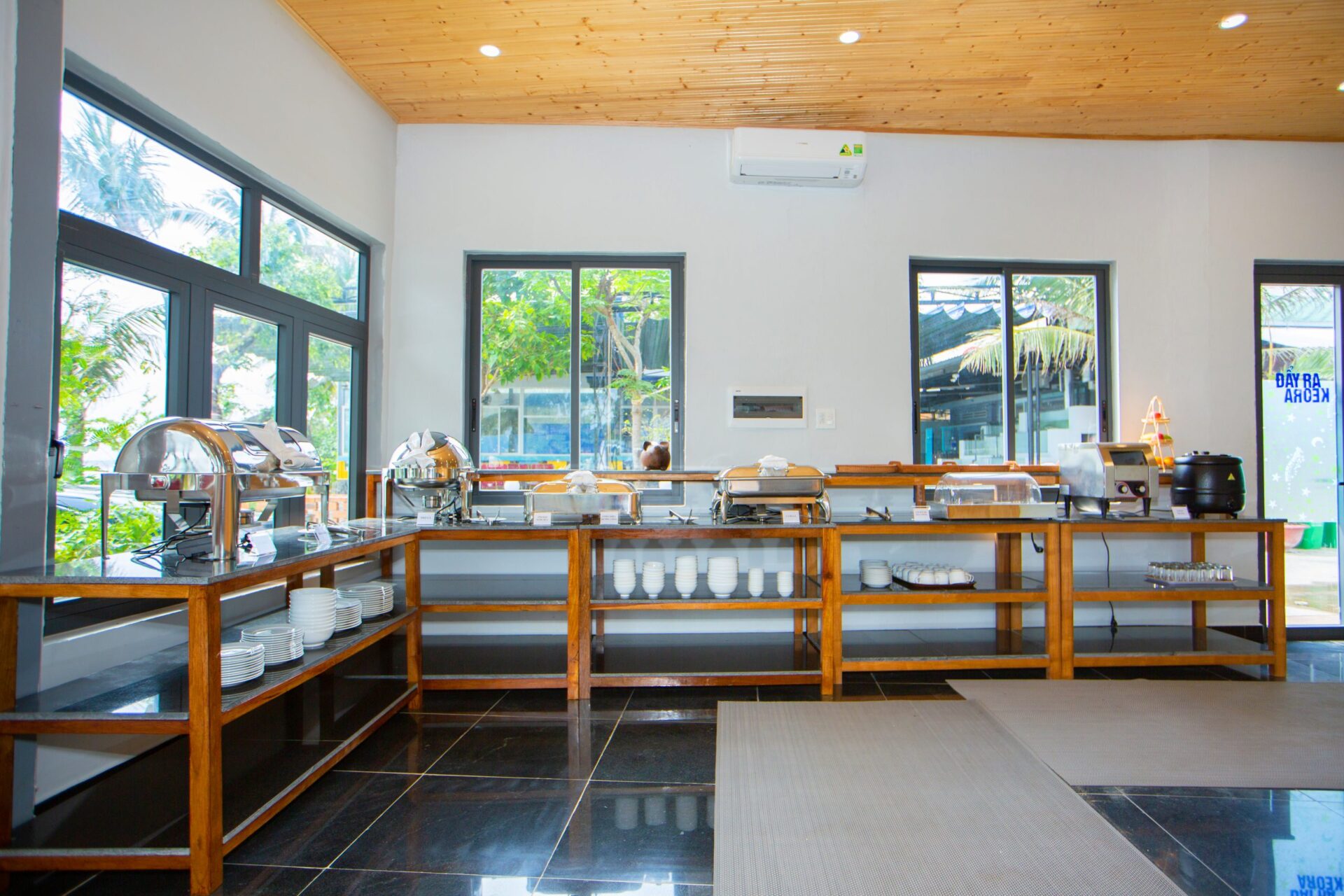 Another excellent feature is the extremely cool and clean bedroom at Palm Beach Hotel. If you book early, you can select a room with a stunning sea view or a room with a sparkling sea view! After reading this article, you must have decided on a suitable place to stop on your trip to Phu Yen, right? We hope you have the most enjoyable and wonderful experience possible, as well as the best value for your budget.