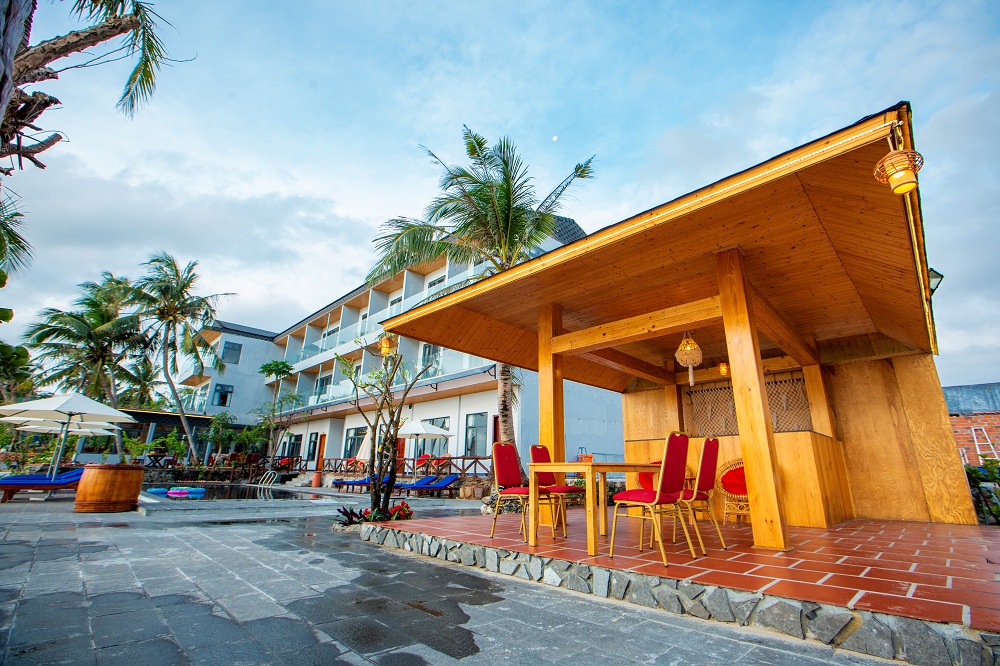 The best Phu Yen homestay has a swimming pool
Ganh Dua beach – Giai Son hamlet, An My commune, Tuy An district, Phu Yen province is home to the Palm Beach Hotel. About 20 kilometers north of Tuy Hoa city. Palm Beach Hotel, with its 4-star international standard quality, not only perfectly meets your resting needs, but also brings great moments of relaxation and entertainment and leaves an impressive aftertaste in the culture. The hotel is a harmonious blend of luxurious, modern, and ancient design elements, a homestay has a swimming pool, a restaurant complex,  and other entertainment areas spread across a large campus.
What exactly is a homestay?
Homestay is a popular type of accommodation for visitors from all over the world. Tourists will choose to stay in apartments owned by locals rather than hotels and resorts in order to save money and experience local culture. They will live, eat, and engage in daily activities alongside indigenous people.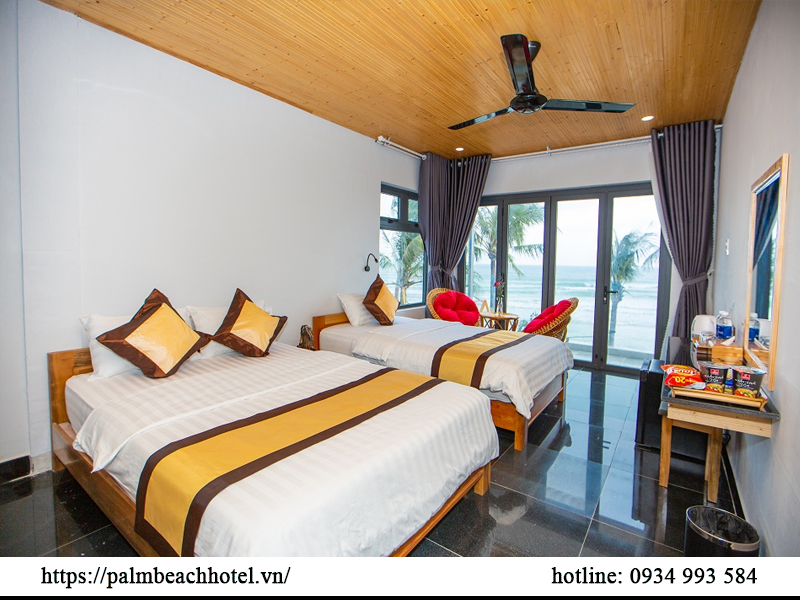 However, in comparison to the original concept, the homestay model in accommodation has evolved and changed today. Many businesses operate in the field of homestay rental, managing dozens of hundreds of different homestays, so the factor of staying with a local family is no longer accurate. Young people welcome homestays that emphasize local cultural experience, freedom of living, and low cost and are their first choice for their trips.
Why should you book a sea-view homestay in Phu Yen?
All tourists will find Phu Yen to be an appealing destination. You will be immersed in the coolness of the beautiful beaches and will be able to freely explore famous and unspoiled landmarks. Stopping at Phu Yen homestay with a sea view is ideal for those who enjoy the sea. A homestay with a view of the sea has numerous advantages, including: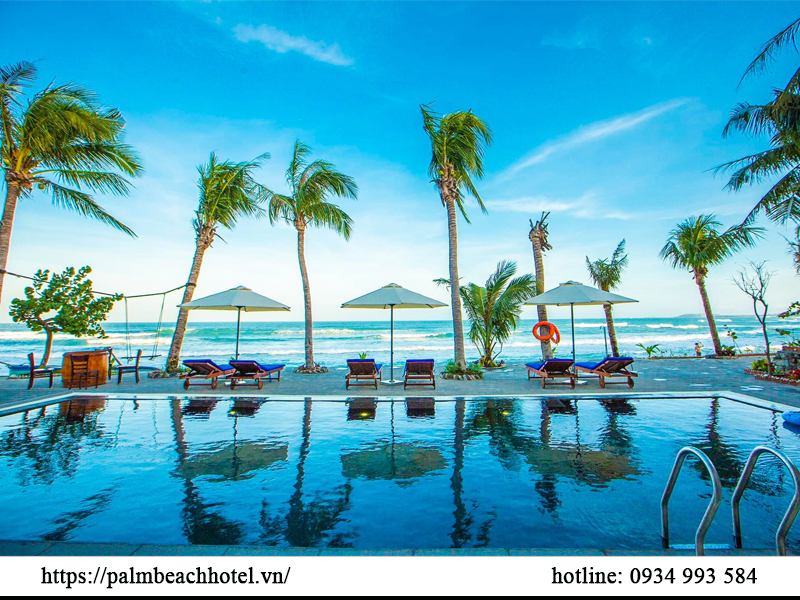 The service is inexpensive, convenient, and offers a variety of unusual experiences for you to try.

Open view, close to the sea, simply open the window or pull up the curtain, and the vast sea will appear in front of your eyes.

Moving every time you go to the beach will make it more convenient and faster; you won't have to park your car or take a long, exhausting hike.

Enjoy the breeze while saving a lot of money on room rentals.
Description of Palm Beach Phu Yen
This hotel currently has all 19 rooms available, including Deluxe double bed room balcony seaview, Apartment 2 bed rooms balcony seaview, Deluxe Family 2 bed rooms seaview, and Deluxe single room 2 beds balcony seaview. All rooms have wooden floors and are fully equipped with modern amenities. Furthermore, the hotel offers complimentary services such as a gym, an outdoor swimming pool, and a children's play area, as well as a tourist information desk with a 24-hour service center. The hotel has a culinary restaurant that serves a variety of European – Asian dishes with a variety of extremely delicious and eye-catching dishes. Palm Beach is described as follows: 
– Palm Beach Hotel is located in An My commune, Tuy An district, Phu Yen province, on the most beautiful beach in Central Vietnam. The hotel was built with environmentally friendly materials in order to protect our living environment.
– The interior is designed to be simple but luxurious according to European standards, with electronic devices limited in the room. We hope to provide you with the most comfortable stay and harmony with nature by providing 19 luxurious rooms with full sea views, a bar, an outdoor swimming pool, and a children's play area.
– In addition, this property has a restaurant, a 24-hour front desk, room service, and free WiFi throughout the property. For a fee, the property can arrange private parking for guests.
– All Palm Beach Hotel rooms include a kettle, air conditioning, and a wardrobe.
– The Palm Beach Hotel offers a daily breakfast buffet.
– There is a playground on the property. 
What services does Palm Beach Hotel Phu Yen provide?
Palm Beach Hotel Phu Yen has a complete and impressive utility system with a series of high-class services, as well as a comfortable design and a large campus area.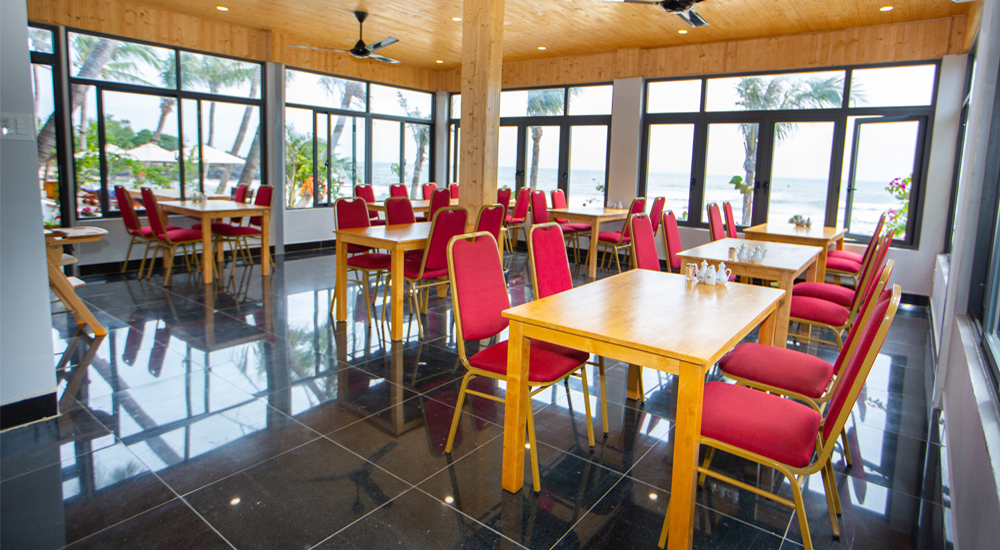 The first is the fragrant food court, which serves a variety of dishes from various cultures. Including local dishes, traditional menus from other countries, and foreign dishes, bringing visitors a new culinary experience, particularly exotic Asian-European dishes.
All input foods at the homestay, in particular, are carefully selected and tested in accordance with strict food safety standards. Both ensure freshness and complete safety for visitors. Second, parents can be confident that their children will have a good time at this high-end homestay campus. Homestay has set aside a large area to create a children's play area with a variety of useful and safe games. Next, if you want to soak in cool or warm water naturally, the 4-season infinity pool is a must-have feature.
Other services
In addition, Palm Beach Hotel also put into operation many other convenient services such as: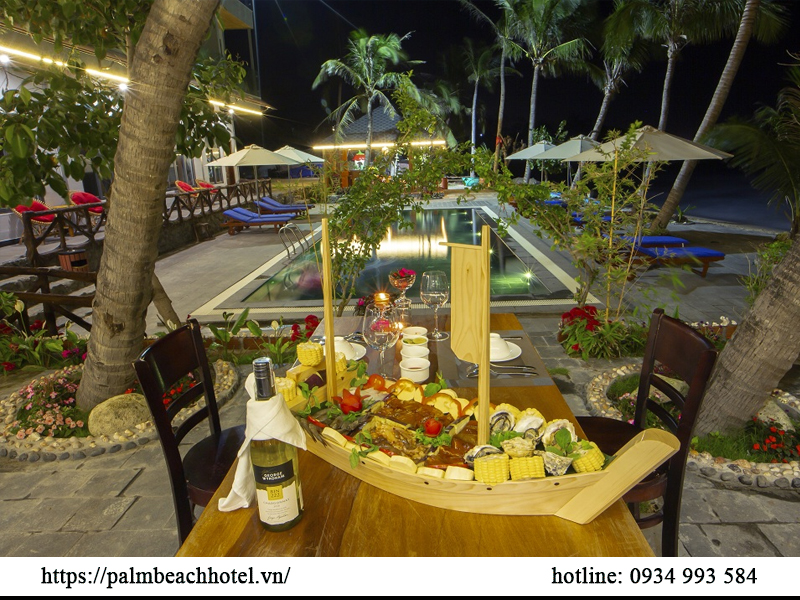 Organize domestic and international tours

Organizing events – conferences – wedding packages

Bar – coffee

Infinity swimming pool

Karaoke room

Medicine bath – massage

Car rental for tourists of all kinds

Delivery service

Housekeeping service

Laundry Service …
Customers are always satisfied because the staff here is very professional, enthusiastic, and fluent in many languages. So, if you want to have a fantastic vacation in Phu Yen, don't miss out on the Palm Beach Hotel. Contact us to get the best deal on a hotel in Phu Quoc!