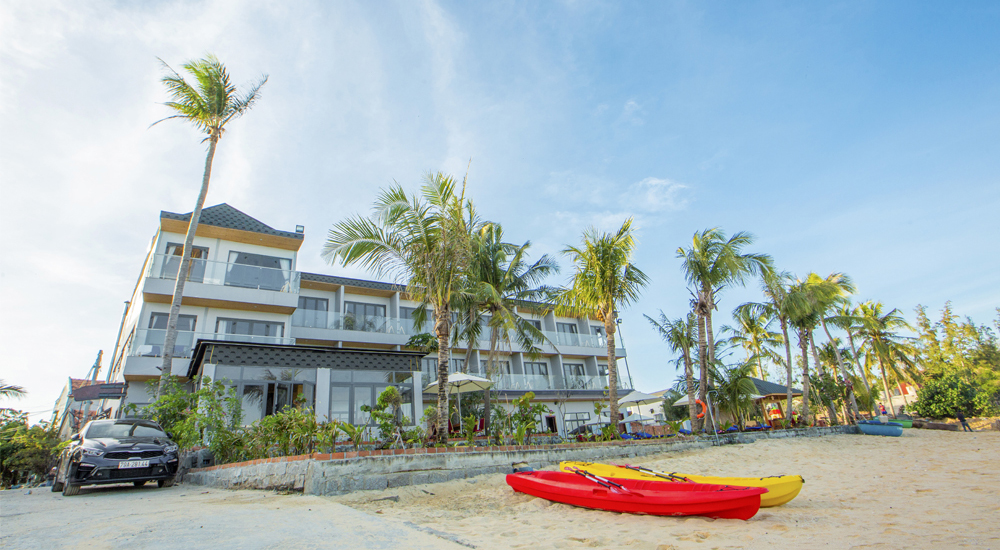 Homestay near beach in Phu Yen
Phu Yen has very rich and diverse tourism resources, as well as extremely unique landscapes with their own beauty. When you intend to travel to Phu Yen, but you're having trouble finding a homestay in Phu Yen with a swimming pool and comfortable services. If you're not sure where to stay. Don't worry, the Palm Beach Hotel Phu Yen is the best beach side homestay in Phu Yen for you. Let's take a look at this homestay's detailed review right now!
Palm Beach Hotel Phu Yen's location
Palm Beach Hotel Phu Yen is located in Tuy An District, An My Commune, Phu Yen. Many other tourist attractions in Phu Yen are easily accessible from the homestay location, including: Ganh Da Dia, Phu Yen swallow tower, Tuy Hoa Beach, green moss Xom Ro Phu Yen, Chop Chai mountain, Ganh Den lighthouse in Phu Yen, Yen island, Xep beach, and others. The homestay Palm Beach Hotel Phu Yen, located on Ganh Dua beach, in particular, has an impressive view. In less than ten minutes, you can reach out and touch the lapping waves of the beautiful beach.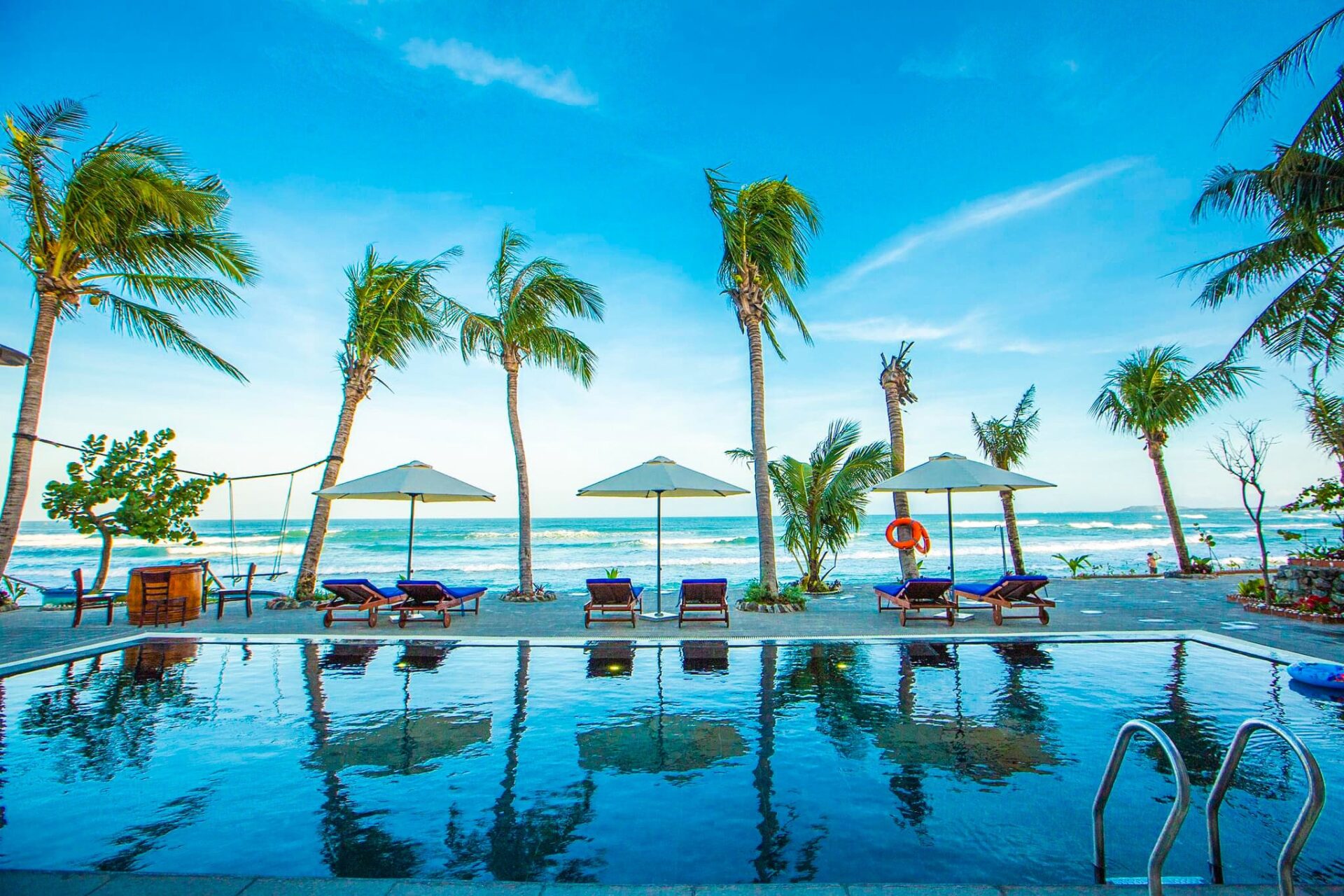 The open view and proximity to the sea are significant advantages of this cheap homestay in Phu Yen's geographical location. To enjoy the magnificent sea view, simply open the window. Visitors can come here to watch and enjoy the cool space of the sea, as well as freely explore the surrounding tourist attractions. These include other famous landmarks such as:
April 1 Square

Nhan Mountain, Ro village

Green Moss Beach, Xep Beach.
The standout features of the Palm Beach Hotel Phu Yen's 4-star homestay/hotel 
Not only does cheap homestay Phu Yen – Palm Beach Hotel Phu Yen have a favorable geographical location on the precious golden land, but it is also "favored" with luxurious and sophisticated European-style interior design. This is also one of the reasons why the hotel attracts a large number of tourists from all over the country.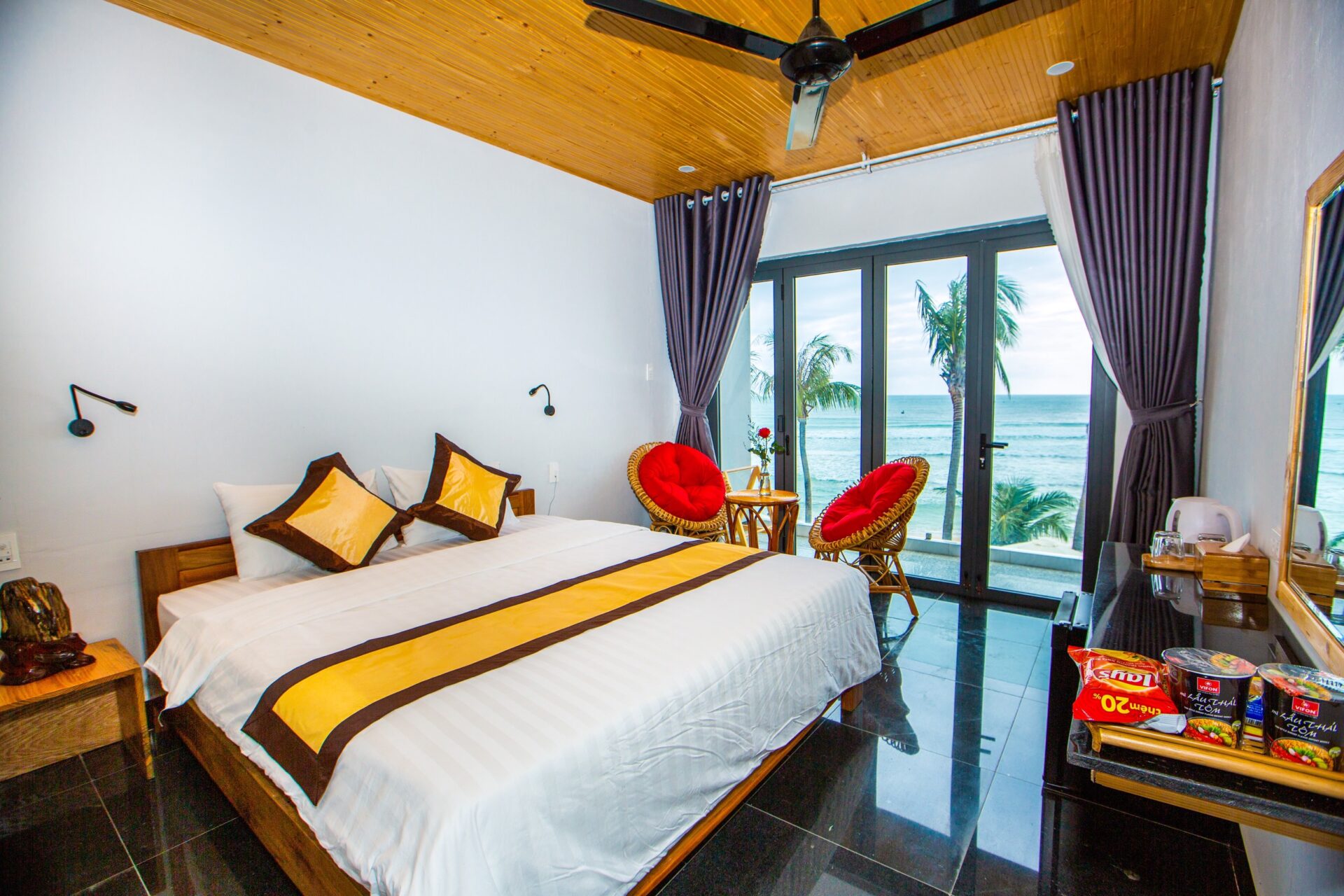 At first glance, you might think the hotel design is similar to that of other addresses, but the hotel has a large space with all amenities inside. Guaranteed to provide you with the most relaxing moments during your stressful working days. Various bedroom designs, such as: 
A 28m2 double room with a balcony overlooking the sea and a large 1m8 bed (maximum 2 adults).

A 35m2 double room with a sofa and a balcony overlooking the sea, as well as a large 1m8 bed.

80m2 apartment with 2 bedrooms and a balcony with a sea view.

56m2 family room with 2 bedrooms, sea view, large bed 1m8, 2 beds 1m2, 1 sofa set.

Single 32m2 room with 2 beds 1m4 and 1m2 (maximum 3 adults) and balcony overlooking the sea.
Other facilities at homestay Palm Beach Hotel Phu Yen
– You will have full access to food, rest, relaxation, and entertainment at this low-cost Phu Yen homestay. The large hotel campus, which overlooks the sea, provides a peaceful and refreshing resort environment.
– You don't have to be concerned about your baby's lack of play area or his safety, which is especially important for families with young children. Because the hotel is equipped with a surveillance camera system and professional security personnel. Make the most of your vacation. 
– The food court is brimming with nutritious and delectable cuisine from various cultures. Food is supplied by reputable suppliers who adhere to food safety and hygiene standards. Make certain that the food is kept fresh.
– A cozy, luxurious cafe area with an extensive and appealing drink menu.
– Vibrant bar with a strict visitor security system. There were no negative situations and bringing you the ultimate "dancing" environment.
About the space
The Palm Beach Hotel is truly a haven. On your balcony, you can read or gaze at the sea, sky, and offshore islands, watch fishermen bring in their catch and their children play on the sand, observe the changing of the weather and feel the winds shift throughout the day, and fall asleep at night and wake up in the morning to the sound of waves breaking onto the shore. Our courtyard and common area are always quiet, making them ideal for reflection and relaxation, as well as writing, drawing, or playing cards. Many of our visitors stay for weeks and don't want to leave.
The best resort booking experience in Phú Yên
In which area of Phu Yen should you book a resort?
When visiting this peaceful and beautiful sea, you should choose areas near the center to visit and enjoy famous Phu Yen dishes. If you prefer peace and quiet, you can visit the beaches located far from the city center. Because there are so many places to visit, these areas are usually only suitable for relaxation and Palm Beach is a perfect choice.
On high seasons
During peak seasons, there is a high demand for swimming and resorting, so tourists who visit Phu Yen during this time should pay attention. You should plan about 1-2 months ahead of time because the price on these days will be quite different if you book directly. Before making a reservation, you must plan out the length of your stay as well as the exact number of people. To fully meet your needs, carefully read the resort's information and facilities.
Final line
So the article has a detailed review of the homestay Phu Yen's swimming pool, from location to design to utilities and service price list. If you need to book a room at Palm Beach Hotel, please contact the homestay management as soon as possible using the information provided below.
PALM BEACH HOTEL
Address: Giai Son hamlet, An My commune, Tuy An district, Phu Yen province

Hotline: 0934 993 584

Email: service@palmbeachhotel.vn