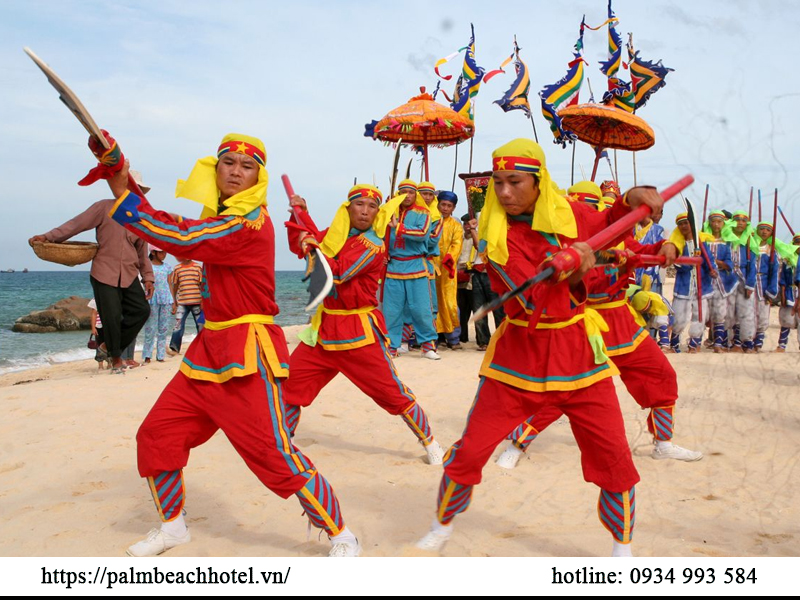 Festivals in Phu Yen – 4 Most Interesting that you should not miss
Currently, Phu Yen is a popular tourist destination for its wild beauty. That is why many tourists come to visit and especially learn about traditional festivals in Phu Yen. In this article, I've compiled a list of traditional festivals in Phu Yen that you should not miss. I hope this information helps you plan your trip to Phu Yen. Going during the festivals will undoubtedly help you have the most exciting discovery trip. Because you can enjoy the scenery while learning more about the fascinating historical culture of the Phu Yen people.
What is the Phu Yen traditional festival?
Phu Yen is a land rich in cultural traditions, with many large special festivals held at the start of each year. Among them are some well-known festivals, such as the fishing festival, O Loan Dam Festival, An Xuan horse racing festival, buffalo stabbing festival… These are all distinct festivals that contribute to traditional cultural beauty here. Phu Yen becomes extremely busy and crowded on every festival occasion. The number of tourists visiting Phu Yen to learn about traditional festivals is growing by the day. Because the festival season is also the best time for visitors to come and learn about this sunny and windy land.
Detail of traditional festivals in Phu Yen 
O Loan Dam Festival
O Loan Lagoon is impossible not to mention when discussing popular Phu Yen tourist attractions. This is a destination that offers visitors a variety of interesting and one-of-a-kind experiences. In addition, visitors will be able to participate in one of the largest Phu Yen festivals, the O Loan lagoon festival, if they come here on the occasion of January, specifically the 7th of every year. This festival is put on by the fishermen of An Cu commune in Tuy An district.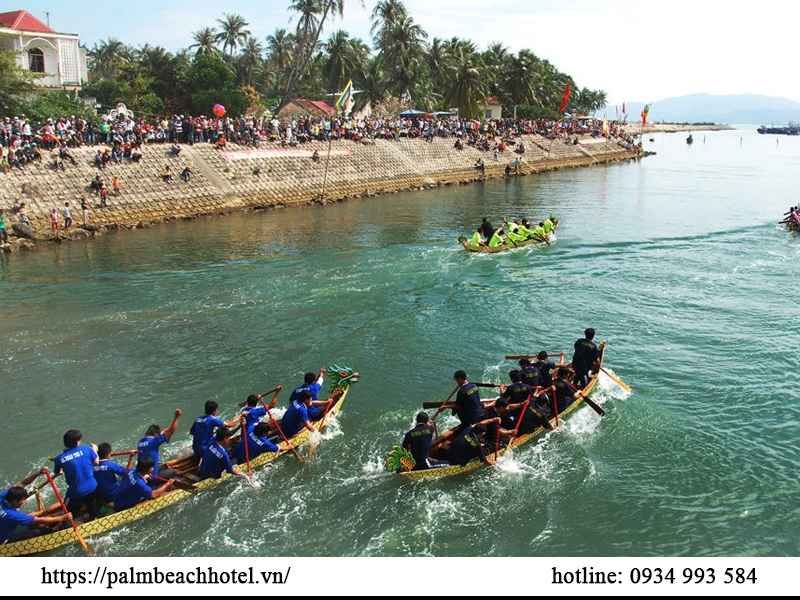 This festival is rich in traditional culture, which the people of this region have kept and preserved for generations. During the festival, visitors will be able to participate in a variety of exciting activities such as boat racing, swimming, singing, and dancing. When compared to other traditional festivals in Phu Yen, the O Loan lagoon festival includes many distinctive cultural features of fishermen from Tuy An fishing village. Because the festival will educate visitors on the beliefs and practices of the people who live here. They always hope for peace with a new year of good fishing, livestock, and farming.
Horse racing festival
A horse racing festival will be held in An Xuan on January 9th. This is one of the few horse racing festivals that are still held in Vietnam today. This festival usually draws around 10,000 people each year. As a result, when discussing traditional festivals in Phu Yen, the An Xuan horse racing festival must be mentioned.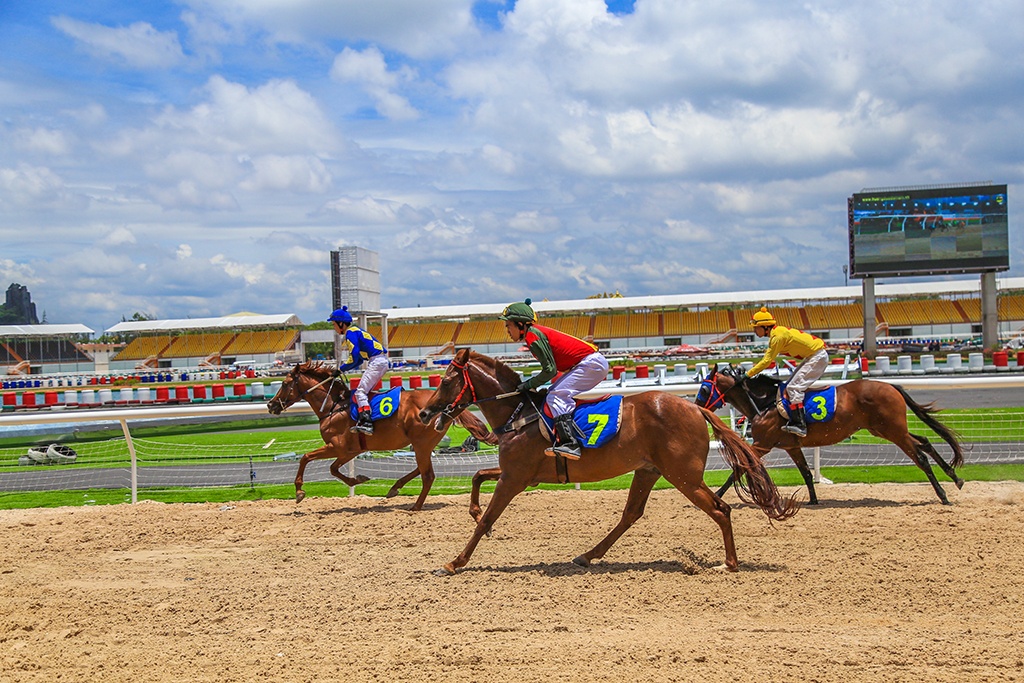 The An Xuan people want to preserve and recall their fathers' martial spirit through the horse racing festival. The race will demonstrate the resilient and unwavering will of the people of Phu Yen in the face of nature, the vast and majestic sea.
In particular, the Phu Yen horse racing festival is held at the racing ground, which is a large and flat grass area. Participants in the competition will dress up and sit majestically on the horse's back, like mighty and majestic horsemen. They will enhance the race atmosphere by making it more appealing and exciting.
Buffalo stabbing festival
The buffalo stabbing festival is a traditional festival held by ethnic minorities in the mountainous region of Phu Yen. This festival will take place over three days and nights, from December to March on the lunar calendar. The buffalo stabbing ritual will be performed on the third day of the festival, and the shaman will perform many rituals such as sowing hexagrams, praying, and asking for tattoos during this traditional festival in Phu Yen…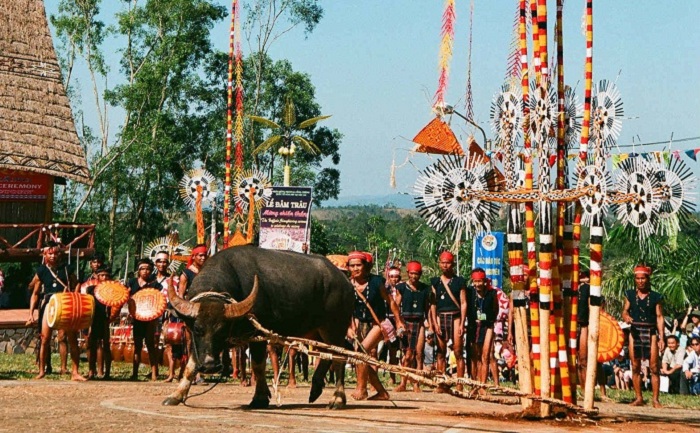 People here believe that sacrificing buffalo is an expression of their love for the God of Water and the God of the Mountain. As a result, ethnic minorities always anticipate the buffalo stabbing festival. People with many different unique and beautiful features will organize traditional ritual activities as well as community cultural activities at the festival. As a result, everyone who comes here to participate in the festival will Discover many fascinating aspects of the Phu Yen buffalo stabbing festival, such as dancing, singing, drinking wine, sightseeing, and gong beating…
Seasonal festival in Phu Yen
Every year in March, the people of Phu Yen eagerly await the harvest of rice. This is also the time when the Phu Yen people rejoice over the arrival of the new rich rice season. Because they are pleased with the results they have obtained after many days of hard work.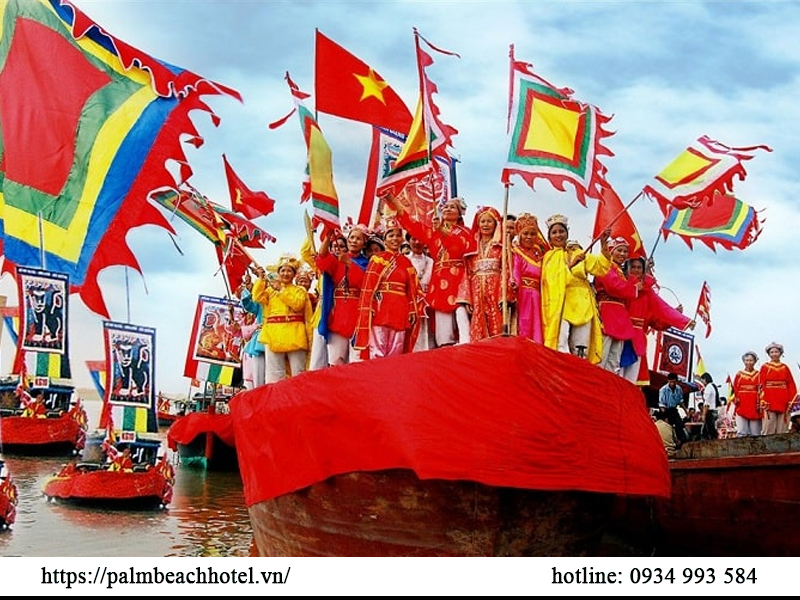 As a result, the harvest festival is one of Phu Yen's most anticipated traditional festivals. The festival is held to pray for the harvest and to thank the rice god for blessing them with a bountiful harvest. Many activities will take place during the festival, such as beating gongs, gongs, drums, drinking can wine, and singing.
Conclusion
Hopefully, the unique and appealing traditional festivals in Phu Yen that I have shared above will assist you in answering the question, what festivals are there in Phu Yen? Visit this location once to experience the atmosphere of these wonderful festivals. If you want to come here to participate in and experience these special festivals, https://palmbeachhotel.vn/ will assist you in fully experiencing the joy of the festivals. I wish you a joyful and enjoyable trip to Phu Yen.