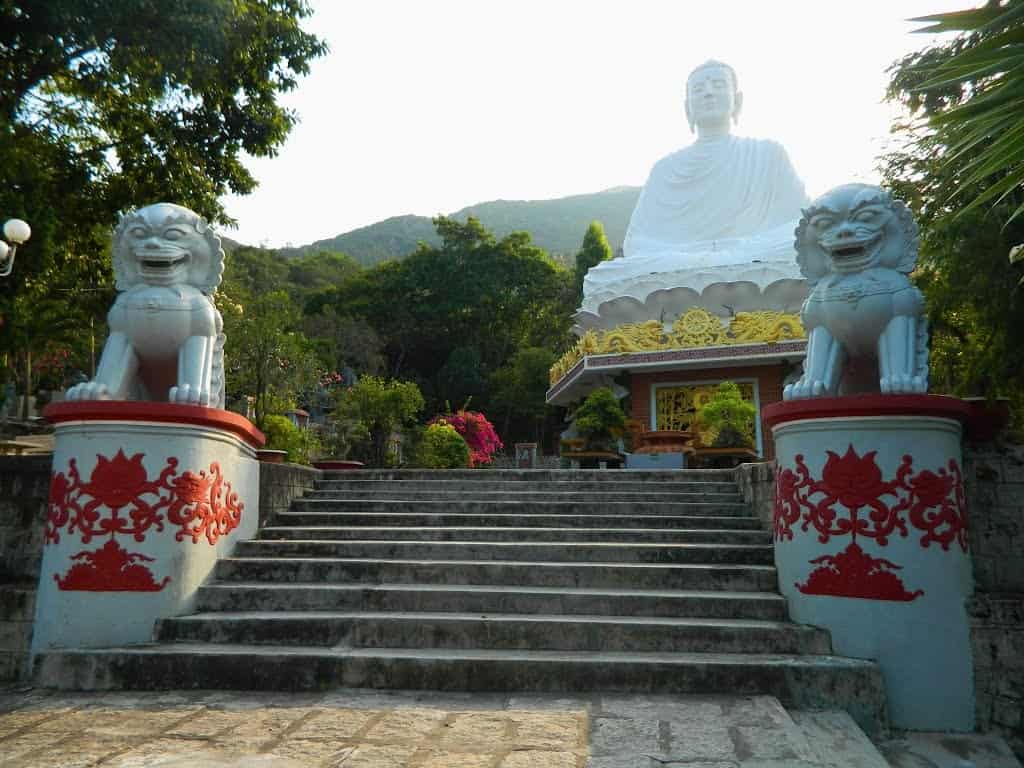 Top 5 Buddhist Temples in Phu Yen That You Must Visit
Along with the beautiful scenery and delicious food, the temples in Phu Yen contribute to the local culture. When people hear the name Phu Yen, they immediately think of a land with legendary landscapes. Or delectable dishes known far and wide. Few people realize, however, that this land is also famous for its one-of-a-kind architectural works and intangible cultural heritages. In particular, the temples in Phu Yen have long been famous and sacred, and everyone wishes to visit them at least once.
Thanh Luong pagoda
Thanh Luong pagoda (located in My Quang Nam village, a fishing village in An Chan commune, Tuy An district) is not just a temple in Phu Yen that attracts Buddhists from all over the world. Here also a pilgrimage site as well as a tourist attraction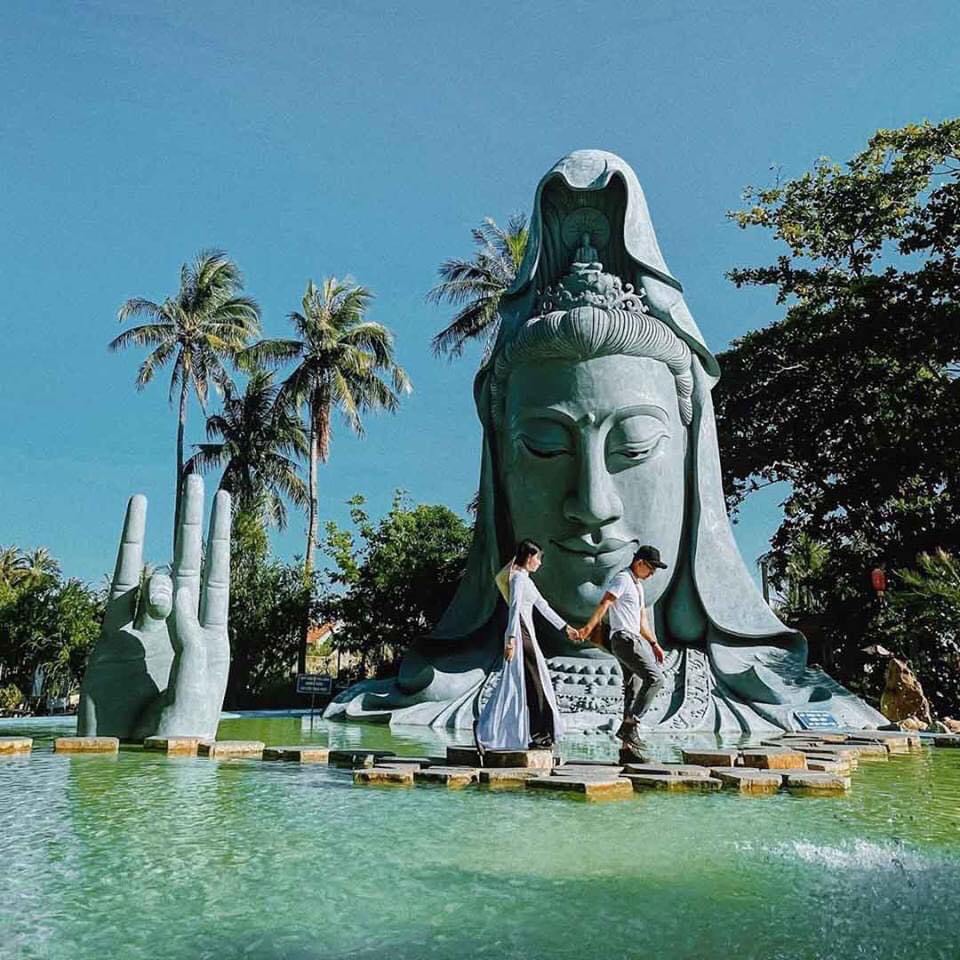 Thanh Luong Pagoda is the temple in Phu Yen that everyone should visit because it is famous as a spiritual center of interest with the unique 1 – 0 – 2 underwater Buddha statue in Vietnam. Thanh Luong Pagoda is well-known not only for the above Buddha statue, but also for creating a one-of-a-kind temple out of coral and coconut shells. Visitors will experience relaxation, tranquillity, and incredible peace upon entering the temple. The pagoda is located near the coast of Tuy An, which is regarded as the most beautiful beach in Phu Yen, creating a peaceful and ancient feature that draws tourists from all over the world.
Temple of White Stone
White Stone Pagoda is one of Phu Yen's oldest pagodas. The pagoda was constructed in 1797, and the campus is surrounded by old stone walls. Many passages date back more than two centuries.
Can Luong village, An Dan commune, Tuy An district is home to the Da Trang Pagoda. The pagoda has a distinctive architectural feature that no other temple in Vietnam possesses. It's a university campus surrounded by ancient stone walls. The specialty mango garden surrounding the pagoda, in particular, has entered Phu Yen's poetry as a speciality of this sacred land.
Bao Lam Pagoda
Bao Lam Pagoda (Buu Lam Pagoda), which is located in Lien Tri village, Binh Kien commune, Tuy Hoa city. Bao Lam Pagoda is not only an ancient temple, but also one of Phu Yen's most popular tourist attractions. Every year, Buddhists and countless visitors flock to the temple because of its quiet and peaceful beauty, which gives people a sense of peace and true purity.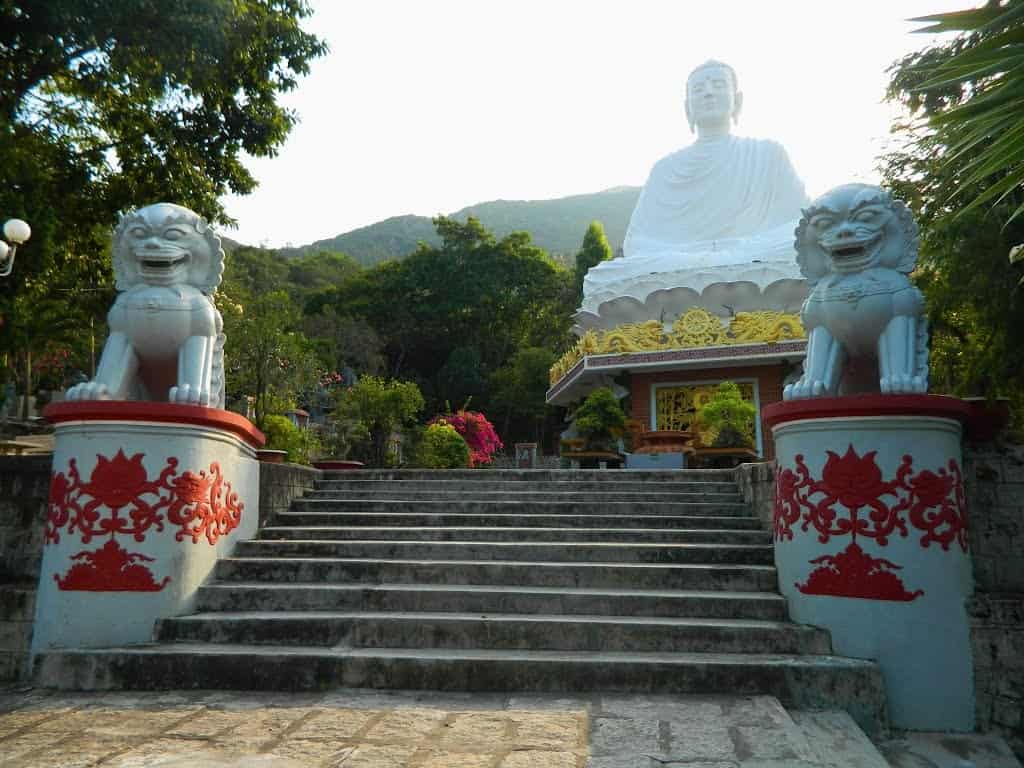 The Bao Lam Pagoda is located at the foot of Chop Chai mountain, 3.5 kilometers north of Tuy Hoa city, right next to National Highway 1A, making it very accessible. The 15m high statue of Shakyamuni Buddha sitting on a white lotus, leaning against Chop Chai mountain, is one of the pagoda's most distinctive features. There is also an elegant landscape with numerous flowers and ornamental plants, such as Tay Thien.
Furthermore, the road to Bao Lam Pagoda is constructed with many stone steps that pass through flower gardens and trees, creating an appealing ecological area. The scenery is unspoiled, quiet, and unusually peaceful. Furthermore, the Bao Lam Pagoda is known for its harmonious architecture and pure space.
Huong Tich Pagoda
Huong Tich Pagoda, located in Hoa My Tay Commune, Tay Hoa District, is one of Phu Yen's most well-known temples today. The pagoda is located on Perfume Mountain in Hoa Phong commune, where a small river flows through the node's foot and down to Thanh Phu village in Hoa My commune, creating a very poetic landscape.
Venerable Van An passed by this land in 1937, saw the beautiful scenery of the mountains and water, and stopped. Huong Tich Pagoda arose as a result. This temple in Phu Yen has become the most well-known attraction in the area, attracting tourists and Buddhists from all over the world.
Ho Son Pagoda
Ancient Ho Son Temple is a historic temple in the heart of the city. Many tourists from all over the world visit Tuy Hoa. The ancient lake is situated on high ground in the heart of Tuy Hoa city, surrounded by villages, fields, and gardens that are shaded by green trees.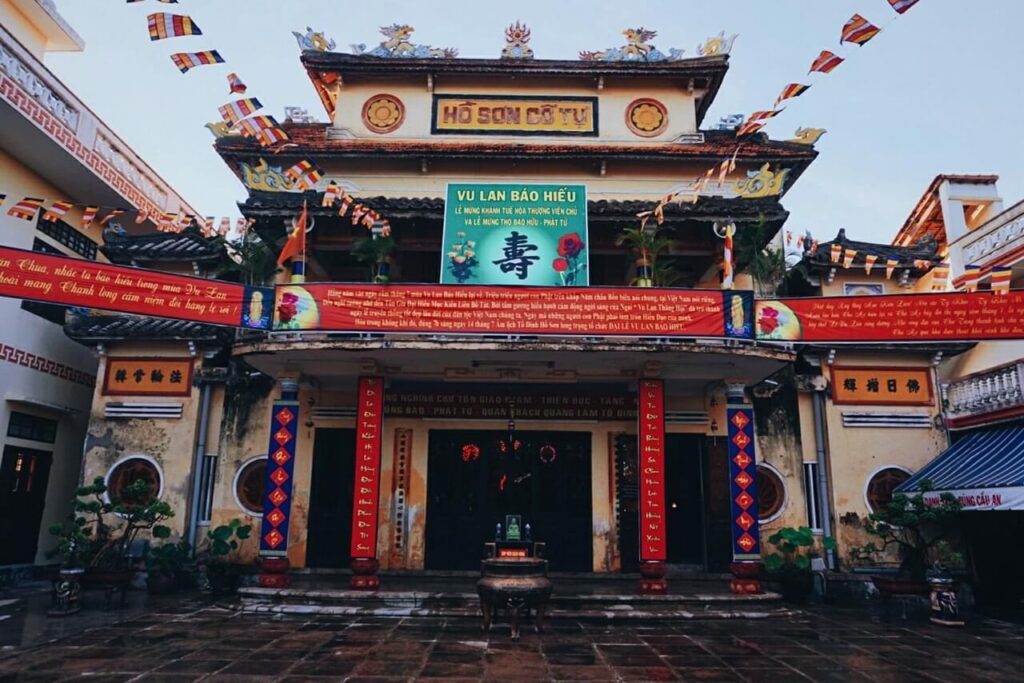 The ancient Ho Son temple is said to be in the heart of the city, but it is quite separate from the city's noise. The pagoda has more than 1 animal garden with many species of birds such as pigeons, turkeys, chickens, star chickens, peacock red pheasants… and is surrounded all year by an orchard and shady trees.
Ho Son Pagoda was built over 300 years ago and has been restored in accordance with traditional architecture. The pagoda's scale is superficial in a land of charming scenery, with Quan Am cac, a lotus lake reflecting… 
The scene is peaceful, profound, and quiet. Ho Son ancient pagoda is a scenic spot in Phu Yen and throughout the country. Visitors from all over the world can admire the garden of precious birds and strange banana species when visiting Ho Son Pagoda, in addition to admiring the Buddha, retreating, and contemplating life.
If you're planning a trip to Phu Yen, don't forget to bookmark the famous temples in Phu Yen listed above. Don't forget to contact the Palm Beach Hotel if you want to stay in style on Phu Yen's most beautiful beach.