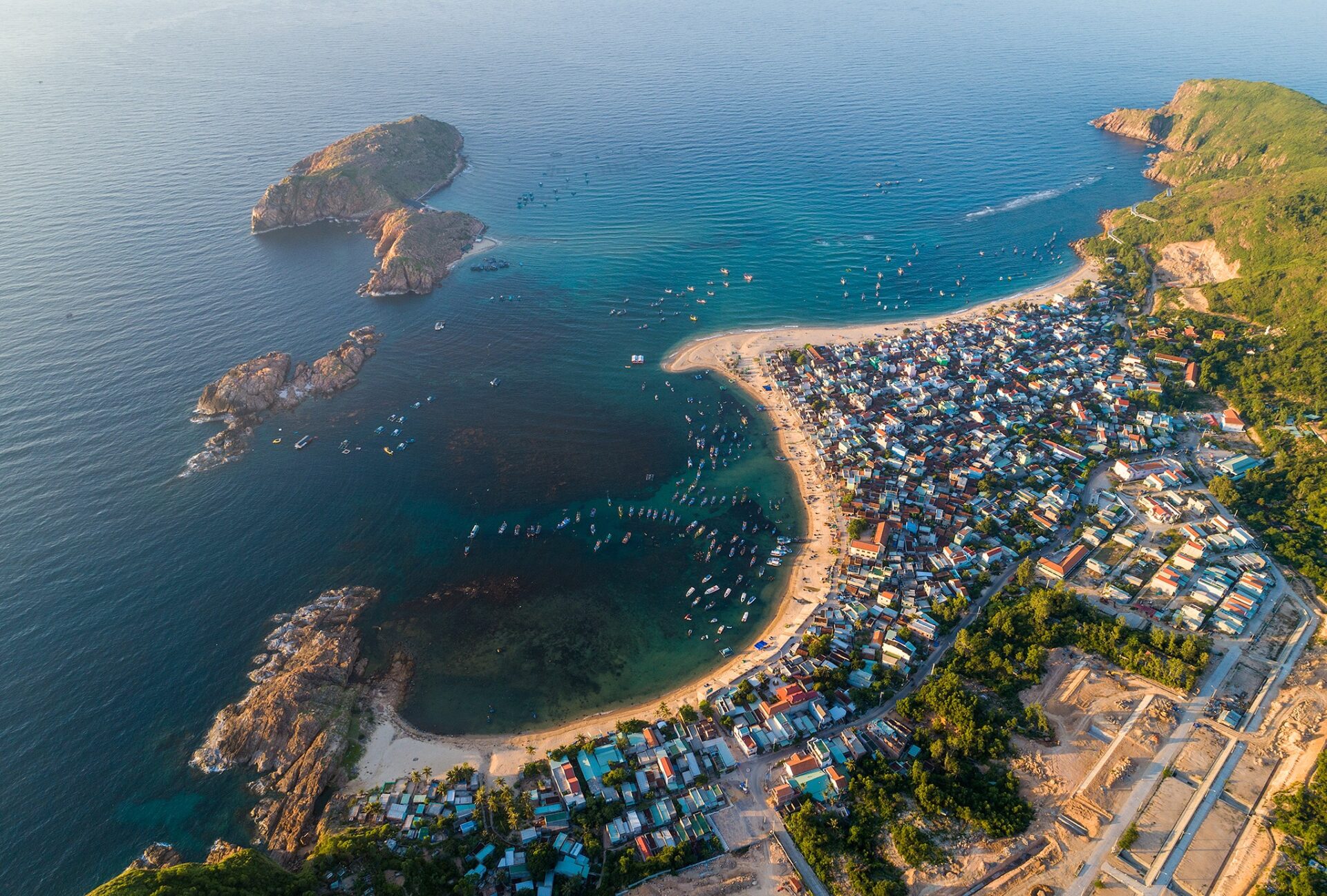 Top 7 Best Places to Visit in Phu Yen
In Vietnam, the weather has gradually changed to summer, the temperature is rising, and the air is becoming hotter. Picnics, long trips, getting close to nature, and enjoying the air are definitely what many people look forward to in this weather. Today, let's go with Palm Beach Hotel to learn about Phu Yen and The Most Beautiful Places to Visit in Phu Yen.
Well-known beach in Phu Yen
Here are some of the most well-known attractions in Phu Yen that you should not miss.
Bai Xep Beach
Bai Xep is a small beach with a length of only 500 meters, making it ideal for those seeking peace and quiet during their trip. The beach is lined with black stones, adding sharpness to the ocean's softness. You can climb a nearby hill to get a bird's-eye view of Bai Xep. This location is a small pasture where the locals' cows graze.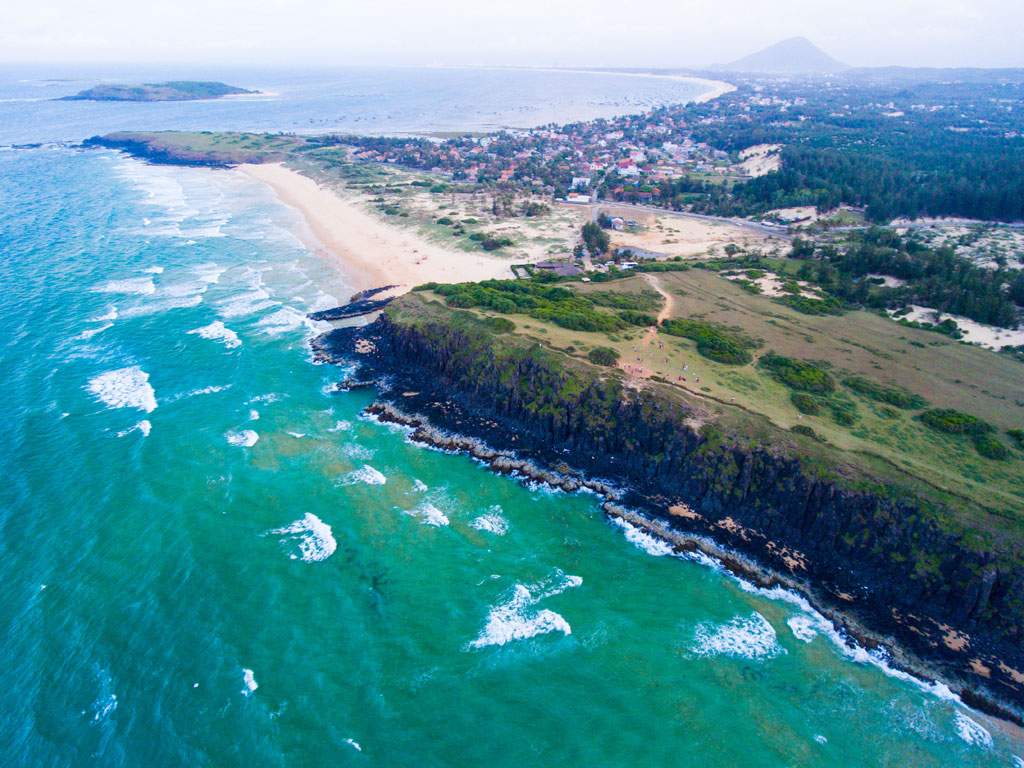 What is the best way to get to Bai Xep? Drive about 12 kilometers north on National Highway 1 from Tuy Hoa city until you see the signboard for Sao Viet Tourist Area on the right. Take a right there.
O Loan Lagoon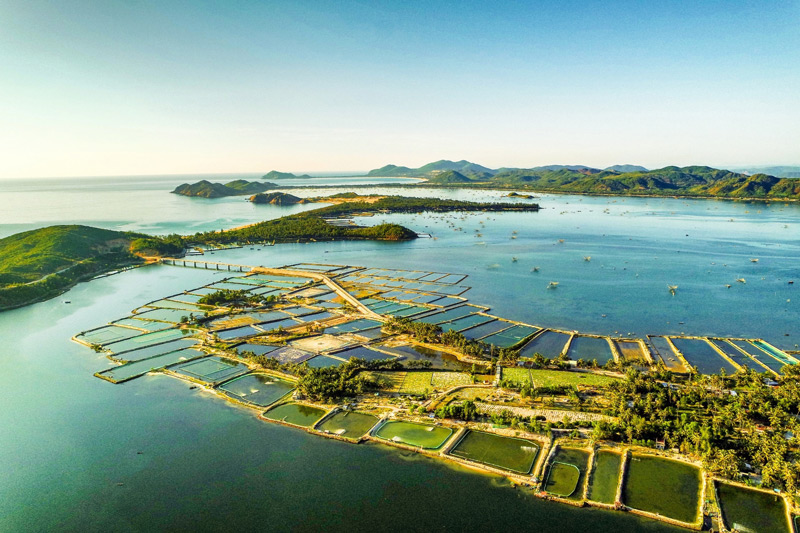 Because O Loan Lagoon is so large, determining the best angle to stop is difficult. In the midday heat, we walked along the O Loan lagoon and stopped at a local seafood restaurant with partial views of the lagoon. To be honest, the scene wasn't particularly memorable. We did, however, have the opportunity to sample Blood Oysters, a must-try local dish.
Ghenh Da Dia 
This is a tourist destination in Phu Yen. There is no other place in Vietnam where you can see such a beautiful natural work of art as hundreds of flat black stones stacked right next to the sea. It's difficult to believe that this incredible structure was entirely orchestrated by nature.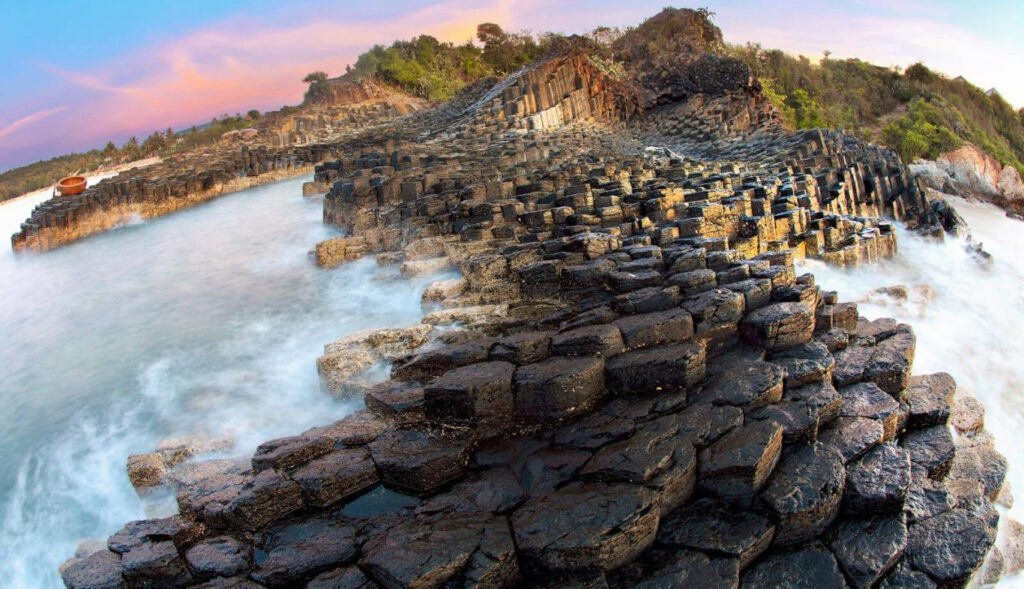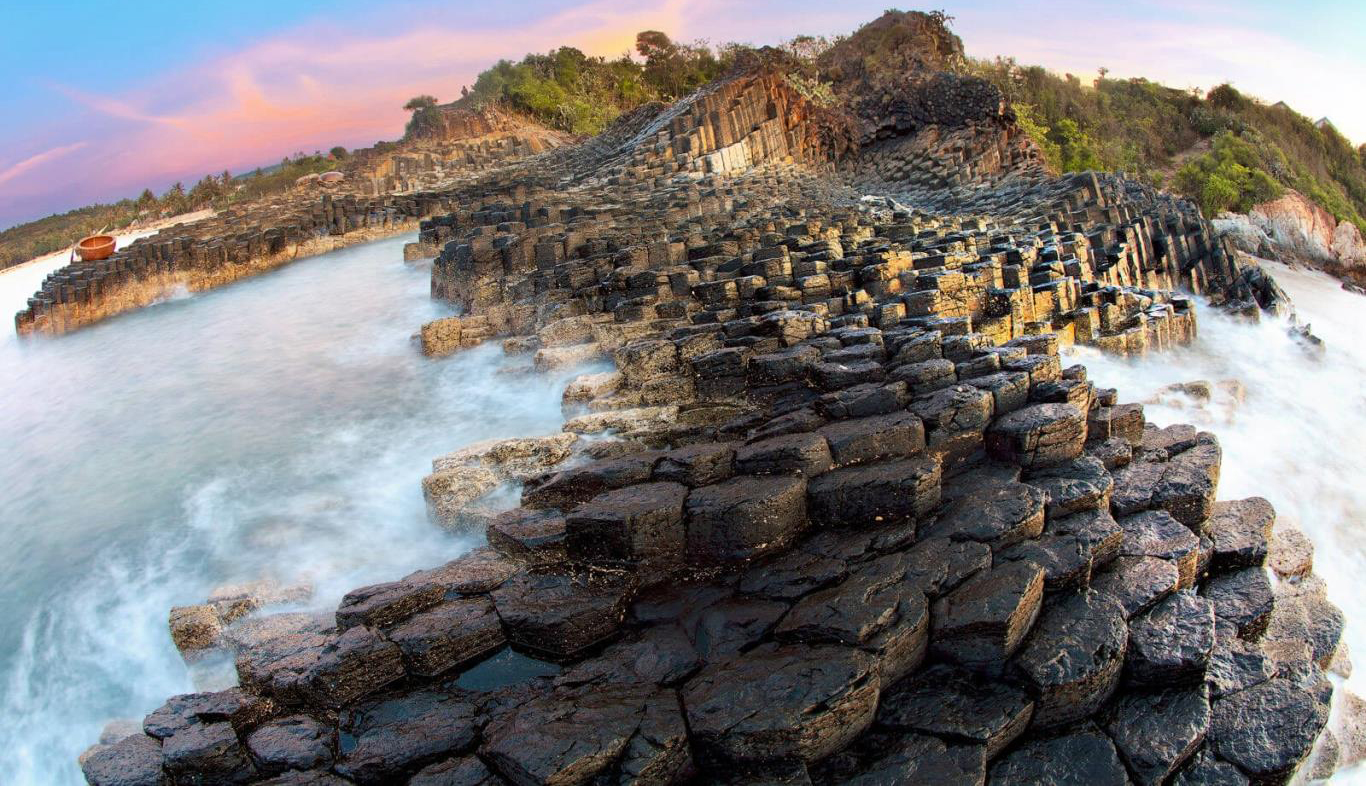 Nhan Tower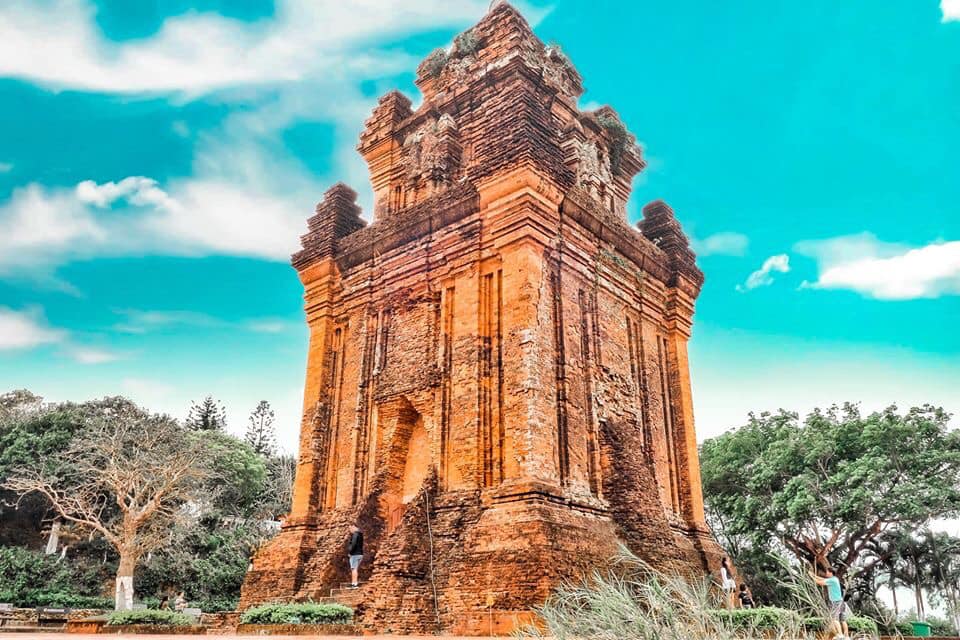 Nhan Tower, located in Tuy Hoa City, was built in the 12th century by the Cham people on top of Nhan Mountain. From here, you can see Tuy Hoa city and the Da Rang River flowing by.
Bai Mon Beach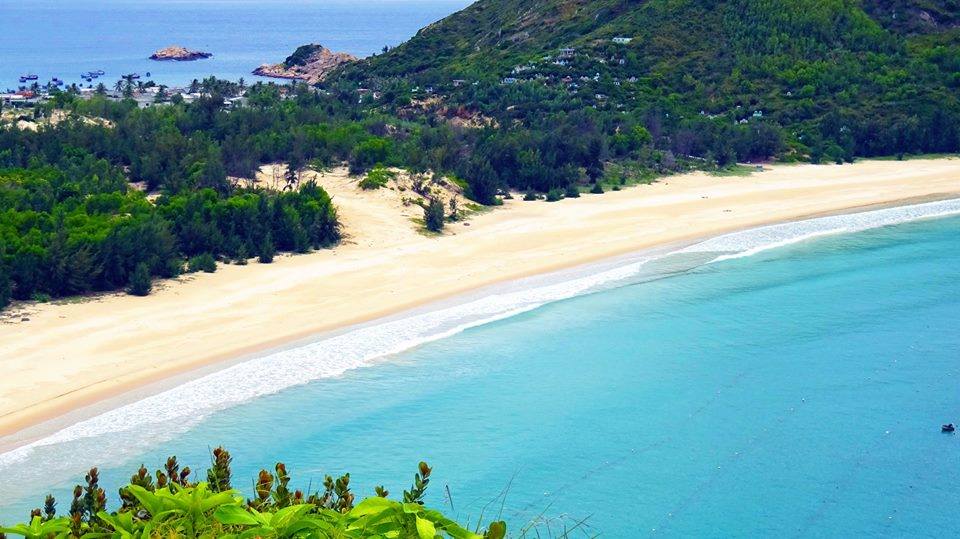 Bai Mon Beach is also accessible from the Mui Dien area's entrance. You must pay an entrance fee and a parking fee (very cheap!). You can change into the shower rooms near the entrance before walking 200 meters to the beach. You will first notice the Mui Dien Lighthouse on top of the hill on your right as you walk to the beach from the entrance gate. As you continue walking, a stunning landscape of yellow sand dunes on the left, a clear channel in the middle, and a green hill on the right will take your breath away. In this clear channel, you can even see fish swimming. Bai Mon Beach is 400 meters long and nestled between two hills. Its clear water, smooth sand, and breathtaking views will not let you down.
Well-known pagoda and church in Phu Yen
Thanh Luong Temple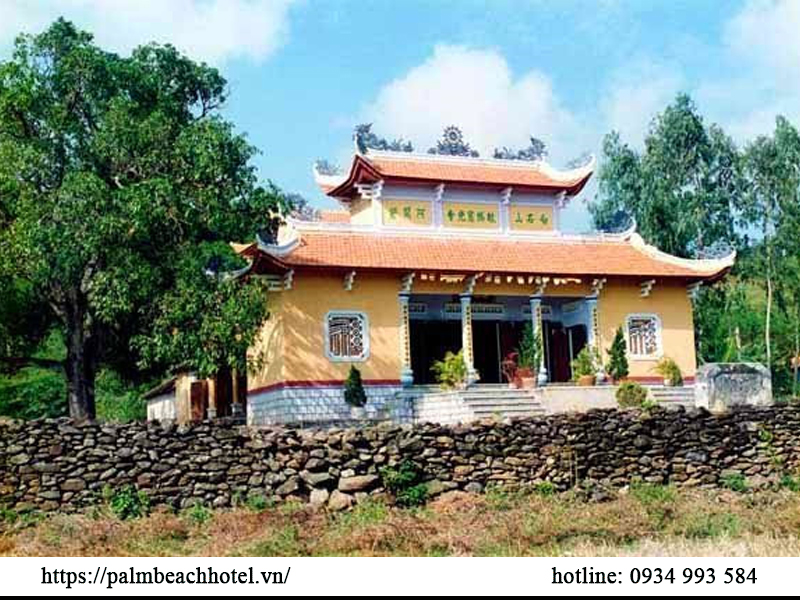 Thanh Luong Pagoda is located about 10 kilometers from Tuy Hoa city center in My Quang Nam village, An Chan commune, Tuy An district, Phu Yen province. The temple is famous for its hidden statue of Quan Am Buddha and its extremely unique architectural design. Visitors come here not only to find peace and tranquility but also to admire the unique and rare architectural beauty. The temple's distinct design is derived from its construction materials and design. The pagoda is made of coconut shells and coral, which are natural materials found in the My Quang Nam sea. These two materials are honed and combined to form beautiful brown-black walls. Thanh Luong Pagoda is also popular with tourists due to the peace of being located among fishing villages and the cool space provided by the sea breeze. Tuy Hoa tourism's spiritual tourist destination.
Mang Lang Church
Mang Lang Church is a historic church with distinctive Western architecture. If you are a religious person, you must visit this church to pray when you visit Phu Yen. The church has a large yellow rose window on the front and two symmetrical bell towers on the sides. The portals leading to the chapel are also shaped like asparagus. Furthermore, the faded blue color lends a sense of mystery and solemnity to the church. Mang Lang Church's architecture may remind you of cathedrals of the same style in Europe, as well as the Notre Dame Cathedral in Saigon and the St. Joseph Cathedral in Hanoi of Viet Nam. Otherwise, Mang Lang Church is a free tourist attraction in Phu Yen that you can visit, particularly during holidays such as Christmas, Easter, and New Year.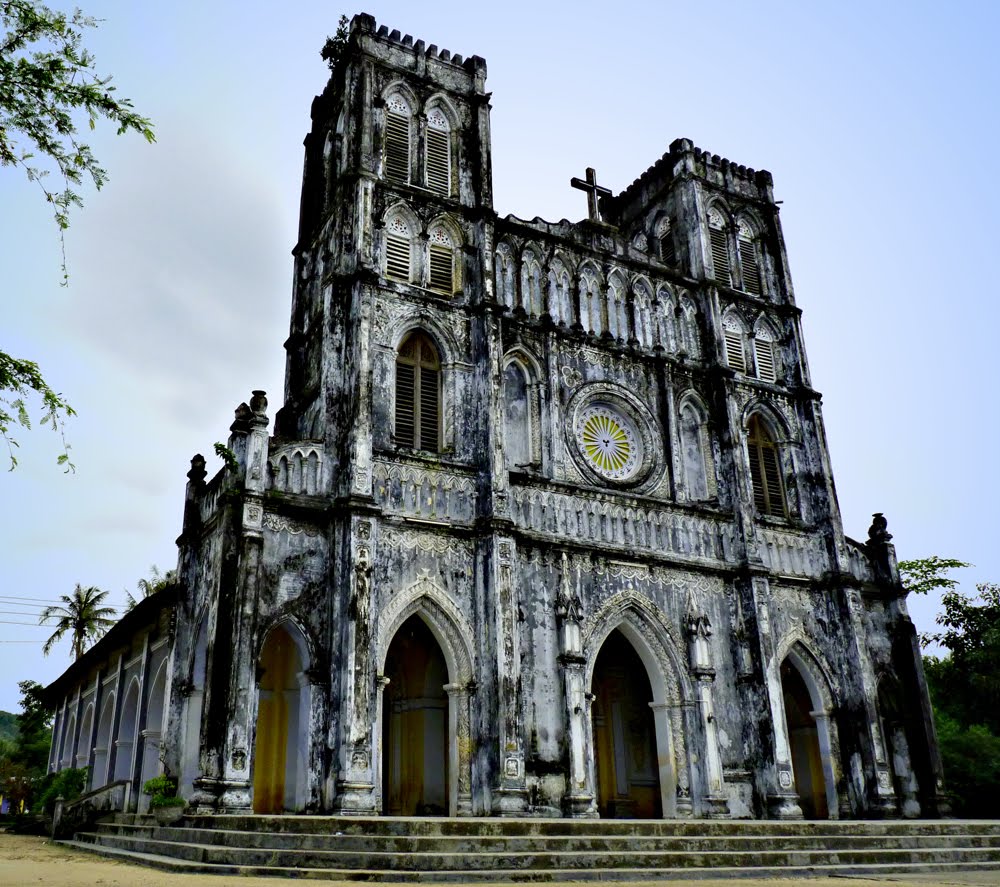 Mang Lang Church is a fascinating attraction for both religious and historical visitors. It is where Blessed Andrew of Ph Yên, Vietnam's first Christian martyr, is commemorated. The first document in modern Vietnamese script is also available here. This church's Gothic aesthetics are worth seeing if you want some impressive shots for your Instagram feed.
Hopefully, the above Phu Yen tourist attractions will be helpful to everyone planning a trip to Phu Yen. If you are interested in staying in Phu Yen, please contact Palm Beach Hotel so we can assist you! Hopefully, after this trip, you will love your homeland Vietnam even more, and remember to share your thoughts on these popular tourist destinations in Phu Yen.