The best hotel in Phu Yen with a good price of 2023
You're planning a trip to Phu Yen soon and don't know where to find an inexpensive place to stay with a lovely view and excellent service or the best hotel in Phu Yen with a good price of 2023. To respond to your question, I'd like to provide you with information about the affordable Palm Beach Phu Yen hotel located right here. If you're going to Phu Yen, this is the finest option!
Palm Beach Hotel's design style
The Palm Beach Hotel was developed with environmental friendliness and protection in mind, therefore the materials used in its construction are eco-friendly. The hotel area is created in a modern and luxury manner with a predominant white tone to offer visitors a sense of airiness and cleanliness, with light coming primarily from the outside environment.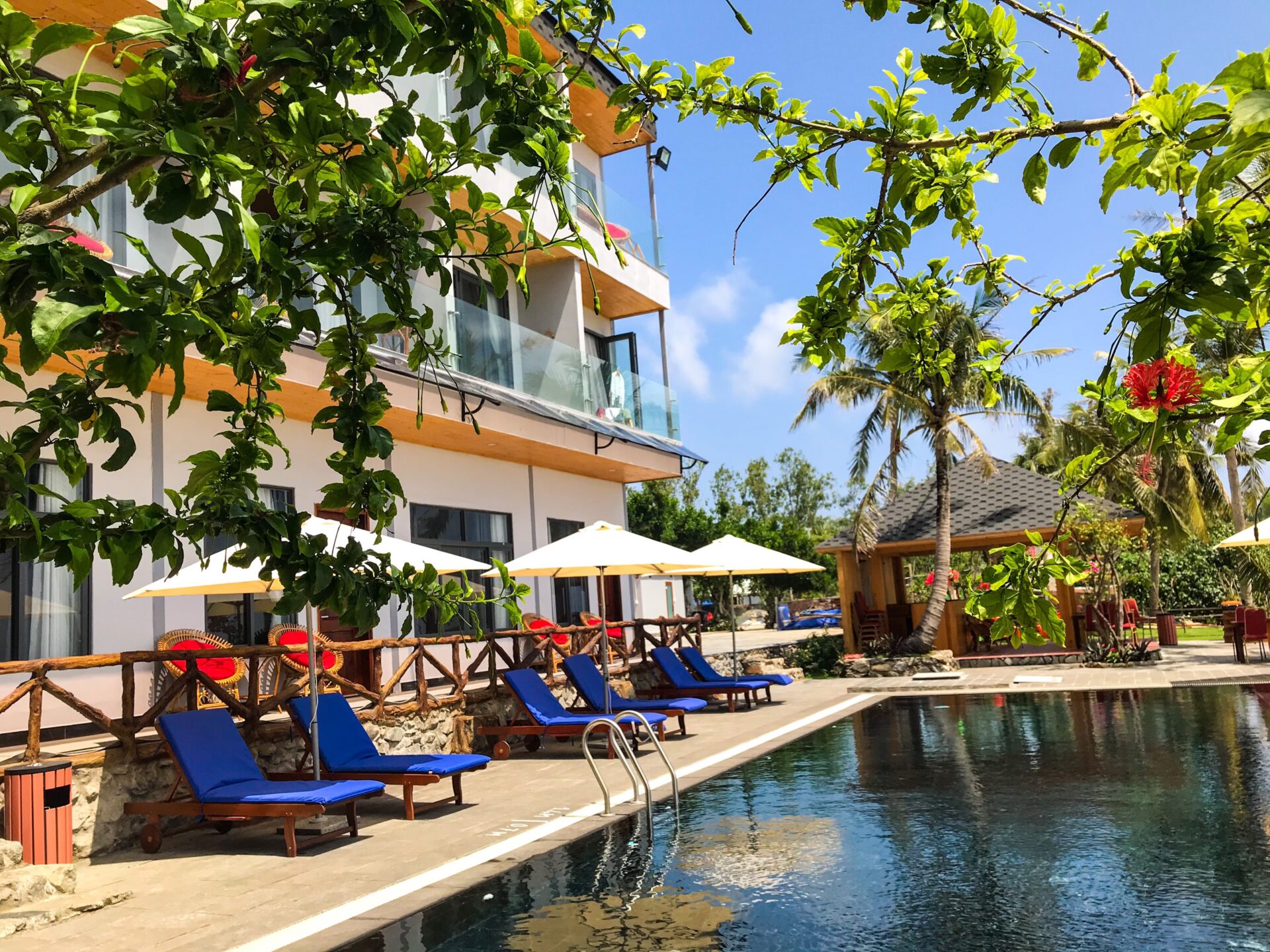 As a result, visitors will feel relaxed and at ease while staying here. Because Palm Beach Hotel is developed on a big scale, the hotel is always filled with fresh sea breezes. As a result, the area inside the rooms is light and open, making it an excellent alternative for travelers. Aside from the communal areas, the hotel's interior is likewise intended to meet modest European standards while maintaining a luxurious appearance. Limited technological equipment are also available in the rooms to provide the greatest possible experience for visitors.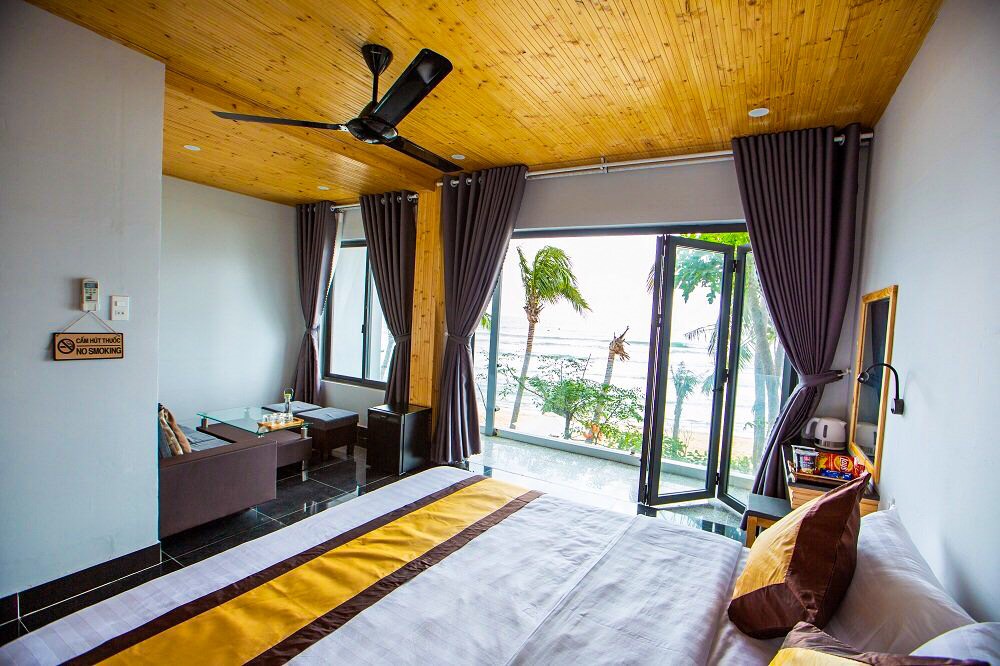 Balcony Seaview Deluxe Double Bed Room: This 28m2 room is meant to accommodate up to 4 individuals. The accommodation features a 1m8 double bed and a spacious and airy balcony with the best beach view in the Central region.

Deluxe Double Bedroom with Sofa and Sea View Balcony: The room is 35m2 and features one huge bed and one sofa set for up to two adults.

Seaview Apartment 2 Bedrooms Balcony: This room type includes two bedrooms as well as a wide balcony with a panoramic view of the sea. The room is 80m2 in size and has a design that includes 1 huge bed (1 and 1 square meter) and 1 sofa set. A kitchenette with a bathtub and a washing machine is also available.

Family View Deluxe 2 Bedrooms: The room includes two bedrooms, each with a view of the sea. The room is 56m2 with one giant bed, two 1m2 beds, and a sofa set.

Seaview Deluxe Single Room with 2 Beds and Balcony
Customer feedback about the Palm Beach Hotel
The beauty and services offered at the Palm Beach Hotel impress and delight visitors. You can make your selection based on the guest reviews shown such as: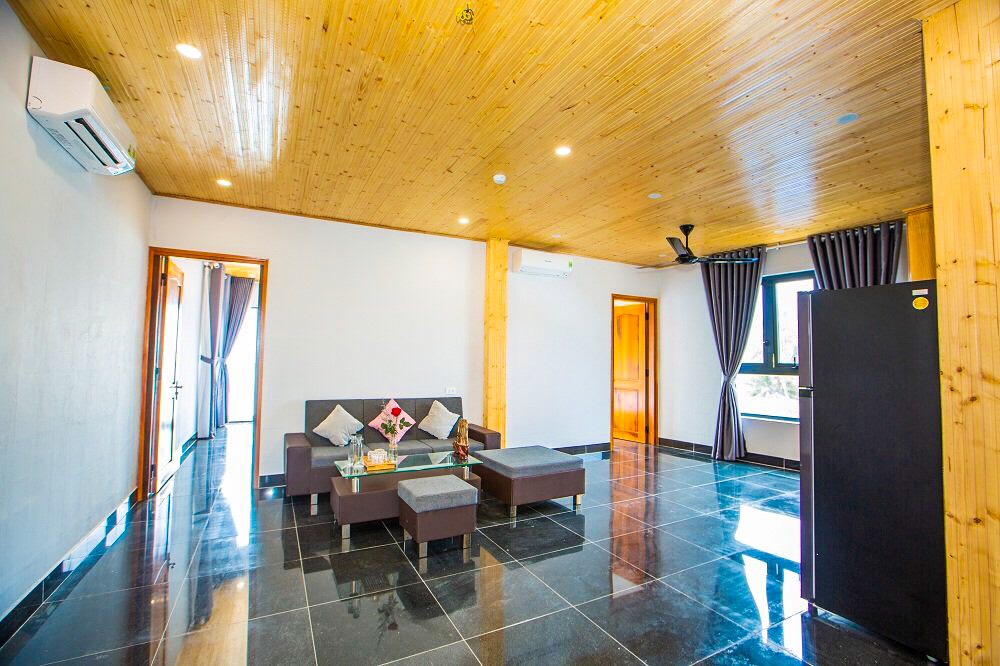 "This is actually the best hotel in Phu Yen with a good price of 2023. The rooms have a sea view and are spacious, clean, and modern. The fish, in particular, is extremely fresh. Should inquire about the sea beetle, as it is a very unique and wonderful delicacy. Friendly and attentive staff. We enjoyed a wonderful two days here and will return in the near future." One of the visitors made a remark. "My family had a fantastic holiday here; my kids learned about the lives of fishermen in the fishing hamlet, went squid fishing with them, observed corals, and ate delicious seafood."
Location
Giai Son village, An My commune, Tuy An district, Phu Yen province is the location of the Palm Beach Hotel.
The hotel is in a convenient and great location, directly adjacent to the most beautiful beach in the Central area, with blue sea views and long white sand beaches that will undoubtedly make tourists fall in love with its beauty.
Furthermore, the Palm Garden Beach Resort & Spa's location allows you to enjoy and watch the lovely beach scene right in front of your eyes. Whether it's dawn or dusk, you can enjoy the view directly from your hotel room. Furthermore, because of its favorable geographic location for tourists, visiting famous and attractive attractions in Phu Yen is very convenient and easy, and you will not lose too much commuting time spent
When you visit Phu Yen, you should not miss its unspoiled beauty, which includes numerous beautiful and lyrical natural scenes that you should not miss. You may go to Ganh Da Dia, Bai Xep, Hon Yen, Phu Yen swallow tower, and other famous locations around the Palm Beach Hotel.
Palm Beach Hotel- The best hotel in Phu Yen with a good price
Tourists love Palm Beach Hotel not just because of its excellent service but also because of its reasonable price. With a variety of room designs to meet your and your family's needs. Palm Beach Hotel offers a variety of room kinds and rates, making it simple for you to choose. You may have fully equipped accommodation for your trip for only 1,350,000 VND.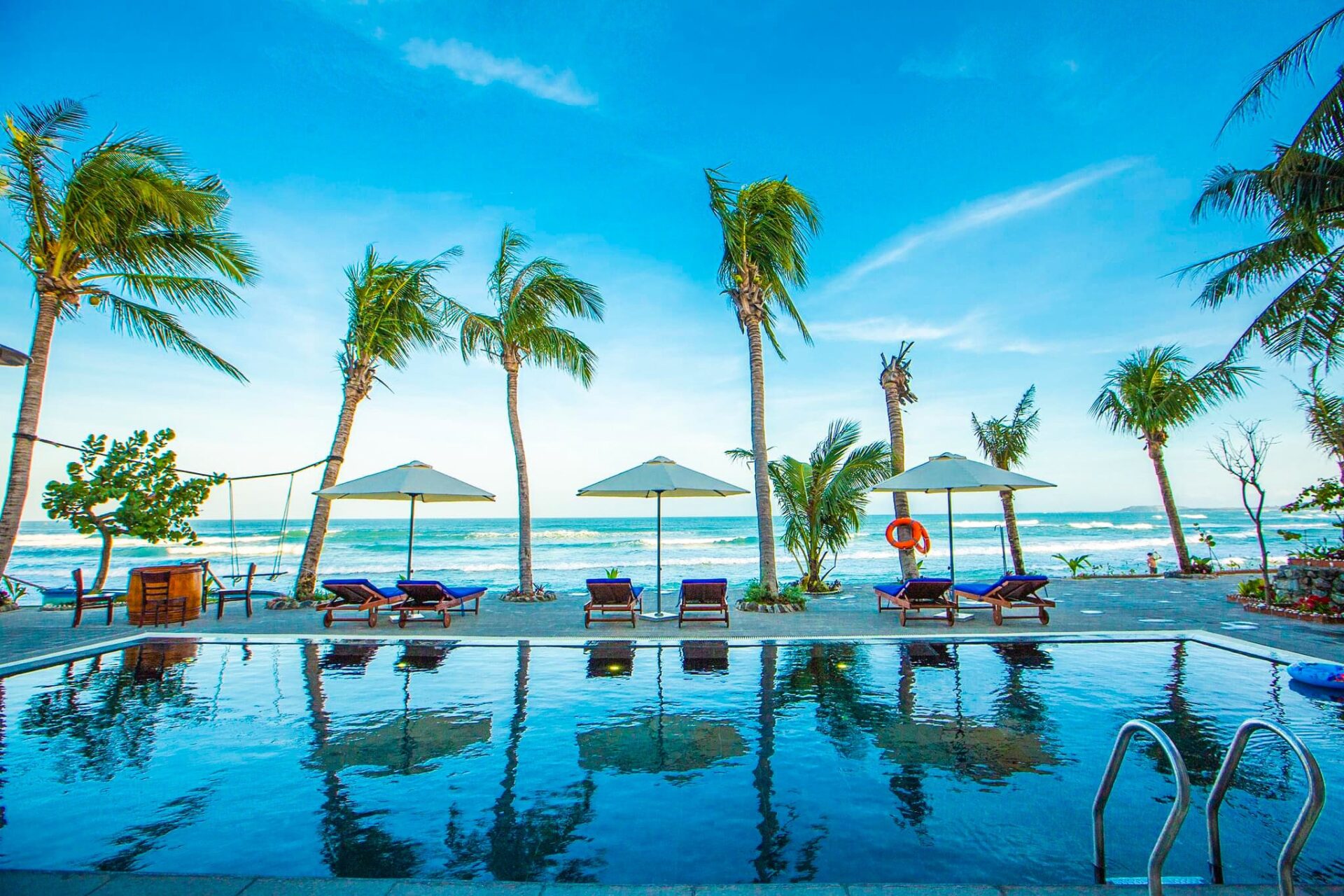 Furthermore, the hotel offers a variety of special packages for guests traveling in groups. Palm Beach Hotel is consistently one of the most affordable hotels in the Phu Yen resort complex. As a result, you may rest secure while picking this location as a layover for your journey. Rooms at the Palm Beach Hotel are the most affordable.
Tourists pick Palm Beach Hotel not only for the high level of service but also for the low cost. With a variety of room designs to meet your and your family's requirements. Palm Beach Hotel offers a variety of room kinds and pricing, allowing you to make an informed decision. A fully equipped room for your trip can be had for only 1,350,000 VND.