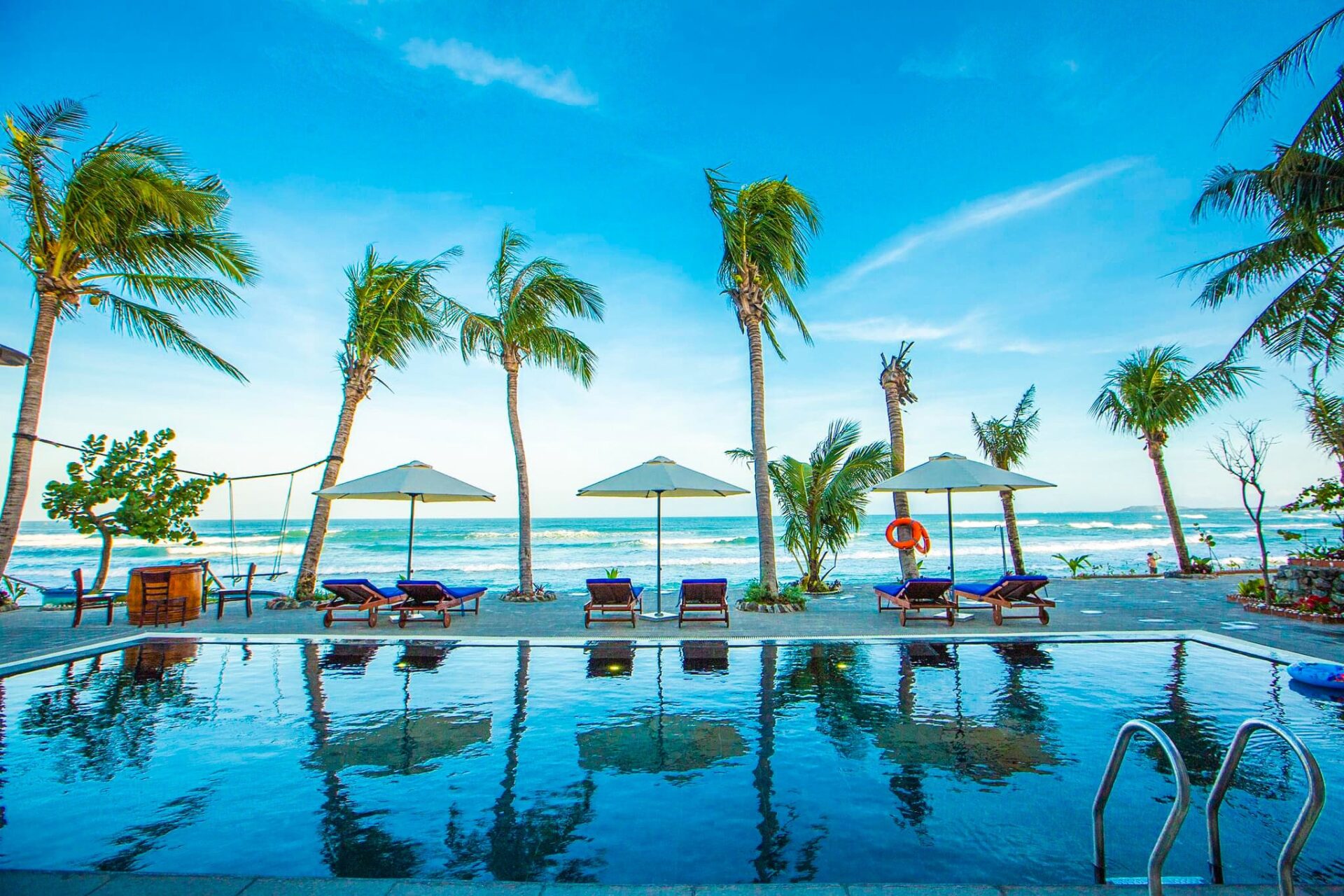 Phu Yen sea view hotel
If you enjoy the forest and the sea, want to experience the peaceful life of the locals, and especially want to have a superb gastronomic experience, Phu Yen is a must-see. I'd want to underline that Phu Yen is not only gorgeous, the food is delicious but also quite inexpensive. Phu Yen is quickly known as one of the most popular tourist locations, attracting a large number of visitors due to its natural and pastoral beauty. Because Ninh Binh grows more "hot", the article will examine Palm Beach Hotel- the best Phu Yen sea view hotel.
Palm Beach Hotel's convenient location
One of the features of Palm Beach hotel- the Phu Yen sea-view hotel with a beachfront swimming pool is its location on the romantic Ganh Dua beach, which is surrounded by a "charming sea," a magnificent site that has benefited Palm Beach. The hotel is like a show of a "paradise" setting in a fairy tale.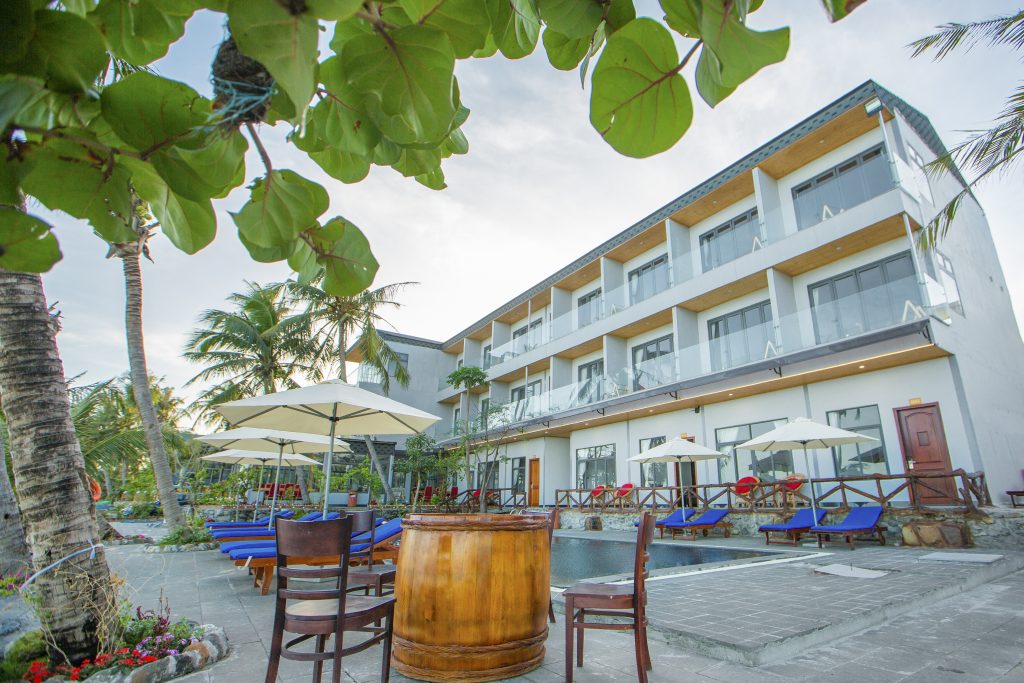 This hotel is located in Giai Son, An My, Tuy An district, Phu Yen, distance about 20 kilometers from the city center. It takes less than 30 minutes to go back to the hotel from the airport, bus station, or railway station. Another advantage is that you may visit other renowned destinations in Phu Yen from Palm Beach Hotel, allowing you to see various places and save many lovely memories.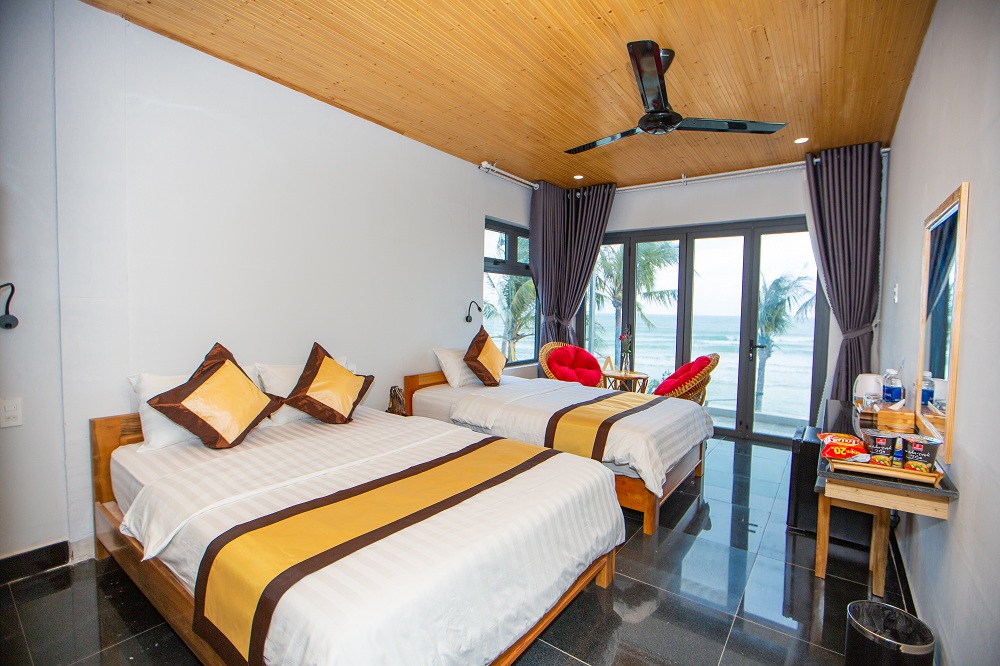 From the hotel, you can see the vast sea in front of you, the waves pounding on the white beach foam. Going a step further, there are locations that still have wild and wonderful natural characteristics, such as the Tam Giang dam, the Xom Ro breakwater, Yen island, and the Da Dia reef… You don't have to be concerned or scared to go. You won't get lost because they all have signposts, making it easy for you to navigate while traveling, or you may use Google Maps.
Hotel with a modern design
The hotel's sophisticated European-style design makes an immediate impression on guests. Pure white tones dominate the whole three-story block. In addition, the windows are made of tempered glass, which contributes to the hotel's luxury and sophisticated appearance. The hotel's outside is stunning, but the farther you venture inside, the more surprises await you. Each room is well equipped with contemporary facilities to enhance your stay. Standing in the lounge and looking out at the vast sea with its waves will undoubtedly help your spirit rest.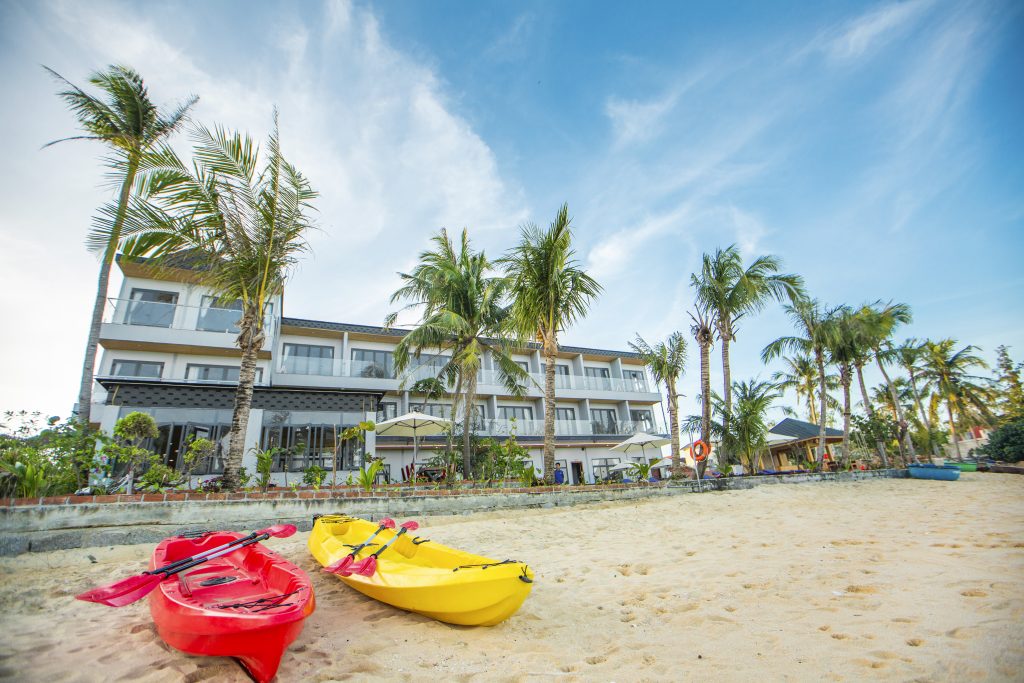 Palm Beach Hotel not only has a stunning geographical location, but it also has an astonishing and attractive design. In terms of both function and aesthetics, the hotel is created in a modern and opulent manner that adheres to high European standards. The hotel scale contains all 19 rooms, each with its own set of features and design:
The biggest room offers up to 80m2 of space and is ideal for large parties or many families vacationing together.

Room 56m2 with two bedrooms for large families.

Single room 35m2 with double bed.

The room is 32m2 wide with two separate beds, airy and with a direct view of the vast Phu Yen sea.

Double room 28m2 for two people with a 1m8 bed.
The outside of the hotel is coated with noticeable white paint on a golden sand background and lush trees, all mixing to create a charming image that will make any tourist nostalgic and unwilling to go.
Review the Palm Beach Hotel's service quality
Outside Palm Beach Hotel has a comfortable design in a vast area and is full of high-class service places. First and foremost, there is a vibrant bar area with food offerings from a diverse culinary background.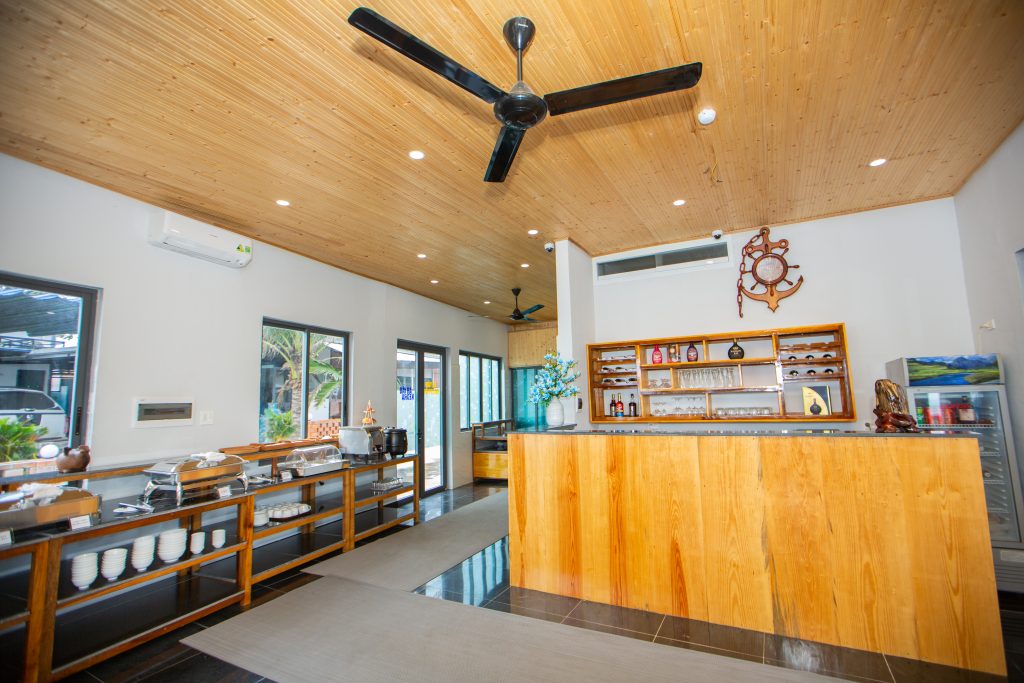 According to the finest Phu Yen hotel rating in 2022, this establishment has outstanding chefs that provide a variety of tasty and healthful foods, particularly unusual Asian – European cuisine. The outdoor swimming pool and children's play area are next. Parents may be confident that their children will have a good time on the premises of this 4-star hotel.
A security system closely monitors all locations to ensure complete safety. Furthermore, the hotel is ideal for holding conferences. With a spacious area and plenty of auxiliary equipment, the hotel will help you create the most pleasant meeting possible. To make your group members or family members feel the most at ease, you might select the full-service eating and entertainment package.
Classy facilities
Besides the beautiful infinity pool and located near the sea hotel, Palm Beach Hotel also won the hearts of visitors thanks to its high-class facilities.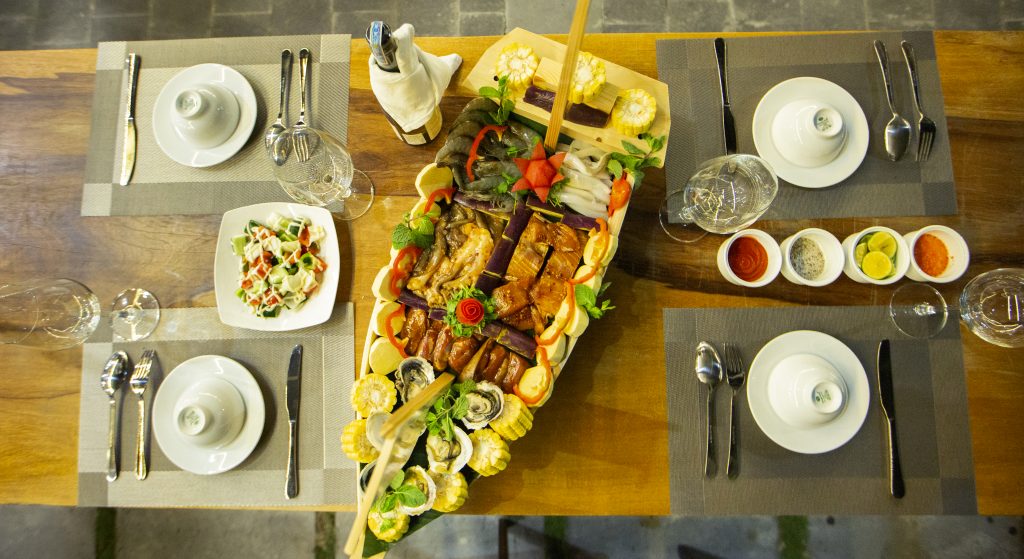 – The hotel has a food court with many delicious – unique – strange dishes. Right next to the sea, so most of the seafood provided here is very fresh, ensuring absolute safety and hygiene.
– Luxurious coffee area with many delicious dishes.
– The hotel's on-site bar is an ideal destination for couples who want to try something new.
– In addition, there is a play area for the little ones on the hotel premises. Parents are comfortable giving their children a very useful practical experience.
The 4-star Palm Beach Hotel Phu Yen will delight each guest that comes here. The hotel's rooms all have a direct view of Ganh Dua beach. The hotel has a young and modern design with elegant and cozy hardwood furnishings. Accompanied by a restaurant serving delectable European dishes and the flavor of fresh seafood harvested that day by local fishermen.
The information above is about the Palm Beach Hotel, the most attractive Phu Yen sea view hotel. If you're planning a vacation, don't forget to check out palmbeachhotel.vn for information and reservations.